PFD's

Stohlquist X-Traxt -D Rescue
Fully accessorize-able lead paddler's rescue vest is UL listed and USCG approved for livebait and strong-swimmer rescue procedures. Features an 1100 lb. tensile tested, built-in body harness and a center back-towing anchor point for added control and stability to the rescuer. Features three "Modes of Operation" versatility for a variety of rescue situations.
Features:
Shoulder Strap Tensile – measures the strength of the shoulder strap, the adjustment hardware and the assembly to the body of the vest. The minimum to pass the test is 150 lbs. per shoulder. Each Stohlquist vest tests to 300 lbs. per shoulder–double the standard strength! (X-traxt™ 1100 lbs. / shoulder.)
300-pound zipper tensile – Vest horizontally mounted from an iron form with 300 lbs. attached perpendicular to the slide of the zipper. The effective load applied is transferred to all of the seams, giving you confidence in your PFD.
1100 pound slip / 25 pound release – What do you know of that weighs 1100 pounds…a horse, maybe a small car? Imagine hanging that mass from our building's steel girders attached only by our Quick Release "QR" belt. Guaranteed minimum slippage at 1100 pounds, yet made to release quickly and easily with no more than 25 pounds of pull on the "QR" release tab.
Strong-Swimmer harness – Use with the QR Belt™ and Re-traxt™ tow system for rescue and water extraction.
Crotch-harness capable – Add one 6 footer cam strap to your rescue kit. Position it's Ancra buckle at front for easy release. Adds an extra measure of security for particular rescue situations.

Paddles
Werner Sherpa Carbon Straight
Trusted on the hardest runs in the world and those firing up the hardest line on their local run are the Werner river running paddles. The Sherpa offers Bomber reliability, tested and proven where it counts. A blade shape for a more efficient forward stroke, the moves you need to make river running, the obstacles you need to work around.
Dihedral allows for smooth and stable forward paddling, a core philosophy for Werner. Custom shaped, low profile, reinforcement spine allows for enhanced blade maneuverability when linking several strokes and provides blade stiffness and overall strength. Mid-sized blades are an ideal fit for the most average size paddlers. Optimized flex and strength. Designed for your body to feel strain free without giving up Bomber reliability.
I use a 197cm, R45 version, with standard shaft, weighing 950 grams.


Supplied by Kanocentrum Arjan Bloem.

2-piece Spare Paddle (modified Robson paddle)
This paddle is made out of Kevlar Carbon blades, with a 30 mm carbon shaft. Feather is 45 degree Right Handed. The strength/weight is great on this paddle. With it's 196 cm length and 730 cm2, at a weight of 1008 grams, this paddle has a great stiff feel.
I cut this paddle in half and used a 27mm carbon fibre (wound, plain weave, 3k) inner tube of the very best quality (supplied by my friend Killy at CarbonWinkel.nl)

Helmets

Shred Ready Standard Half-cut
My 2020 Shred Ready Standard Half-cut has a nice fitting system. The rough fitting is done with fitting pads, after which a dial system will make the fit perfect. It has a low profile design and is CE1385 Certified. A great helmet for river running or playboating. Being made out of a ABS (Acrylonitrile Butadiene Styrene) injection molded shell and a multi-impact molded EPP (expanded polypropylene) foam liner.


Supplied by Kajak.nl.

Predator Lee
Stylish and light high-cut helmet in carbon, with a longer baseball cap style bill as an integrated sun protector. With the included fitting set and a click-dial precision rear adjuster, the helmet can be easily customized. A comfortable closed-cell waterproof EVA foam is used to dissipate impacts. The Shell is made of high impact, Ralvek thermoplastic for increased stiffness and protection. Type examination according to CE EN 1385.

GoPro Mounts

Spray decks

Palm Impact
The Impact is our premium shockcord deck for whitewater freestyle paddling. Burly 9.5 mm shockcord holds it in place' and the seamless O-ring seal keeps the waist tube where you want it. The reinforced rim shrugs off wear and tear' and a three-quarter dry lip seals water out.
Specs:
3 mm nylon Jersey CR neoprene deck
Nytex and Supratex CR neoprene rim
Jersey and mesh neoprene waist
Weight: 771 g (R4' M/L)
Waist CR neoprene tunnel with O-ring seal
Triple Glued' blind stitched and Melco taped seams
9.5mm elastic shockcord double sewn
3/4 length dry-lip
3 dimensional deck shape
Sticky Gripsil on cockpit lining
38 mm webbing release loop with attachment clip (for walking)


Supplied by Kajak.nl.

Palm Heavy Duty Cover
A heavy-duty durable cockpit cover to protect the contents of your kayak during transport and storage outdoors. It has a 6 mm adjustable shockcord in grippy PU sheath and a 20 mm webbing release loop with moulded handle.


Supplied by Kajak.nl.

Buoyancy

PeakUK Stern & Bow Airbags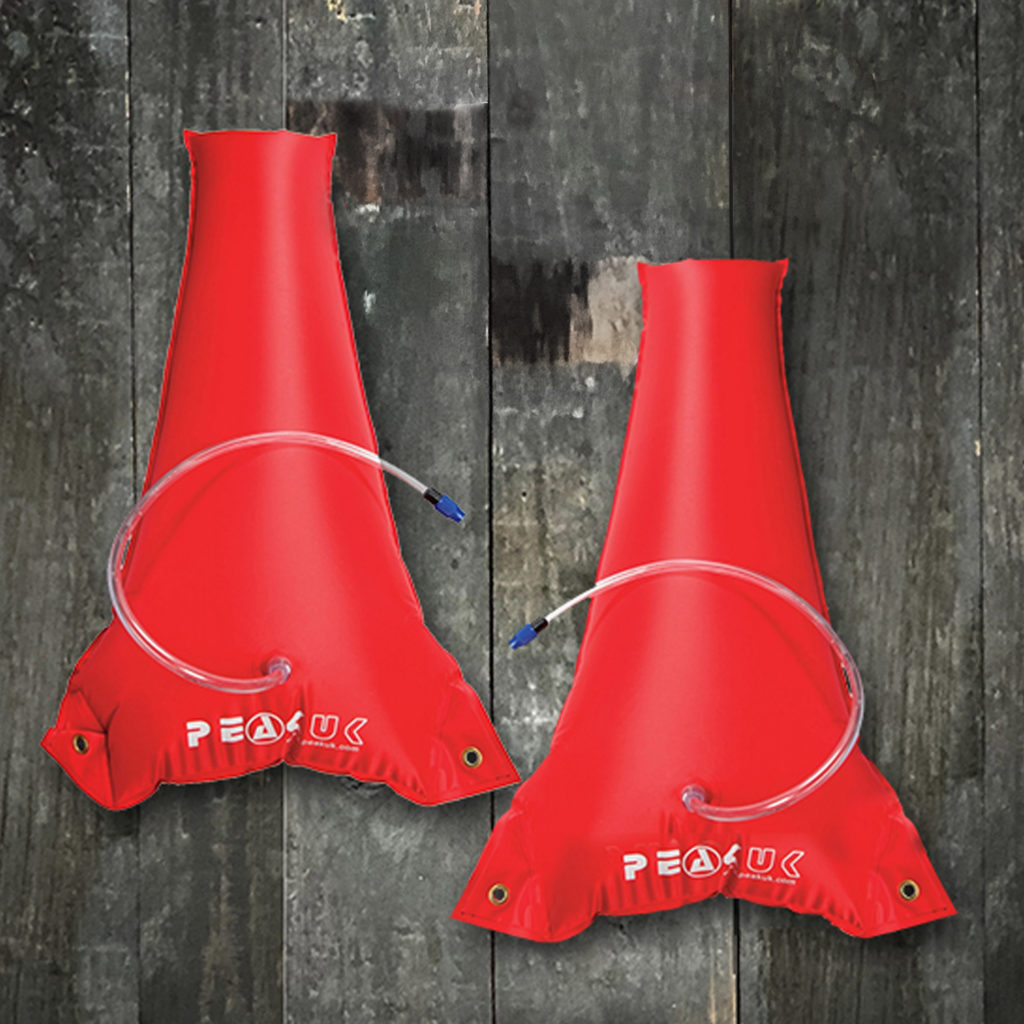 I carry these for extra buoyancy and to clamp my spare paddle into the stern of my kayak. The bow airbag is a tough welded nylon PVC bow airbag for use in most modern whitewater kayaks, in front of the bulkhead. Eyelets fitted for security. Size when deflated: 60 x 35 x 35 cm
The stern airbags (pair) are tough welded nylon PVC split stern air bags for use in most modern whitewater kayaks with centre buoyancy. They fit on either side of the centre column. Eyelets fitted for security. Volume approximately 30L. Size when deflated: 45 x 85 x 20cm


Supplied by Kanocentrum Arjan Bloem.