As a former (Rescue 3 Europe Whitewater (WRT-REC) and WRI Swiftwater) Rescue Technician, I had to seriously update my knowledge to comply with modern day standards, like the 'Clean principle'. This means I have to update my gear as well. Underneath I'll keep you posted on my progress, findings and tips.
The "Clean Principle" tells us to be aware of any gear snag hazards, that could result in entrapment. Remember: Rope and swift water are a bad match.
Gear
Kayak
Make certain you have the right kayak for the trip!
Check usability, security and strength of grab-handles (all kayaks should have these, preferably no rope loops!). Make sure that the kayak will float when full of water by adding adequate airbags. Check all screws, bolts, footrest and/or bulkhead. Ensure that your spray skirt has a pull-cord for release and is a tight fit.
PFD
Wear a CE-approved buoyancy aid when on or near the river, check its floatation and make sure it is in good condition and the correct fit. Ensure all buckles and zips are fastened. Check your PFD for loose straps!

Cowtails/Towing tether
A cowtail is a very useful tool to recover a kayak 'on the loose', but only if you are able to run the river safely towing a water filled boat!
Use the absolute minimum length required for towing and only use it with a release buckle system. Tug any slag underneath your PFD.
I use a 50cm (extending to 90cm), CE approved, tubular webbing with integrated bungee tether, fitted with a Petzl William carabiner (position-secured by a Petzl 'String' webbing protector). The 50cm tether fits snugly around my PFD, minimising the chance of entrapment. (image above)

Helmet
Wear a CE approved, fastened, kayaking helmet when on or near the river. Ensure it fits correctly and snug. It helps if the colour stands out on the river (unlike mine).


Protective clothing
Wear and/or carry sufficient warm protective clothing for the trip. I always wear/carry a paddle jacket, neoprene shorts and rashguard shirt in summer. In winter I add a long john wetsuit, neoprene paddle jacket, a neoprene hat and pogies. A dry suit would be a great addition.
Wear footwear suitable for carrying your kayak up- and downhill or scouting the river. Footwear should be free of anything that could catch.
Throw bag
The way most brands configure their throwbags is not suitable for whitewater use. Throwbags should not have any loops or knots that can get snagged. Nor should they have any hardware attached that can injure swimmers. I prefer to carry two throwlines:
An 8,5 mm, 18m, polypropylene rope, ideal for quickly bagging swimmers. Small bag, quick deploy, right in front of my seat.


And a 9,5-10mm (better grip than 8mm), 20-25m throw line, containing a Spectra core. The Spectra core will increase the breaking strength from 9kN (polypropylene) to 16kN. This strength is needed for heavy lifting and moving big loads, like when unpinning a kayak. I store this behind my seat.

Unpin kit
Together with other rescue related items on this page, stowed in an 8 liter drybag, inside the kayak:
Four Locking carabiners
Personally, I like the Petzl William carabiners, being lightweight, large-gated and yet rated at 27kN. I only use locking biners, as non-locking/snap/wire biners are not 'Clean'.

Mind you, some older locking carabiners have snagging noses, like most non-locking biners have. Do not use those.


Green

: a Petzl William nose.

Red

: a snagging nose.

Two pulleys
I have an additional blocking pulley (Mind you: they can cause wear on your rope.)
Three 120cm Webbing slings
Flip line
Flip lines can be used for many different kayaking purposes, the most common being as an anchor line to secure your boat, for a reach rescue and as a rescue anchor. I use a 4 meter webbing sling, with a Petzl William carabiner. Made from strong tubular nylon webbing' its two sewn end loops can be joined with a carabiner to make a continuous loop' or left apart as a 4 m straight sling. A flip line should be carried inside your PFD or stowed in your kayak, not around the waist, as this is dangerous and not 'Clean'.


Knife
Knives are an essential piece of gear, especially when working with rope. Your knife needs to be easily accessible with one hand. It should cut rope easily (serrated blade) and not have a sharp point. Do not tether the knife as this is not 'Clean'.
I use a NRS Co-Pilot Knife (that is small enough to fit my current PFD) and a Wichard Rescue Knife (which is slightly bigger and better cutting).


Spare paddle
At least one member of the group should carry a spare paddle. Any decent paddle will do, but mind the weight.
I carry an rescued 4-piece old Robson (?) 197cm paddle, which I split myself. Kevlar Carbon blades and carbon shaft. Weight: 1008 g.


First aid kit
Focused on cuts, bleeding, broken bones and pain.
I carry a bigger SAM splint (for limbs) and a SAM finger splint. Wound closure and dressing materials. Small tampons for nose bleeds, tape, water purification tablets and 2 Rescue blankets. Medicins like Immodium, Paracetamol and Anti-hystamine. This is my smaller day-trip kit.
Cell phone and PLB
For when there is no cell phone signal, I carry a Personal Locator Beacon (PLB), currently an ACR ResQLink. A last resort for extreme emergency situations. Not to be used lightheartedly as it will result in the activation of a (helicopter) rescue team, guiding them to your location.
Whistle
For communicating when your voice isn't strong enough.
I use an Acme Tornado 2000 professional referee stadium whistle, which blows out any water easily and has loads of volume (up to 122 decibel).


Wood Saw
For clearing your way through a blocked river or freeing a trapped paddler.
I use a Silky Pocket Boy, with 170/10 blade.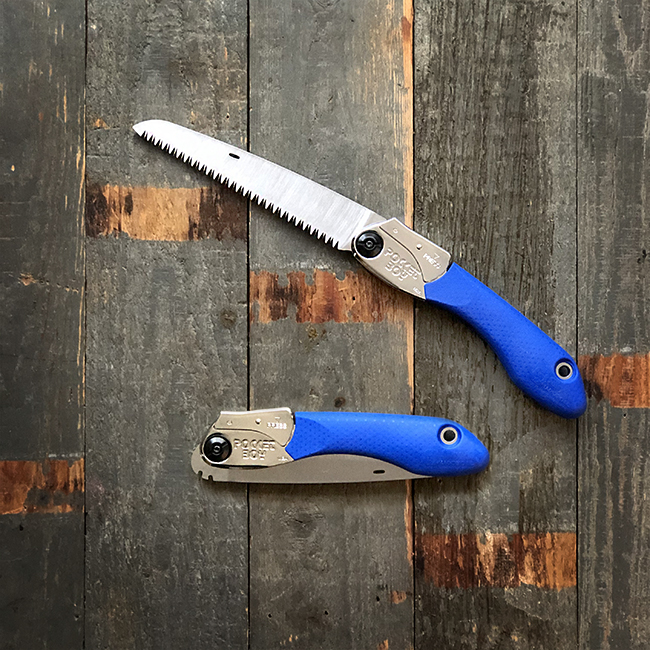 Gaffa/Duck tape
For al unforeseen repairs and whatnot.
Abilities and knowledge
All the gear above should be used by trained individuals. Follow a Swiftwater rescue course. Practice regularly and keep refreshing your knowledge!
Know the whitewater class you can handle and be prepared to portage rapids beyond this ability. If you are not sure, buddy up with an experienced group member.

Class I: Beginner
Fast moving water with riffles and small waves.
Class II: Novice
Straightforward rapids with wide, clear channels which are evident without scouting. Occasional manoeuvring may be required.
Class III: Intermediate
Rapids with moderate, irregular waves which may be difficult to avoid. Complex manoeuvres in fast current and good boat control in tight passages or around ledges are often required.
Class IV: Advanced
Intense, powerful but predictable rapids requiring precise boat handling in turbulent water. A strong Eskimo roll is highly recommended.
Class 5: Expert
Extremely long, obstructed, or very violent rapids which expose a paddler to added risk.
Class VI:
Extreme and Exploratory Rapids
These runs have almost never been attempted and often exemplify the extremes of difficulty, unpredictability and danger.

Be prepared to self rescue, including whitewater swimming and a reliable Eskimo roll.
Know Basic Life Support and have a current first aid certificate.