Table of Contents

Preparation
Outdoor activities need to be carefully planned! Defining elements of each trip are navigation, weather, group composition, gear and a safety plan.
Know your limits.
Whether you're planning a multi-day hike or a canoe day trip, it is important to be aware of your physical and practical abilities and limits before you head out. Do your research and plan your itinerary depending on your level.
Gather the gear. / Invest in the right gear.
Getting the barebones gear selection in order. Your gear can make or break your experience. Some investments are worth every penny. If you're getting into more technical outdoor pursuits, proper gear is essential for your safety. Information on these basic gear types can be found elsewhere on this website:
Fire Starter
Tools – Instruments – Accessories
Emergency Instructions – Guidance – Support – Back up – Personal Documents
Special Needs
Transportation Support
Use this comprehensive list as a guide to assess and organize what you already have and carefully determine what you will need to make your adventure fun, safe and a positive experience for all.
Make room for creature comforts.
While there are many things to be said about packing light, having a little room for some creature comforts won't hurt you (or your back, but just don't overdo it).
Prepare your body for the activity.
Exercising regularly helps condition your body for strenuous outdoor activities. Your plans and your current fitness level will indicate how much conditioning you still need to do.
Navigation
Make sure you have enough navigation tools with you. Compass, GPS navigation, Phone navigation apps, Maps, et cetera. Do not rely solely on electrical means. Take actual maps and a real compass!
An important safety measure is to inform others about your plans. Even if you carry a GPS tracker, basecamp, authorities like the local mountain rescue, or others travelling the same route, should be informed about your plans. You can also leave your plans/itinerary under the driver seat of your car. Only inform people you know how to contact and let them know you have finished your trip safely.
Be weather wise.
Keep an eye on current and predicted weather conditions. Weather can change very quickly. Know the signs for approaching storms or changing weather conditions. Use a weather and emergency radio to stay informed. If you carry a handheld walkie talkie VHF radio, set it up to monitor weather frequenties.

Weather & Emergency Radio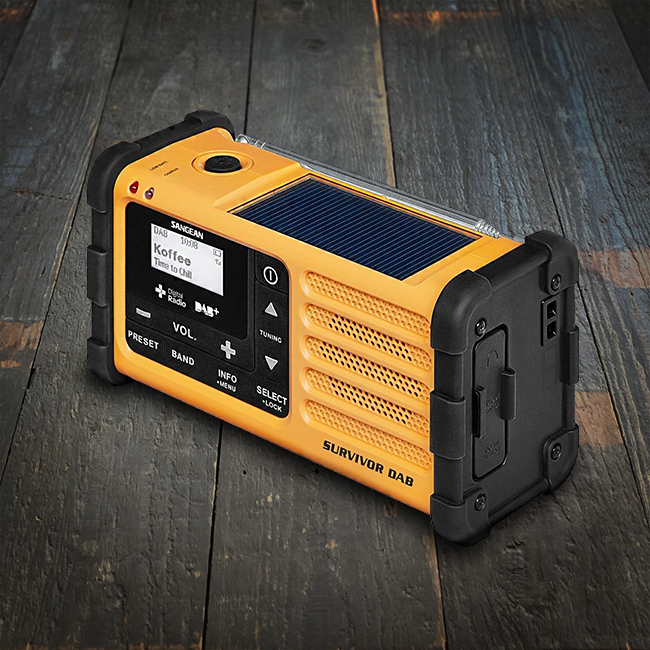 Basecamp, Camping or at Home, as soon as the internet is not available an Emergency Radio can get you the needed information about weather, disasters and what not. But, radio's need power, so I use the Sangean Survivor because it accepts Micro USB, the hand crank and the solar panel to charge it. You can see if the device is charging with the LED indicator. This radio offers both analogue FM reception and it's digital successor DAB+. So all you have to do is check the emergency frequencies in your area. The radio will also play your music via speaker or earphone, charge your phone, it has a clock, 20 station presets (10 DAB+, 10 FM) and it has a flashlight with Morse Code SOS.
Sangean Discount Code!

Visitors of my website are offered a €20 reduction on the Sangean website ánd after registration the standard two year guarantee is upgraded to five years. All you have to do is use the reduction code: Whitewatergear

(No, I do not get paid, nor do I get a return fee.)
Communication
Depending on the role of those in Basecamp, being the first line of help depends on being reachable. Many of the possibilities are mentioned on this page.

Outside Help
If the worst comes to the worst, you'll need outside help. But only in circumstances that are serious enough. Those in Basecamp need to know what to do if they need to act. This page looks at the full range of communication methods of calling for help, with the proximity of your route to civilisation sometimes determining the appropriateness of each method, which should be factored into your planning. Take the appropriate kit for your route.
First Aid
Basecamp can provide the necessary aftercare, stock to replenish and treat bigger/more serious injuries.
This page gives an inside on what one can pack.