V-Shark Knit Waterproof Shoes
We use the extremely comfortable Black Warrior– and Pearl White versions of these V-Shark Knit Waterproof Shoes, made by V-Tex. These are the ultimate in summer waterproof shoes, being breathable and lightweight. We can wear these all day without them getting too hot. The won't stand climbing rocky portages, but they will be the most comfortable and good looking boots for all other applications. They are Waterproof, Breathable Nanotech Knit, Lightweight (488 grams), 360° 3D Seamless Knit, Stain Proof, Sand Proof, Cold Resistant, Wind Proof, Heat Resistant and Anti Bacterial. What more do you want?

Palm Gradient Boot
These boots are whitewater tanks! Capable of doing the toughest portages and rescue and retrieval tasks! Fewer seams' tougher components' and reinforcement where it matters. A Vibram sole HydroGrip rubber' is the ultimate in wet traction. The boot is shaped to provide ankle support whilst remaining low profile to fit comfortably in a kayak and the insole can be removed if you want extra space inside for thick socks. The upper is reinforced from heel to toe with thick scratch rubber.
3 mm CR neoprene' layered mesh' scratch rubber
Laces for secure fit
Boot with reduced heel
Pull tabs
Weight: 418 grams
Open tongue
Double stitched seams
Vibram HydroGrip compound
Stretch neoprene collar against grit ingress
One piece scratch rubber toe' side and heel protection
Solid TPU reinforcement
Low profile heel
EVA layer for comfort without insole


Supplied by Kajak.nl.

Aquadesign Norma Neoprene Socks
I use these socks inside my boots during cold conditions as thermal isolation for my feet. 3 Panels neoprene, wth glued and blind stitched seams


Supplied by Kajak.nl.

Hiko Zephyr Anorak
Feather light short sleeve paddle cag was carefully constructed to reduce the amount of seams to reduce the weight to minimum. It is designed for racing but can be used for recrational paddling in white or flat water. The material combines low weight with excelent characteristics. It's made out of Carboflax with celulose base. The inner layer has a special coating that allows the material slide smoothly on bare skin. Neoprene cuffs and collar are constructed from thin and flexible Neospan for more comfort.


Supplied by Kajak.nl.

Hiko SLIM.5 shorts
Half length pants provide comfort when sitting. Higher waist line provides protection of lower back. Just 0.5 mm thin neoprene gives you the feeling of wearing a second skin. Neospan is extremely flexible so it does not restrain movement. Slim products are great to use on a cold summer day during a long stay in the water to avoid the shivers. Designed for tighter fit resulting in higher insulation.


Available at Kanocentrum Arjan Bloem

Spreu Boote Neoprene Jacket
A 3mm thick neoprene jacket providing great protection against the cold weather elements and in winter conditions. Thanks to the new elasticity of it's neoprene, the jacket has a comfortable fit without chafing.


Available at Kanocentrum Arjan Bloem

Rooster Combi Gloves
The Rooster Combi Gloves are the warmest kayaking gloves I have ever owned! The combination of an all weather neoprene glove, with an aquafleece (polyurethane outer layer with a fleece inner layer) mitten against windchill, makes the ideal winter glove. The use of Amara (an synthetic leather) on the palms gives loads of grip when wet and is durable enough to withstand a lot of paddling. The mitten can be tucked away neatly into a handy pocket on the top of the glove when not in use. The pocket can also double up as a storage pocket for heat pouches. Water is kept out by velcro secured neoprene cuffs. I use them both on and off the water.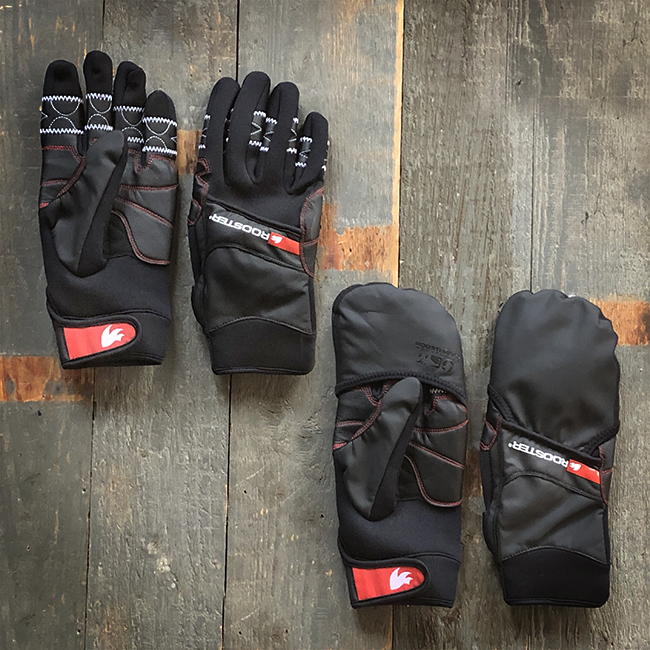 Rooster Sailing is a European company with a real good sense for innovation and quality. Visiting their website, you'll notice they'll trick you into thinking they are all about sailing (and they are), but Rooster has loads of kayaking-friendly gear if you have an eye for it.

Megmeister Drynamo Baselayer
For me, a baselayer is the important start of being warm (while active). It needs to wick moisture fast and offer thermal insulation.
My Megmeister Long Sleeve Shirt and Tights have a feature that's very important for us paddlers: they are completely seamless, 4 way stretch and label free inside! That means no irritation around the arms (or anywhere else). The 4 way stretch also gives a nice amount of support/tightness that feels good and makes wearing them underneath other layers comfortable. They are Anti-odour, antibacterial and very reasonably priced!
This baselayer can be used on their own or as part of a layering system:
Single Layering
When sunny and relatively warm water, these are fine to wear on their own.
Layering with a cag
When wearing a cag and paddling cold water, these offer a nice warm layer underneath your jacket.
Layering With a Sleeveless or Short-Sleeve/Shorts Wetsuit
Used as a quick-dry top underneath your wetsuit to cover exposed areas of your arms, a long-sleeve base layer top works well for warmth.
Layering With a Dry SuitBase
A dry suit doesn't feel nice and is cold to the touch, so you'll definitely need noncotton long underwear, helping to keep you dry, warm, and comfortable. You might need the winter version of this shirt and an additional fleece layer though.

Megmeister is an awardwinning EU company and is supported by elite athletes. They are the developers of Drynamo. This is a yarn especially designed for sport and has excellent moisture wicking properties, is ultra lightweight, insulating, breathable and super hygienic.