Clothing

Salon Winter Caps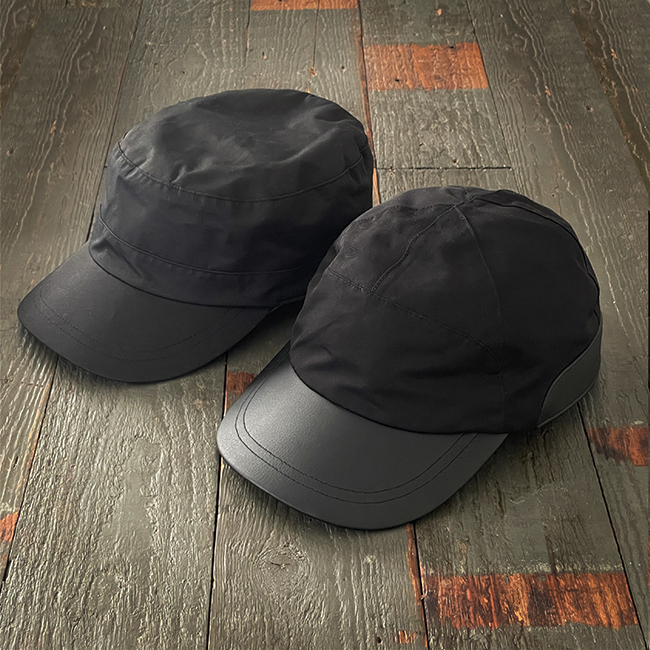 Both the Salon Lari as the Salon Lux caps are waterproof, windproof winter caps with taped seams and fold-down ear flaps. Lined with fleece they are comfortable and warm. The Lux has a faux leather visor top (keeping it clean in outdoor situations) and glove friendly adjustment. Both caps are very well made and durable.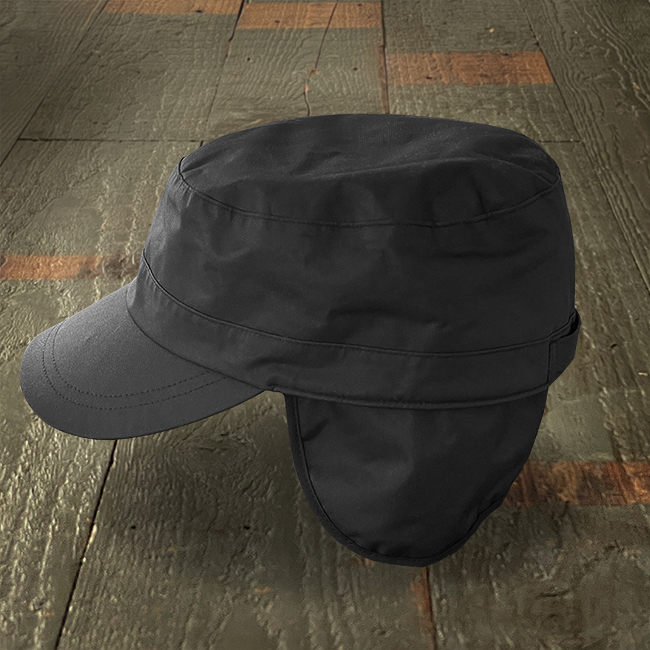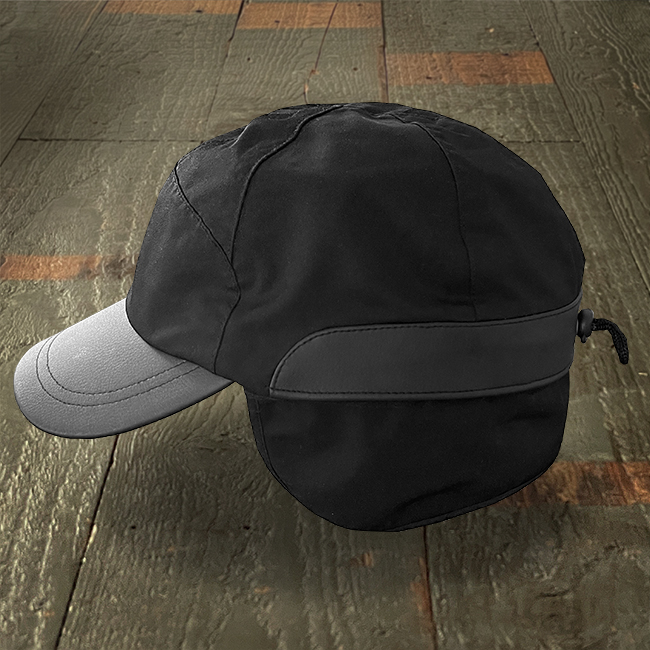 Solbari Outback Sun Protective Shirt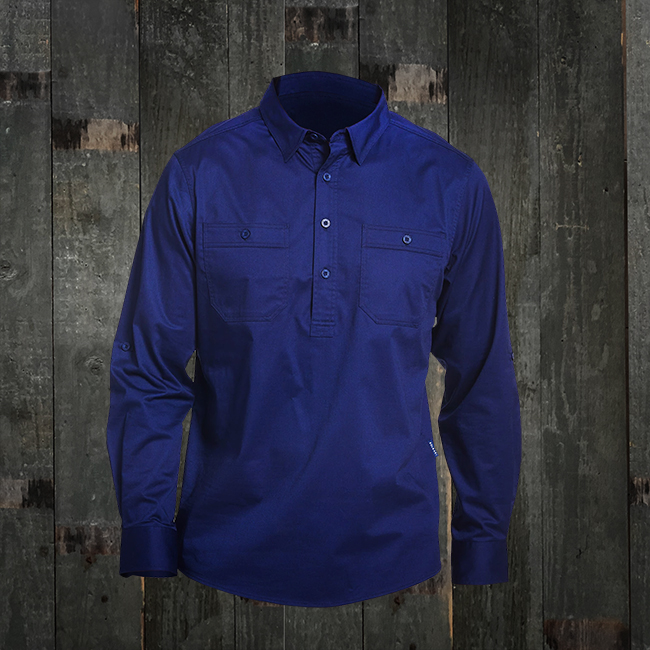 My lightweight Outback Half Placket Shirt is a UPF50+ sun protective shirt, that blocks UVA and UVB rays.
The Technicool fabric is both comfortable and breathable. It keeps me cool and has great anti-odor properties. These are very practical shirts as they are easy to wash, they have two large chest pockets, buttoned rool up sleeves and a very comfortable fit. I particularly like the looks of the half placket. It is a 60% cotton fabric, so I primarily use it as an urban shirt.

Solbari Fishing & Hiking Sun Protective Shirt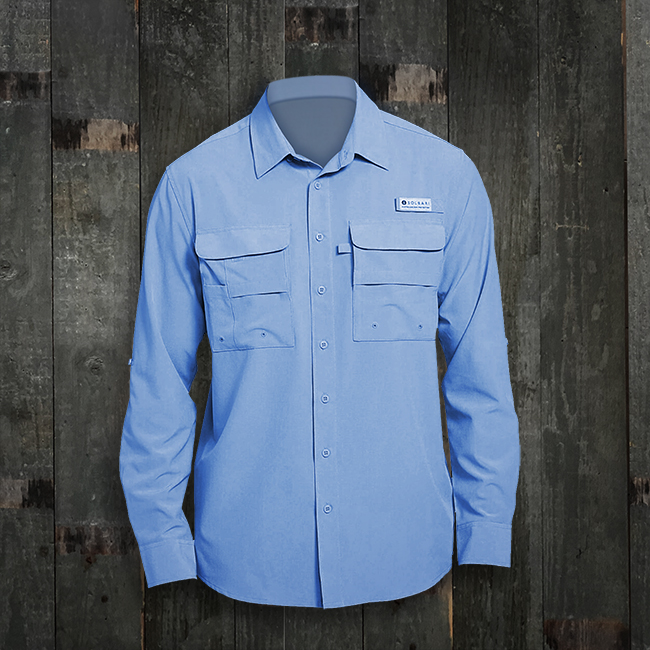 This Fishing & Hiking Shirt, is the most practical trekking shirt I own.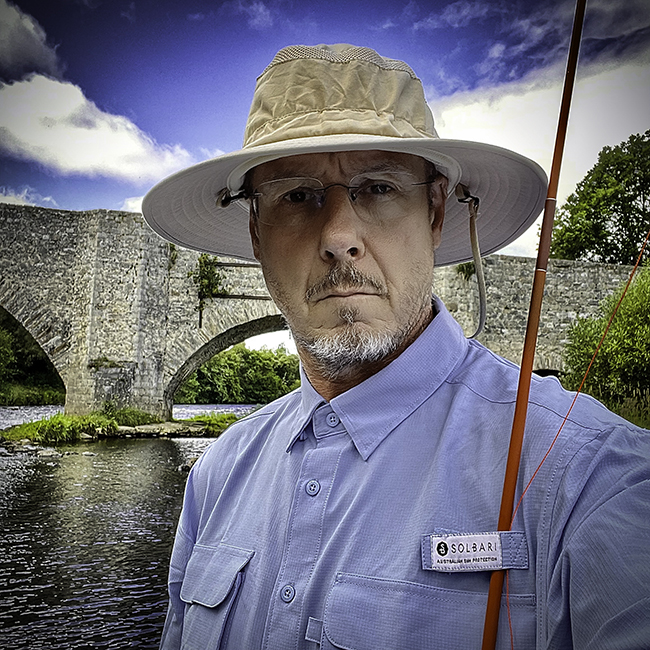 Packed with features and very good looking! Besides offering the best sun protection you can get, it has an overload of practicality:
quick-drying
breathable
moisture-wicking
anti-odor properties
four chest pockets (two with velcro fasteners)
shoulder vents for superior breathability
Dunder-arm mesh panel for additional ventilation
upper arm buttons to convert to a short sleeve
rod holder velcro fastener
glasses chest loop
button down collars
relaxed fit
easy care and machine washable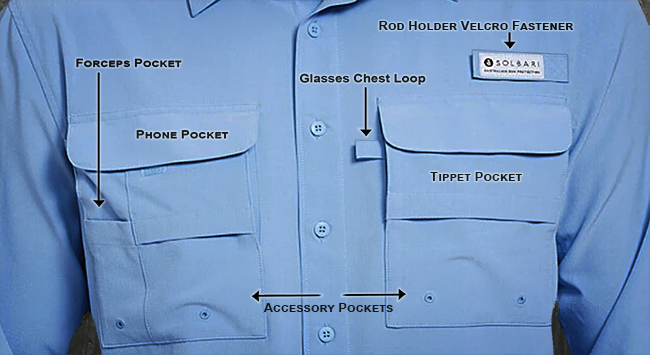 Proviz Classic Men's Waterproof Jacket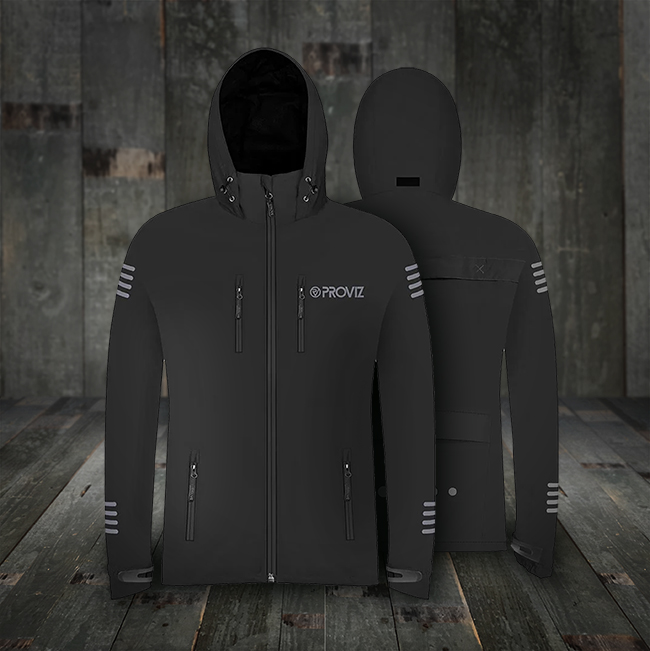 The Proviz Classic Waterproof jacket is a fully waterproof and highly durable rain jacket designed for outdoor activities. The interior lining is made from recycled bottles by fabric supplier Repreve (each jacket uses between 7-9 plastic bottles). It has two outer chest-, two side- and one large back waterproof pocket and a fold away adjustable hood. The zip pulls and hard wearing cuffs with hook and loop attachments are big enough to be used with gloves. Being 100% waterproof (10,000 mm), breathable (10,000 gm/24hr), seam-sealed and fitted with waterproof storm zips, this jacket will keep me dry under all conditions. It weighs 600 grams on my scales. It has a fold-away adjustable hood. The well-placed reflective panels on the arms and back make you more visible when hiking or cycling after dark.

Proviz REFLECT360 Men's 'Down' Gilet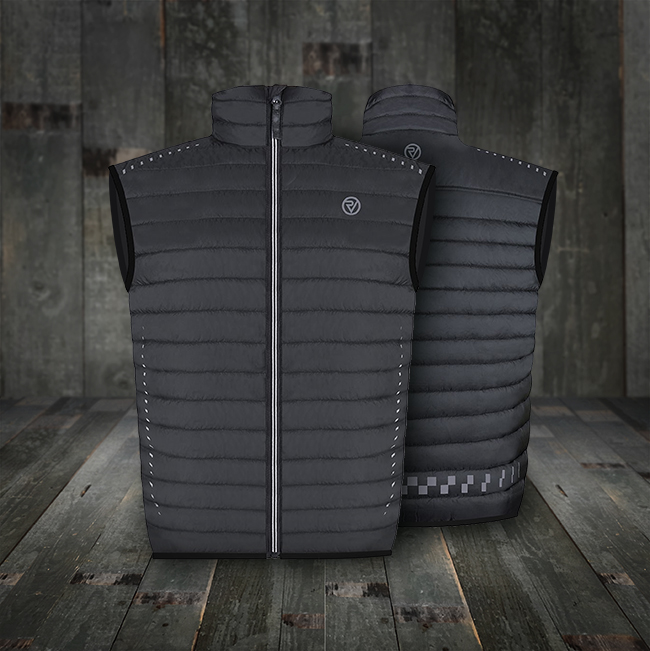 This is my Puffer gilet. The Proviz REFLECT360 Men's 'Down' Gilet, made out of 180g K7 synthetic thermal down material for excellent insulation. Being windproof, breathable and shower-resistant means it'll keep me warm even during cool down, activities like setting up camp after a days walk. The REFLECT360 trim on front and rear, are highly reflective elements keeping me save and visible in the dark. The two pockets double as a very effective and warm muff as well. The body is long enough and the shoulders are wide enough for this gilet to be used for backpacking. All of the above only weighs 315 grams and is very packable.

Ullvi 3-layer snow set by '2117 of Sweden'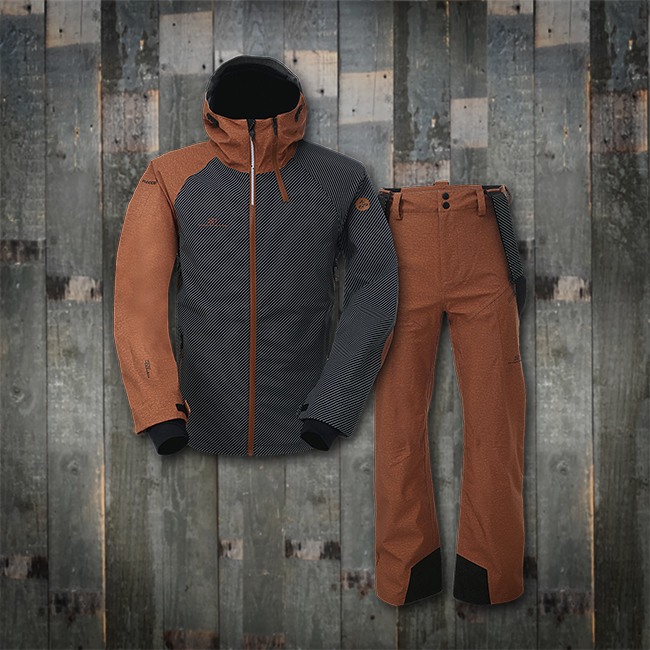 This Ullvi 3-layer set of a hardshell jacket and trousers is the ultimate in snow wear! If you share my passion for ECO-friendly gear, this is the right gear for you.
Outstanding quality, wearability and looks! This is the best wear for winter trips to destinations like the Alps, Pyrenees and the rainy cold of the Scottish Highlands. These Swedish clothes are really comfortable to wear whilst being active.
Eco-friendly:
Recycled (plastic bottles) Polyester (Repreve® technology)
Teflon EcoElite plant-based and non-fluorinated DWR coating
Merino Wool inner layer, naturally breathable, odour-inhibiting and temperature-regulating.
Functionality:
an integrated membrane for moisture wicking breathability, windproof and waterproof protection
breathability: 20,000 g/m²/24h (MVTR)
hydrostatic head main material: 20,000 mm
sealed seams
stretchy fabric
Jacket:2 front zip pockets
Jacket:zipped armpit vents
Jacket:inner cuffs
Jacket:a detachable powder skirt
Jacket:an integrated Recco reflector
Jacket:full length front zip, with chin guard
Jacket:helmet-compatible hood, adjustable, with drawstring
Jacket:lift pass pocket
Jacket:drawstring in the lower seam
Jacket:elastic inner cuffs
Jacket: detachable powder skirt
Trousers: Scuff guard
Trousers: integrated gaiters
Trousers: detachable braces
Trousers: adjustable waistband
Trousers: adjustable straps
Trousers:two leg pockets
Trousers: long zipped vents

2117 of Sweden is an innovative Swedish company offering
Scandinavian design combined with practical functionality at it's best!

Western Rise Evolution Pants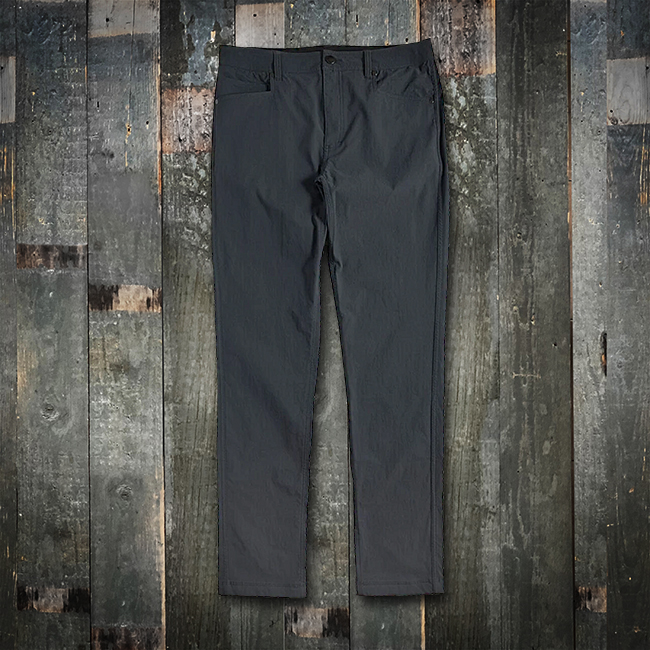 The must be the most deceivingly inconspicuous pants around. Untill you put them on! Western Rise Evolution Pant is super lightweight, ultra breathable, stretchy, moisture wicking: The ultimate summer pant! Stronger, softer, stain-proof and packed full of features:
High-denier, air-texturized Nylon twill
96% Nylon, 4% Elastane
173 grams
Sustainable C6 durable water repellent (DWR) treatment
Abrasion-resistant, anti-pilling woven twill fabric
6 pockets
Front right media pocket
Hidden back right zipper security/passport pocket
YKK zippers
Ergonomic 3″ gusset
Reverse yoke for added mobility
Permacore high-tenacity thread (40% more durable than standard spun Polyester thread)
Stainless Steel components
Blue Sign approved fabric (sustainability) made in Sweden
A portion of the proceeds from this item support Western Rivers Conservancy and 1% For The Planet.

Western Rise Limitless Merino Shirt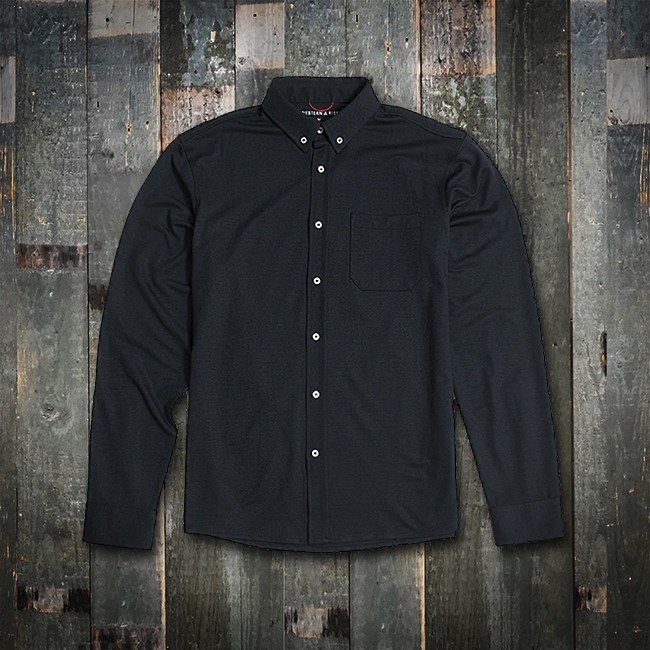 Western Rise claim that their Limitless Merino Shirt is an outdoor shirt. And it is. But it looks really sophisticated and luxury. This shirt is a joy to wear, being odour resistant, moisture wicking, temperature regulating, wrinkle resistant, and stretches in every direction to move with your body. Wear day-in and day-out, no matter the weather, occasion, or location and WASH LESS! This knit fabric blends 53% Australian Merino wool and 47% polyester making it soft and machine washable. It weighs 330 grams.
On my north European backpacking trips, this shirt is the only shirt I have with me, all year around.
A portion of the proceeds from this item support Western Rivers Conservancy and 1% For The Planet.

Ellanda women's padded coat by 2117 of Sweden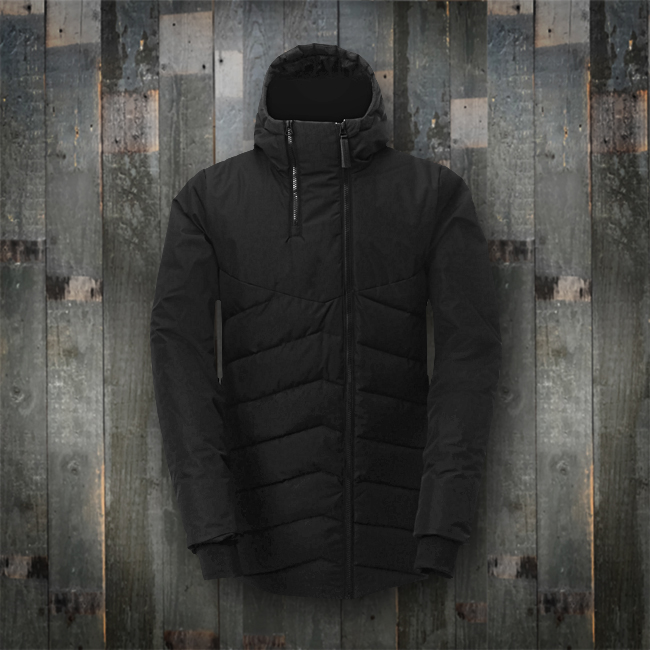 This is the ultimate coat for long walks in icy cold weather and snow. This coat is built to fend off the wind and water. Plus, it is breathable to keep your temperature nice and balanced and prevent you from overheating. If more ventilation is required, just open the full-length two-way zip for some fresh air. The coat has snug elastic cuffs to prevent cold air from creeping in and two front pockets will keep your hands warm.
Features:
Material: 100% polyester
Material type: Synthetic insulation, Synthetic fibre
Fabric treatment: DWR treated
Fabric properties: breathable, windproof, waterproof
Breathability: 5,000 g/m²/24h (MVTR)
Hydrostatic head main material: 5,000 mm
Other material: with membrane
Fill: DuPont Sorona Bio Padding (plant-based)
Sustainability: PFC-free
Closure: Front zip, full length 2-way front zip, 1/4-length
Hood: yes
Pockets: 1 inside pocket, 2 front zip pockets
Extras: elastic inner cuffs

Vallon Freebirds Goggles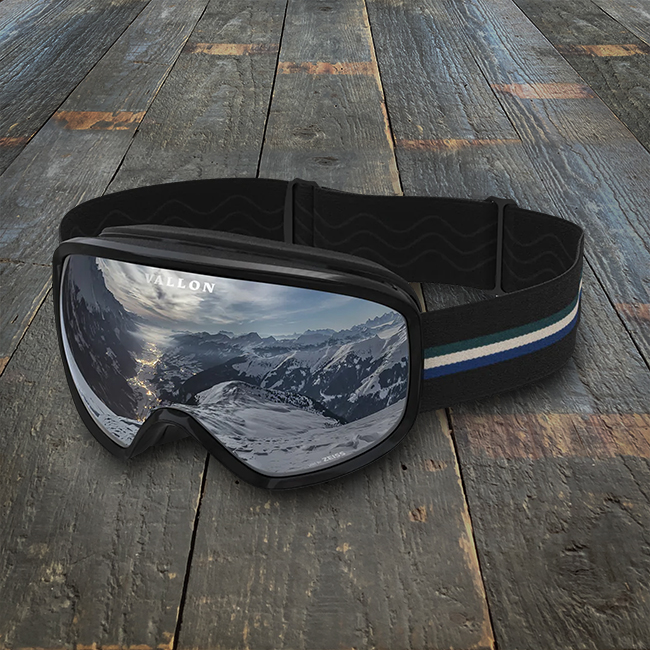 I use my Vallon Freebirds goggles not only for skying, but also for mountaineering and hillwalking. In snow and stormy conditions having goggles can be a game changer when hillwalking. They are fitted with top-of-the-range lenses from ZEISS. I use them as OTG (over the glasses) as well, but this depends how large your prescription glasses are. The warm tint increases contrast and enhances depth perception, while the mirror coating is anti-reflective and provides all-day comfort. The ultra-flexible TPU frame is lined with triple-layer foam, which forms to your face and offers superior comfort to other goggle materials. The polycarbonate lens from ZEISS is combined with an inner anti-fog lens from Italian experts Mazzucchelli. The strap is silicone-backed for maximum stability. The dual-layered lens has a spherical construction offering a wider field of vision, less glare, and less distortion compared to cylindrical-shaped goggles.
The lens is interchangeable and optional lenses are available:
Standard lens (15% VLT) The mirror coated lens is optimal for sunny and varied conditions.
ZEISS Orange (36% VLT) Using ZEISS's patented SONAR technology, this low-light lens is revolutionary in its ability to enhance colors and contrasts, and to detect bumps and obstacles. A must-have when active in poor conditions.
ZEISS Smoke (13% VLT) An optimal lens for bright and sunny conditions. The dark tint reduces eyestrain and maximizes eye comfort and relaxation.
VLT stands for visible light transmission. This ranking is a percentage that indicates how much light goggle lenses let through, so for sunny conditions, you'll need a low percentage.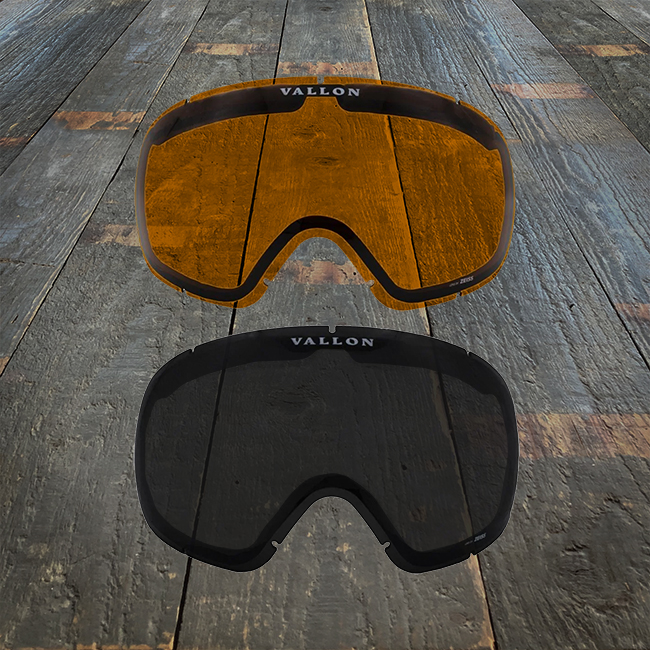 Solbari Broad Brim Sun Hat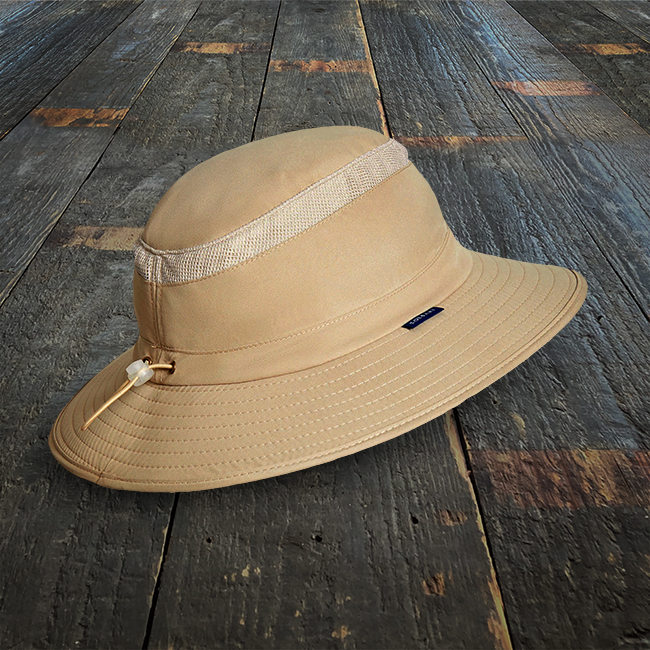 Wether canoeing or hiking, this Solbari Everyday Broad Brim Sun Hat is my go to sun hat. Very comfortable over long periods of wear and extremely effective UPF 50+ sun protection, blocking UVA and UVB rays. It's lightweight, packable, breathable and has a 7 cm wide brim. The sun protective mesh panelling at the top provides cooling and ventilation. It has a comfortable sweatband, a drawstring size/fit adjustment and a removable chin strap with locking toggle.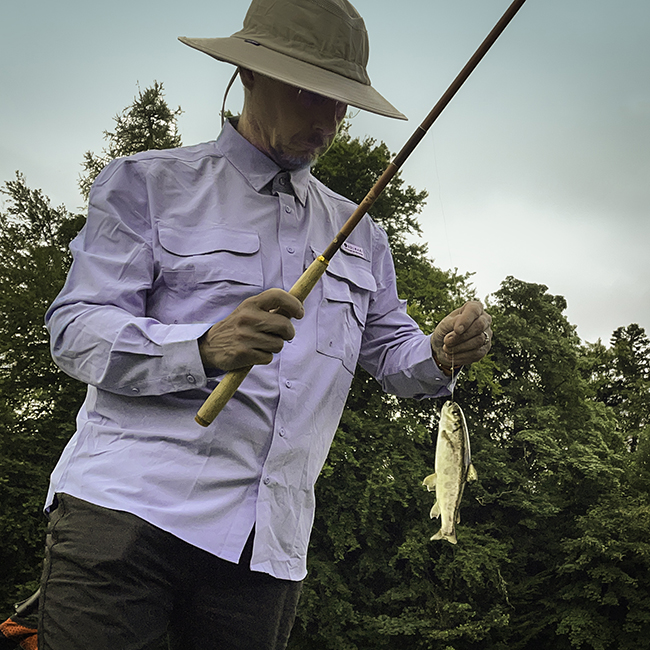 Solbari Sun Protective Outdoor Sport Gloves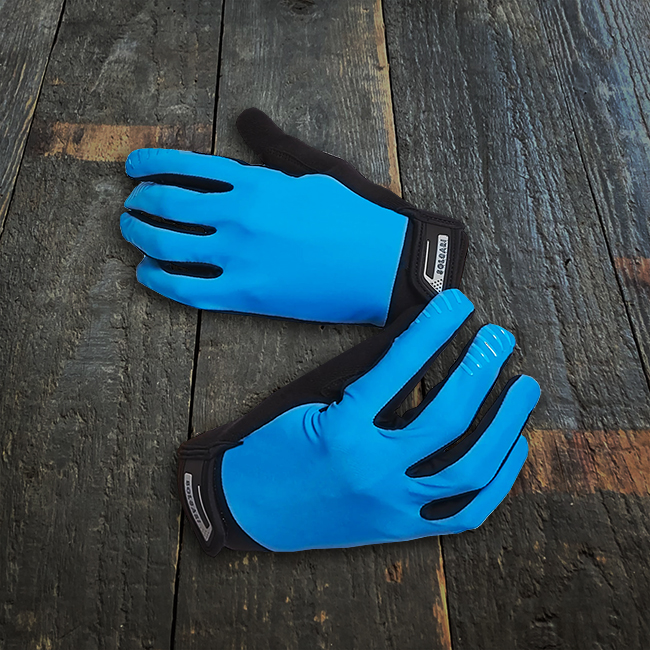 These Solbari Outdoor Sport Gloves cover the whole hand, which offers important sun protection when walking with poles. The UPF50+ UVA and UVB rays protection is the best you can get. Being breathable, lightweight and super comfortable, they can be worn all day. The gel padding on the palm for improved and silicone strips improve the handling of poles, paddles, fishing rods and other gear (like my bow and arrow). There is a velcro at the wrist for easy adjustment.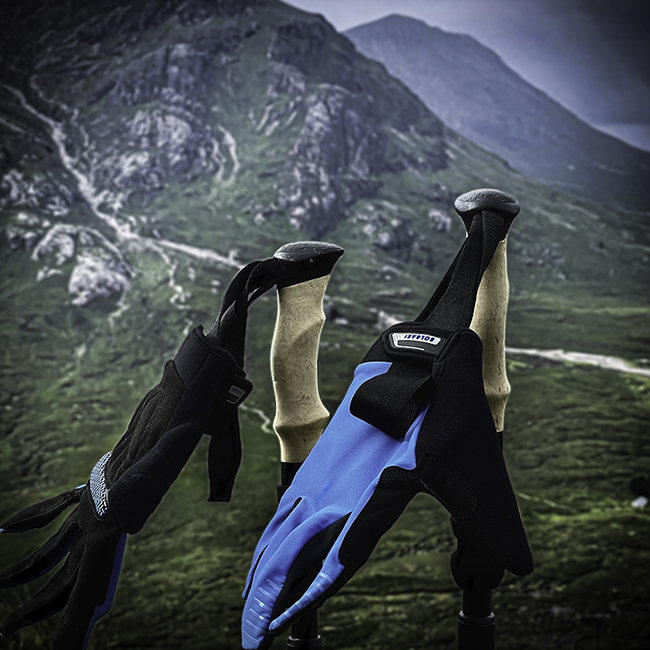 Rooster Combi Gloves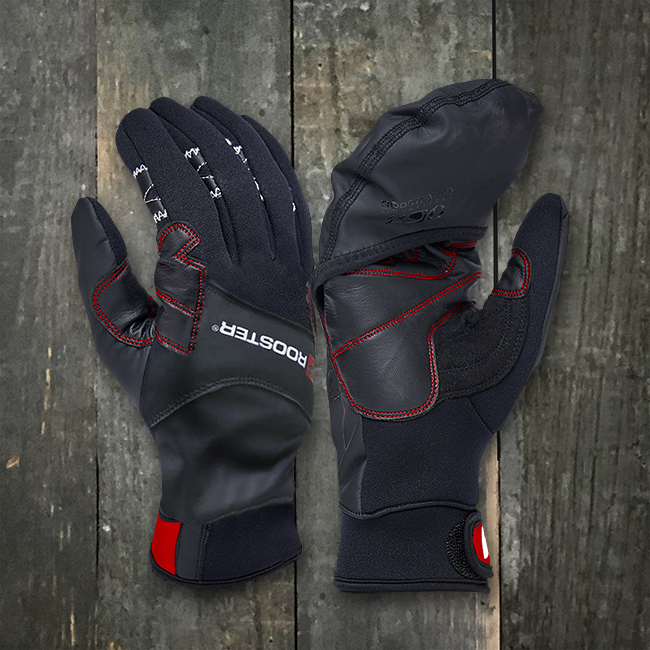 The Rooster Combi Gloves are the warmest gloves I have ever owned! The combination of an all weather neoprene glove, with an aquafleece (polyurethane outer layer with a fleece inner layer) mitten against windchill, makes the ideal winter glove. The use of Amara (an synthetic leather) on the palms gives loads of grip when wet and is durable enough to withstand a lot of paddling. The mitten can be tucked away neatly into a handy pocket on the top of the glove when not in use. The pocket can also double up as a storage pocket for heat pouches. Water is kept out by Velcro secured neoprene cuffs. I use them both on and off the water.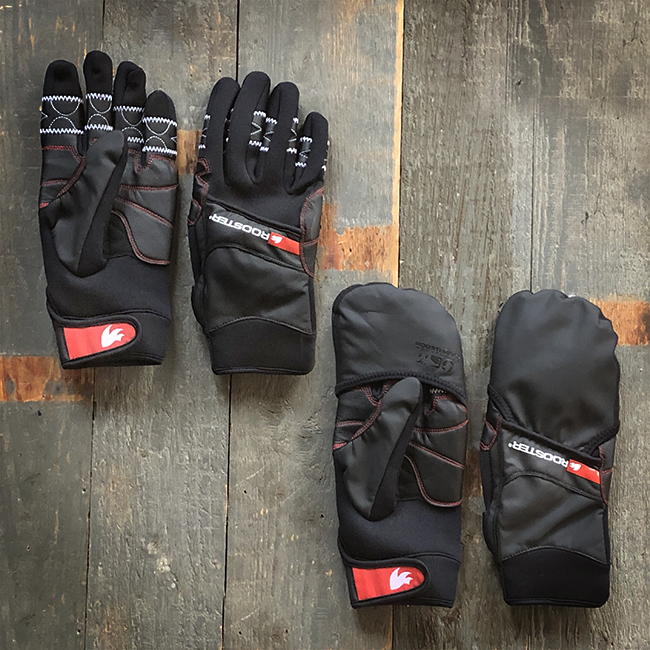 Rooster Sailing is a European company with a real good sense for innovation and quality. Visiting their website, you'll notice they'll trick you into thinking they are all about sailing (and they are), but Rooster has loads of kayaking-friendly gear if you have an eye for it.
Footwear

Grisport Utah Mid Trekking Shoes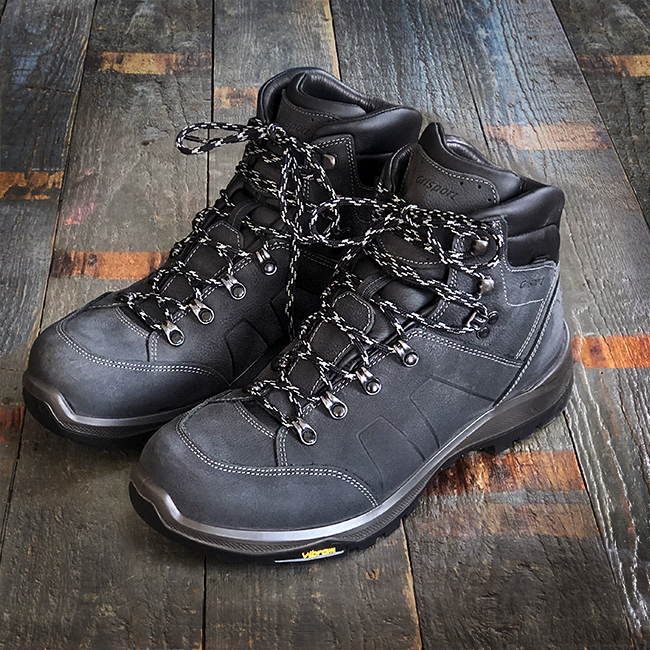 These are my main B-class backpacking shoes. A premium model of the Grisport trekking series, it has all the good specs. Made with hydro leather and a waterproof membrane it keeps the water out and yet breathes very well. This luxury version has a leather interior shaping to the foot, creating a non abbrasive foot-hugging shoe. The tongue is leather as well, and is well polstered. The inlay sole prevents sock slippage. The mid-sole dampens extremely well creating a very comfortable feel, whilst the Vibram Evolution sole offers loads of grip. Weighing less then 650 grams per shoe, I'd call them very light.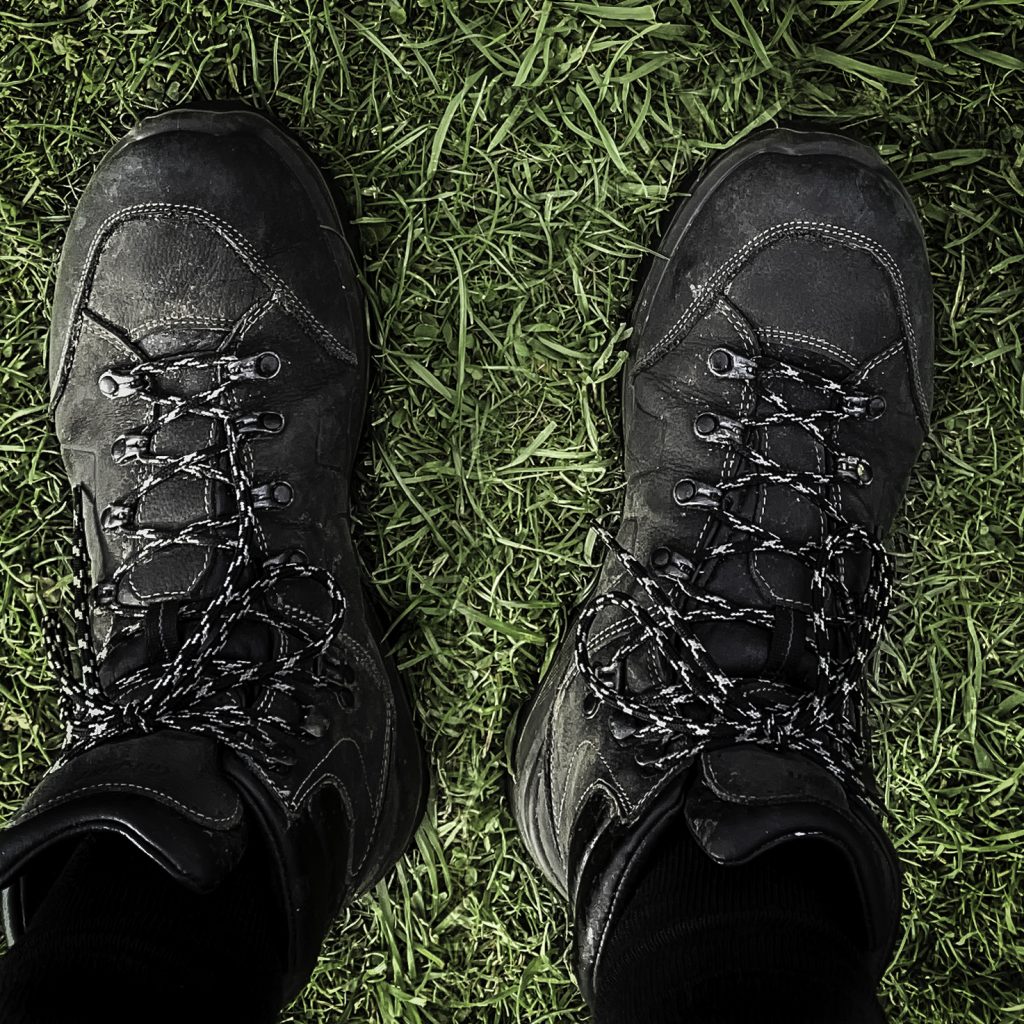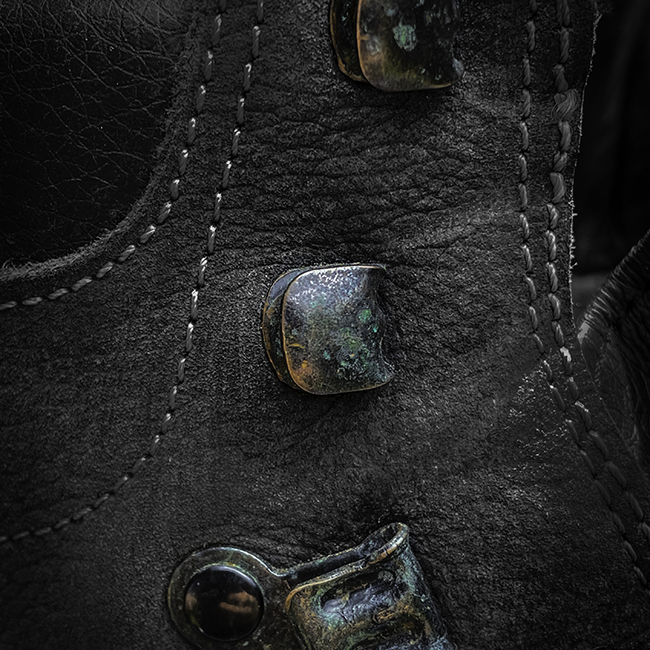 On Running Waterproof Trail Shoes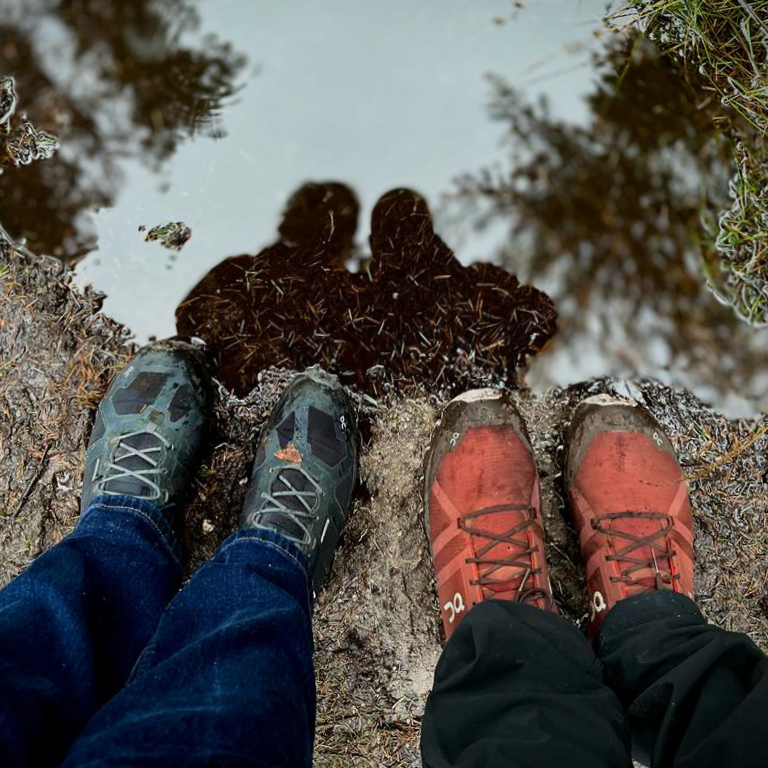 Our On Running shoes/boots are seriously trail tested. Summer or winter, these have been reliable, very lightweight, waterproof shoes. We do not use them for trailrunning, but for every other purpose we can think of!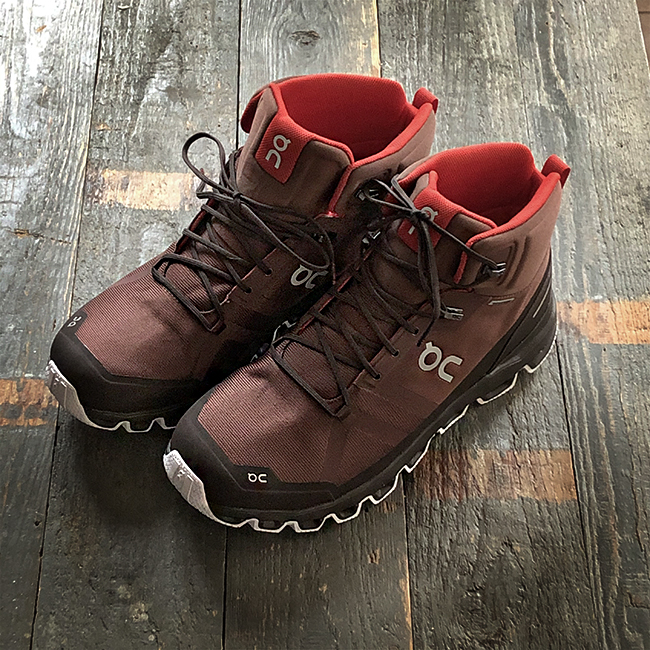 We found them. The ideal trail shoes. Ultra lightweight, strong, durable and super grippy! The On Running Cloudrock Waterproof and Cloudventure Waterproof boots. The rubber used gives loads of traction to these shoes and the lugs provide all the grip you want. Especially downhill, these boots make the difference. The natural roll off and the cushioning are really comfortable and secure. A 100% waterproof breathable membrane keeps your feet dry. A minor but nice detail are elastic loops on the tongue to keep your lace ends from hanging loose.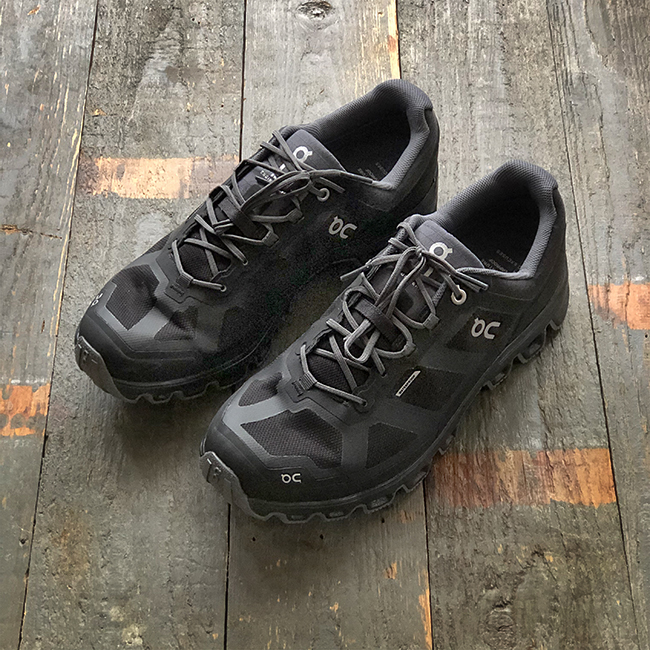 On Running is one of Europe's most innovative companies. Every little detail of their products is well thought through. You can't go wrong with their gear.

Doghammer Shoes

Doghammer Guide Vegan Shoes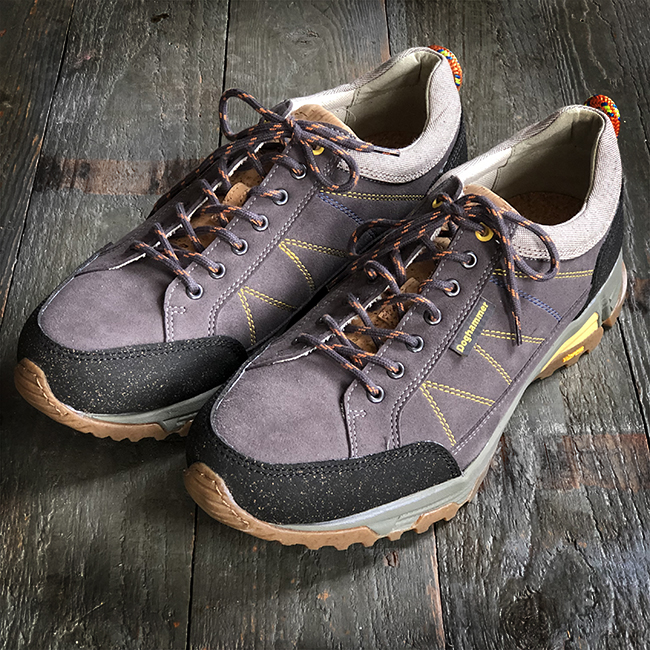 My Doghammer Guide, 100% Vegan shoes are great approach/walking shoes, with their Vibram soles and sturdy, non-abbrasive outfitting. The use of cork is pretty unique to this brand and works really well.
They take the environment very serious!
The soles are recycled Vibram brand soles, offering the grip we all know. The upper material made of vegan leather is not made from petroleum like most synthetic leathers, but from polyamide. This property makes it a very robust, breathable and water-repellent material. The vegan leather is combined with linen made from recycled marine plastic. This marine plastic is collected by the SEAQUAL initiative, which campaigns for clean oceans. The removable insole made of recycled cork and EVA is additionally cushioned in the heel area. A practical loop made of climbing ropes makes it easier to put on. These shoes are handcrafted by a family-run shoe manufacturer in Portugal.
A nice fitting and feeling, yet vegan shoe, that withstands the rigors of the harsh terrains!

Doghammer Gamsbleame Cork Slippers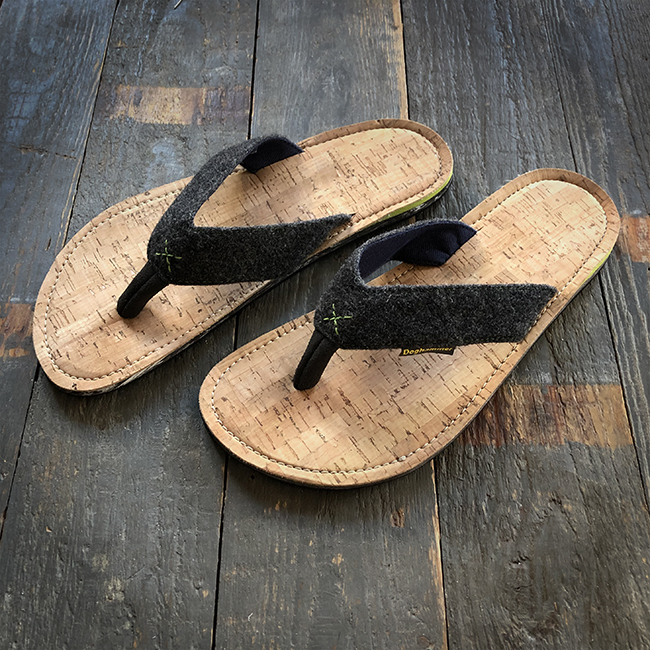 These Gamsbleame outdoor slippers are made using a cork/wool felt upper and a profiled EVA sole, offer excellent grip on every terrain and loads of impact absorption. The toes tring is thick and the strap is wide. Both add to a very 'outdoor' feeling and behaviour. The strap is made of wool felt with a denim lining. The toe string is made of microfibre with a wool core. The upper layer of the footbed is made out of natural (regrowing) cork, which feels ver comfortable, is easy to clean and does not absorb any unpleasant odors.

Kamik Boots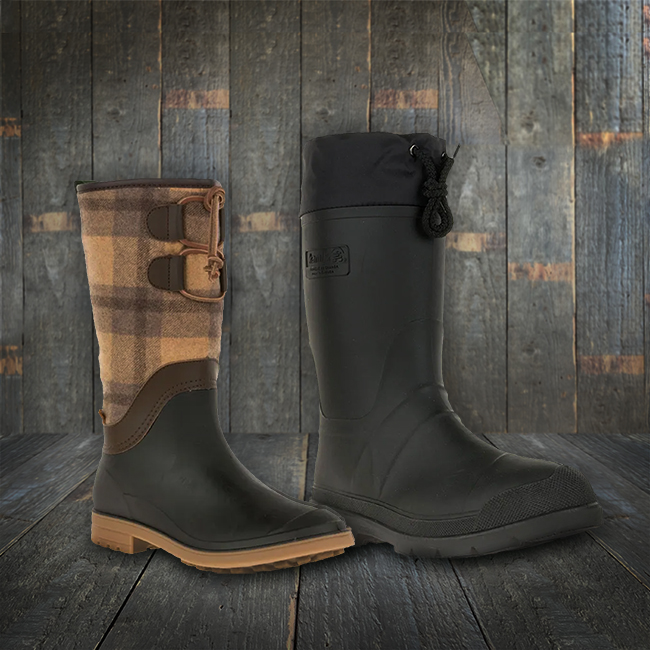 The Abigail Rain Boot (Beige Plaid) and the Forester boots (Black) are our vegan-friendly boots.
The Abigail women's winter and fall boots feature lightweight rubber bottoms, for muddy patches and slushy sidewalks alike. These seam-sealed waterproof boots have a water resistant flannel upper, decorative leather laces and a moisture wicking fleece lining for added warmth. Weight: 953g per pair
The Forester boots are heat-insulated for conditions down to -40°C, 100% waterproof, oil and acid resistant. These are lightweight synthetic rubber boots with an adjustable nylon collar and a non marking, synthetic rubber sole. They have a removable 8 mm thermal protection and moisture-wicking inner liner made out of 100% recycled material. Weight: 2087g per pair. Height: 35.5 cm


Insoles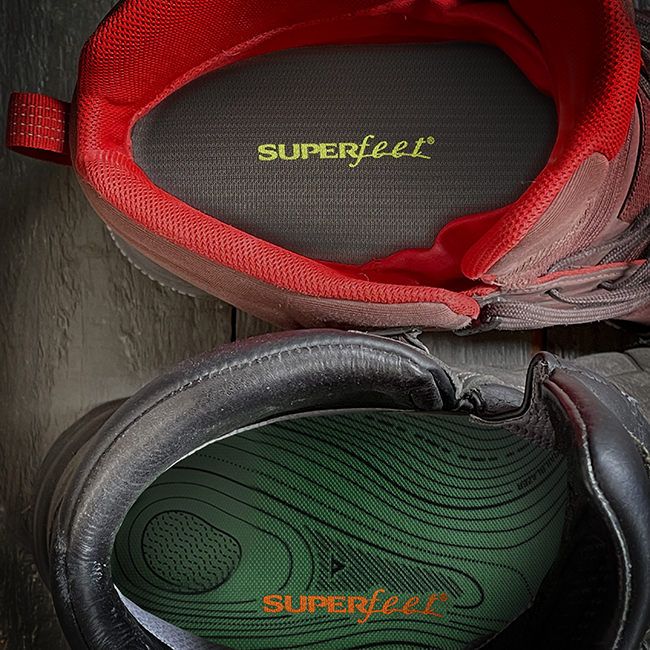 I use two sets of insoles. A set of trekking shoe insoles and a set for trailrunning shoes: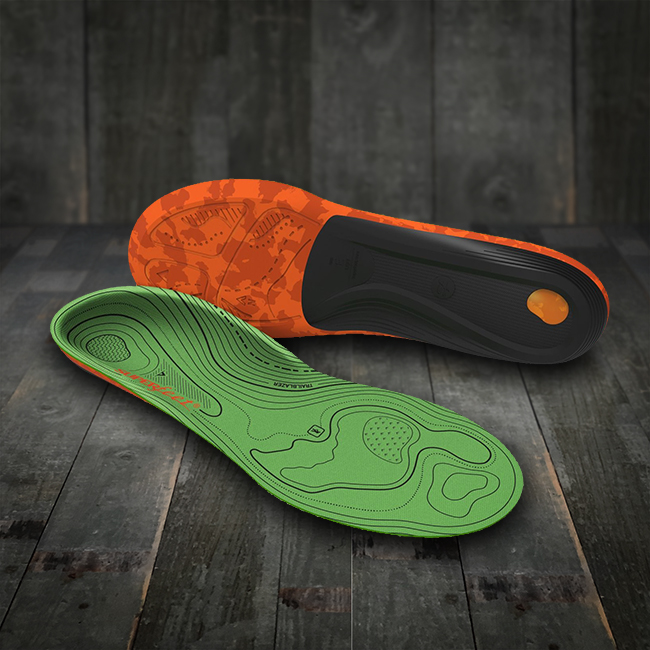 My trekking shoe insoles are Superfeet Trailblazer Comfort insoles. These are superlight soles to stabilize on uneven surfaces and prevent friction related chaving. The deep heel cup in combination with the pronounced arch do a lot of the work keeping feet in position and reducing impact on the heel. The whole sole is made using a super comfy foam base providing loads of comfort. In fact, the name of these insoles couldn't be more accurate, 'trailblazer' & 'comfort': spot on!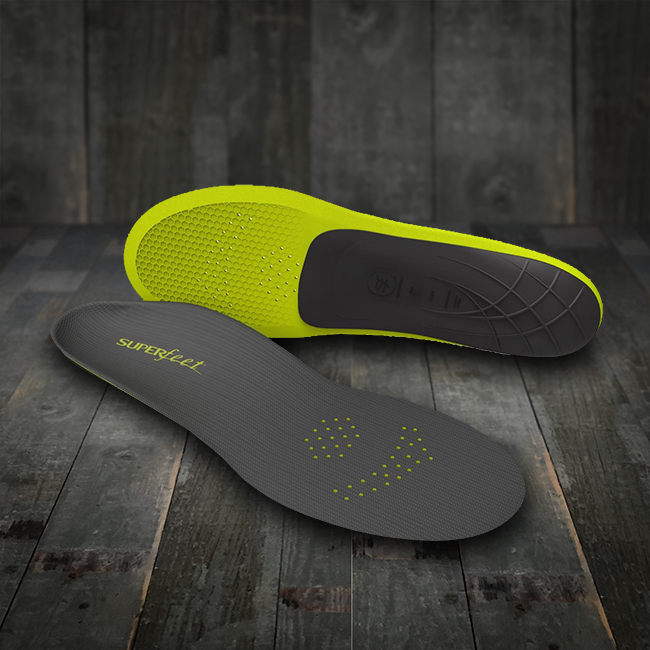 My trailrunning shoe insoles are Superfeet Carbon insoles, cradling my feet and adding a direct feel. Trailrunning and/or hiking on light shoes demands a very direct contact and feel with the ground your walking on. These insoles do contibute to that feel a lot. They are very light and 'airy' as well, even in continuous wet conditions, which is unique and sets them apart from many of the other brands.