Whitewater Safety
Whitewater safety is a topic that needs attention. Accidents happen. These accidents often result in two safety related stages of aid.
Rescue: Extricating/rescueing persons and recovery of boats & paddles.
First Aid: Taking care of wounds and injuries.
Getting pinned in whitewater is a potentially dangerous situation and needs to be solved swiftly and effective. Over the years I have broken several ribs, damaged fingers, toes and what not. Some say injuries are inevitable when pushing limits, no matter how carefull you are.
The first step is to be prepared for these occasions, with both tools and knowledge.
Preparation starts by checking rescue- and first aid kits whilst your still able to replenish your necessities. Make sure you know how to use the kits. Practise your rescue techniques and know how to find things in your first aid kit. When you are ready to board, check for any known health issues within the group that can cause complications during the trip. Also check if all boats have adequate buoyancy blocks & air bags. (If not, consider not risking safety and injuries recovering that boat.) Last but not least, agree on signals to use in an emergency situation. Especially among those that aren't in distress. (Like 'stop, we have an emergency!', 'come and assist!', 'go to the other bank!', et cetera.) Whilst on the water, both kits need to be easily accessible. Make sure kits are strategically located within the group. The most experienced paddlers are likely to be able to help first when things go wrong.
As a former (Rescue 3 Europe Whitewater (WRT-REC) and WRI Swiftwater) Rescue Technician, I had to seriously update my knowledge to comply with modern day standards, like the 'Clean principle'. This means I have to update my gear as well. Underneath I'll keep you posted on my progress, findings and tips. The "Clean Principle" tells us to be aware of any gear snag hazards, that could result in entrapment. Remember: Rope and swift water are a bad match.
Gear
Kayak
Make certain you have the right kayak for the trip!
Check usability, security and strength of grab-handles (all kayaks should have these, preferably no rope loops!). Make sure that the kayak will float when full of water by adding adequate airbags. Check all screws, bolts, footrest and/or bulkhead. Ensure that your spray skirt has a pull-cord for release and is a tight fit.
PFD
Wear a CE-approved buoyancy aid when on or near the river, check its floatation and make sure it is in good condition and the correct fit. Ensure all buckles and zips are fastened. Check your PFD for loose straps!

Cowtails/Towing tether
A cowtail is a very useful tool to recover a kayak 'on the loose', but only if you are able to run the river safely towing a water filled boat!
Use the absolute minimum length required for towing and only use it with a release buckle system. Tug any slag underneath your PFD.
I use a 50cm (extending to 90cm), CE approved, tubular webbing with integrated bungee tether, fitted with a Petzl William carabiner (position-secured by a Petzl 'String' webbing protector). The 50cm tether fits snugly around my PFD, minimising the chance of entrapment. (image above)
Helmet
Wear a CE approved, fastened, kayaking helmet when on or near the river. Ensure it fits correctly and snug. It helps if the colour stands out on the river (unlike mine).

Protective clothing
Wear and/or carry sufficient warm protective clothing for the trip. I always wear/carry a paddle jacket, neoprene shorts and rashguard shirt in summer. In winter I add a long john wetsuit, neoprene paddle jacket, a neoprene hat and pogies. A dry suit would be a great addition.
Wear footwear suitable for carrying your kayak up- and downhill or scouting the river. Footwear should be free of anything that could catch.
Throw bag
The way most brands configure their throwbags is not suitable for whitewater use. Throwbags should not have any loops or knots that can get snagged. Nor should they have any hardware attached that can injure swimmers. I prefer to carry two throwlines:
An 8,5 mm, 18m, polypropylene rope, ideal for quickly bagging swimmers. Small bag, quick deploy, right in front of my seat.


And a 9,5-10mm (better grip than 8mm), 20-25m throw line, containing a Spectra core. The Spectra core will increase the breaking strength from 9kN (polypropylene) to 16kN. This strength is needed for heavy lifting and moving big loads, like when unpinning a kayak. I store this behind my seat.

Unpin kit
Together with other rescue related items on this page, stowed in an 8 liter drybag, inside the kayak:
Four Locking carabiners
Personally, I like the Petzl William carabiners, being lightweight, large-gated and yet rated at 27kN. I only use locking biners, as non-locking/snap/wire biners are not 'Clean'.

Mind you, some older locking carabiners have snagging noses, like most non-locking biners have. Do not use those.


Green

: a Petzl William nose.

Red

: a snagging nose.

Two pulleys
I have an additional blocking pulley (Mind you: they can cause wear on your rope.)
Three 120cm Webbing slings
Flip line
Flip lines can be used for many different kayaking purposes, the most common being as an anchor line to secure your boat, for a reach rescue and as a rescue anchor. I use a 4 meter webbing sling, with a Petzl William carabiner. Made from strong tubular nylon webbing' its two sewn end loops can be joined with a carabiner to make a continuous loop' or left apart as a 4 m straight sling. A flip line should be carried inside your PFD or stowed in your kayak, not around the waist, as this is dangerous and not 'Clean'.

Knife
Knives are an essential piece of gear, especially when working with rope. Your knife needs to be easily accessible with one hand. It should cut rope easily (serrated blade) and not have a sharp point. Do not tether the knife as this is not 'Clean'.
I use a NRS Co-Pilot Knife (that is small enough to fit my current PFD) and a Wichard Rescue Knife (which is slightly bigger and better cutting).

Spare paddle
At least one member of the group should carry a spare paddle. Any decent paddle will do, but mind the weight.
I carry an rescued 4-piece old Robson (?) 197cm paddle, which I split myself. Kevlar Carbon blades and carbon shaft. Weight: 1008 g.

Emergency Bothy Bag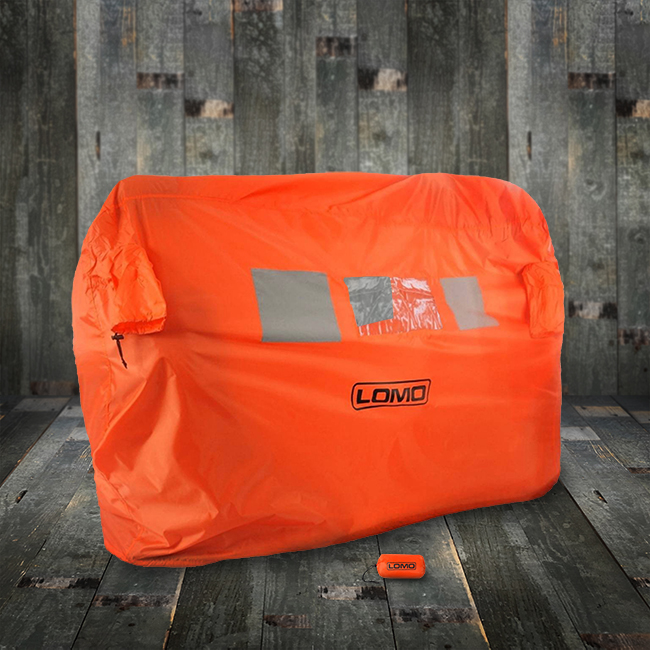 I recommend everyone to carry an emergency shelter. My Lomo Emergency Storm Shelteris a 2-3 man 'Bothy Bag'. It provides protection from the wind and rain when you are in dire straights. It's lightweight, easy to carry and can be pulled over 2-3 people to help keep the elements off them in an emergency. The shelter is made from high-viz orange, PU-coated polyester and has two large retro reflective patches on the front to help reflect the torch light from a search party or helicopter searchlight. A viewing window is also included to let the occupants see out whilst keeping sheltered and two air-vent snorkels aid ventilation. These can be adjusted or closed in heavy winds and rain. Two people can sit inside the shelter and have enough room to face each other and still have an area in the middle to eat. Three people in the shelter is a bit more crowded. Made out of 190T PU-coated polyester, it's sized 1.3m Long x 96cm high x 45cm wide, but packs as small as 21cm x 10cm and weighs 360 grams.
First aid kit
Focused on cuts, bleeding, broken bones and pain.
I carry a bigger SAM splint (for limbs) and a SAM finger splint. Wound closure and dressing materials. Small tampons for nose bleeds, tape, water purification tablets and 2 Rescue blankets. Medicins like Immodium, Paracetamol and Anti-hystamine. This is my smaller day-trip kit.
Cell phone, WalkieTalkie and PLB
For when there is no cell phone signal, I carry a Personal Locator Beacon (PLB), currently an ACR ResQLink. A last resort for extreme emergency situations. Not to be used lightheartedly as it will result in the activation of a (helicopter) rescue team, guiding them to your location. For communication within the group a walkie talkie is a proper safety device.
Whistle
For communicating when your voice isn't strong enough.
I use an Acme Tornado 2000 professional referee stadium whistle, which blows out any water easily and has loads of volume (up to 122 decibel).

Wood Saw
For clearing your way through a blocked river or freeing a trapped paddler.
I use a Silky Pocket Boy, with 170/10 blade.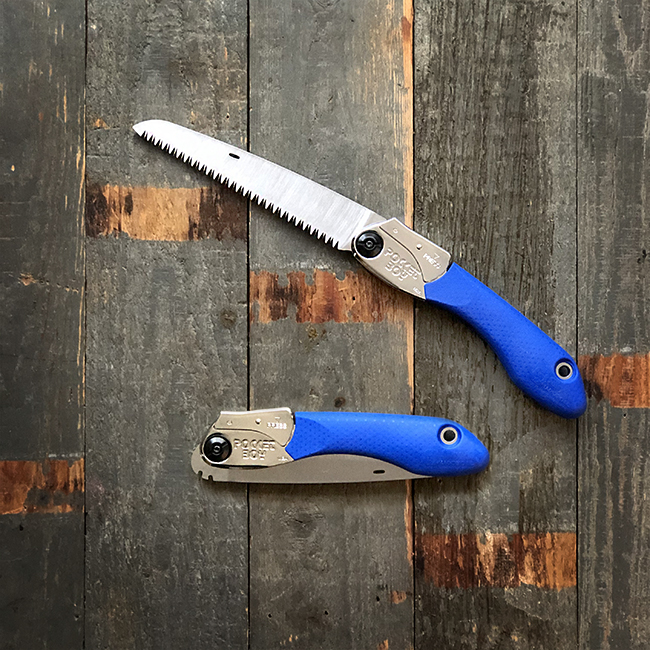 Gaffa/Duck tape
For al unforeseen repairs and whatnot.
Abilities and knowledge
All the gear above should be used by trained individuals. Follow a Swiftwater rescue course. Practice regularly and keep refreshing your knowledge!
Know the whitewater class you can handle and be prepared to portage rapids beyond this ability. If you are not sure, buddy up with an experienced group member.

Class I: Beginner
Fast moving water with riffles and small waves.
Class II: Novice
Straightforward rapids with wide, clear channels which are evident without scouting. Occasional manoeuvring may be required.
Class III: Intermediate
Rapids with moderate, irregular waves which may be difficult to avoid. Complex manoeuvres in fast current and good boat control in tight passages or around ledges are often required.
Class IV: Advanced
Intense, powerful but predictable rapids requiring precise boat handling in turbulent water. A strong Eskimo roll is highly recommended.
Class 5: Expert
Extremely long, obstructed, or very violent rapids which expose a paddler to added risk.
Class VI:
Extreme and Exploratory Rapids
These runs have almost never been attempted and often exemplify the extremes of difficulty, unpredictability and danger.

Be prepared to self rescue, including whitewater swimming and a reliable Eskimo roll.
Know Basic Life Support and have a current first aid certificate.
Sometimes medical care is necessary. If so, you need to carry the tools that fit your skills and to a level of injuries you can handle. I believe it's best that each paddler carries a medical kit according to those criteria. The contents of a first aid kit needs to be checked every year for it's expiration dates.
Being trained both as a field medic in the army (commandos) and as an outdoor first responder, my kit is composed to my level of expertise.

First Aid
My WhiteWater First Aid Kit
My first aid kit is packed in a waterproof bag. This bag contains a venom extractor kit, a windlass tourniquet and a adapted First Aid Kit.
My kit contains:
Wound plasters 19×38 mm, 5 pieces
Wound plasters 25×72 mm, 5 pieces
Wound plasters 60×100 mm, 2 pieces
Trauma dressing 12×12 cm
Butterfly bandage, roll 1.25 cm x 1 m
Needle and syringe 0.6×25 / 5 ml, 6 pieces
Wound plasters 10 x 25 cm
Sterile compress 5×5 cm
Hydrophilic bandage 5 cm x 4 m
Suture & needle 75 cm/nylon
Blood lancet, 4 pieces
Vinyl gloves 1 pair
Alcohol wipes, 10 pieces
Trauma shears
Tweezers
Tick tweezers
Scalpel
Mouth-to-mouth shield
Safety pins
Immodium
Paracetamol
Epi-pen adrenaline-autoinjector
Glucagen Pen
Athletic tape
Small tampons
Finger Splint
Splint 36″
Laceration Kit
Blister plasters
Electronic thermometer
Oral Rehydration Salts Sachets
2 Rescue blankets
Betadine
Silk fixation tape
Spray Plaster
2x elastic finger plasters
2x knuckle plasters

Individual First Aid Kit: IFAK
Fenix Protector Individual First Aid Kit: IFAK SF. This firm bag is very well designed with regards to practicality. The Molle part is firmly attached to my pack, whilst the tongue/velcro/buckled bag is easily detached for quick use. I use this when backpacking.

Tourniquet in Pouch
I use a Fenix Protector PO-162 radio pouch for storing my (generic) tourniquet.

SOL Escape Lite Bivvy
I allways carry an emergency bivouac sack. Presently this a Survive Outdoors Longer (SOL) Escape Lite Bivvy It is lightweight at 165gr and packs incredibly small. The fabric lets moisture escape and keeps rain, snow, and wind on the outside – all while reflecting your body heat back to you. If necessary it can be used as a liner to enhance the warmth of your traditional sleeping bag.

Outside Help
If the worst comes to the worst, you'll need outside help. But only in circumstances that are serious enough.
This section looks at the full range of communication methods of calling for help, with the proximity of your route to civilisation sometimes determining the appropriateness of each method, which should be factored into your planning. Take the appropriate kit for your route.
Undirected/Passive Communication
This is when a general communication is sent, being addressed to no one in particular, but in the hope that someone will see or hear a distress communication. The following list is in order of effectiveness:

Weather & Emergency Radio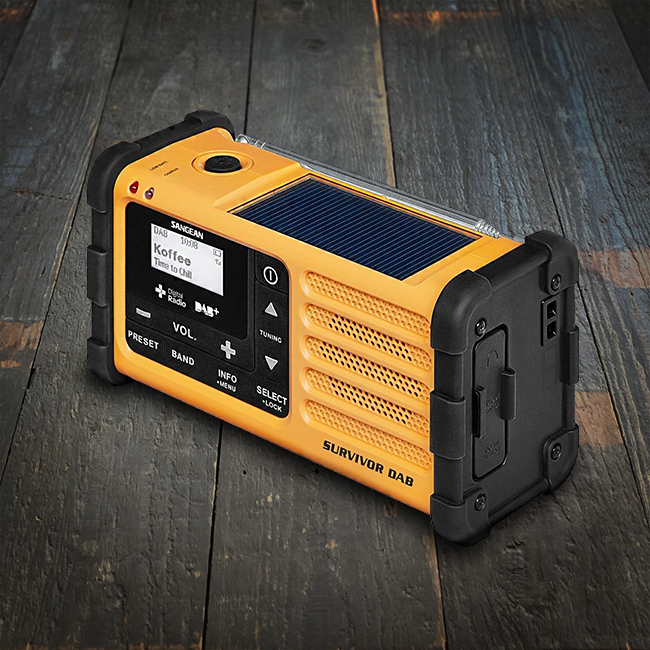 Basecamp, Camping or at Home, as soon as the internet is not available an Emergency Radio can get you the needed information about weather, disasters and what not. But, radio's need power, so I use the Sangean Survivor because it accepts Micro USB, the hand crank and the solar panel to charge it. You can see if the device is charging with the LED indicator. This radio offers both analogue FM reception and it's digital successor DAB+. So all you have to do is check the emergency frequencies in your area. The radio will also play your music via speaker or earphone, charge your phone, it has a clock, 20 station presets (10 DAB+, 10 FM) and it has a flashlight with Morse Code SOS.
Visitors of my website are offered a €20 reduction on the Sangean website ánd after registration the standard two year guarantee is upgraded to five years. All you have to do is use the reduction code: Whitewatergear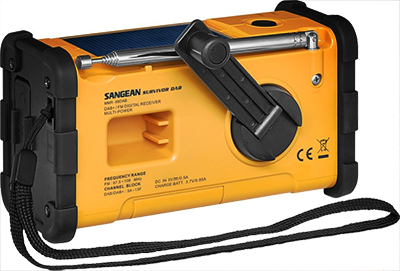 Whistle or Torch
An essential piece of kit for everyone to carry is a torch and whistle, with the sole purpose of the whistle being for emergency signalling.
The International distress signal is 6 blasts repeated with an interval of one minute between each series of 6 blasts. If your whistles are heard, you should hear three whistles in reply. Keep repeating the whistle blasts so that your location can be determined. Help may take some time to reach you, so keep whistling every minute until you are certain that rescuers are on the way, i.e. you can see a dozen bobbing head torch beams making their way to you.
Follow the same process for torchlight, flashing the light instead of whistling. However, If a Search & Rescue helicopter is nearby, shine the torch on the ground, not at the helicopter, as the bright light will affect the pilot's Night Vision equipment.
The obvious limiting features are that someone has to hear or see you, and if you're in a remote valley after everyone else has left, your signals could go unheard.
Pyro signals
Wether you go kayaking, paragliding, hill-walking, climbing, skiing and or any other outdoor adventure, you'll need to think about safety. Pyro signals are among the possible aids at your disposal. Here's what I have and use:
Fire
When in distress, a fire can be helpfull in many ways. For attracting attention, place a fire on high ground, preferably within hearing distance. When out of hearing distance, leave an arrow pointing towards your location. When sight is compromised by rain, mist or clouds, the smell of a fire will give an indication of your location. I pack a lighter and a couple of strips of inner tube. They are argueably the quickest way to make a rescue fire. (And it smokes and stinks!).
Compact Distress Signal
I use these Compact Distress Signals. The bare minimum that one should take when going into the outdoors. These signals, used to reveal your location when rescue services are sighted, are for day or night-use. Each cartridge projects its payload to a height of 50 metres, burns for over 5 seconds at a minimum of 10.000 candela and is visible for at least 5 miles in daylight increasing to 10 miles at night, depending on weather conditions. 74 g (2.6 oz)
Handheld Flare
The Red hand-held, short range distress signal is used to pinpoint location by day or night. It burns for 60 seconds at 15.000 candela (25.000 lumen). I pack this Red Handflare Mk8. These are the standard flares you'll find on most lifeboats across the world. They feature a telescopic handle making it very compact and space saving. Easily extended and pull wire operated, they help helicopter pilots to pinpoint casualty location and give vital information about wind speed and direction. Flares must not be used near Search & Rescue helicopters at night, as they will seriously compromise the effectiveness of Night Vision equipment. These flair can be submersed when burning, without extinguishing. It burns for 60 seconds at 15.000 candela. 176g (6.2 oz)
Rocket/Parachute Flares
Rocket/parachute flares are set off from the hand, can reach a height of 300 metres (about 1,000ft). Personal/rocket flares have that initial height (can be seen from further afield), a bang, which may grab attention if there's anyone around. I pack the Para Red Rocket Mk8A. These are the standard rockets you'll find on most lifeboats across the world. Designed to withstand exceptional environmental exposure and to perform reliably even after immersion in water, the pull wire ignitor and improved grip provides easy handling. Ejecting a red flare on a parachute at 300m (1.000ft), burning for 40 seconds at 30.000 candela. 235 g (8.3 oz)
Smoke Beacons
When indication of rescue services nearby, these are used to mark the landing spot for a helicopter, showing the spot, the wind direction and -speed. I pack the Lifesmoke Mk9. It's a compact, flat top, day time distress signal designed to be easy and safe to handle. It provides effective position marking during rescue operations and can be used to indicate wind direction, producing dense orange smoke for a minimum of 3 minutes. See helicopter information lower on this page.
Storage
I have these pyro's stored (at home) in an ammo tin. Besides that, I have the Large Polybottle (waterproof) of 12 litre (2.64gal) capacity. It is really large. W218xH400xD218mm, weighing 0.6 Kg. Having said that, none of the two options above are light and small enough to take the selection of appropriate signals on a trip. What you probably need (which I do not have), is the Mini Polybottle Mini Polybottle, with a 3 litre (0.8gal) capacity.

The Pains Wessex company has been a leading supplier of marine distress signals for over 100 years, with distributors all around Europe. If you have problems finding the Pains Wessex products, by advised that similar, if not identical, products are sold under the Comet brand.


Available at Kanocentrum Arjan Bloem.
Strobe Light
This bit of kit is of more use in the dark than day, and can be seen from several miles away. Batteries last for many hours. Mountain rescue teams use them, but I suggest that the weight of a strobe could be exchanged for more useful emergency kit. So, I don't own one.

Direct Communication
This is when a 'message' is sent that is addressed to a specific person or organisation.
The following list is in order of effectiveness:
Before Phone/Radio Contact
Location: Many of the gear we carry around can provide this information, check your maps, telephone, camera, watch and any gps-enabled aparatus. Give them landmarks. Is there a road in sight? Is there a 50×50 meter clearing close by for a helicopter to land? Tell them if you have flairs, beacons, makeshift signs and such. Tell them your last know location, general direction and time since.
Emergency. Give as much information as possible about why this is an emergency:

Wounded people? Immobile, bleeding internally, externally, in shock?
Stuck, pinned, lost, dead people?
Lost? Give them landmarks. tell them if you have flairs, beacons and such. tell them your last know location, general direction and time since.

Urgency. Why is help time-sensitive. Wounded people, pinned people, weather closing in.
Prepare to give rescue services as much information as available:
International Emergency Telephone Codes & Mountain Rescue Services
Please help me filling this chart with the correct information!
Country
Phone number
Radio Channel & Frequencies
Albania


Andorra


Armenia


Austria
140 / 144 / 112
No Radio Call available
Azerbaijan


Belarus


Belgium


Bosnia and
Herzegovina


Bulgaria
(088)1470 / (02)9632000
55.475 Mhz or 147.850 Mhz
Croatia


Cyprus


Czech Republic


England, Wales,
Scotland
999 / 112
Radio call frequency restricted to the emergency services
Denmark


Finland


France
112 transfer the calls to the mountain rescue unit.
150 MHz range
Georgia


Germany,
Bavarian Alps,
low mountainrange
112
Radio call frequencies restricted to the emergency services
Greece


Hungary


Iceland


Ireland


Italy
118, activation of HEMS or mountain rescue teams
For mountain rescue only 71.500 / 71.550
MHz, not available for the public.
Kazakhstan


Latvia


Lithuania


Luxemburg


Malta


Moldova


Monaco


Montenegro


Netherlands
112
VHF Channel 10, Freq. 156.500
North
Macedonia


Norway
112 (police) / 113 (health service)
Channel 5. Restricted to professionals
Poland
112 / 601100300
Radio frequency 153.625 MHz
Portugal


Romania


Russia


Serbi


Slovakia


Slovenia
112
Usually 157.725 MHz (not for public use)
Spain
112 / 062
Radio call frequency, if there is one available: 146:175 MHz.
Sweden


Switzerland
144 / 1414 / 112
161.300 MHz
Turkey


Ukraine


Mobile Phone Voice
Use the telephone numbers in the list on top of this page. This is the best option if available and must take priority over any other communication method you may have at your disposal.
Emergency Calls Only
If your phone is showing 'Emergency Calls Only', this means that you will be able to make a emergency call. However, you will not be able to receive incoming calls. Inform the operator of this, as the police and/or Mountain Rescue Team will need to call you back. If someone else in the group has a phone that is not showing 'Emergency Calls Only', use their phone for the emergency call, as it will allow incoming calls.
Saving Mobile Battery
The primary function of your phone when on a kayak trip, should be for communication in an emergency. In remote areas battery drain can be rapid, and quicker than urban locations, for a variety of reasons, and the following steps will ensure that you have sufficient battery if you do need to make a call.
either switch off your mobile, or set it to 'flight' or 'aircraft' mode. Flight mode switches off the phone's search for a mobile network, and thus prevents battery drain.
make sure all unnecessary smart phone apps are closed down.
switch off data, Bluetooth and GPS connections unless required. Some phones allow activation even when in flight mode.
store your phone in your rucksack and in a waterproof bag or container, but be sure in the prevailing conditions that the ring-tone can be heard (if called for emergency services).
Mobile Phone text
If the signal is shaky or very weak, try SMS/text. Text and await a reply. You must have registered with the service before using. Include your number in case text is onward relayed.
Personal Locator Beacon (PLB)
Reliably gets distress-alert message with position to SAR /emergency services via satellite, through the international Cospas-Sarsat system. Once tasked, SAR helicopters can source the homing transmissions.
Satellite Phone
Make a phone call from virtually anywhere (must be outside or under fairly transparent cover). Handsets relatively expensive and considerable ongoing financial commitment to keep active.

Satellite Messenger / Personal Locator Beacon (PLB)
This little unit is my main device to keep contact whilst on route. The Zoleo satellite communicator. Connected to the Zoleo app it'll use the cheapest way to send and receive messages. It's core functions are:
Send and receive messages anywhere over Wi-Fi, cellular and satellite, trying in the following order: Wi-Fi, cellular data, then over the Iridium satellite network, via the ZOLEO device. (Basically the least cost route for the message.)
Messaging is possible by SMS, email and app-to-app.
Send Check-in messages with one touch, to let others know you're OK. Both the device and the app have a dedicated button for this. Your check-in message will be sent to your check-in contact(s). You can also include your GPS coordinates if desired.
Send an SOS alert to activate Search & Rescue, with 24/7 emergency monitoring and dispatch included (provided by GEOS), alike a PLB.

Both the device and the app have a dedicated button for this.
When GEOS receives your SOS alert, they'll know the GPS coordinates of your ZOLEO communicator. They'll contact the appropriate emergency response authorities for your location, and reach out to the emergency contacts you designated when creating your ZOLEO account.
Using the ZOLEO App, you'll also be able to message back and forth with GEOS to exchange updates, until your emergency situation has been resolved. Two-way SOS simply isn't offered by one-way communicators, PLBs and EPIRBs.
Even if you're using the ZOLEO communicator on its own, without the app, you'll get confirmation that your SOS message was received (via the LEDs on the device).

Get DarkSky weather forecasts.
Share your GPS location with others, via messages. (The Zoleo doesn't provide a following/tracking feature.)
Automated updates.
Each Zoleo has it's own unique cellnumber and e-mailaddress which it'll use to send and receive messages.
The app and device have the ability to send app-to-app messages, SMS, and email messages. You'll must be outside in the clear to get GPS position and to access the satellites.
Cost. For most types of use the Zoleo is the most cost effective, both the device as the ('In Touch') plan. It also has service enabling you to suspending the plan, for a small fee.

Technical specs:
Weight: 150 g
Size (L x W x D): 9.1 x 6.6 x 2.7 cm
Ingress Protection: IP68; dust- and water-resistant to 1.5 m for 30 min.
Shock-resistant: MIL-STD 810G (surviving 30 drops from 1,8 meter height).
Power input: Micro-USB Type B connector
Covered SOS button prevents false alarms (also cancellable)
Audible alerts for messages (user-selected tone)
Internal GPS chip, location-aware (accurate to 2.5 m)
LEDs for: messages, SOS, check-in, and power
Battery: Rechargeable internal Lithium Ion
Battery life: 200+ hours
Charging time: 2 hours using 1.5 A charger
Satellite network: Iridium
Connects via Bluetooth LE (one connection at a time; range of up to 50 m)
Global Navigation Satellite System: GPS, GLONASS
(Disclaimer: The Zoleo is expected to be available in Europe by the end of 2021.)

VHF Radio / Walkie Talkie
Ideal for group communication as well as in habitated areas and when navigating open water as these can be used on frequencies used by ships as well. You will know if someone has received your message. VHF radios sometimes require an operator to be licensed. But, if the means is available and there is genuine distress, it should be used.
Radio Communications Techniques
There are a few simple practices that can make a big difference in the effectiveness of radio communications. Handheld radios should be held away from the body with the radio and antenna in a vertical position. If the antenna is in contact with the operator's body, the RF signal strength will be reduced. Holding the radio and its antenna as high as possible will increase the line-of-sight range. The antennas on both transceivers in a radio link need to be in the same plane, or polarization. For VHF/UHF mobile radios, handheld radios, and repeaters, the polarization is always vertical. Having the antennas in different polarities can result in up to a 100-fold loss of signal strength. To transmit a message, hold the radio 5 to 10 centimeters from the face and listen for several seconds to ensure the frequency is available. Press and hold the push-to-talk button for 1 second before speaking, this prevents the first word or two of the message from being dropped. Speak slowly and clearly in a normal pitch, using normal vocabulary. It is often a good idea for the receiving station to repeat radio messages back to the sending station to ensure that the message was correctly understood, particularly if the signal is weak or garbled. One should assume that all radio transmissions are being monitored and that anything said on the radio is being said in public.
Mirror
Usable if enough direct sunlight is available. As a highly directional signal, it should be used when potential help is sighted. Signal in threes to communicate distress.
Helicopters
At night, military Search & Rescue helicopter pilots hate strobe lights and flares at short range and would rather home in, after long range identification has been established, to a torch beam pointed and flashed at the ground.
Ground to Air Communication
When you're in distress in the outdoors and you need to call for help, you may choose to use a number of different rescue signal techniques. But if you believe that an airplane, helicopter, or other airborne rescue parties may be searching for you, then you can use the five-symbol ground-to-air emergency code to signal a specific message in advance of the aircraft's landing. Most importantly, the ground-to-air emergency code can help let rescuers know whether or not anyone in your party is injured, and it can guide them more effectively towards your location.
As with other visual signals, signaling in threes communicates and confirms distress.
Choose a large, open area as close as possible to your location for the signal location.
Choose to place signals on the highest, flattest terrain you can find near your location.
Choose a signal that will contrast with the underlying terrain. Choose dark-colored branches, for example, on top of the white snow.
Go big! Use several rows of rocks or debris to build each part of a signal letter so that it is thick enough and big enough to be seen clearly from above.
Be prepared to use a backup signal, such as a signal mirror, to confirm your location as soon as you see aircraft in the area.
The five ground-to-air emergency code symbols and their meanings are as follows:
V or X : Require Assistance
A V-shaped signal communicates that you need assistance, in general, but it doesn't imply that you or someone in your party is injured.
Use the letter X to communicate that you or someone in your party needs medical attention.
Whereas the V symbol communicates a call for help, the X symbol communicates a more urgent request for assistance.
N : No or Negative
The N symbol can be used to communicate your negative response to a question that the aircraft or rescue organization has asked.
Y : Yes or Affirmative
The Y symbol can be used to communicate your affirmative response to a question that the aircraft or rescue organization has asked.
Arrow : Proceed in This Direction
Proceed in This Direction: Arrow, Pointing Towards the Location
Place an arrow-shaped symbol with the head, or point, of the arrow indicating the direction of your location. This symbol is a good one to use when rescuers may need additional information about how to reach your location after they have identified another ground-to-air signal, such as a group of X symbols in an open area indicating a need for medical assistance. Place the arrow in a position that will guide rescuers from the open area towards your location.
Helicopter landing space
When selecting and setting up a landing space mind the following:
Choose a large (half a football pitch), open area as close as possible to your location.
It needs to be firm and relatively horizontal.
Make sure there are no powerlines or other obstacles.
Light a beacon or have a smokey fire at the upwind side of te field, for the heli-crew to see wind direction and speed.