Airwings Systems Expleto Seatpost Suspension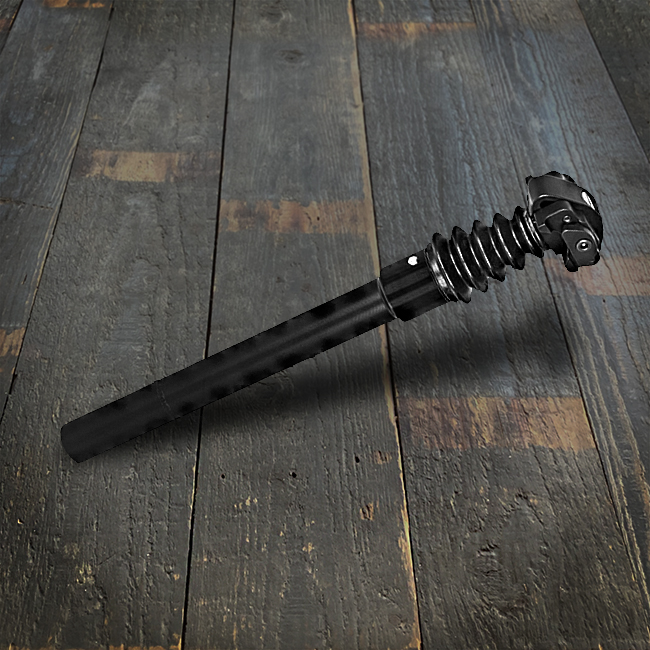 Bikepacking, touring and other non-hardcore sportsbikes are usually Hardtail, rather than Full Suspension (front and rear shocks) bikes. Hardtail bikes have front suspension which delivers comfort on trails and speed on city streets. If used for road, path, trail, the weight and inefficiency of rear suspension is not usefull. I do like the comfort of the rear suspension though. This is why I use the Airwings Systems Expleto Seatpost Suspension. These seatposts protect from harmful and unpleasant shocks. In this range of products, they offer seatposts for particular uses. These posts can be retrofitted to almost any bicycle due to the design. My Expleto Travel model is designed to offer a comfortable and healthy ride, even on long trips. It uses a ball bearing system with three adjustable industrial steel springs and weighs 782 grams.
The proven and patented AIRWINGS suspension is enhanced by a high-tech damper. This combines gas spring technology with oil damping: the stronger the shock and vibration, the higher the damping effect. In this way, even hard impacts and harmful vibrations are effectively absorbed and the counter-movement is harmonized by the damper.


Airwings is a German family business in Bavaria offering very high quality (the famous German engineering). If, over time, you'll find the seat post springs to be too hard or too soft, you can have them replaced, making these posts durable and long-lasting.

Geosmina Bags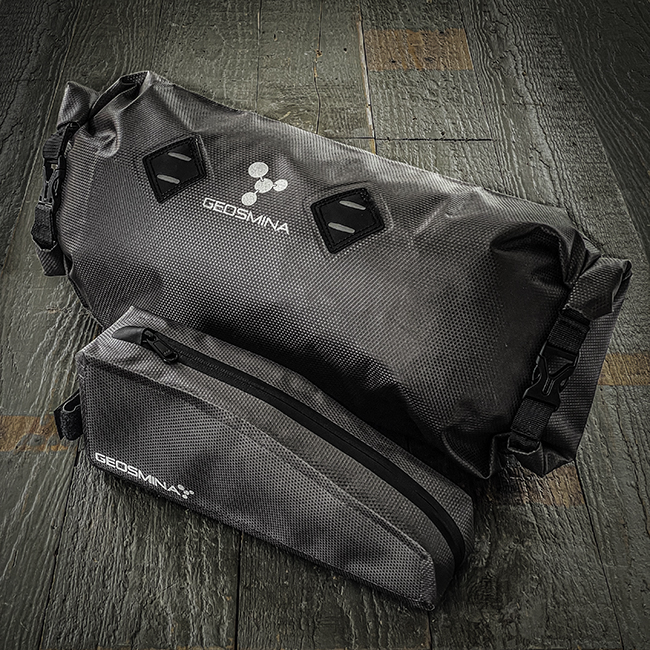 Geosmina produces hardcore ultralight bikepacking components to be used in tough conditions, in any weather and will fit almost any bike.
Allow me to rave:
Now, these aren't the usual 'fancy, colourful, trendy, fashionable, showy' bikepacks. These are the packs that you'll get to do the tough stuff. They'll take a punch. They will add practical functionality to a bike. They will not interfere with the bike's mechanical parts. They fit well and they are easy to adjust and use. These packs are for serious bikers, doing serious bikepacking (and, imho, very reasonably priced).
The materials used are PVC-free and recyclable. These ultralight materials are highly resistant to abrasion, water and ultraviolet rays. Serious attention and know-how is put into the details like the waterproof zippers, Y-shaped seals, hypalon inserts, heat-sealed seams, et cetera. Most of their products are 100% waterproof, two of them are waterresistant. (no IP-ratings are given.)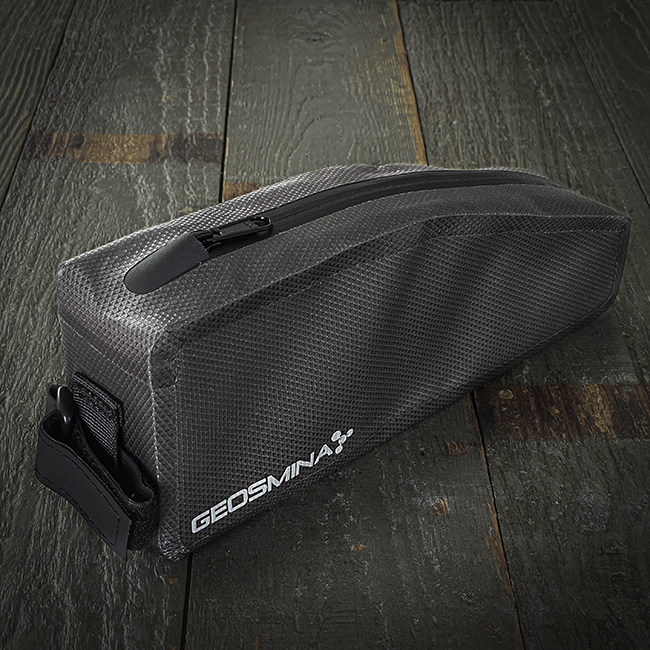 Large top tube bag. Offering plenty of packing space, this bag will carry my mobile, camera, tools and/or snacks. It is waterproof (probably IP55/IP56) and fitted with an easy to operate zipper. It mounts effortless onto almost any bike and any tube size. It has a removable inner pouch in a yellow contrasting colour (so it's easier to find stuff in dimmed light). This little pack is an eye-catcher!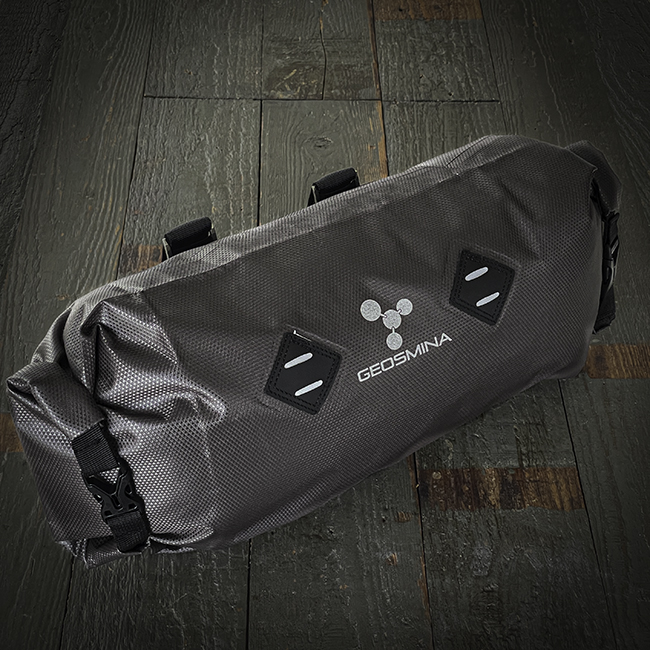 The Handlebar bag has 10 liters of waterproof (probably IP68 submersible) capacity to keep dry clothes, valuables like car'keys' and other watersensitive items. It's a very strong bag, that will fit any bike. It's reinforced in strategic places and all components are durable and tough. It looks great as well!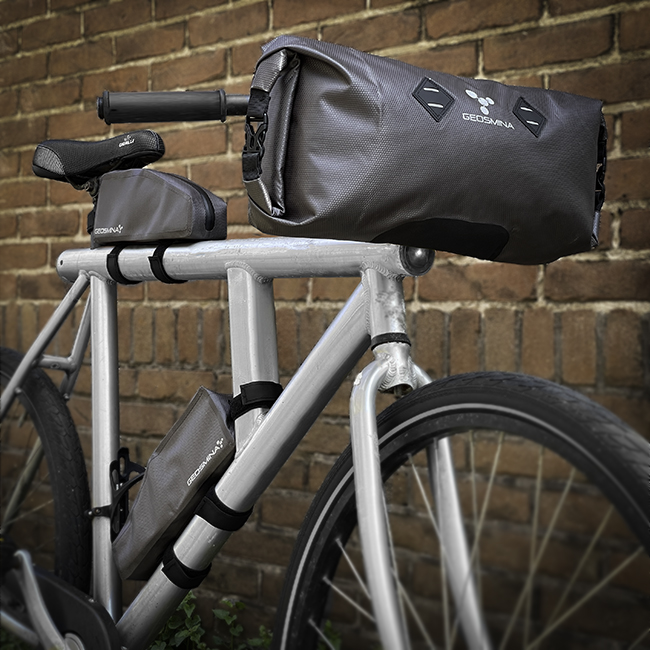 Geosmina is a European company specialising in durable and rugged bikepacks.

Ass Savers Mudguards & Fenders, Detour Edition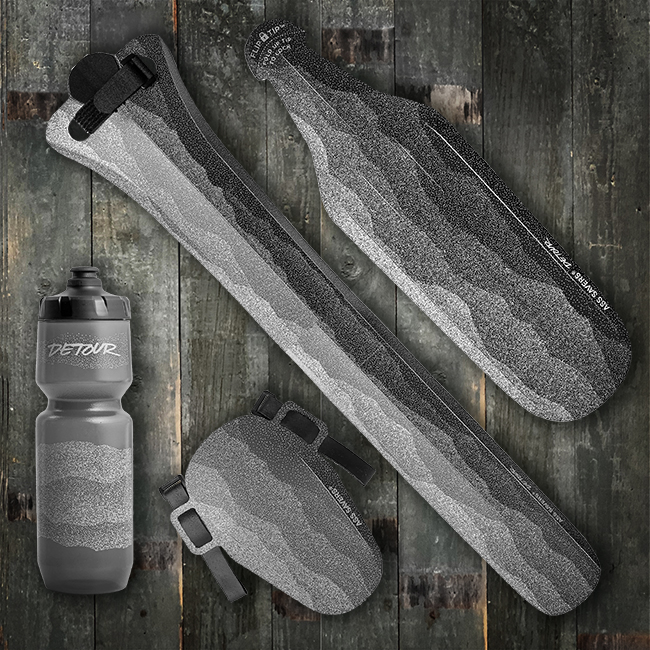 These are my awesome Ass Saver Mudguards & Fenders in the Detour Edition. Using origami principles, the Ass Saver Flip-Tip system allows you to securely fasten the Ass Saver to the bike with a simple flip of the tip, just like a cycling cap. Unlockin is the reverse. This system is pre-folded to achieve locking mechanisms, self centering abilities, spring loading and material endurance.
Most bikepacking gear is not 100% waterproof and a good set of fenders can save you from the misery of having a wet sleeping bag or clothes at the end of the day. Even if your gear is fully waterproof, you will appreciate the lack of mud on your bags when you stop to get a jacket out or when you bring them into the tent after a rough day in the saddle. The full kit adds less than 85 grams to your total weight, making it ideal for ultralight bikepacking.
The Ass Saver Big attaches to the front saddle rails only, ahead of the seat post attachment, which makes them self centering and fit a wide range of saddles. They will co-exist with many saddle bags.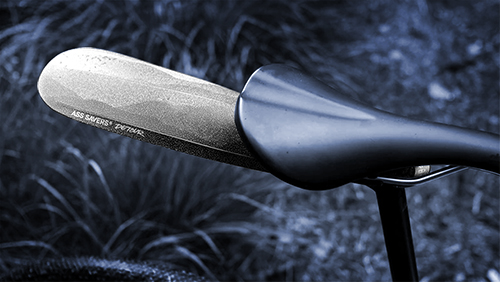 Great for gravel or dirt

The Fendor Bendor is strong enough to handle really muddy conditions but flexible enough to not break while being bashed around. Mounted close to the rear tire it will protect a saddle bag as well as the rider from road muck and water. It attaches to virtually any bike in seconds, without the use of tools.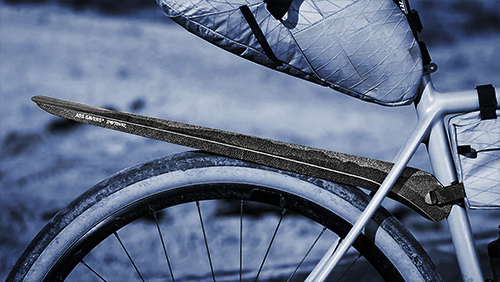 Ideal for bikepacking and gravel biking.
The Mudder Mini offers minimal interference while protecting what is important. Not only is your headset and face protected but it will also do a very good job of keeping your handlebar bag clean and dry.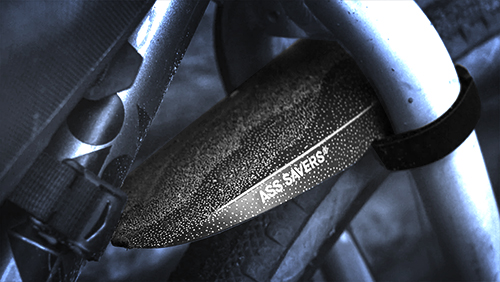 Perfect for gravel and bikepacking.


Ass Savers is a company, or rather a handfull of Bikers, in Gothenburg, Sweden.
What started ash a folded piece of cardboard has grown to be a worldwide appreciated product!