Dropracks 'Sport' Roof Loading System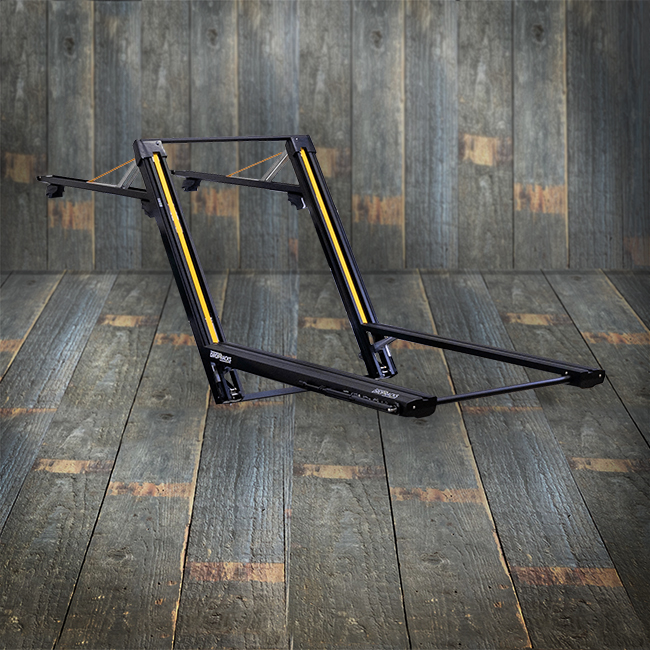 The Dropracks Sport is a roof rack system, that supports lifting heavy loads up to 75kg using a cranking- and sliding action. By a few turns of a handle, it brings the load down to waist or chest height, still with a horizontal loading platform. It has an effective loading width of 130cm, offering plenty of place to load two whitewater kayaks! The Dropracks Sport weighs 29kg and needs a set of (car specific) roof rack feet with a standard T-channel attachment. Accessories with a standard T-bolt attachment can be fitted on top of the Dropracks Sport. (Kayak carriers, bike carriers, roof boxes, et cetera.)

Rollercam Cam Buckle Tie Down Straps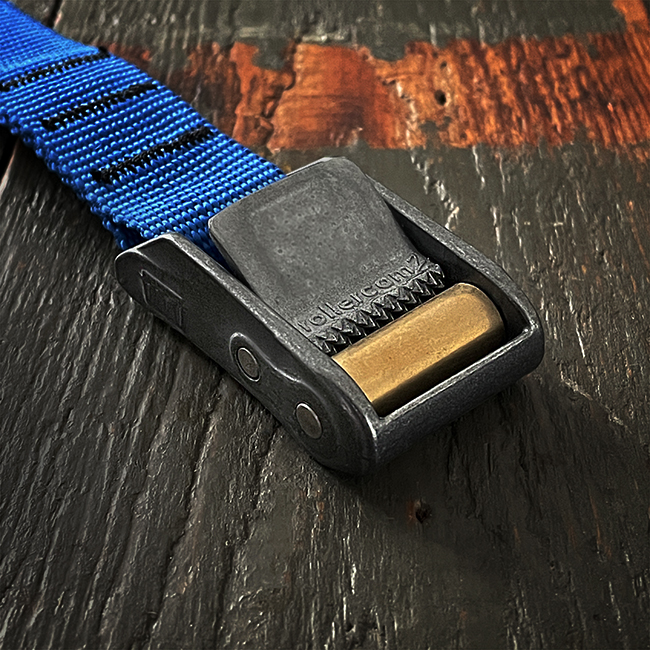 I use Rollercam straps for both on-water (River/Blue set) as off-water (Overlanding/Grey set) tying. Technically these are identical apart from the colour. The best feature, hence the name, is the use of roller, assisting the tensioning of the strap with far less friction, resulting in a much tighter hold.
My sets include a selection of lengths, made using superior high tenacity polypropylene webbing out of a heavy-duty T-135 thread. This makes them very durable in the harsh outdoors environments, with a tactile feel, even when the strap gets wet. The length of each strap is indicated on the strap (in feet).
My special River set:
2x 31cm (1ft)
4x 61cm (2ft)
4x 92cm (3ft)
6x 183cm (6ft)
8x 274cm (9ft)
4x 366cm (12ft)
2x 457cm (15ft)
2x 610cm (20ft)
My Overlanding set:
4x 61cm (2ft)
4x 92cm (3ft)
122cm (4ft)
8x 274cm (9ft)
2x 457cm (15ft)

Railblaza C-Tug SandTrakz Cart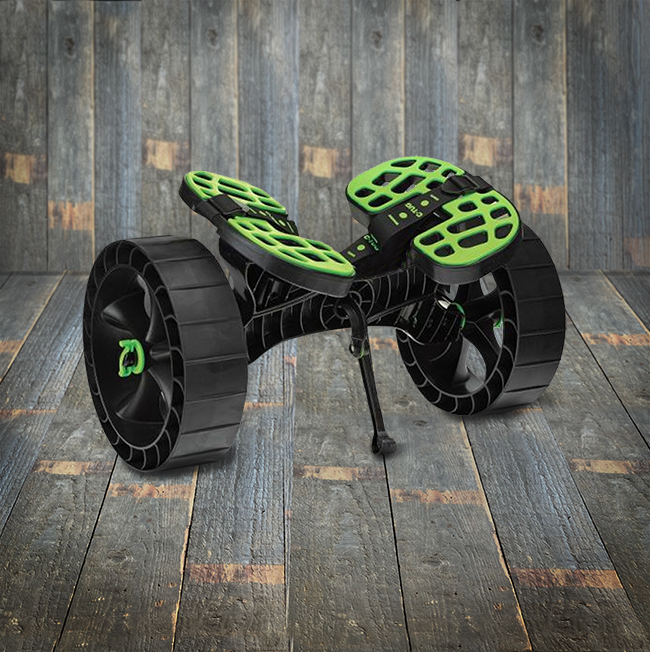 The C-Tug SandTrakz Cart is the very best cart for moving kayaks over soft sand. An extremely simple and logical cart. The pads adapt to the angle of the boat, a strong strap is used to tie the boat onto the cart and it has a practical kickstand. It's very easy to (dis)assemble and a very practical design.
It's large diameter wheels with long track length are far more effective on soft sand than wide, sand pushing, small diameter, wheels. With these puncture free 31,5cm diameter wheels it takes no effort pulling kayaks over sand. It can be taken apart and assembles without any tools, so it can easily be taken on trips. It weighs only 4.6 kg and can carry a max of 80kg. There is no restriction to the width of your kayak, because it's placed higher than the wheels. The SandTrakz wheels are sold seperately to be retrofitted onto the regular C-Tug kayak cart. An optional C-Tug 'Double Up Bar' is available to link two carts to carry even more load!