How I fish (and why)
I do not fish for pleasure, nor as a sport. I fish when I need the proteins. Either on a long trekking- / kayaking trip or in basecamp. The Tenkara gear I use is focussed on fishing smaller fish (pan-fish), on creeks and small streams. This, typically, are small fish like Trout, Perch, Bluegill and sunfish.
Tenkara fly fishing is a type of fishing, using 'simple' gear and thus extremely usefull for backpacking and kayaking. All you need is a rod, line and a fly (no reel). The additional benefits of Tenkara fly fishing are the precise placement and easy manipulation of the fly.
● I use short backpackable rods.
● Traditionally a special reverse hackle wet-fly is used, which means that the feathers are angled towards the hook so the fly seems to 'swim' when pulling the line. My kit typically contains a variety of size 12, 14 and 16 dry and wet flies with barbless hooks.
● Lines are rod specific, but typically I use a rod length, colourfull, 3X – 3,5, fluorocarbon or furled, level line.
● As the line is too thick to tie the fly directly, we use a Tippet. Mine are mostly 4X, 100cm, clear, fluorocarbon lines.
● My accessories kit contains Line Cutterz, Forceps/Scissors, spare lines and Tippet. My basecamp kit contains debarb pliers and landing net (and all of my rods).
Photo: A Tenkara reel (right), next to conventional fly fishing rods. (@Invercassley Tea Rooms, GlenCassley, Scotland)
Fly Line Weight 1-3 : This weight is primarily for small fish – panfish, very small trout or, in somewhat rare circumstances, larger trout very tiny streams.
Fly Line Weight 4 : This weight works just fine for panfish, too. But also works well for all but the largest of trout. Best used on small/mid-sized streams and where longer casts aren't needed.
Fly Line Weight 5 : The "all-around" trout fisherman's line weight. Covers virtually all trout-fishing situations an angler is likely to find. Works ok for smaller fish too, but not as fun to catch small fish on as a fly rod outfit that has a lighter fly line. This weight also works ok for smaller bass fishing, particular smallies in rivers.
| | |
| --- | --- |
| This chart can be of some help getting started. Which sizes will fit which circumstances is influenced by many factors, like experience, skill, weather, fish, et cetera. So go out there and have fun experimenting! | |

Using a rod length line and a meter of tippet (together they are called 'shikake') will result in an minimum overall length that keeps it easy to land the fish. Knowing that your arm span is approximately your height makes it easy to determine your preferred, or maximum, leader length.


Brown Trout fishing in the peaty waters of the Linn Falls at Aberlour,
Spey Valley, Scotland.

Trout fishing above Ennistymon Cascades,
County Clare, Ireland.

Sakurai Betchū Kongo Tenkara Rod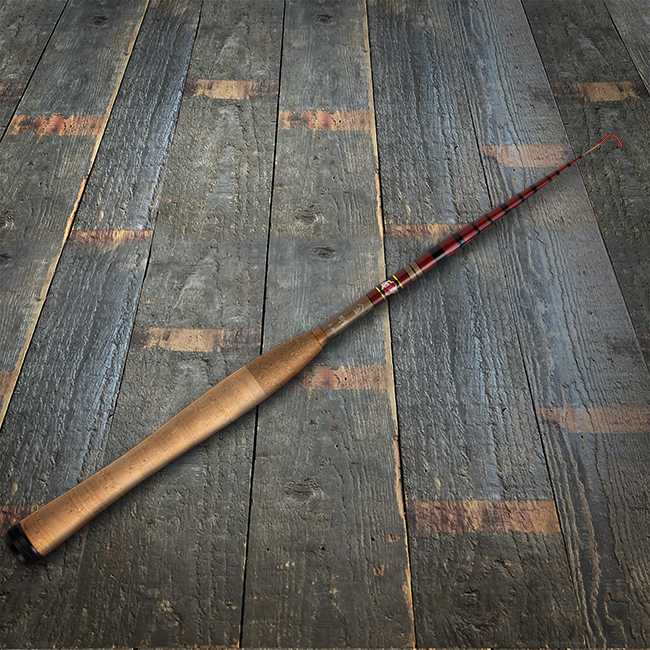 The Sakurai Betchū (Bespoke) Kongo Tenkara Rod is a Japanese made super small joint Tenkara rod. These ultra-slim, ultra-lightweight blanks are very packable, even at the fixed size 390cm length I use. It has a supple but firm swinging tone, and its unique stickiness reduces the amount of looseness and has a power that can withstand the pull of a large rainbow trout. It has a Japanese-style finish with a bamboo base color. The uniquely shaped cork handle sticks to your hand and is very light. With an original 7:3 Tenkara style action, this is my only rod that I can use for bait fishing as well as fly fishing. Sakura is the oldest operating manufacturer of Tenkara rods. Their rods are still handcrafted by master artisans in a small Tokyo factory.
Specs:
Length: 390 cm
Weight: 102 grams
Closed Length: 38 cm
Action: 7:3

Sakurai Sekirei Kongo Tenkara Rod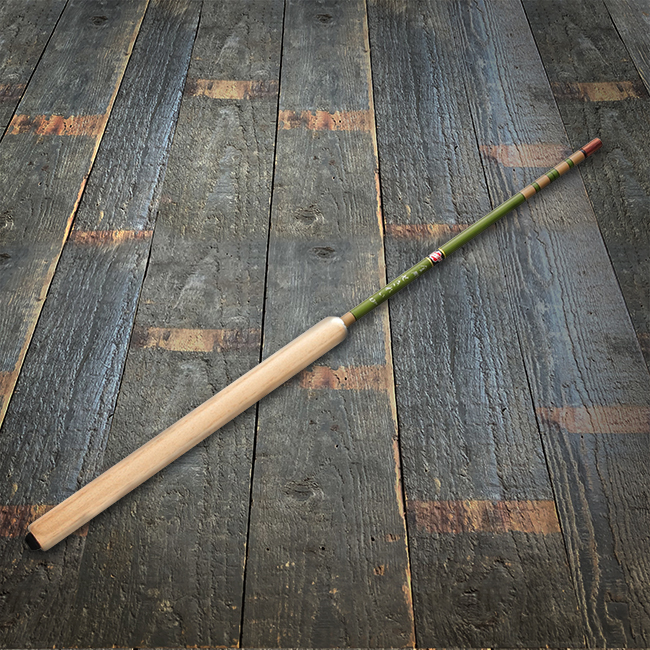 The Sakurai Sekirei (Wagtail) Kongo Tenkara Rod is a Japanese made, fixed size, full-flex, Tenkara rod. It is extremely slender and soft, but it will reward you to get used to. The action of this rod offers an easy set of the hook and makes mid-sized rainbows a joy to fight! It lands/presents the fly very lightly on the water. The grip carved out of high-grade paulownia wood is light and fits well in the hand, and is even more sensitive than cork. it comes in two lengths; 3.3 m, and 3.6 m, of which I use the shorter one. It comes with a carved wood cap. Sakura is the oldest operating manufacturer of Tenkara rods. Their rods are still handcrafted by master artisans in a small Tokyo factory.
Specs:
Length: 330 cm
Weight: 84 grams
Closed Length: 58 cm
Action: 6:4
I use a setup of a rod-length #3.5 line and 100cm 5X tippet
Material: 78,3% carbon fiber / 21,7% fiberglass.

Tenkara Rod Co. Sawtooth Tenkara Rod
This is my Tenkara Rod Co. Sawtooth Rod. This fixed size rod started my love for the simple and fascinating Tenkara fishing technique. An important aspect was the (soft) 5:5 action of this incredibly sensitive rod, demanding a 'lazy' back cast. This is a very playfull and fun rod, even fighting smaller fish, ideal for catching small to medium-sized trout up to 30cm long, on small rivers and mountain streams. It's a 3,6 meter, telescopic rod, made out of 9 carbon fiber sections. It only weighs 91 grams, the packing size is 50 cm and it has a handle made of cork. The tip has a rotating swivel to reduce line twist
Specs:
Length: 360 cm
Soft 5:5 action
Weight: 91 grams
Material: Carbon fiber 51cm
Collapsed length: 51cm
Handle length: 26 cm
9 segments
Hard Storage Tube

Wasatch Darth Quattro Tenkara Rod
The Wasatch 'Darth Quattro' Tenkara Fishing Rod, has a lot going for it:
It is as close to unbreakable as you can get.
It is the only quadruple-zoom Tenkara rod in the world!
This is a zoomable Carbon fiber rod, that can be used in four lengts (168cm, 198cm, 229cm and 260cm). This means it can be used from the smallest creek/burn up to a small river.
I use the 6:4 (light action) and 5:5 (ultralight action) tips, ideal for casting smaller lures for panfish and trout. The flex helps to launch your small offerings with light line, with high accurancy. It easily keeps the line tight enough, to prevent a fish to get loose.
Rod Specs:
Premium carbon fiber
6:4 or 5:5 action
51 grams (19,6 grams per linear meter)
4 fishing lengths (168cm, 198cm, 229cm and 260cm)
43cm collapsed length
16cm reversed half-wells shape, cork and foam handle
Aluminum butt cap
Rod Tube: 52cm long, 156 gram, 3,8cm diameter, durable black carbon fiber, matte finish

DragonTail Kaida zx320 Tenkara Pack Rod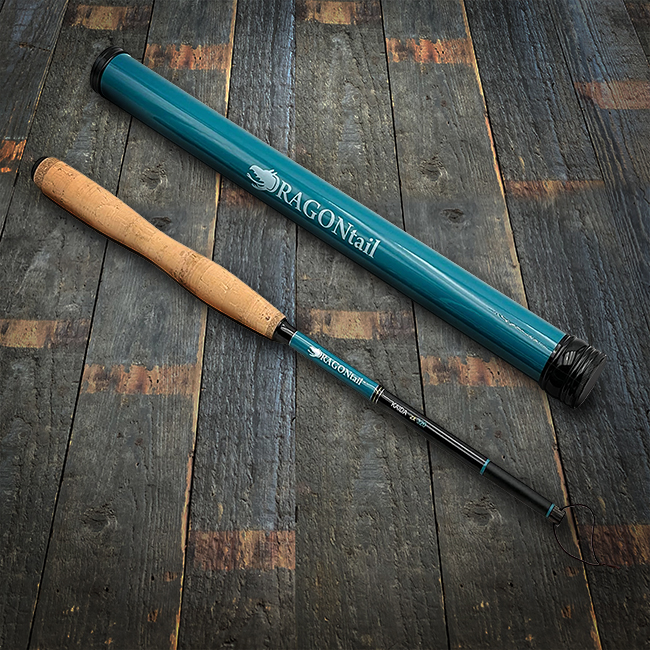 The DragonTail Kaida zx320 has some good characteristics. This rod will fit any backpack. A two-lengths zoom rod allows to fish it fully extended in open casting areas or zoom it down one length when casting area is overgrown and tight. It has a medium-soft action, just the right action to make the little mountain trout plenty of fun to catch. It's great for soft presentation of weightless flies, fishing Trout up to 35cm, or to help fighting the invasive bluegill population (a great pan-fish though).
Rod Specs:
Carbon Fiber, with a slight blend of fiberglass
6:4 or 5:5 action
Extended lengths: 286,cm, 319cm
Collapsed Length: 45cm
Weight: 70 g (17,9 grams per linear meter)
Rod Tube Length: 48cm
CCS/RFI: 14 pennies/4.9, 16 pennies/5: Slow, Full Flex
My lines:

Level lines, rod length (300cm), weight 3X or 3.5X, 0,2mm, 4,2kg

Tippet, 100cm, weight 4X, 0,18mm, 3kg

DragonTail Shadowfire 365 Tenkara Rod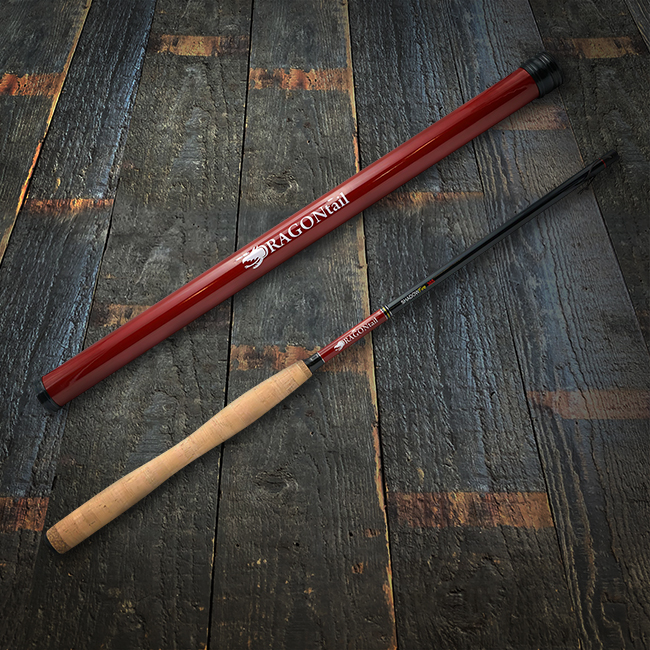 The DragonTail Shadowfire 365 is a proper performance Tenkara rod at a very competitive price. This fixed size 365cm, 6:4 soft action rod has a light balanced feel and a soft action.
It is a great choice for small streams to rivers where the fish are mostly panfish, small trout and easily spooked fish. Using up to (and ideally) #3 / #3.5 level line, or any furled lines the soft smooth casting action will help you cast accurately in a naturally way. This ergomical thinking has resulted in a nice cork handle as well. The rod is mostly matt finished, not to spook fish. It comes with one of the great DragonTail signature socks and two different types of tip caps.
Rod Specs:
Length: 368 cm
Soft 6:4 action
Weight: 82 grams (22,3 grams per linear meter)
CCS/RFI: 20 pennies/ 5.4
Material: High quality carbon fiber (IM10)
Collapsed length: 59 cm
Handle length: 26 cm
8 segments
Hard Storage Tube: 24.75 inches
My lines:

Level lines, rod length (368cm), weight 3X – 3,5X, 0,2mm, 4,2kg

Tippet, 100cm, weight 4X, 0,18mm, 3kg

Flies

DragonTail Flies
| | |
| --- | --- |
| Futsu Kebari Combo 24 Tenkara Fly Pack, tied on size #14 Moonlit Competition Barbless hooks. | Sakasa Kebari Tenkara fly pack, tied on size #12 & #10 Moonlit Competition Barbless hooks. |

Lines
Tenkara lines
The Chartreuse and Orange lines I use by the Tenkara Rod Company are 3,20 upto 3,60 meter, hand-crafted lines with single strand construction, a 3mm nickel alloy tippet ring (for easy attachment of the tippet) and an attachment loop for easy attachment to the rod. They are non-tapered, and perfectly weighted to cast of the same length or slightly shorter than the rod. I use Line Clips for on the go line storage. These clips connect to your rod and allow you to quickly store your line.
I'm frequently asked to share my line information, so here we go:
| | | | | |
| --- | --- | --- | --- | --- |
| Line (wt) | Tippet (X) | Fly sizes | Fish Weight | Fish |
| 4 wt | 3X | 6 -14 | 500 gr | Pan fish, River Trout, small Bass |
| 5 wt | 4X | 14 -20 | 750 gr | my goto line, as it is the"all-around" trout fisherman's line weight, which covers virtually all trout-fishing situations. |
| 6 wt | 5X | 18 -26 | 1 kg | Catfish, Smaller Salmon, Large Bass |
Tenkara Tippet
As the line is too thick to tie the fly directly, we use a tippet. A thinner than 0,2 mm, 30 cm upto 1 meter, line rated at 3 kg. These are my Rio Tenkara Rod Co. Tippets, which comes in 27 meter spools, good for making approximately 45 tippets.
Tenkara Fly
Artificial flies are used in tenkara fly-fishing. These are tied with thread, feathers and sometimes fur as in western fly-fishing. Traditionally a special reverse hackle wet-fly is used, which means that the feathers are angled towards the hook so the fly seems to 'swim' when pulling the line. My kit includes three sizes: size 14 as my standard fly, larger size 20 flies for bigger water and the smaller size 12 for when the others don't work. I use flies without barbs.
Accessories Kit
My Accessories Kit is a 420D Nylon Pouch, containing Nippers (for cutting lines), Forceps (for hooks further in the fish), Lochsa and Payette Paste Line Floatants (should I chose to use a floating setup. I also keep my spare lines and tippet in this pouch.
My ever changing selection of lines currently include:
| | | |
| --- | --- | --- |
| FluoroCarbon Tippet 4X | 0,18mm, 2,1kg | |
| FluoroCarbon Tippet 3X | 0,20mm, 2,9kg | |
| DragonTail PVC, Floating, Tapered, PVC, Light Weight, Mono-Core Line | 0,75 to 0,6mm, 3,66m, loop | still, warm water |
| DragonTail PVC, Floating, Tapered, PVC, Light Weight, Mono-Core Line | 0,75 to 0,6mm, 3,5m, loop | still, warm water |
| DragonTail Oudachi Nymphing, Weight Forward, 3 parts, sink tip line | 3,8m, loop & ring | nymphing, windy conditions |
| DragonTail Furled Tenkara Line, Weight Forward, light all-purpose line | 3,35m, loop & ring | weightless- & small bead head flies |

Accessories

Geoff Anderson WizTools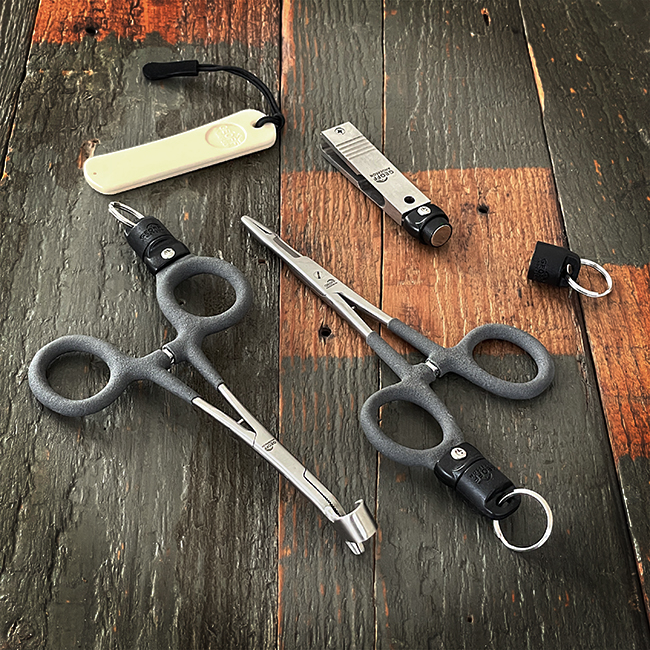 I can't rave enough about the Geoff Anderson WizTools! Made from Japanese Surgical stainless steel, these are made to last! Well designed practical aids, one can rely on. They are ergonomically comfortable, they can be used in any situation due to their resitance to corrosion and the magnets are strong and secure. (For the photo, I couldn't position the magnet closer to the nippers without it being drawn shut.)
The WizTool Sharpener, has two sizes V honing tracks for various size of hooks and a flat part big enough to hone your knife. This is a grain 3000 Aluminium Trioxide Ceramic stone and non-corrosive. It weighs 28gr.
The WizTool 175mm Clamp Release will de-barb your hook, crimp split shot, clear the hook's eye and release the hook from the fish and is fitted with a practical magnet attachment. The 3-stage ratched makes delicate clamping easy. The smooth jaw tip surface will not damage the hook whilst crimping barbs. It weighs 62gr.
The WizTool 175mm Pean (als known as hemostatic clamp, or arterial forceps) are fish pliers, scissors and eye clearing tool, all in one. The 3-stage ratched makes delicate clamping easy. It weighs 62gr.
The WizTool Tungsten Nippers come with high-precision Tungsten Carbide cutting blades.
Being twice as stiff as steel, they'll last 5 times longer than steel nippers. Cut through nylon, braided nylon and fly line with very little pressure applied, providing a smooth, clean, and effortless cut. It weighs 39gr.

Ego Blackwater Trout Net
The EGO Blackwater trout is an awesome net. There is also a unique ruler built into the net that allows you to measure your fish without handling them. The coated mesh protects the slime layer of the fish. This unique feature is perfect for catch and release trout anglers and prevents eating under sized fish! It has a retractable quick-draw tether. It can land a 25 cm trout with ease,weighing circa 300 grams.

Line Cutterz Fishing Line Cutters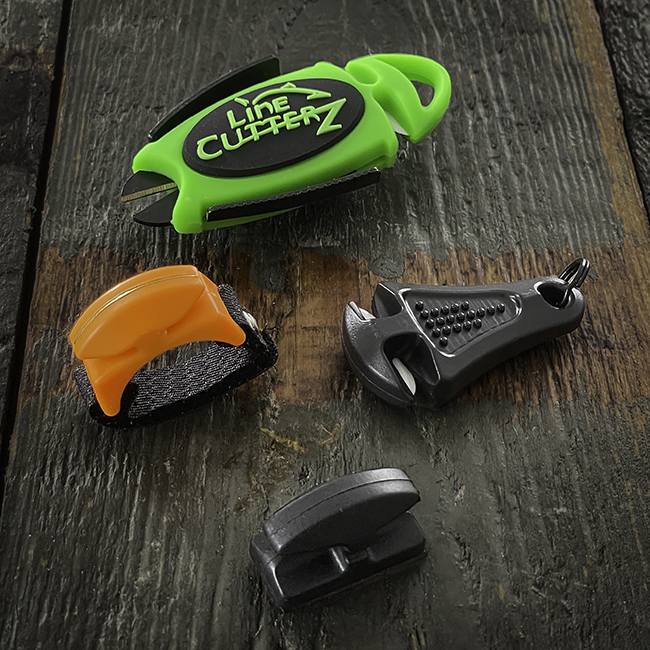 I use the Dual Hybrid, the Ceramic Blade Ring, Zipper Pull and Ceramic Blade Peel & Stick Flat Mountable Line Cutterz. This selection offers me a usefull cutter for every thinkable setup. Sharp, efficient and practical.

Patagonia Rod Roll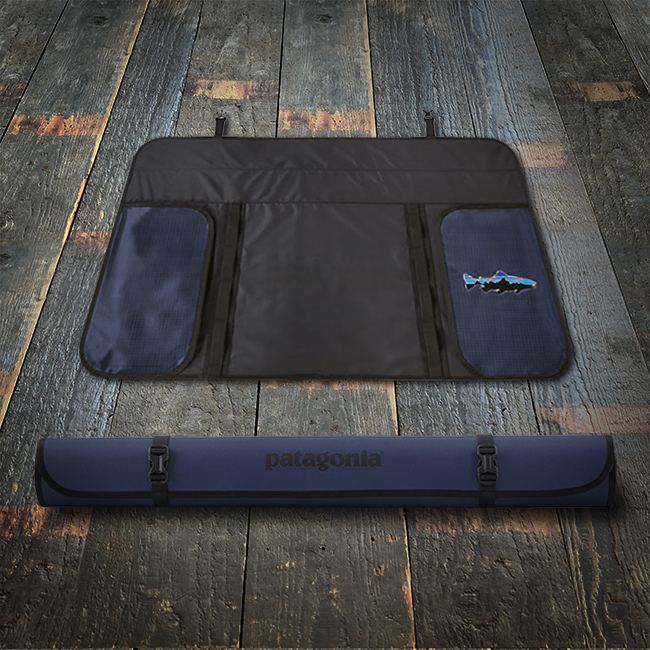 I use this Patagonia Rod Roll for transporting my rods. (I store them in their tubes and use the socks with my backpack.) I believe this to be the safest, lightest and most practical product available. The outer material is stiff and offers adequate protection. Intended for a max of 4 rods, but it'll take a couple more if needed. The medium sized version accomodates 70 cm rods, and weighs approximately 610 grams.

Lazy Trap Fishing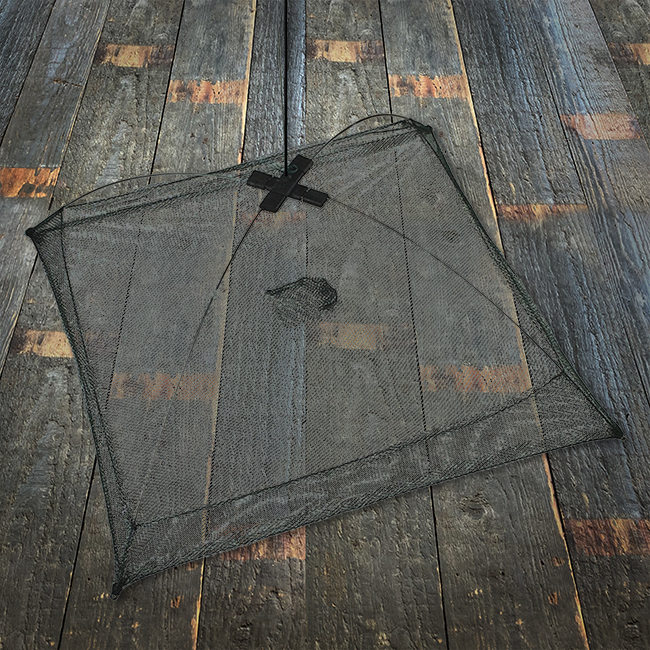 The most relaxed way of fishing is by using fish traps, ofwhich the simplest is this square sinking net. It is placed on the river bottom. All you have to do is put bait like offal (fish guts or any other left over) in the little center pocket, lower it down to the river bottom, and check it every hour. It might take some stones to give it enough weight depending on the current. This is an awesome way to catch crustaceans, including shrimp, crab, lobster and crawfish. (Kill them ethically, do not throw them in boiling water.)
Fly Tying

Ahrex Hooks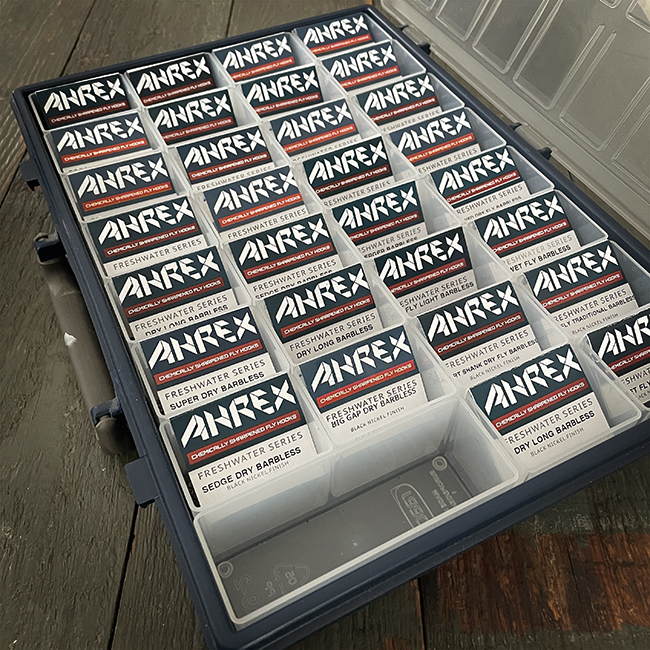 These Ahrex hooks are indisputably/unargueably among the very best hooks available! With their fly-fishing roots, they make hooks without compromises, using the best techniques and materials. A other aspect of Ahrex hooks is, that they are readily available, so once you have found your particular favourite hooks, you'll have to be in short supply. They offer an wide collection of hooks, with great options. In fact, they offer so many great hooks that I cannot decide what NOT to buy. (Hence my extensive collection of size 16, size 14 and size 12 hooks.)
I'm hooked!

UNI Products Tying Threads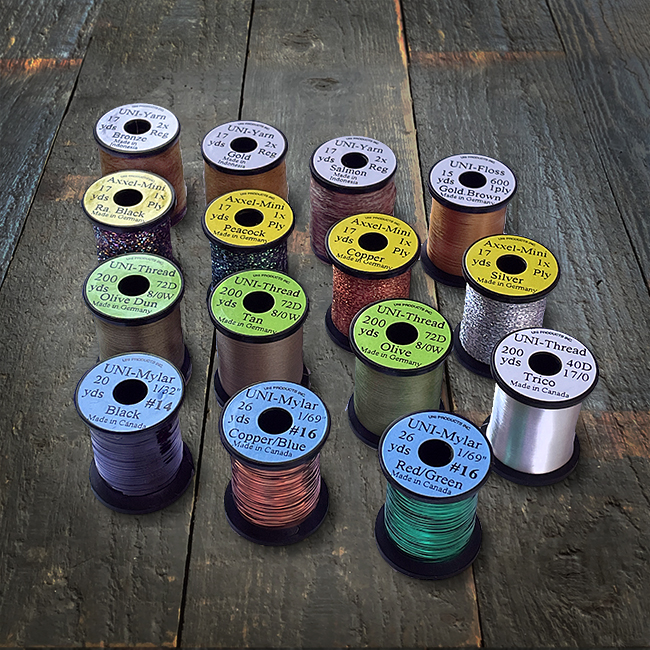 Why settle for less? The UNI Products J.G. Cote threads are upper class! I use a selection of products and colours, among which: