In-Kayak / Backpacking / Hiking

Soto WindMaster Stove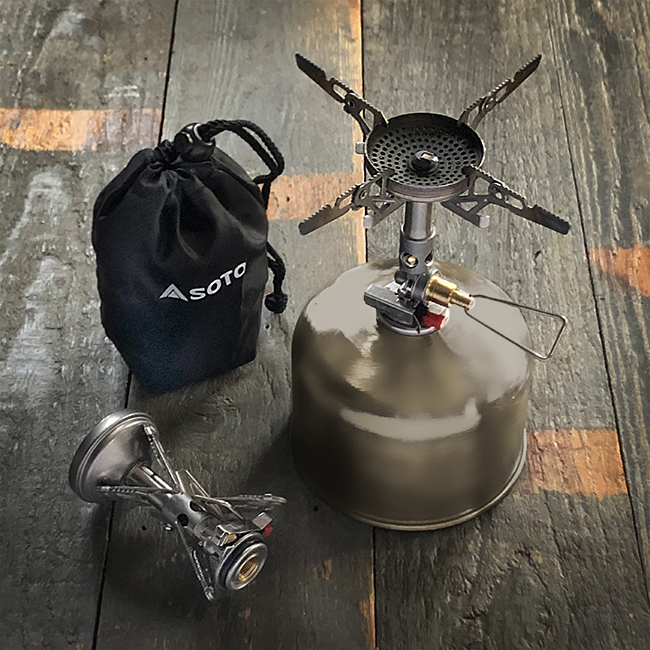 These are my Soto Windmaster stoves. Arguably the best gas stoves around. At a mere 87grams these powerful award winning stoves will serve your cooking needs for a very long time. A canister stove that screws easily onto the top of any standard backpacking-sized pressurized gas canister using blended propane/butane fuel and a standardised threaded Lindal valve (basically most cans, except Campingaz). The stove comes with a piezoelectric igniter, sparked by an electric charge striking within the device.
The WindMaster's 4Flex is designed to snuggle up around the stove itself during transport to protect it and save space. Really superior designs. The WindMaster is designed so the pot sits close to the flame, making it more efficient in windy weather and results in a shorter boil time. The concave design of the burner head creates the effect of a very effective built-in windscreen. This well-made stove is able to stand up to harsh conditions. There is a TriFlex pot support available that's smaller, and thus lighter than the 4flex support. I don't have one, so I can't tell you more about it.
One of the best features of this stove is it's ability to adapt to the changing gas pressure (due to the can cooling down or getting empty). It also can be used at a very low setting. This stove doesn't waste a gram of gas.
I own two of these, enabling me to be the 'Chef', when I'm not packing ultra light.
It has an output of 2800 kcal/h 3260w 11000 BTU, which means it boils 2 cups of water in under 2-1/2 minutes in strong winds and gusty weather.
Canister duration: It'll burn approx.1.5 hours with a 250g (8 oz.) can.
It weighs 87g (3.0. oz.) with the 4Flex pot support.

Titanium Cookware by Toaks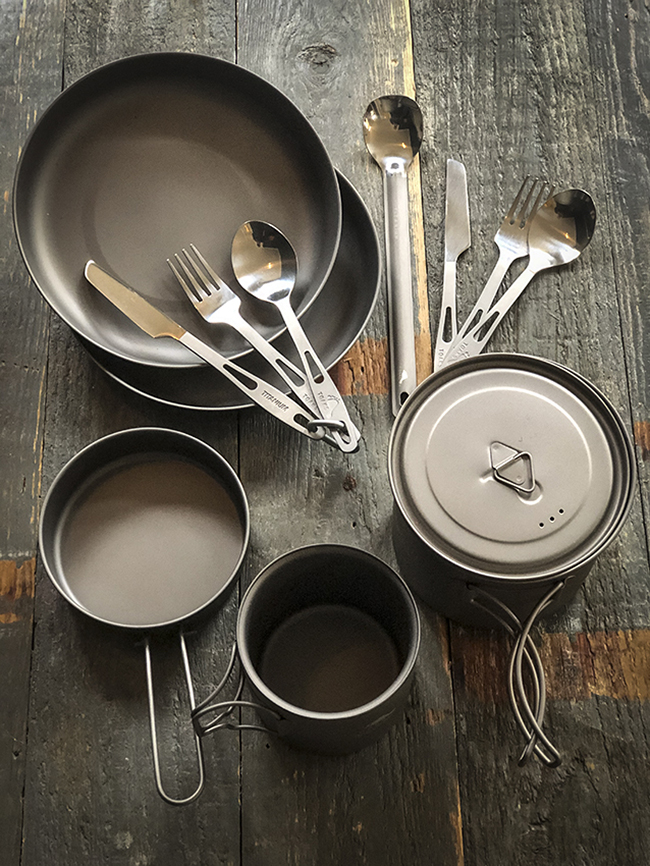 Toaks Titanium is hot! Literally. Boy, do these pans transfer heat quickly. These titanium pots are ideal for boiling fluids because they are made with very thin walls, and transfer heat very efficiently. Titanium is half the weight of steel and stronger than aluminium. My 1100ml pot only weighs 113 grams! It is the cookware material with the best weight/strength balance. It is also corrosion-resistant and very durable. This is gear for situations where every gram counts. The go-to gear pots for your quick boil-only meals.
I own the 3-piece cutlery set, the long handle spoon, a double wall cup, a 1100ml pot with and frying pan and lid combination, the 1600ml Pot with Pan (not pictured) and two deep 190mm plates. Toaks uses pure titanium, so (unlike aluminium and teflon coated pots and pans) these products are absolutely non-toxic and thus, save to use!


Cooking Gear Packed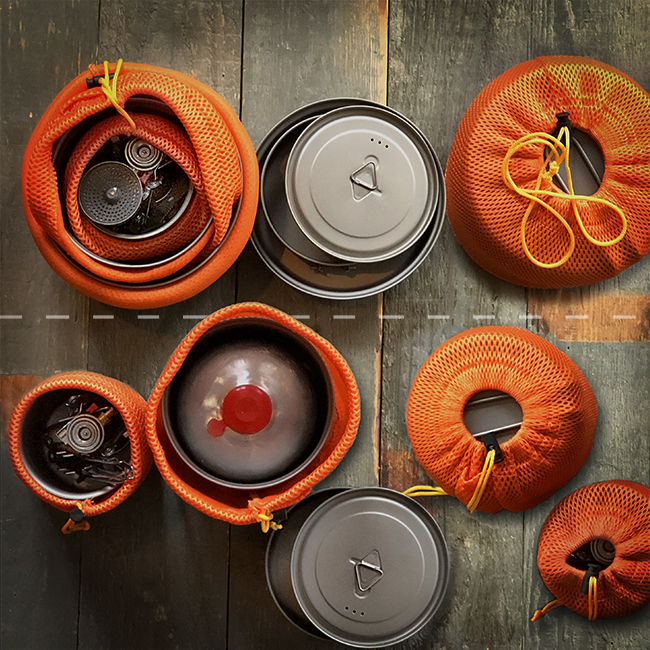 Basecamp / Car Camping

Petromax Loaf Pan (Dutch Oven)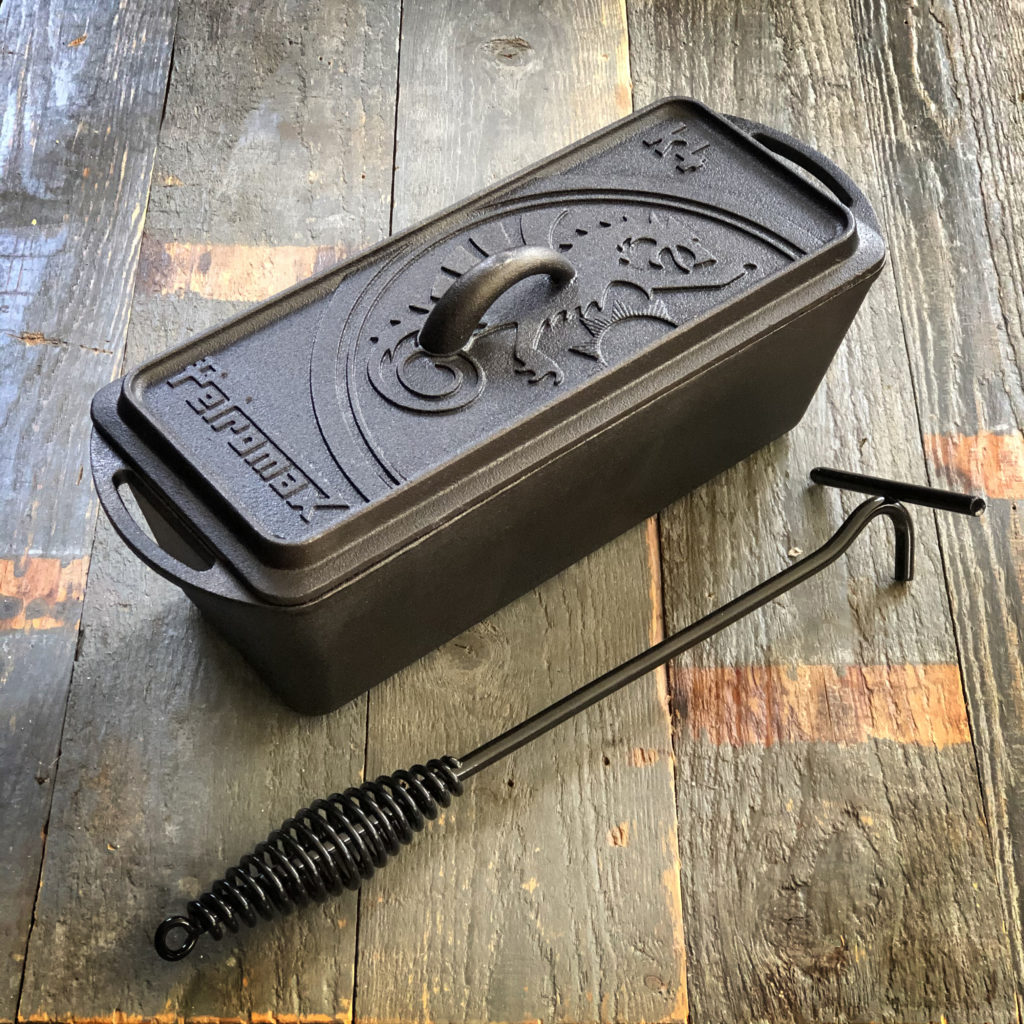 This 'Dutch Oven' pot is a the Petromax Loaf Pan, made of cast iron, which distributes and stores heat outstandingly. Besides using it in the oven at home, this pan can make you an awesome bread on a campfire as well. cast iron has a natural anti-adhesive quality, which improves with usage.I think the Lid Lifter is a necessity.

EuroTrail Foldable container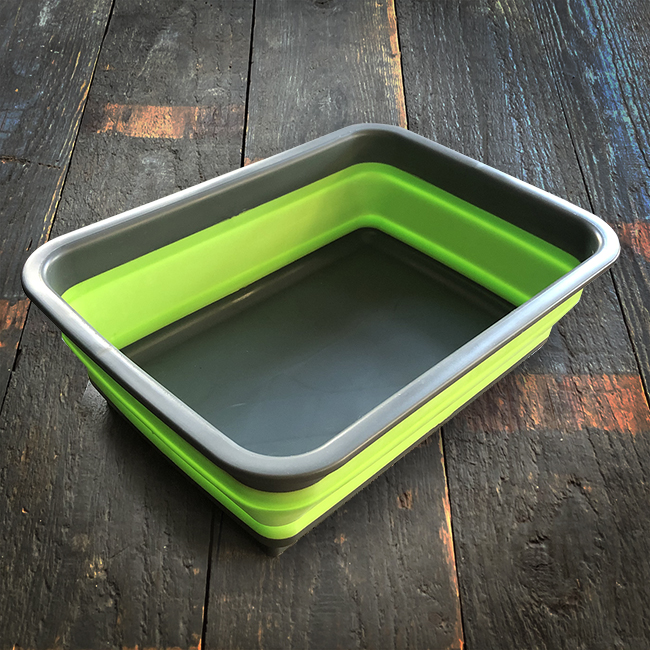 My go-to Foldable container, ideal for doing the dishes, laundry, cat litter, salads, whatever. And it folds to a practical small size. It is rock stable and weighs half a kilo, at 37,2×27,4x12cm.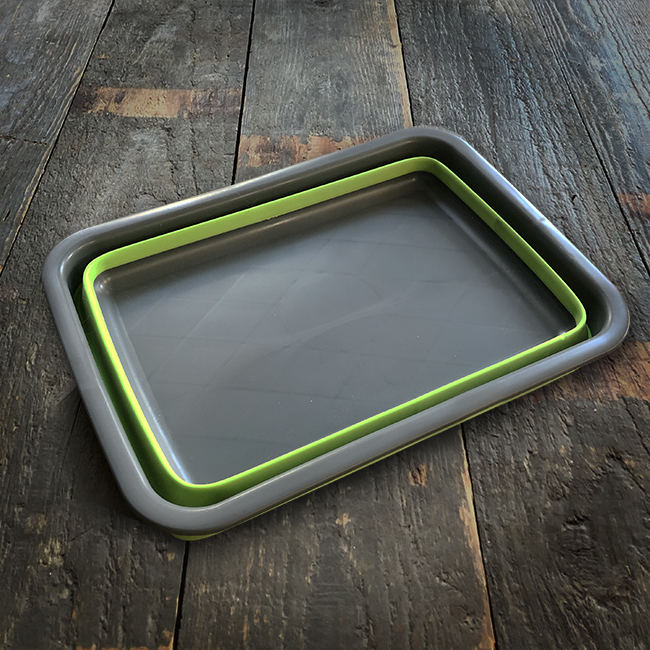 Fozzils Flat Stuff
Bowlz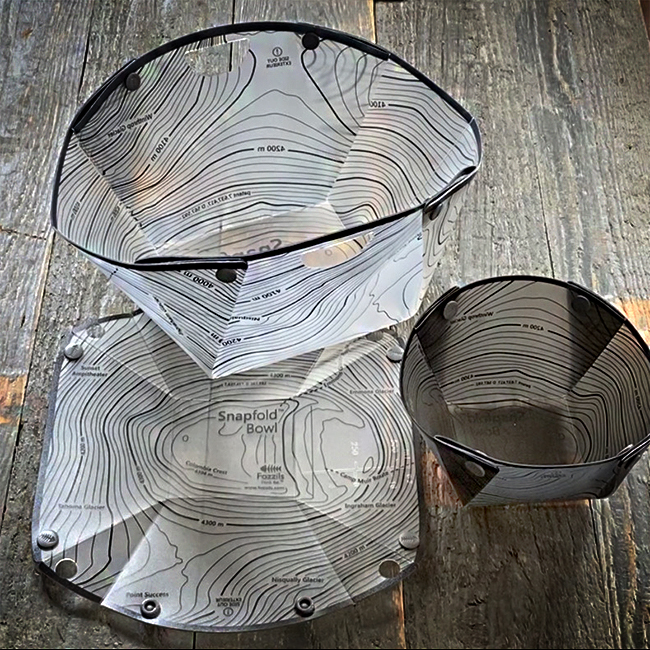 Super versatile flat packing bowls. Convenient to use, clean, and carry. Pack, fold, and store flat. Just 40 grams. They have handy measuring lines and a non-stick, easy clean surface. In a 600 ml and a 2200 ml version. After dish washing, I hang them from the washing line. When flat, they serve as cutting board! I hang them from the washing line when cleaned.
Colander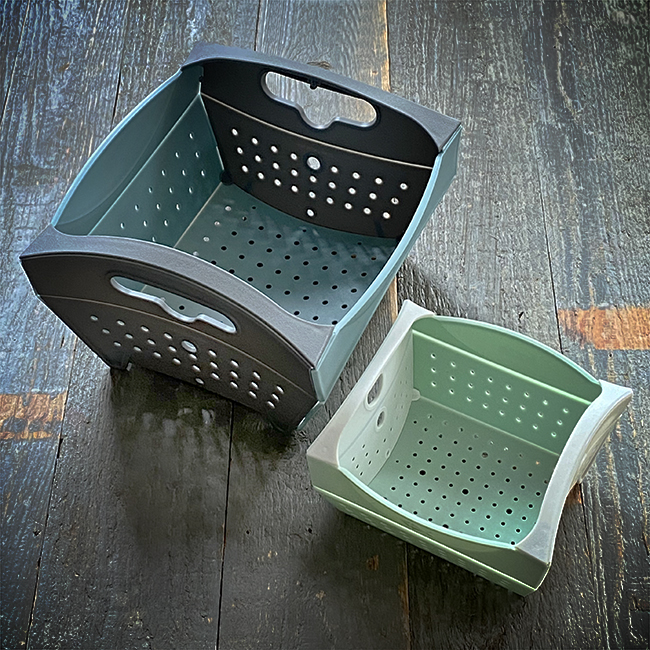 Two sizes of flat packing colander. I use the small one (946cl) as colander and the full size one (2.8l) as dish rack. They are made of non-stick easy clean material and have legs to keep them from touching dirt.
Scrubberz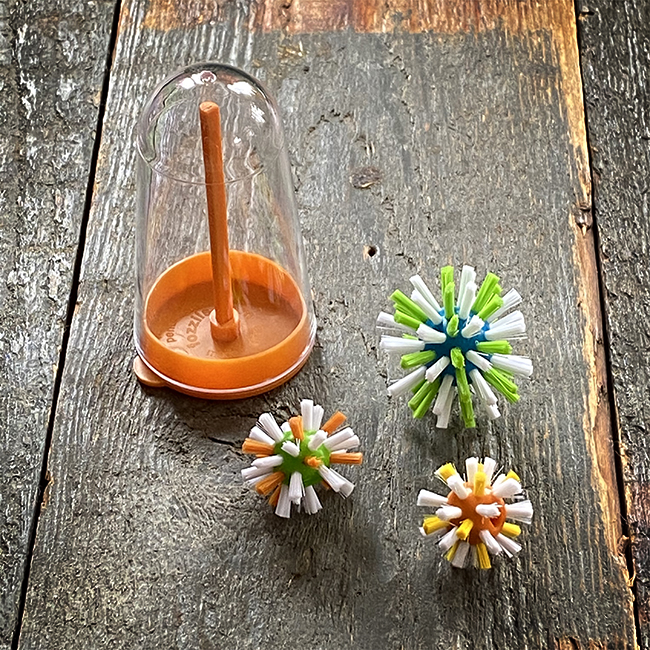 Now, these may well be the most artical of all. Little clean-the-inside-of-a-bottle-brushes! These bristle balls will clean your bottles from the inside. A quick shake scours all surfaces. Ingenious!

Nanopresso Portable Espresso by Wacaco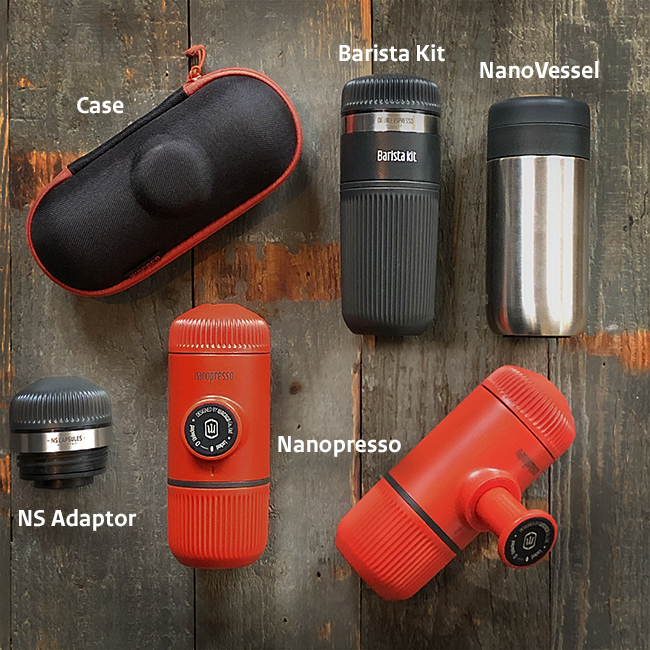 The Basics.
Here's my portable espresso machine: the Nanopresso. This is what it's about:
All you need is coffee, hot water and the Nanopresso.
1. Put fresh finely ground (hard tamped) coffee in the machine.
2. Put hot water in the machine.
3. Pump until no more coffee comes out of the machine.
The Nanopresso is capable of easily reaching the required pressure (18 bars) for making an excellent espresso. Pumping takes hardly any effort.
Nanopresso's ergonomic design and shorter length makes it your travel companion of choice. Easy to hold and easy to pack!
The machine is extremely light (336 grams) and comes with a neat little case. It's tank can hold 80ml of water, with which approximately 60ml of coffee is made, after which you only need to rinse it clean.
The Extended Family.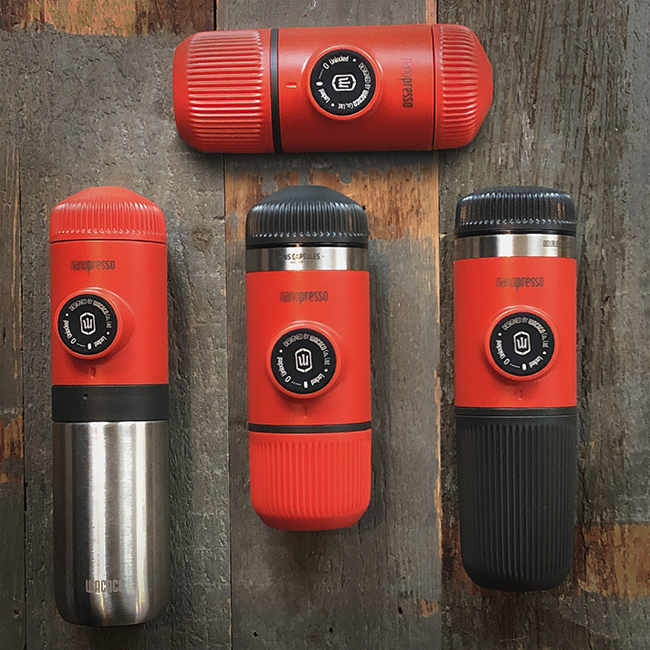 So, with the basic Nanopresso I can make a single (50ml) or a double (80ml) espresso. Using the right components out of the Extended Family will get more out of the Nanopresso.
The NanoVessel.
The Nanovessel is an insulated flask. It can be mounted directly onto the Nanopresso and used as a large water tank. Food grade and made of stainless steel 304, it keeps water hot for hours. Very easy to clean. I use this as an EDC double lungo insulated flask.
The Barista Kit.
The Barista Kit is a set of accessories packed in a small container. Adding the possibilities to make a very Rich Espresso, Double Espresso, Lungo, 2 Single Espresso and 2 Double Espresso by use of a larger filter basket and large container. Now let's not forget the tasty Latte and Cappuccino.
The Nespresso Adaptor.
The NS Adaptor, simple: this allows the Nanopresso to use Nespresso capsules and their obvious quality of being mechanically ground, measured, and tamped with a higher precision than we are capable of doing by hand.
My personal configuration is a combination of the Nanopresso, the NS Adaptor and the large Barista container. These fit in the larger Case. But, since Nespresso isn't available everywhere ánd I enjoy experimenting with local coffees when travelling, I take the Barista head and basket wherever I go.

Refillable Nespresso Cups by Bluecup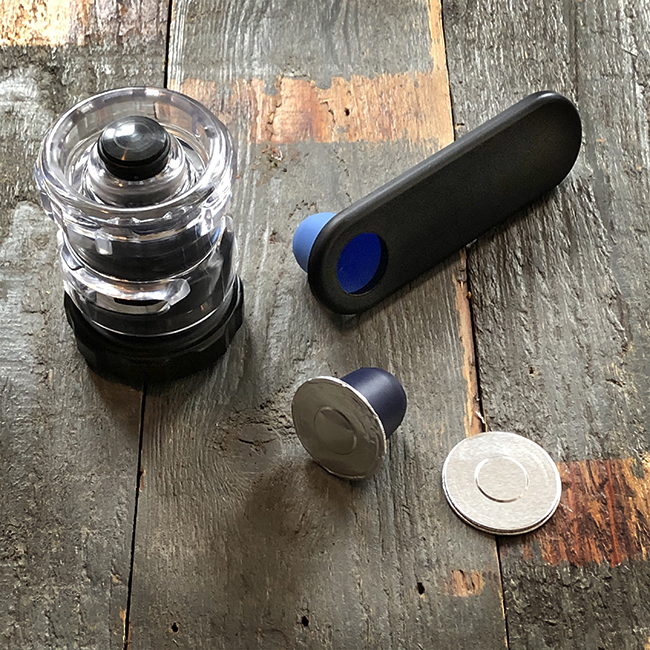 I share the passion with these passionate espresso aficionados with a love for Espresso, having a good sense of flavour and taste, living life to the fullest. They took on Nespresso issues regarding environmental aspects and the price per capsule, by looking for an espresso that was better for the environment and could be made using their own ground coffee beans or ready-ground coffee. This is what they came up with.
A aluminium cap close a self filled reusable cup, by means of a nifty little device folding the cap around the edges of the cup. That's it. Ready for your Nespresso machine. These cups work perfectly with my Wacaco gear! This will allow you to get the coffee you prefer, even when camping and use it the Nespresso way, swiftly!

Bluecup is a Dutch company high quality-espresso lovers, with a heart for the environment. They're doing a good job.



Camp Stove Toaster by Coghlan's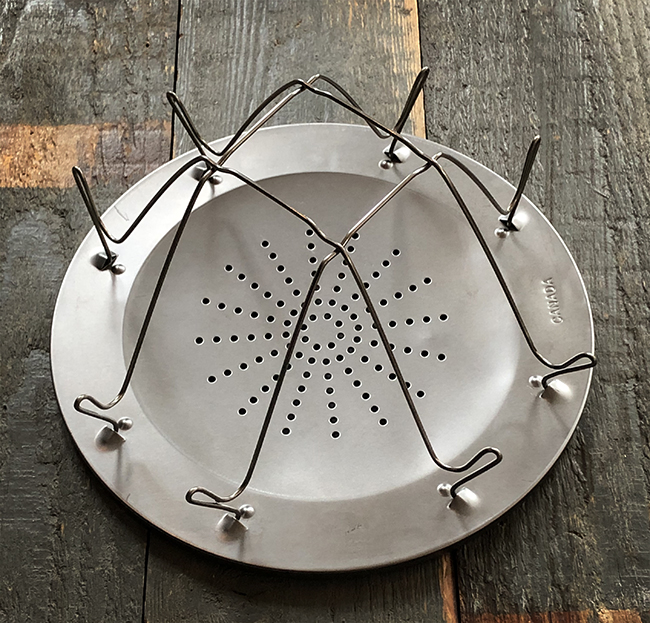 This simple piece of gear brings me joy! It'll toast four slices of bread at a time. it'll fold flat, it's rustproof and only weighs a mere 20 grams ……
Some salted butter, bacon, mozarello and basil on the toast and a cup of good espresso and we're off!