PowerGorilla Powerbank by Powertraveller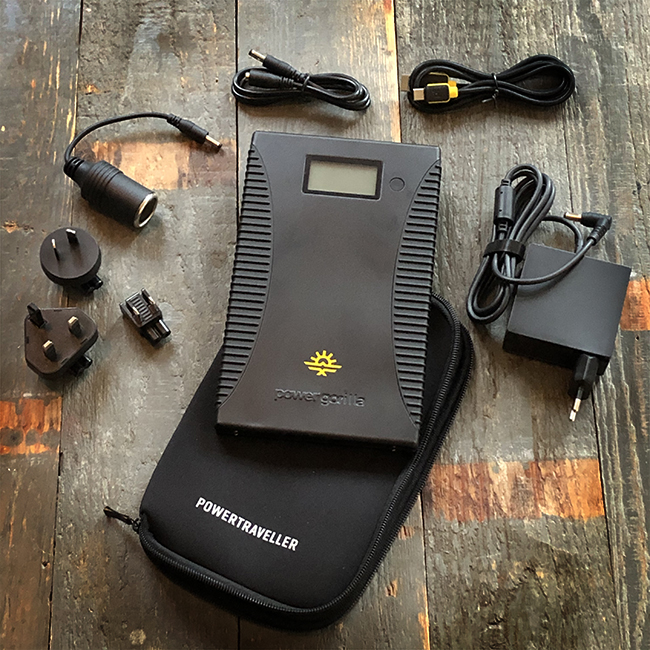 Now this PowerGorilla is the ultimate powerbank. Imagine being able to charge your:
Action Camera – 12 to 14 times
Smartphone – 8 to 10 times
GPS – 15 to 17 times
Smartwatch – 40 times
Head Torch – 15 to 17 times
SLR Camera – 4 to 6 times
Laptop twice
Tablet twice
Satelite Phone – 3 to 5 times
All this means it weighs a little more than your average GSM-battery, weighing 700 grams. The Powergorilla has a UPS (uninterruptible power supply) feature when on the 19V setting so you can relax knowing that your essential devices will still be charged. Just select which voltage you require; 5V, 12V, 16V, 19V or 24V and the LCD screen will indicate which setting has been chosen, then connect your device and start charging. You can even daisy-chain, to charge several devices simultaneously. It comes with a ton of adaptors for mains and devices (I never saw a laptop adaptor set before) and a neat sleeve. It comes as a kit, including:
Powergorilla power pack
USB-C to USB cable
DC extension cable (80cm)
19V universal AC mains charger
Female 12V in-car charger socket
USB-C to Micro USB adaptor
Laptop tip set (15 pcs)
Neoprene case
Falcon 21 Solar Panel by Powertraveller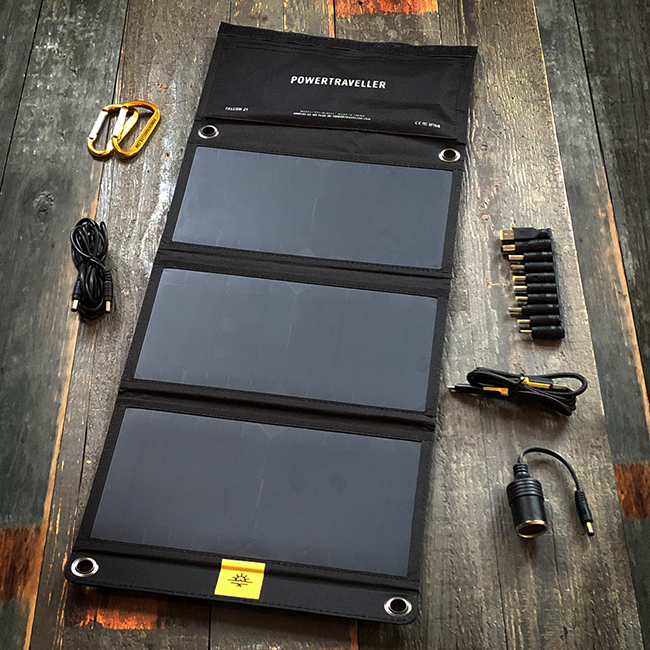 My Falcon 7 is an ultra-lightweight, foldable solar panel for charging 5V devices with the power of the sun. It produces 25-35% more power compared to conventional cells and has IPx4 rating. It weighs only 230g and makes has attachment eyeleds to attach it to washing lines, tents, where ever convenient. The kit comes with:
a 7W Foldable solar panel
a USB-C to USB cable (1m)
a Female USB-C to male Micro USB adaptor
2 Carabiners

Powertraveller is a European company. Their products are built to last, are capable of being used in extremes of temperature and are resistant to the elements and harsh handling. They have a very high number of recharge cycles negating the need for using disposable batteries and are made using components and materials that can be reused or recycled.




Camping lights by MPOWERD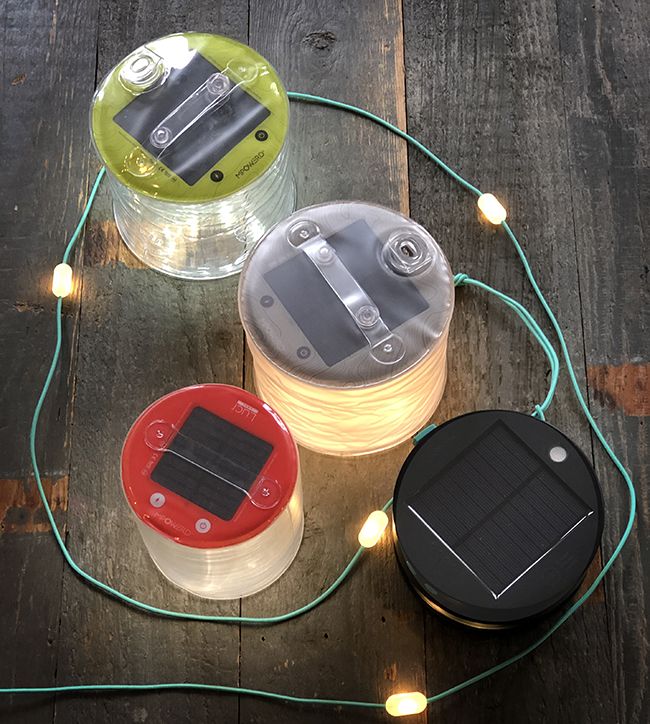 Why not add some ambiance to the camp site? The people at Micro Power Design must have thought so too. They make all-weather, solar charged lights that look friendly and are very practical. I own four of them.
The technical/functional is the smaller red EMRG. It can be used as a flashlight or emergency light. It has 5 modes: low, high, flashing, S.O.S and steady red. To me, this light is most fun hanging, dangling in the wind, spreading it's moving light bundle freely. Having said that, this is a very good companion for hiking trips, as it's extremely light (72 grams / 2.5 oz) and charges by sunlight, all you have to do is attach it (in compressed/deflated state) to your backpack to have a proper lightsource that night.
The green light is a Pro Series. This is the most powerfull of the four I own. This can be used very well when practicality is more important than ambiance. Repairing your car, charging your phone, searching through your tent; practical tasks.
Ambiance! That's where the other member of the Pro Series comes in. With it's warm light and matt diffusing surface, this your table or in-tent. It'll even charge your phone.
Stepping this ambiance theme up a notch: On my wishlist are six of their 'Candles'. These are smaller sized, amber coloured lights, that can be used like all-weather candles.
The most attention seeking on the campsite are the String Lights. It has 10 lights that are bigger than you'd expect and very durable. (Don't think christmas-tree-lights, these are 4 times as big.) With it's 5,5 meter /18 ft cord it can be used to frame your tent, mark your dining/living area, or hang anywhere you like. This string provides 100 lumens and can be neatly packed inside the black expandable unit, which charges using sunlight and/or USB.
MPOWERD makes fun innovative products, with some nice features like: inflatable and floating, solar and USB charging, mobile charging, overcharge and over discharge protection, overcurrent and short circuit protection, battery level indicators and IP67 waterproofing.
This is a company that stands out in being modern and innovative, without losing practicality. Thumbs up!