---

Victorinox Outdoor Master Micarta Large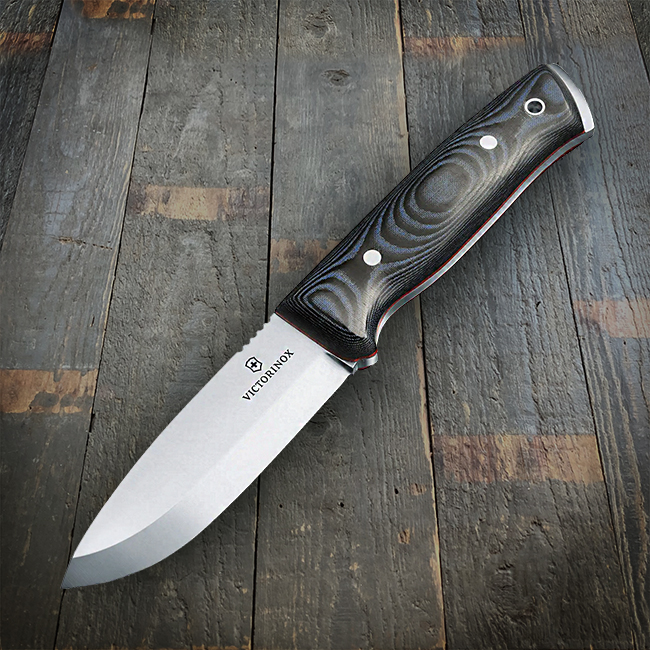 My Victorinox Outdoor Master Micarta Large is a full tang fixed blade knife with a back blade sharp enough to ignite a fire starter. It has (my favourite) drop-point blade with Scandi grind and a Micarta handle and a kydex sheath with fire-rod. Full tang means the blade runs seamlessly through the handle, giving the best strength possible. It comes with a protective Kydex sheath, compatible with the Tek-Lok System and a fire steel. This is a bigger mid sized knife with a 10 cm blade and an overall length of 22 cm, which makes it extremely easy to handle. 220 grams.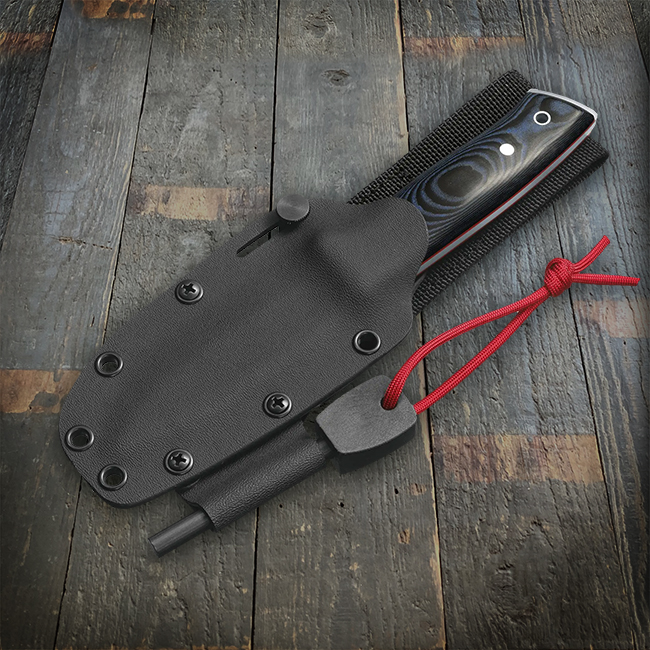 One of the really nice details is the tensioning screw on the kydex sheath, to control how firm/secure the knife is held inside.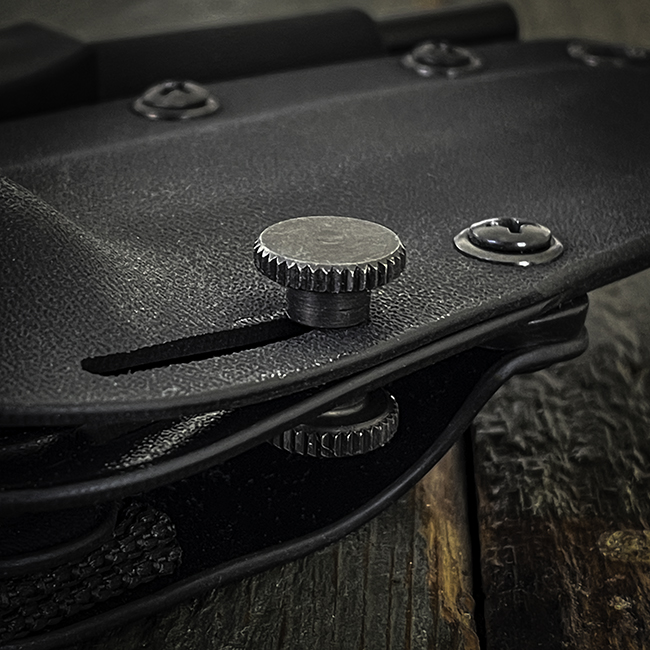 ---

Cold Steel SRK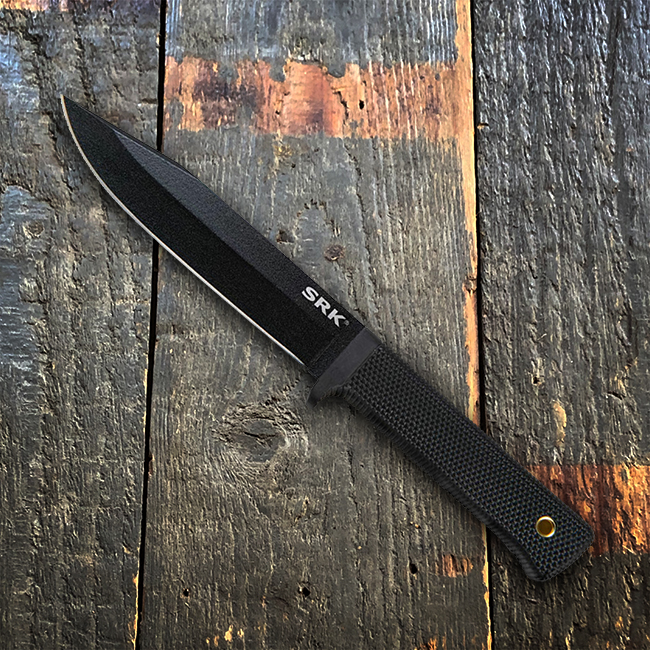 The Cold Steel SRK (Survival Rescue Knife) was designed specifically with this in mind. A big, popular knife with safety, rescue and survival pro's. The SRK has proved its worth time and time again in the most demanding environments. The blade is made of SK5 steel. This is a type of carbon steel that can take a beating very well. Not completely stainless, but fortunately the coating helps with that. The 5 mm blade has a thin grinding, it cuts like no other. It is a healthy balance between cutting properties and firmness. The Kray-Ex handle offers a lot of grip, even in wet conditions. The sturdy Secure-Ex holster has a press stud so that you will not lose the knife. This large knife The blade size is 15,3 cm at a total length of 27,3 cm. 215 grams.
---

Silky Saw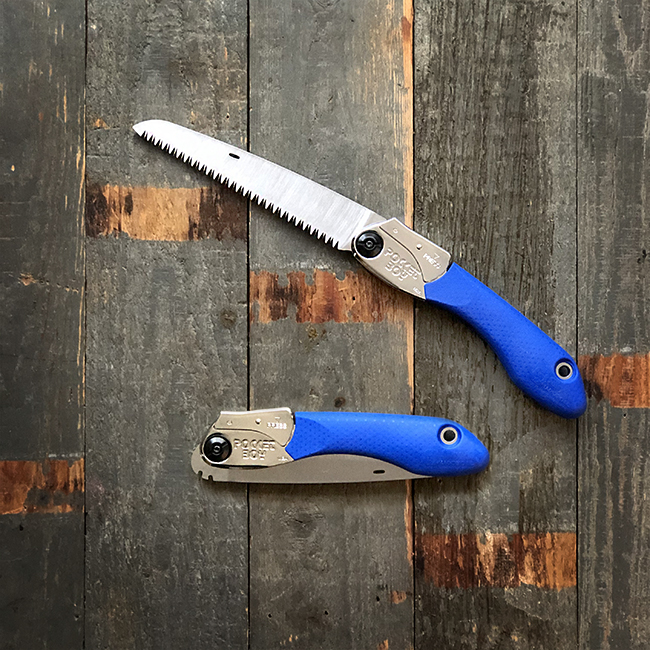 Here's my Silky Pocketboy 170-10 saw. This is a practical and functional piece of kit and a must have on every camp site. The 17cm blade has a convenient length for sawing, whilst keeping the overall length practical. With 10 teeth per 30 mm it's suited for both fresh and hard wood. I have an additional 20 teeth blade (suited for hard wood) for fine work like notching trees or making stuff. It takes less than a minute to change blades. It comes in a clear plastic case with belt clip.
---

Dianova Sharpeners
I use these, Swedish, Dianova sharpeners. Their high quality diamant sharpeners are extremely practical and effective.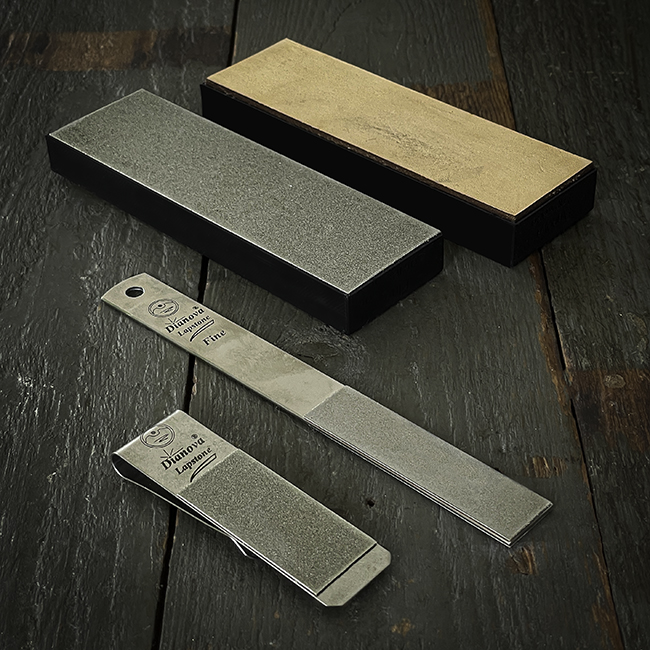 The Önne & Önne Strigel
The Önne Strigel is a whetstone block offering an extra fine (1200 grit) diamond whetstone side and a leather strop side.
The Önne is a whetstone block offering a with fine (600 grit) and a coarse (300 grit) side.
Together, these blocks cover all my homebase needs. They are surprising lightweight at respectively 70g & 60g and come with an anti slip pad mat and soft case. Their well proportioned dimensions (150x45x17mm) are very well chosen. It's big enough to comfortably whet my Cold Steel SRK.
Length 150mm, Width 45, Height 17 mm.
The Classic Long
The Classic Long is a lightweight double sided diamond knife sharpener with long handle for comfort. It has a fine (600 grit) and a coarse (300) side. This my preffered field sharpener because it handles really well! It is a whole lot of sharpener at a mere 45g.
Length 170 mm, Width 20 mm, Thickness 3 mm, Diamond surfaces 75×19 mm.
The Military Badge
The Military Badge is a diamond knife sharpener with a pocket clip for easy carrying. This is the ultimate backup and/or ultralight sharpener at 22g. At has 30 micron monocrystalline Diamonds of the highest quality rating (coarse/300 grit).
Length 85 mm, Width 25 mm, Thickness 0.5mm.