Fernhurst Practical Companions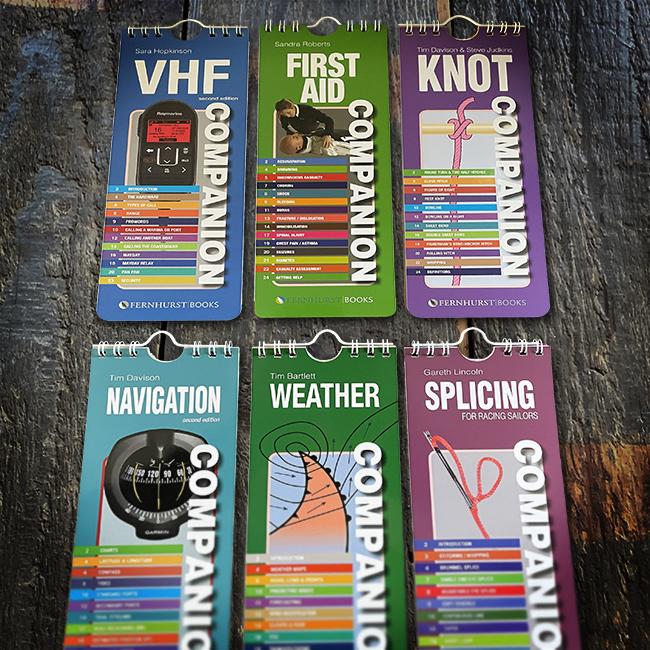 These handy flipover books are great introductions to many, if not all, aspects of water-based activities. I chose the ones that are relevant to seakayaking, but with 19 titles there is plenty to choose from (at a very fair price).

Field Repair 'MacGyver' Kit
Zlideon Zipper Repair
| | |
| --- | --- |
| | With a small collection of ZlideOn zipper-sliders I can repair any broken zipper, anywhere: Fixed in seconds! For basecamp/camping I don't bother making a selection and I'll bring waterproof zippers and a variety of metal & plastic zippers. When I go ultralight, I only carry dedicated ZlideOns for what I actually have with me. These ZlideOns are easy to use and cheap enough, not to let a broken zip ruin the pleasure of being out there. |
Dianova Sharpeners
The Classic Long (second from the bottom) is a lightweight double sided diamond knife sharpener with long handle for comfort. It has a fine (600 grit) and a coarse (300) side. This my prefered field sharpener because it handles really well! It is a whole lot of sharpener at a mere 45g.
Length 170 mm, Width 20 mm, Thickness 3 mm, Diamond surfaces 75×19 mm.
The Military Badge (bottom) is a diamond knife sharpener with a pocket clip for easy carrying. This is the ultimate backup and/or ultralight sharpener at 22g. At has 30 micron monocrystalline Diamonds of the highest quality rating (coarse/300 grit).
High-Strength Synthetic Line
Heavy Duty Repair Tape
#16 Sail Needle
Multi-Tool
Zip Ties
Buckles
Tent Pole Sleeves
Tool cards
Flint biners
Duct tape M
Krazy Glue
Aquaseal
Tenacious tape
Scissors
Knife Multi-use.
Needle & thread
Utility cord
Silicone glue
DCF ("Cuben") repair tape
Stove repair kit

Folding Trekking Poles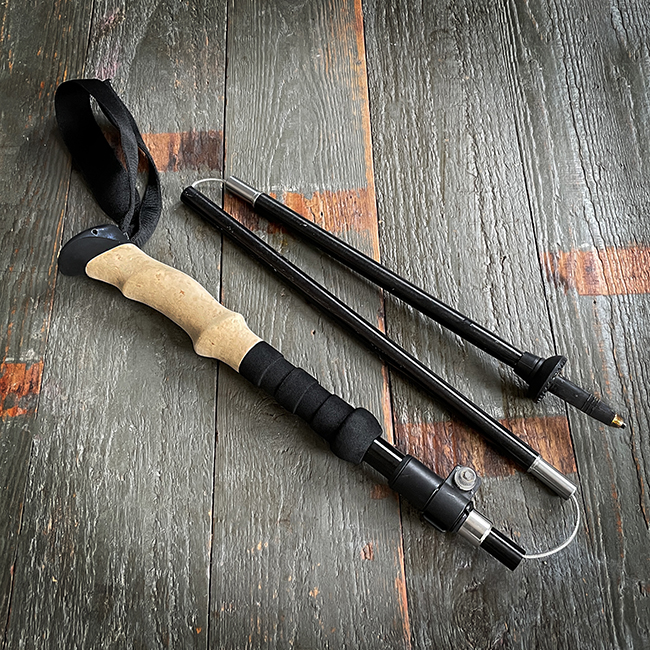 My Origin Outdoors Trekking Poles 'Micro-Fold' are well made, reliable poles. Their prime feature is the folded size of a mere 37 cm. At 556 grams per pair (278 each) these are lightweight poles. In combination with my mud baskets, they do not get stuck or get pulled apart (a serious risk with spring-operated poles). Height adjustable from 120 up to 136 cm. One of the reasons for chosing these poles is the fact that they are not shock absorbing. I do not appreciate the loss of 'feeling' that shock absorbing brings, especially when used as wading aid. Both the clasp lock end the tip tend to oxidize, but a little oil or grease will do wonders. All in all, these are decent reliable poles at a very fair price.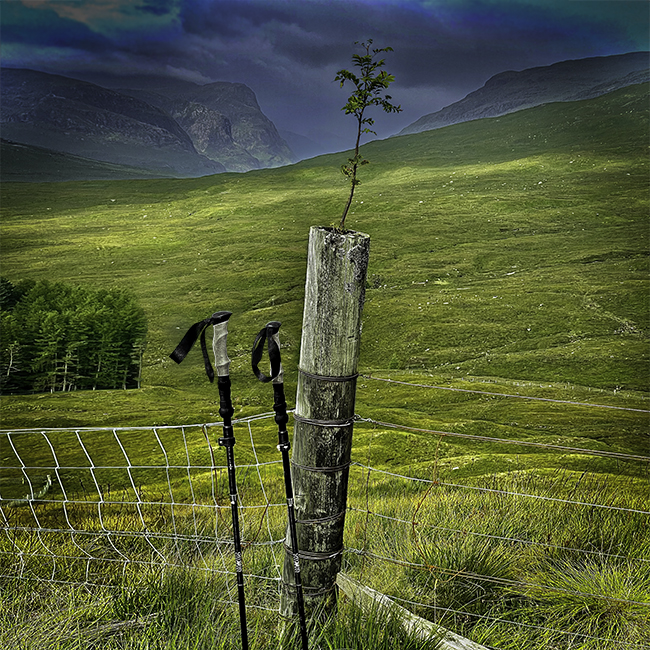 Trailer Locks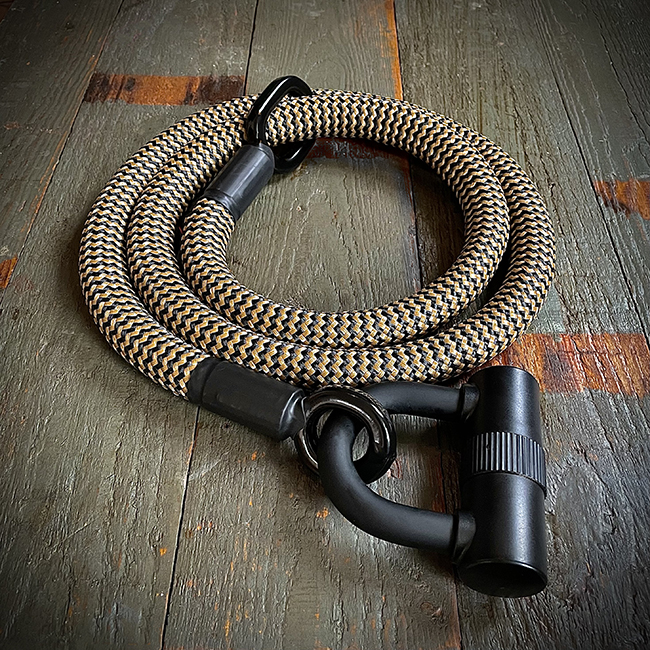 I use these Texlock cable locks to secure kayak trailers, either to the (fixed) towing eye of my car, or to a permanent structure. Circumstances will make me use either the long or the short version. If needed, they can be coupled.. The eyelet with U-lock is Sold Secure Silber and ART2 certified, which means it'll take several minutes (instead of seconds) to open it.

Locks for Kayaks and other gear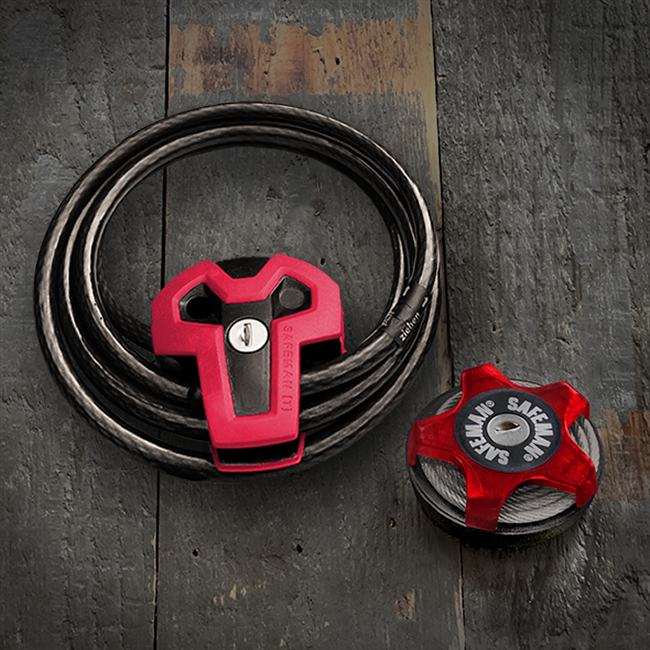 These are my go-to locks. The awesome Safeman-T and it's little brother, the Safeman.
is a heavy duty 1.85 meter long plastic-sheathed steel cable with Ø 10 mm and is continuously adjustable. It allows the use of one or two two loops and thus the greatest possible flexibility for securing, connecting and lashing. Safeman-T locks automatically. You only need the key to unlock. It stows neatly around the lock body.
It is 17 cm in diameter, 530gram, 250kg breaking strength, plastic coated stainless steel cable, 185 cm length, 10mm diameter, two loop technology, cable.
I utilise the Safeman-T for the most obvious important locking tasks, such as securing my kayak to the trailer for transport, to a tree at night and to other solid points for general fixing situations. I have different colour versions in use.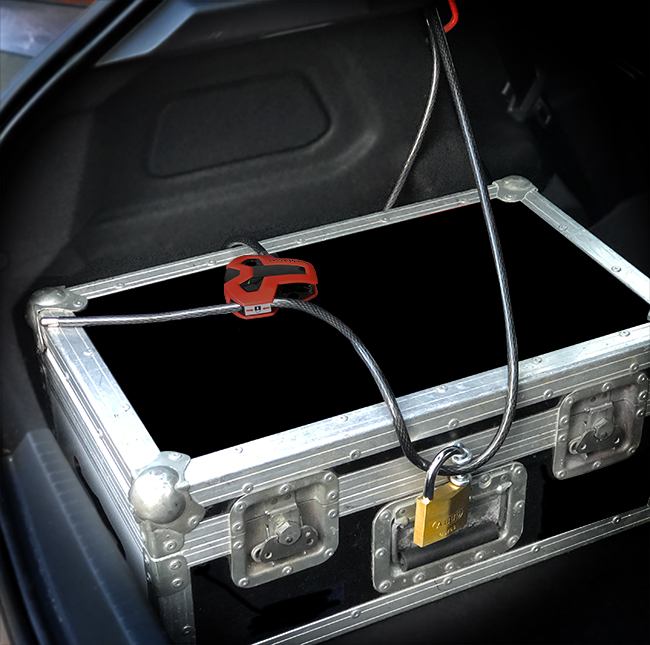 I also use the Safeman-T for securing my trunk, containing all my photography- and filming gear, inside my car.
is very useful whenever you need a more flexible, smaller diameter, cable.
It is 7,5 cm in diameter, 130gram, 100kg breaking strength, plastic coated stainless steel cable, 75 cm length, 4mm diameter, two loop technology, cable.
Especially when securing your boat, paddle and other gear during trips. But I always carry these when I expect a need for securing rented gear or ski's, bikes and such. It's small enough to carry in your pocket.I have different colour versions in use.

Coolado Air Pumps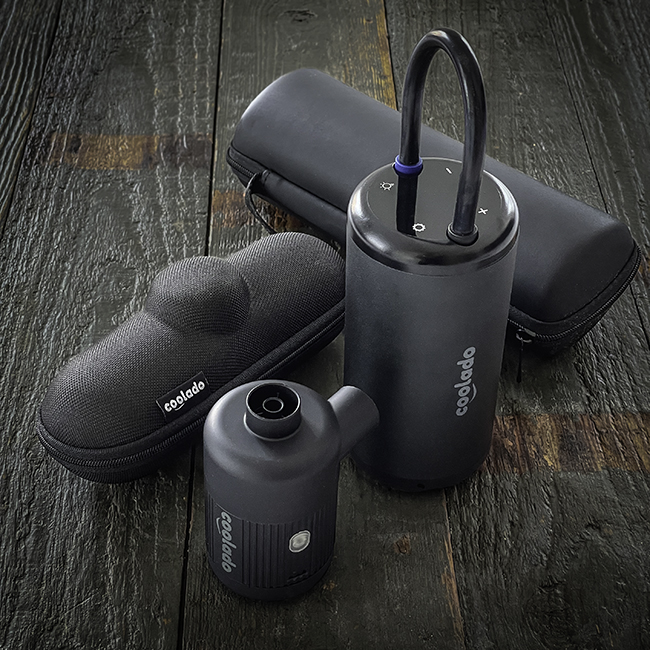 Safety? Cost effectiveness? Sustainability? No matter what your reason is, but using this little device contributes! The Coolado tPump X is a portable 'pressure pump' (rather than a 'volume' pump). An air compressor capable of pressures up to 10.3 BAR / 150 PSI, at up to 10 liters per minute. The tPump can handle your tire needs, whatever vehicle, bike, wheelbarrow or other contraption you have. The digital LCD touch screen provides pressure information so you can accurately measure and set the correct tire pressure.
Mind you. Should you want to inflate larger bodies like rafts, then you need a volume pump like the ePump (400 liters/minute) to get the volume in and then top it off to the right (high) pressure with this tPump.
This pump is both lightweight (only 440 grams) and compact (7cm x 14cm) and comes with various valves, USB charging cable and water-repellent protective cover.

Gold Pans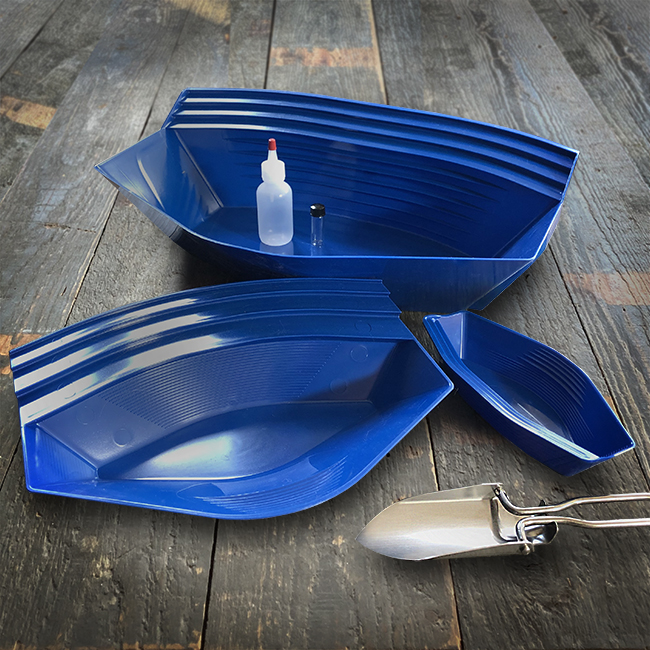 This Gold Claw Pan Bundle contains a three sizes of pans and comes with a First Gold Experience Kit containing paydirt with real gold in it, a snuffer bottle and a vial.
The (smallest) Pocket Pan is a great option to carry in your backpack. The (medium sized) Original Pan is ideal to have at basecamp or in the car permanently, whilst the (biggest) Production Pan goes through loads of paydirt in a wimp. The pans are made from Tritan plastic, which makes it durable and virtually indestructible.
I use the Stainless Steel Folding Shovel as well. It's not part of the bundle.
Wether you expect, hope or need to get rich quickly, or just want to have a relaxing time with a chance of finding some gold: this is a great set, to do it with.

Straps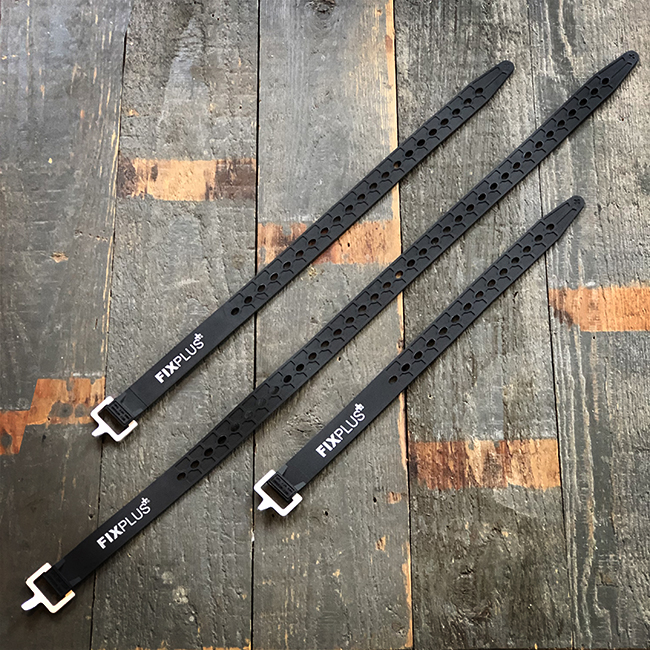 These FixPlus straps are the best ever for securing and bundling equipment. The one hand operating ties are an awesome solution to strap stuff to your backpack, into your boat, onto your boat, onto your helmet, whatever! All you do is lead the strap through the buckle hole, bend it backwards and hook it onto the to secure it. These come in loads of colours and lengths. I went for all black and have the 66, 46 and 35 cm versions, along with some (blue) strap keepers. The strap keepers are useful for keeping the ends tied in windy situations (e.g. roof rack) or if the ends could get stuck (e.g. bicycle spokes). FixPlus straps are tear resistant up to 90kg and are resistant to UV, Cold and Salt water.