Scrubba Wash DryBags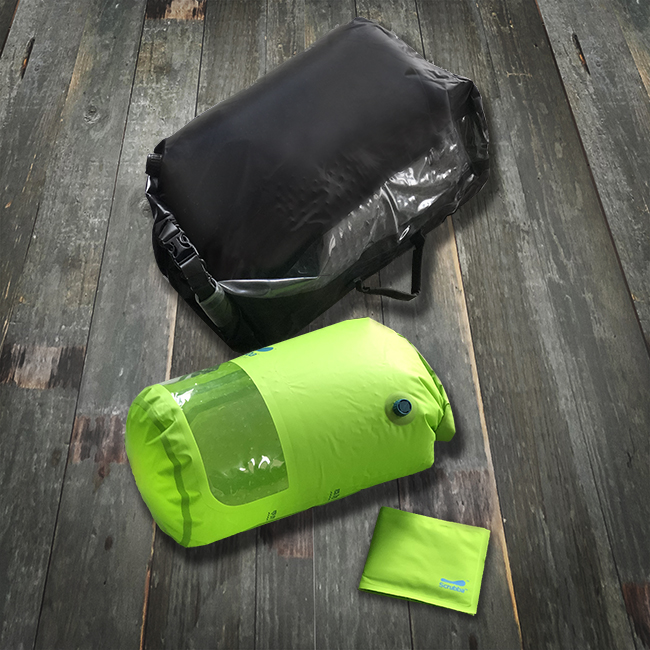 Scrubba makes these awesome multi purpose DryBags. I use them as Wash bags, Dry Bags and as emergency Floatation bags. I own the Stealth Pack (an 18 liter large bag, to do major clothing washing) and a Wash Bag Mini (a 2 liter bag for underwear and socks?).
The also make these great 'Weightless Wallet'. I absolutely adore these minimalist wallets.

SWAK Dental Care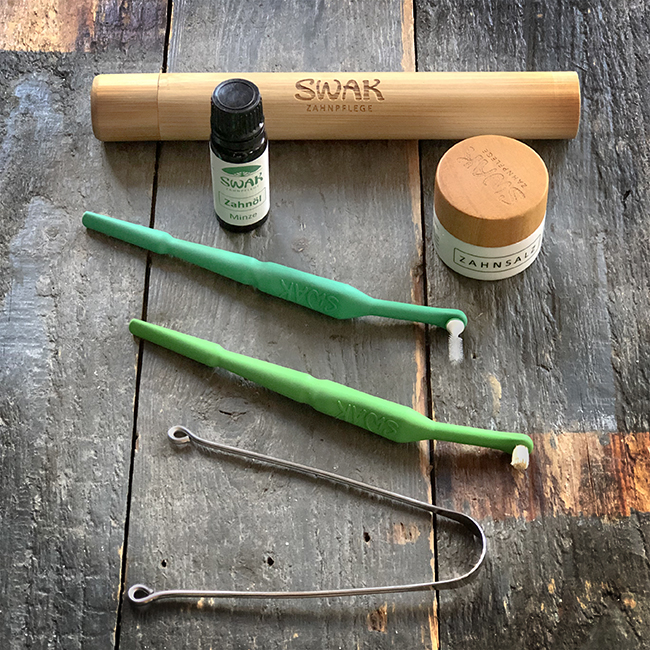 The SWAK toothbrush: brush your teeth with the fibers of the Miswak twig. An ancient way of dental care in a modern way. Using a handle made from bio-based plastic ( polylactic acid (PLA), made from GMO-free sugar), fitted with a replaceable brush head made from miswak wood. These small brushes are well sized for good detailed dental care, in places your big old hairy toothbrush can't reach. Using the Swak is simple: When new, soften the wood by nibbling the tip, 'swing' the brush over your teeth, once a day, untill they feel smooth. No need for water or toothpaste,so you can do this anywhere at anytime! I carry the brush in a bamboo tube. The other Swak products I use are the interdental brushes, tongue scraper, mint oil (organically grown oils and natural extracts) and tooth salt for refreshing the Swak brush or used as toothbrush (used very sparingly).

Personal Hygiene Bag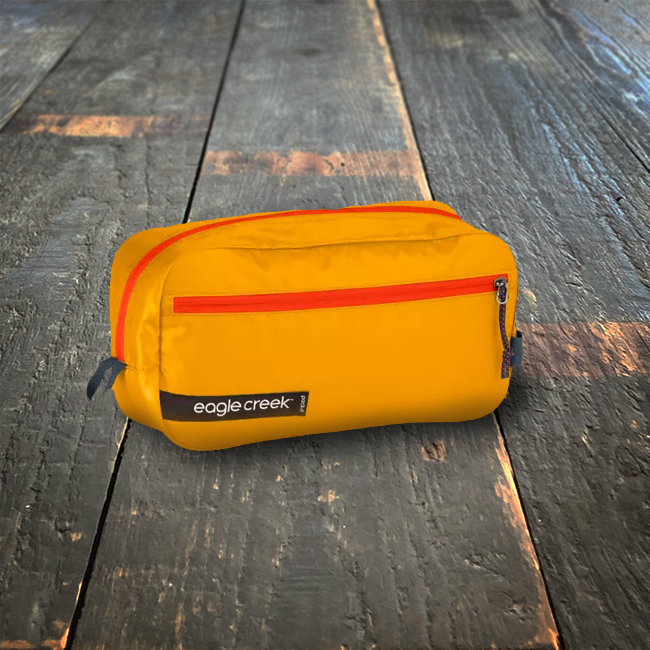 Inside my Eagle Creek Pack-It Isolate Quick Trip I carry wet wipes, a Toothbrush, deodorant and a mirror.

Poop kit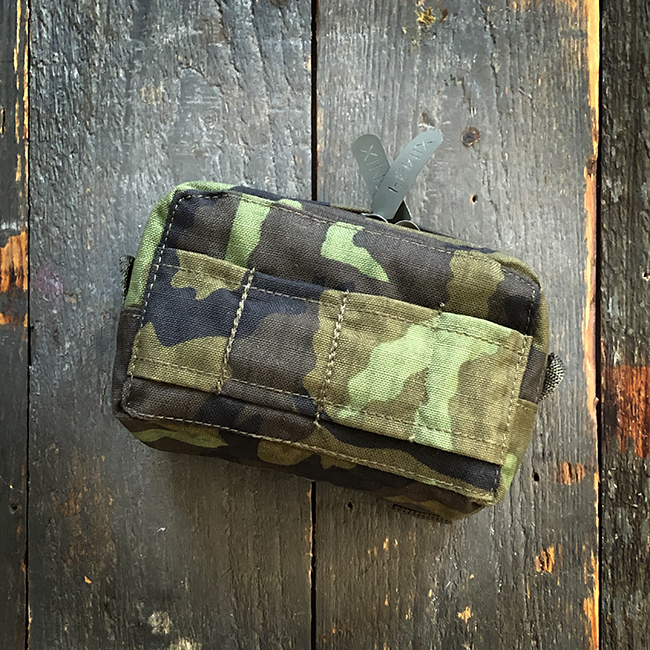 Inside my Fenix Protector Front pocket Vario, I carry Toilet paper, a Trowel and Wet wipes. I carry this on my backpack.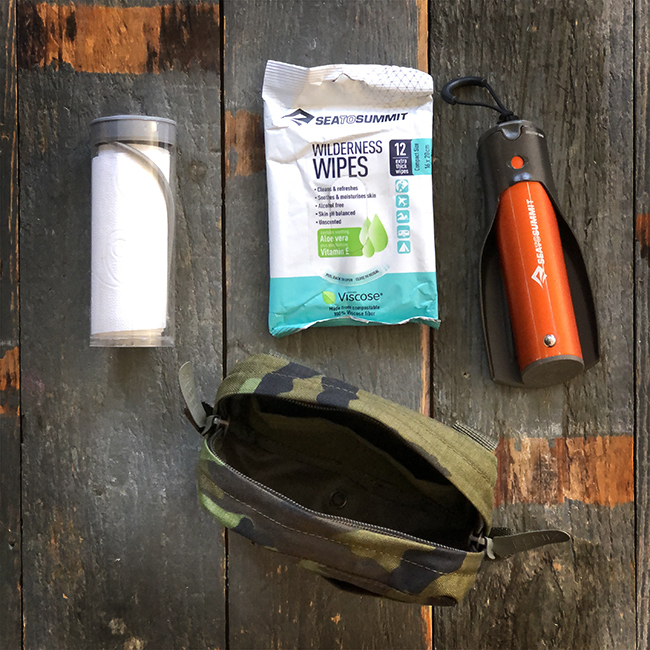 NoBite Midge, Mosquito and Tick Repellent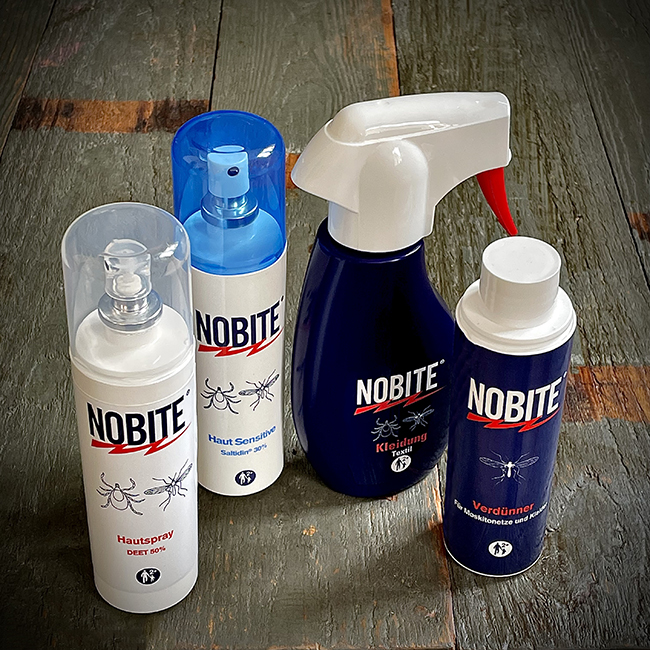 These are my NoBite anti midge and tick products. Allthough I personally primarily use them to prevent getting bitten by ticks.
Skin (Repellent):
I use the skin-protecting 50% DEET spray because it works over a longer period, whilst other family members use the Saltidin solution because it doesn't damage their plastic belongings. Both come in a spray bottle.
– 50% DEET will protect against musquitos and midges for 9-10 hours and against ticks for 5 hours.
– Saltidin will protect against musquitos and midges for 6 hours and against ticks for 4 hours.
Textile (Insecticide. It kills.):
The dilution liquid is great for impregnating mosquito nets and clothing before departure, supplying protection for weeks ahead. (Do not wash hot, because that will lessen the protection.) The spray I use for treating my backpack and (silnylon) tent.
Both will last for a month.

Natural Shaving with Sommersets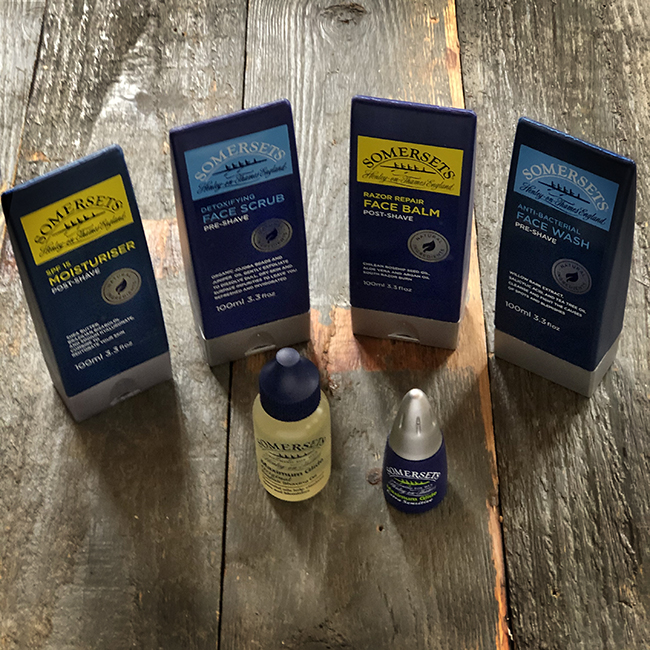 Now here's what this shaving oil is all about:
1. Nothing but the finest essential oils and natural ingredients!
2. Wet face, apply 3 drops to skin and shave!

Okay, fair enough, I use the Face scrub, Anti-bacterial Wash, SPF15 Moisturiser, and Razor Repair Balm as well. At Somersets, they call this the 'Travel set'. I call them my 'facial spa'.
Since the early ninetees, this shaving oil has accompanied me on every single trip I made. The bottles are 100% securely closed and take absolutely no space. A single bottle will last for many many weeks.

Somersets is an English company, using the highest quality natural ingredients for over 20 years. Owned and lead by David Somerset, this responsible company takes pride in delivering the best in skincare.