Poketle Mini Thermos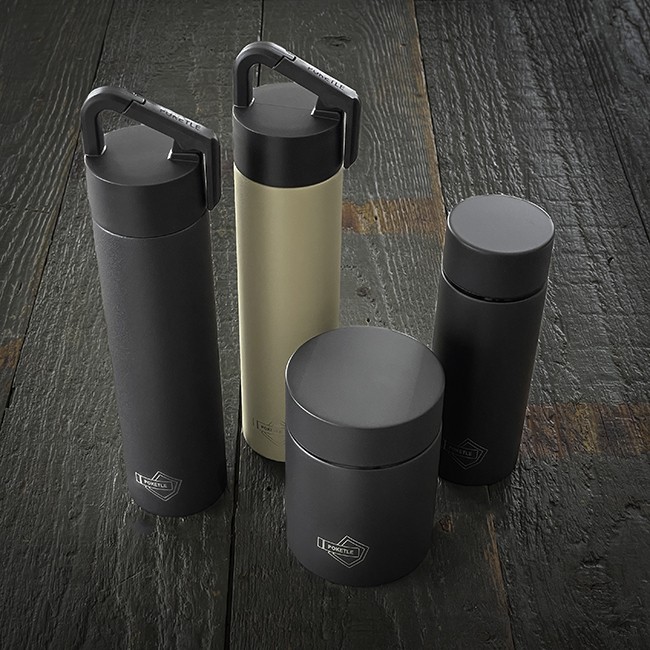 Poketle is the ultimate Japanese lightweight mini thermos. Made from stainless steel and sislicon rubber, these slim bottles can easily be stored in pockets and handbags ad will keep drinks and food warm/cold for 6 hours.
Preparing some more coffee/thee and taking itwith you in a thermos, saves fuel and time. The S will fit a coffee/thee very well, the +6 can contain even more. Remember that less air inside the thermos, means it'll retain heat/cold longer. That's why these smaller thermos's stand out in practicality.
Poketle S – Thermos (Ø4,5x13cm, 120ml)
This smallest version holds 120ml, which is exactly the capacity needed for a cup of coffee. (Nespresso's lungo-size coffee is 111 ml)
Poketle +6 Hang (Ø4,5×19,6cm, 180ml)
This slightly larger thermos has a 'carabiner' offering great functionality, especially inside ones kayak, keeping it in place.
Poketle +4 – Soup (Ø6,5x9cm,160ml)
Originally meant to be used for soup, I use this little container for the spills of any meal, keeping them warm for 6 hours.

RidgeMonkey ThermoMug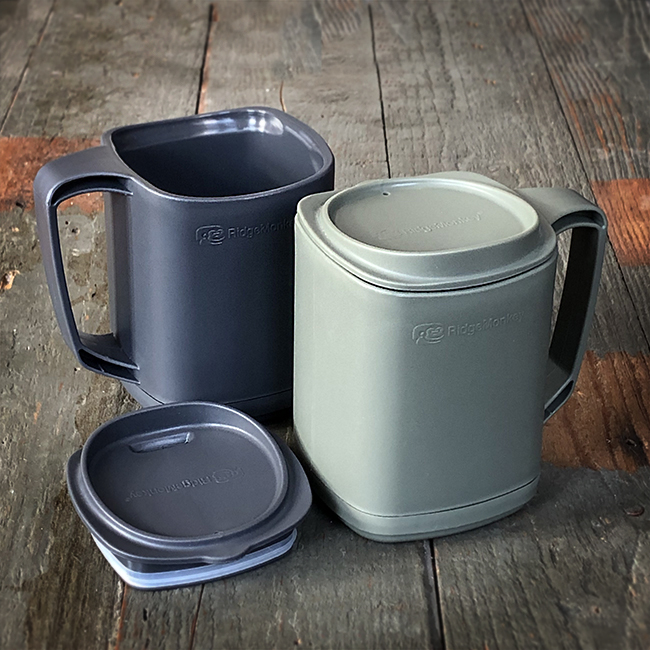 I serached for decent insolated mugs for a long time. These RidgeMonkey ThermoMugs keep my brew seriously hot! This will keep drinks and food hot a lot longer than titanium double walls and is for more durable than glass or ceramic walled insolation mugs. The drink through lid works well. The handle is mitt friendly. This 400ml mugs are made from polypropylene in gunmetal grey and gunmetal green.

Nalgene Wide Mouth Bottles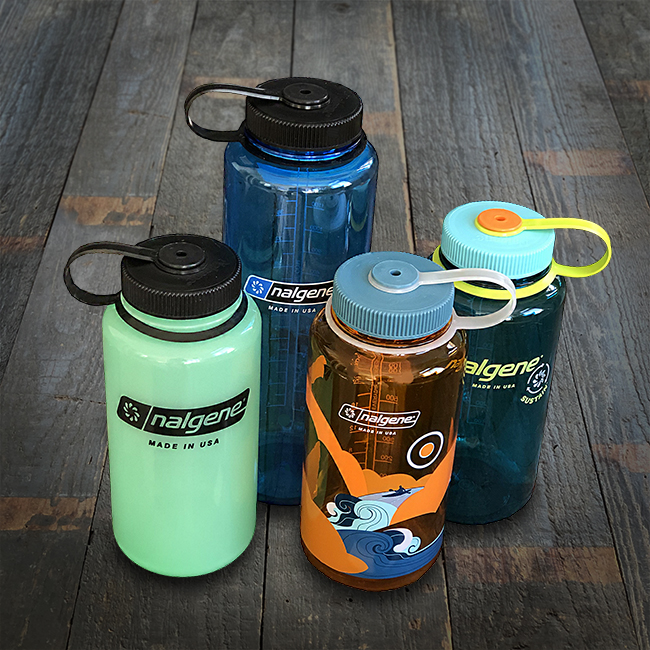 I love my Nalgene bottles. All Wide Mouths and all with their own use. The most obvious being the Glow-in-the-Dark bottle, in use as winter hot-water bottle to warm my sleeping bag and as midnight pee-in-the-dark bottle (we all have one, or should have one, preventing loss of bodywarmth by leaving the tent).
Next is my 1,5 liter Silo, which serves two main purposes: I use it at the end of the day to have cooking and drinking water at hand and during the day it gets filled whenever I need dead-weight to secure my tripod.
The all new Retro Kayak bottle accompanies me on kayak trips, to make my nutritional shakes. Last-but-not-least I have one of the sustainable bottle, made out of 50% recycled material, in use in my basecamp kitchen for cerials.

Water: Filtering and/or Purifying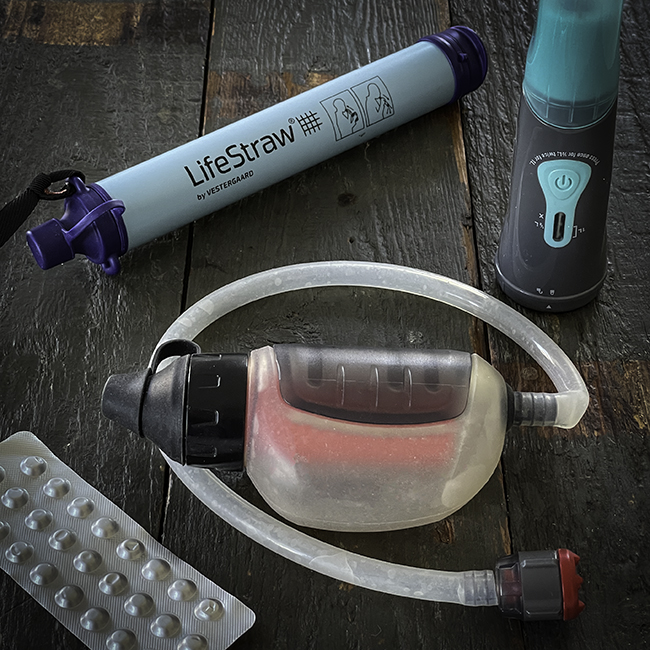 Bacteria, Protozoa and Viruses are the reasons for filtering water.
Filtering water removes, debris, waterborne protozoa and bacteria, but not viruses.
Purifing also removes viruses, but not debris, offering a higher level of defense.
I use a selection of methods to clean water in the backcountry, amongst which:
MSR TrailShot Pocket-Sized Water Filter, for filling bottles, but during the winter, the only device I have with me. (Front Center)
LifeStraw Personal Water Filter, for drinking straight from a stream. (Top Left)
Steripen Aqua UV Purifier, battery powered, for cleaning water I do not trust (in 45 seconds minutes). (Top Right)
Katadyn Micropur Forte Purifier, for cleaning water I do not trust (in 30-120 minutes). (Bottom Left)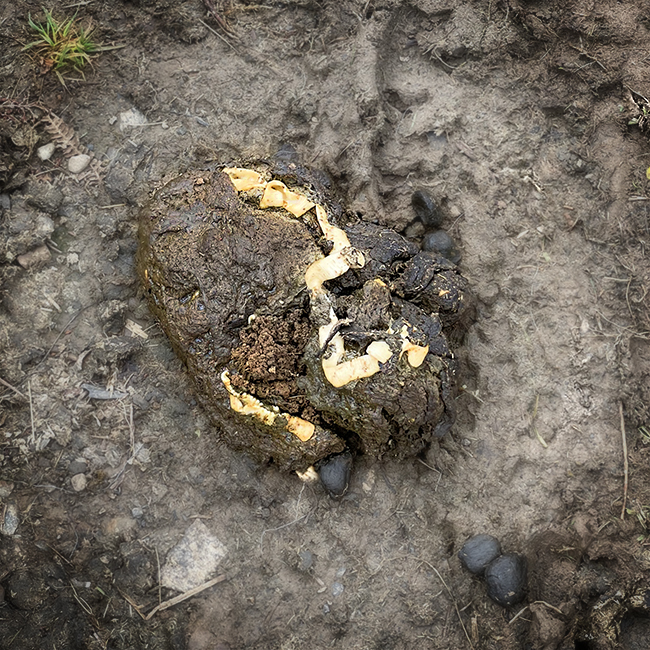 Source Water Bladder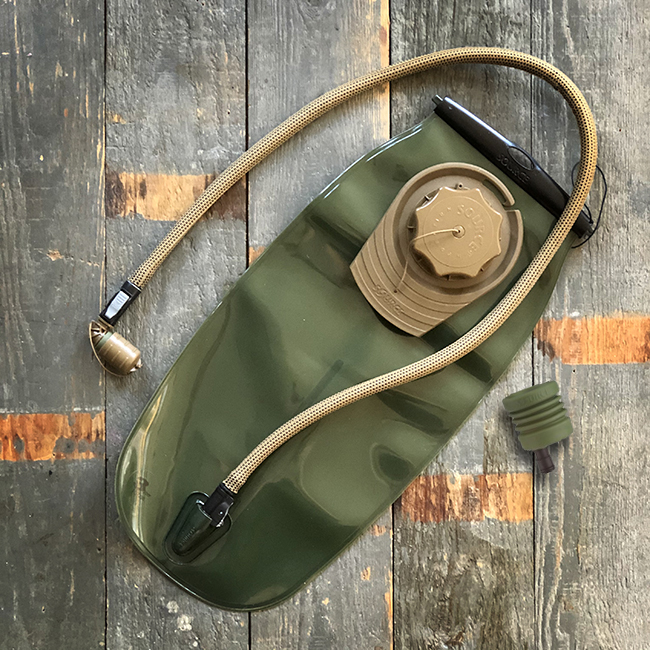 I use a 3 liter Source Water Bladder that fits my Fenix Protector Bladder pouch, made to fit in my Magnus 50 backpack by dedicated hooks. A nifty, well designed, system. Besides having a top opening and a large front opening, this bladder comes with an adapter. This adapter enables me to fill the bladder from a tap or bottle, without having to open by pack and/or take the bladder out. Besides that, this system has a non-biting mouthpiece and an isolated tube.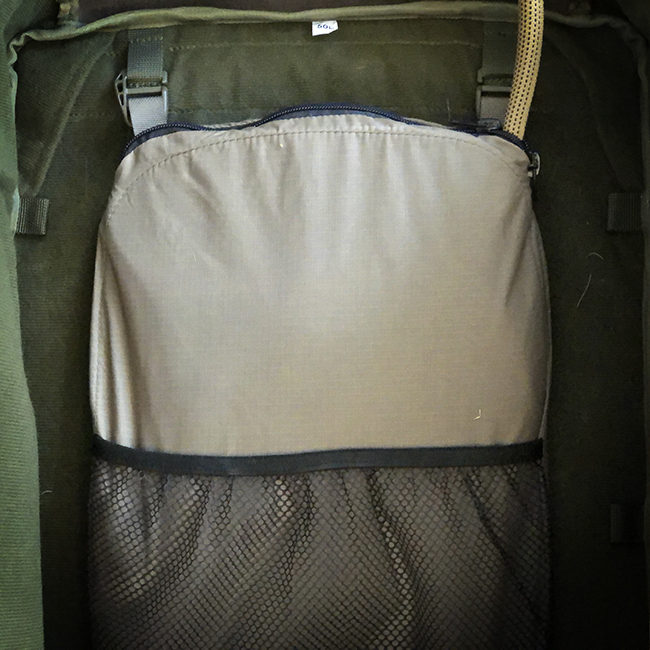 HumanGear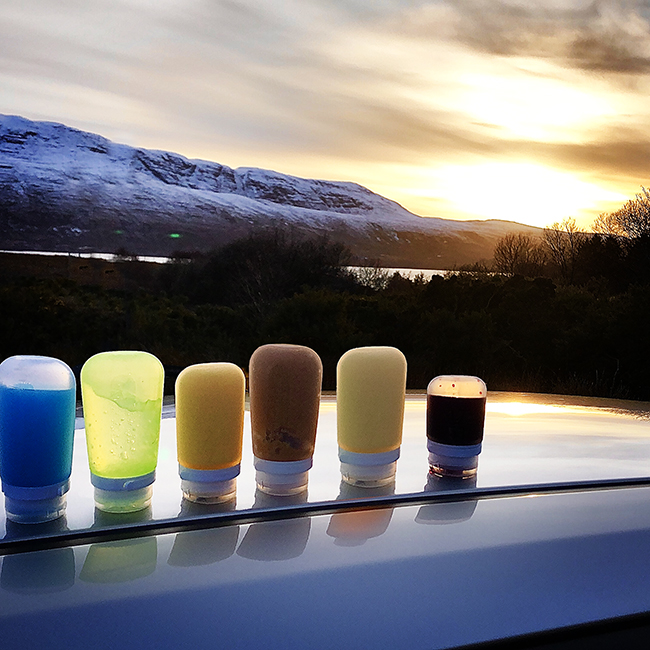 GoToob+
I use HumanGear GoToob+ Silicone Bottles for almost any paste, syrup, gel, etcetera. I have small, medium, and large versions in use. They have a little handle to hang and close very well. They even stay closed in my backpack!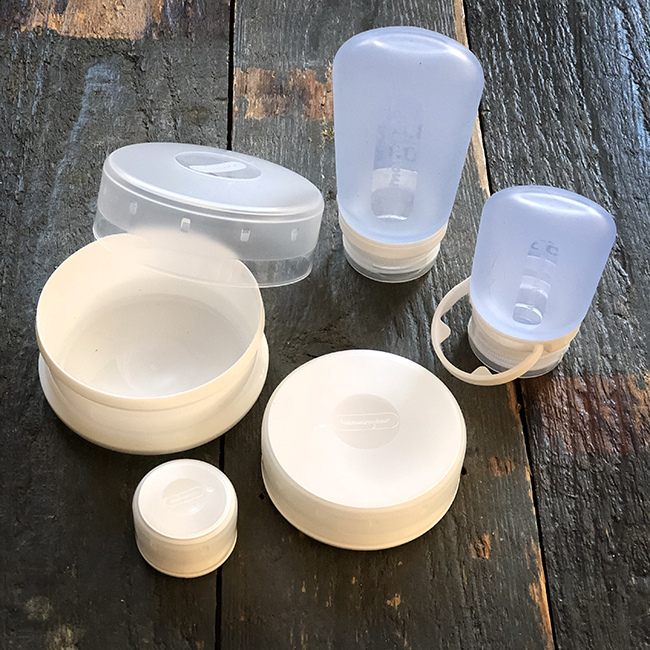 GoTubb
The HumanGear GoTubb's ingenious design opens and closes with just one hand. Great for pills, snacks, vitamins, I even use them for camera lenses! Safe to use for food and in practical sizes.
capCAP+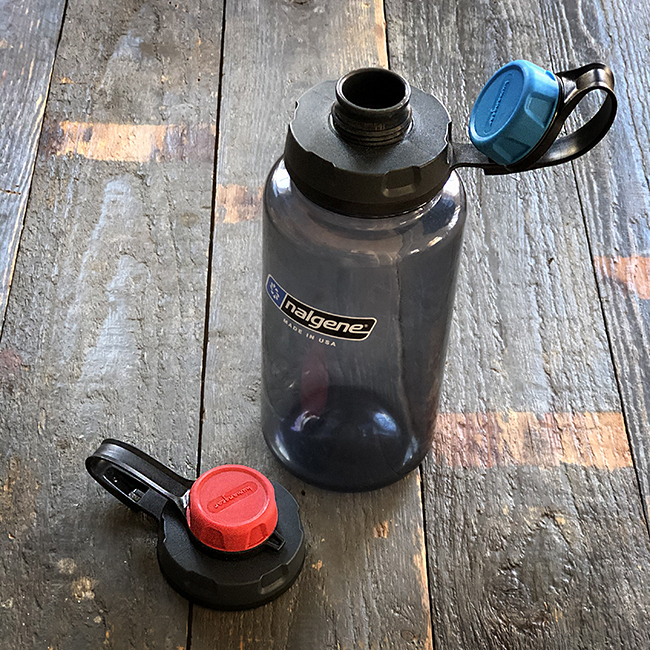 The HumanGear capCAP+ is an improvement for many widemouth bottles, by making drinking more comfortable.It also has a great new feature like the "CapKeeper" hat holds the small cap back when you drink and it has rubberized grips on the small cap that make it easier to twist open.
The capCAP+ is made from 100% safe materials.

Drinkware by Vapur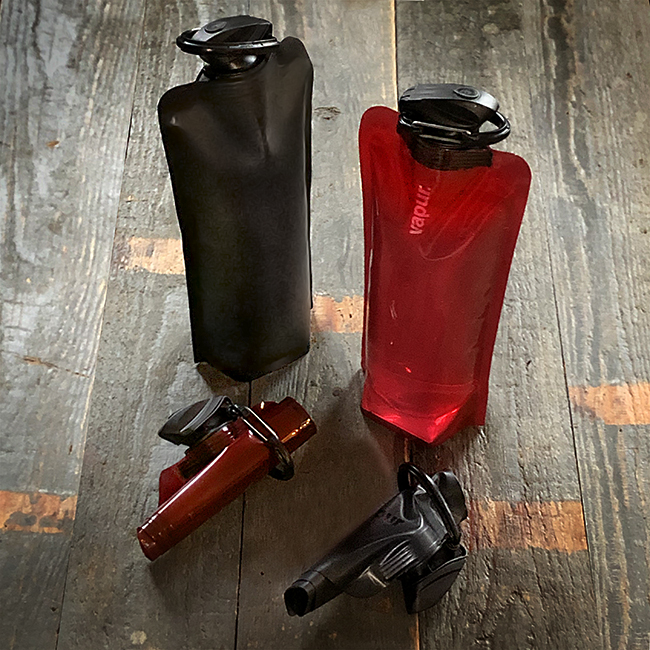 The Anti-Bottle
The people at Vapur call these reusable, foldable, attachable, freezable, sustainable bags/bottles 'Anti-Bottles'. But whatever you choose to call them, they are a great innovative piece of kit. When empty you'll roll them and keep them together with the attached carabiner. When filled, they needn't contain any air, so they will use the absolute minimum of space. The have a god snap cap and are very durable. They are of little burden when attached inside my kayak, but enable me to take as much water as needed without taking any unnecessary space. Ofcourse, they clean easily and come in tons of colours, sizes and shapes, one of which screams for more attention: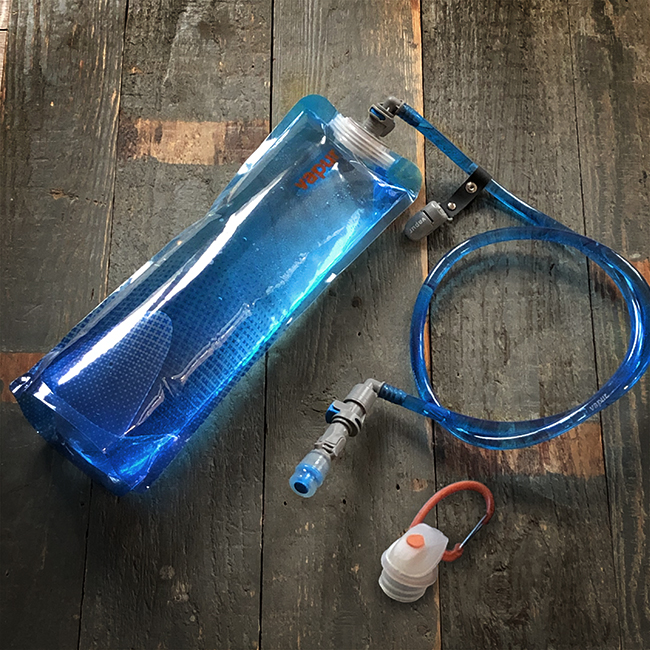 The DrinkLink
The Vapur DrinkLink Hydration System can be attached to any of the widemouth anti-bottles and is a tube, a clip, connectors and a mouthpiece. Put it beside your seat, in your PFD, wherever, hold the tube in a convenient spot for drinking and paddle off! Or put it in your backpack or remove the tube part and put the mouthpiece directly onto the anti-bottle for lunch, or think of your own way to use it.

Eatware by Wildo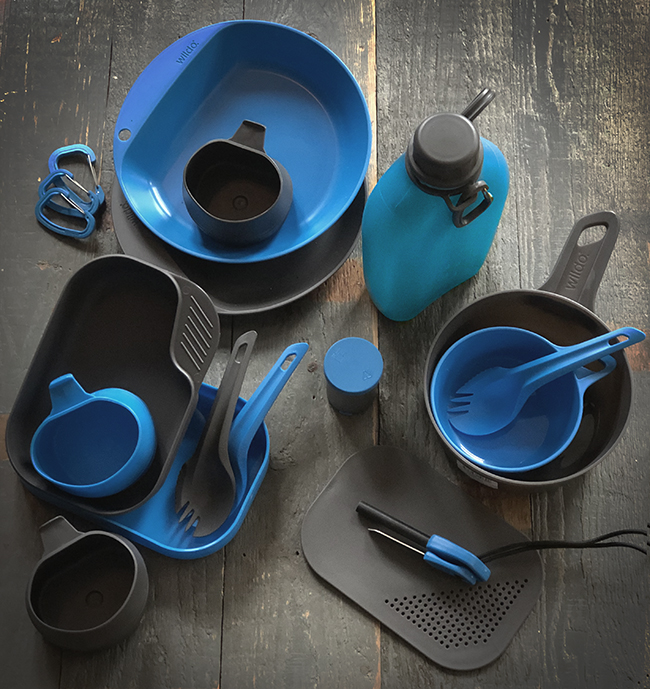 I am the lucky owner of a 'Camp-A-Box DUO' set, which contains enough kit for two people to eat a hearty meal. This nifty set contains two plates (that also functon as a bowl and as a lid), two Fold-A-Cups (a unique space-saving cup), two Sporks, a Spice shaker and cutting board. All neatly gathered in a mesh bag, at a stunning overall minimal weight of 260 grams (9 oz)!

Being a fan, I also have a 'Kåsa XL'. Is it a bowl, a cup, a ladle? Due to it's 900 ml / 30 oz. capacity, it is a multi-functional camping (kitchen?) tool.
While you are 'Wildo-ing' your eatware, have a look at their 'Shakers' as well. These small/light spice containers are super practical. I use 3 of them.

Besides this eatware, Wildo makes gear like a Fire-Flash fire steel lighter, Carabiners, a Hiker bottle (closely related the classic army field bottles) and their version of the classic army mug (which I, regretfully, don NOT own YET). All these products are part of one design 'family', sharing looks and practicality (unbreakable, light, well proportioned) that comes in a ton of colours to personalize your outfit with.

I'm a huge fan of this Swedish Wildo gear. These are products made by innovative, environmentally conscious, outdoor people, and they are in-the-know of what we need! As aspected the only use BPA-free materials.