Drink Bottles

Nalgene Wide Mouth Bottles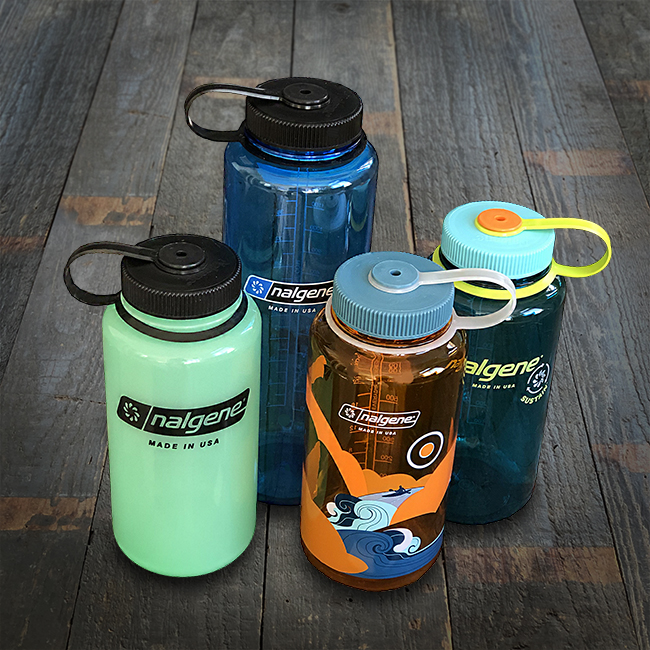 I love my Nalgene bottles. All Wide Mouths and all with their own use. The most obvious being the Glow-in-the-Dark bottle, in use as winter hot-water bottle to warm my sleeping bag and as midnight pee-in-the-dark bottle (we all have one, or should have one, preventing loss of bodywarmth by leaving the tent).
Next is my 1,5 liter Silo, which serves two main purposes: I use it at the end of the day to have cooking and drinking water at hand and during the day it gets filled whenever I need dead-weight to secure my tripod.
The all new Retro Kayak bottle accompanies me on kayak trips, to make my nutritional shakes. Last-but-not-least I have one of the sustainable bottle, made out of 50% recycled material, in use in my basecamp kitchen for cerials.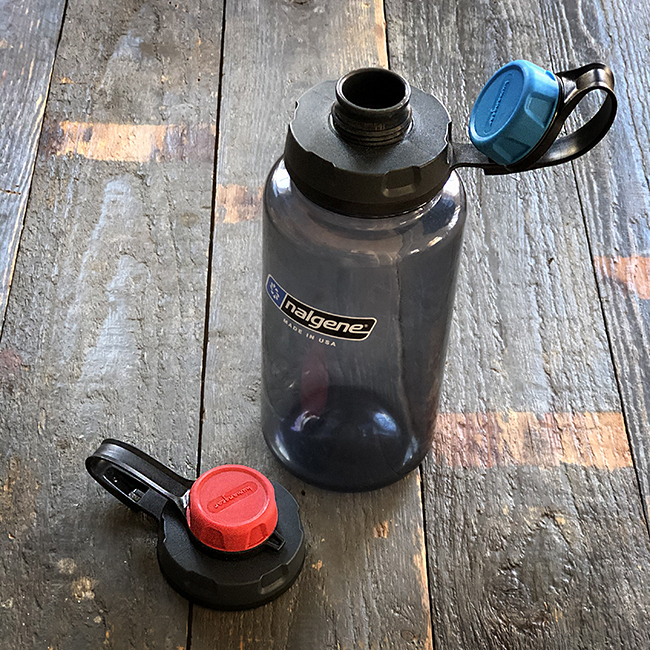 Drinkware by Silverant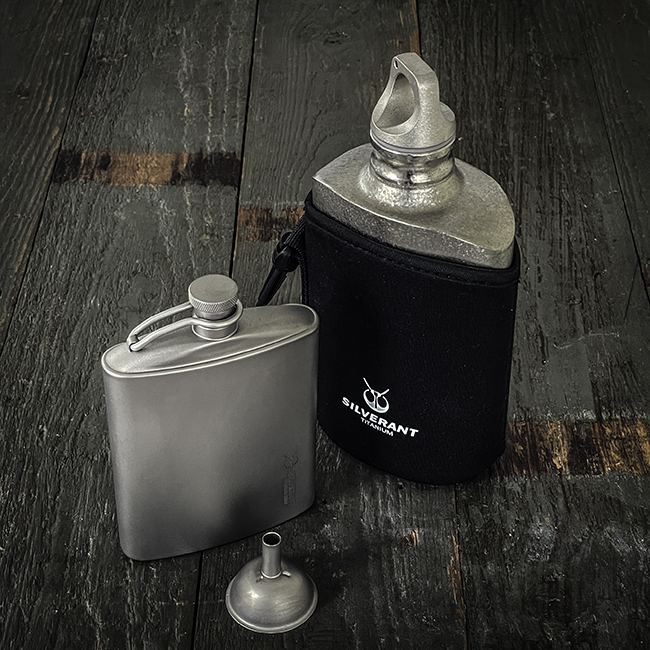 This compact Titanium Hip Flask has a handy flip mechanism securing the flask's cap. A food-grade silicone seal makes it leakproof. It comes with a titanium funnel for easy filling. As Titanium is biocompatible, non-toxic, and non-allergenic it will not impair your drink. 220ml/92g
(Typically, mine will hold Lagavulin 12 year Single Malt Cask Strength).
My Titanium Slim Water Bottle has a single-wall construction and an all-titanium lid with a silicon food-grade seal. This is a bulletproof, leakproof, purificationtablet proof and can be used to boil water. The Neoprene Sleeve will protect your hands from heat and cold content ánd it has an attachment clip. 600ml/164gr

Poketle Mini Thermos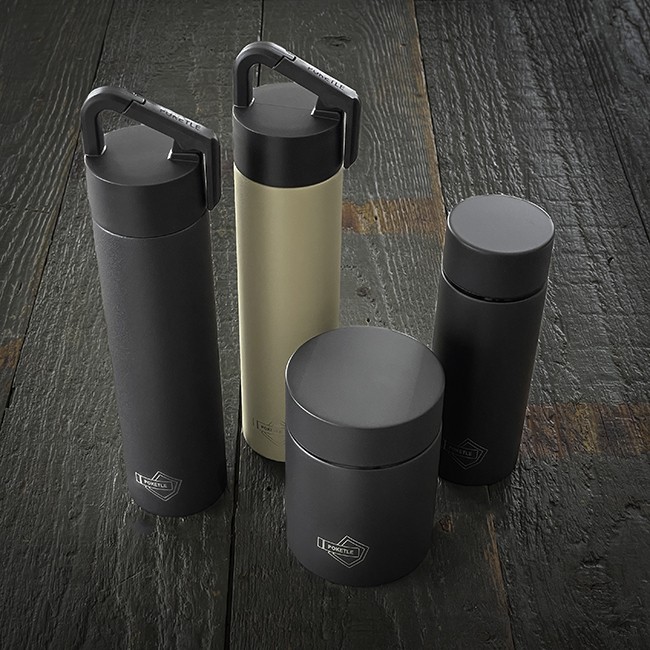 Poketle is the ultimate Japanese lightweight mini thermos. Made from stainless steel and sislicon rubber, these slim bottles can easily be stored in pockets and handbags ad will keep drinks and food warm/cold for 6 hours.
Preparing some more coffee/thee and taking itwith you in a thermos, saves fuel and time. The S will fit a coffee/thee very well, the +6 can contain even more. Remember that less air inside the thermos, means it'll retain heat/cold longer. That's why these smaller thermos's stand out in practicality.
Poketle S – Thermos (Ø4,5x13cm, 120ml)
This smallest version holds 120ml, which is exactly the capacity needed for a cup of coffee. (Nespresso's lungo-size coffee is 111 ml)
Poketle +6 Hang (Ø4,5×19,6cm, 180ml)
This slightly larger thermos has a 'carabiner' offering great functionality, especially inside ones kayak, keeping it in place.
Poketle +4 – Soup (Ø6,5x9cm,160ml)
Originally meant to be used for soup, I use this little container for the spills of any meal, keeping them warm for 6 hours.

RidgeMonkey ThermoMug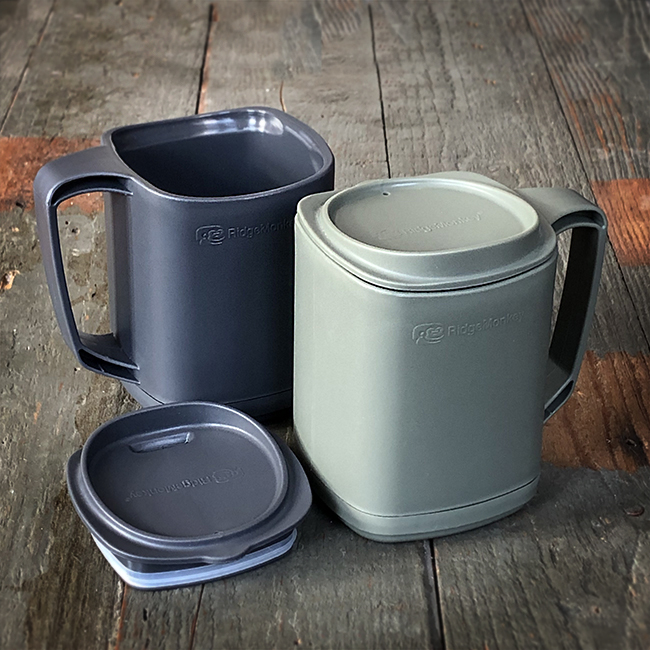 I serached for decent insolated mugs for a long time. These RidgeMonkey ThermoMugs keep my brew seriously hot! This will keep drinks and food hot a lot longer than titanium double walls and is for more durable than glass or ceramic walled insolation mugs. The drink through lid works well. The handle is mitt friendly. This 400ml mugs are made from polypropylene in gunmetal grey and gunmetal green.

Water: Filtering and/or Purifying

Grayl UltraPress Purifier & Filter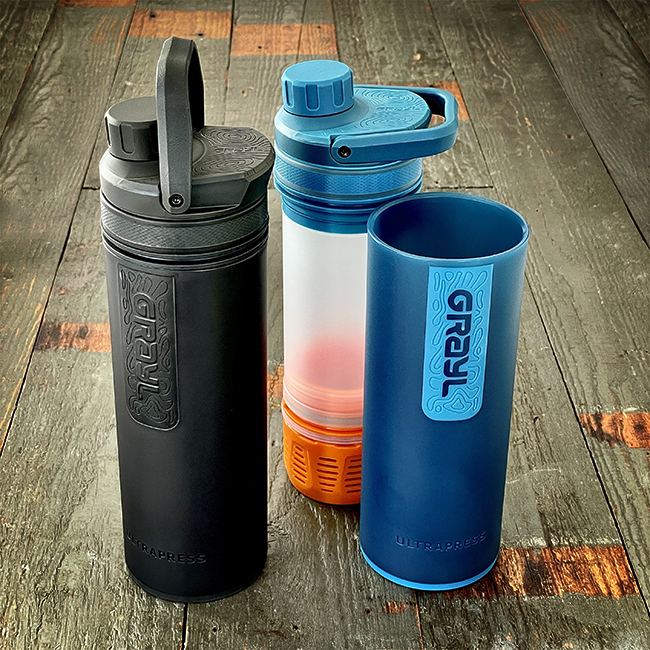 The Grayl UltraPress Purifier & Filter is my goto device. Scoop up the water (reservoir right), press in the main body (center) and voila: Drink! Wether it is the water I'm kayaking in, or a mountain stream/lake will on a hike, I'm sure this bottle will free the water from viruses (99.99% of viruses like Hepatitis A, SARS, Rotavirus), bacteria & protozoa (99.9999% of disease-causing bacteria like E. coli, Salmonella) and 99.9% of protozoan cysts (like Giardia, Cryptosporidium). It also filters particulates like sediment and silt, many chemicals like chlorine and benzene and heavy metals like lead and arsenic. With a capacity of 250 liter per cartridge, they will last a long time before it needs to be replaced.

Other Filters and Purifiers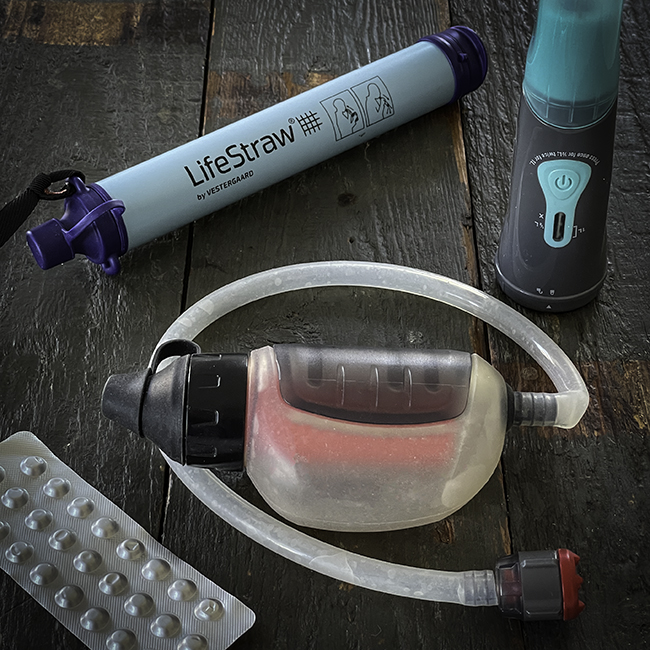 Bacteria, Protozoa and Viruses are the reasons for filtering water.
Filtering water removes, debris, waterborne protozoa and bacteria, but not viruses.
Purifing also removes viruses, but not debris, offering a higher level of defense.
I use a selection of methods to clean water in the backcountry, amongst which:
MSR TrailShot Pocket-Sized Water Filter, for filling bottles, but during the winter, the only device I have with me. (Front Center)
LifeStraw Personal Water Filter, for drinking straight from a stream. (Top Left)
Steripen Aqua UV Purifier, battery powered, for cleaning water I do not trust (in 45 seconds minutes). (Top Right)
Katadyn Micropur Forte Purifier, for cleaning water I do not trust (in 30-120 minutes). (Bottom Left)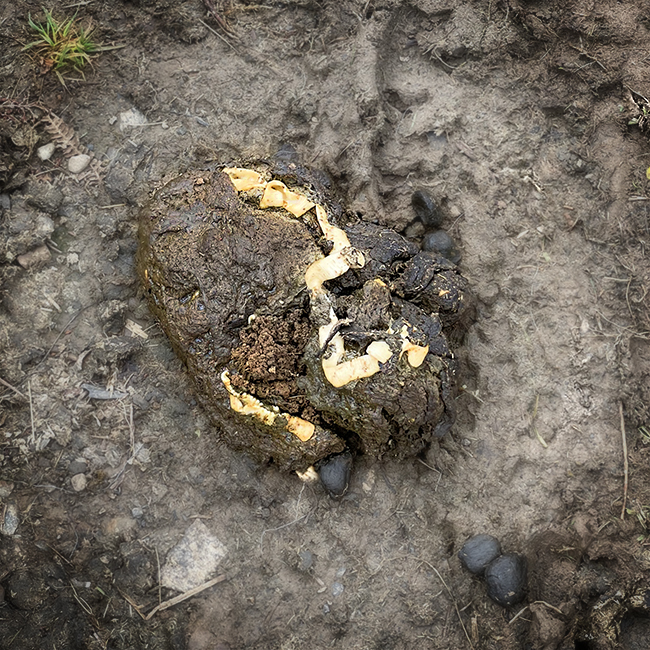 Elephantbox Food Containers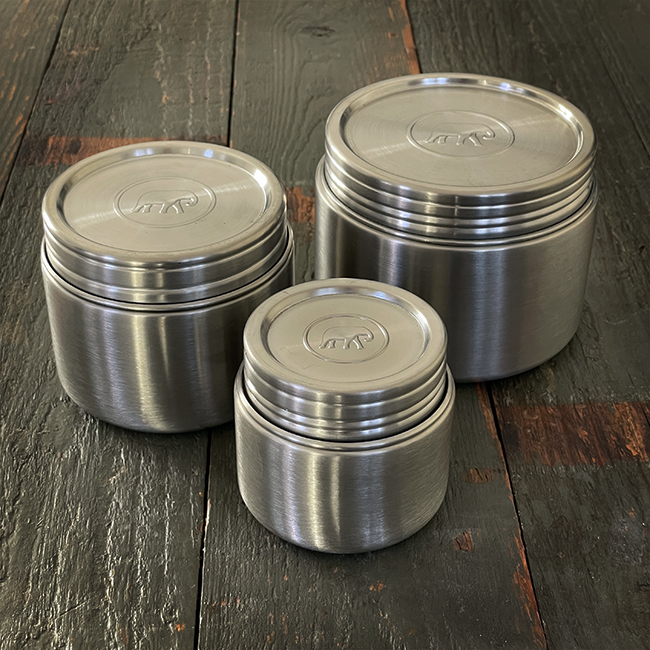 Elephantbox Twist & Lock Leakproof Trio
Now these canisters are a safe way to carry food in a backpack. Not ultralight, but they will keep your food from spilling in your backpack and on your gear for sure! Their screw top closure and leakproof & airtight seal, premium stainless steel and food grade silicone seal is all one needs.
The set contains 3 sizes:
● Capacity: 700ml 500ml 250ml
● Diameter: 120mm 100mm 80mm
● Height: 95mm 85mm 74mm
● Weight: 226g 167g 108g
I ue these 3, nesting, airtight containers for all sorts of seeds, grains and other solid or grounded stuff. With their food-grade silicone lids, providing a 100% leakproof seal they are easy to open, even with mittens and cold hands.
Specs:
● Capacity: 600ml 400ml 200ml
● Diameter: 125mm 105mm 85mm
● Height: 60mm 55mm 44mm
● Weight: 132g 100g 66g
The smallest is a Dressing Pot that comes in pairs. These little pots are great for half fluids like dressing, sauces and mayo.
Specs:
● Base – premium 304 grade stainless steel
● Lid – food-grade silicone
● Dishwasher safe
● Freezer safe
● Capacity 50 ml
● Weight 35 g
● Size H 30 mm x Dia 55 mm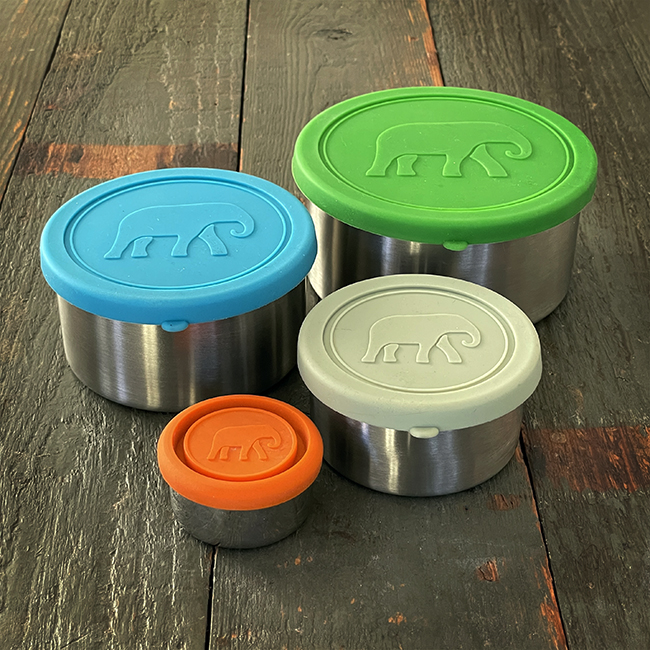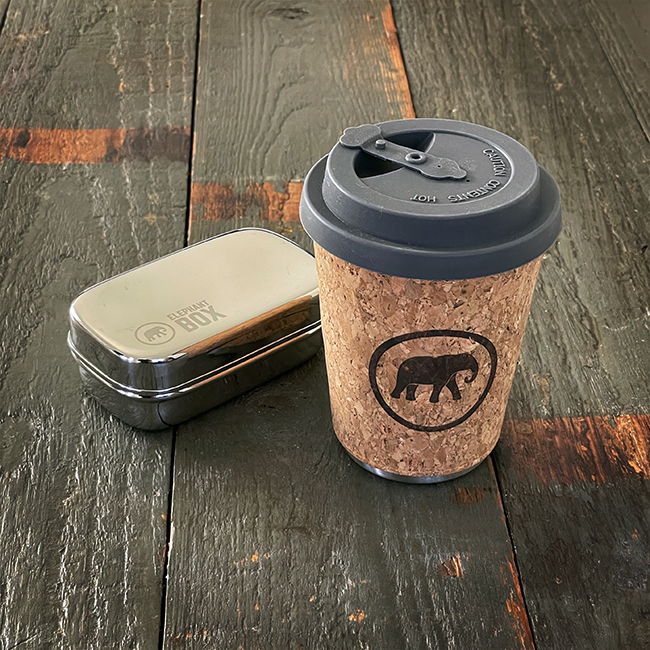 These little snack containers, come in pairs of food-grade stainless steel snack pods.
Specs:
● Capacity: 100 ml
● Weight :87 g
● Size: L 100 x W 55 x H 30mm
These reusable and unbreakable cups are eco-friendly, by replacing the parts of a takeaway cup with hardwearing, sustainable & recyclable parts. The lid or sleeve can be replaced. Stainless Steel is easy to clean, toxin free and practically unbreakable. Cork is a naturally renewable resource, responsibly manufactured from a sustainable source of cork. Silicone is durable & more ocean-friendly than plastic.
Specs:
● Capacity: 350 ml
● Weight : 105 gr
● Opening Diameter: 80 mm
● Base Diameter: 55 mm
● Height (with lid): 120 mm

Tableware

Palm Eat- & Drinkware
Marc Newson Tritan Non-slip Forever Unbreakable:
● Wine 300ml
● Highball 425ml
● Whisky/Stemless Wine 285ml
Non-slip Forever Unbreakable:
● Medium Plate 21cm
● Large Plate 25cm
● Bowl 15cm
The Marc Newson Tritan Collection is absolutely the most beautiful camping/overlanding/camper drinkware! It is a Red Dot Award and Good Design Award winning design but, more importantly, this is stunning, stable non-slip, stacking, scratch resistant, unbreakable drinkware with a glass-like clarity and weight.
The Non-slip Forever Unbreakable plates and bowls are made from BASF Ultradur which is superior to melamine in all important areas including being more sustainable. It has a high-gloss and bone-china look and feel. The non-slip base acts like a coaster, increasing stability, particularly on uneven surfaces, and reducing rattling during transport.
The Hiking Tritan Collection is stackable and lightweight, with glass like clarity. It's made from ultra-tough BPA-free Tritan® to ensure a long life and maximum reusability.
The Tritan Jug and Lid Forever Unbreakable is maller than most jugs (1.3 liter), but big enough for most situations. Dimensions: Height 210mm, Diameter 115mm at top, Weight 380g.
| | |
| --- | --- |
| | |
| Hiking Tritan Wine 260ml & Hiking Tritan 425ml Highballs | Tritan Jug & Hiking Tritan 285ml Lowballs |

Tritensil utensils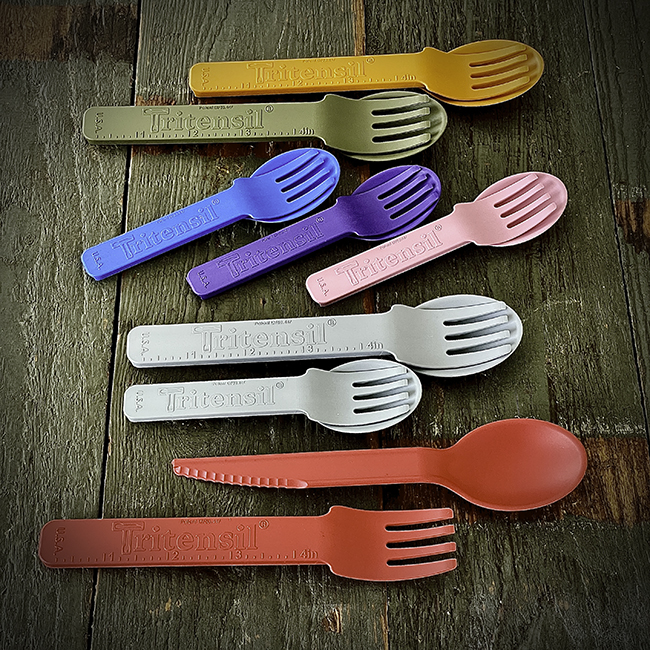 This is my Tritensil collection! These are the Longest Extendable, Lightest and First Antimicrobial Utensil In Market (Silver Models). The Chisel Shaped Tines Punch Through Raw Carrots and the Serrated Knife Easily Cuts Steak. Dishwasher, Boil & Freeze Safe. Especially the Tritensil Silver Antimicrobial Eating Utensils have a surface resisting the deteriorating effects of mold and mildew as well as mitigating the development of odors associated with bacterial growth.

Draft Top Lift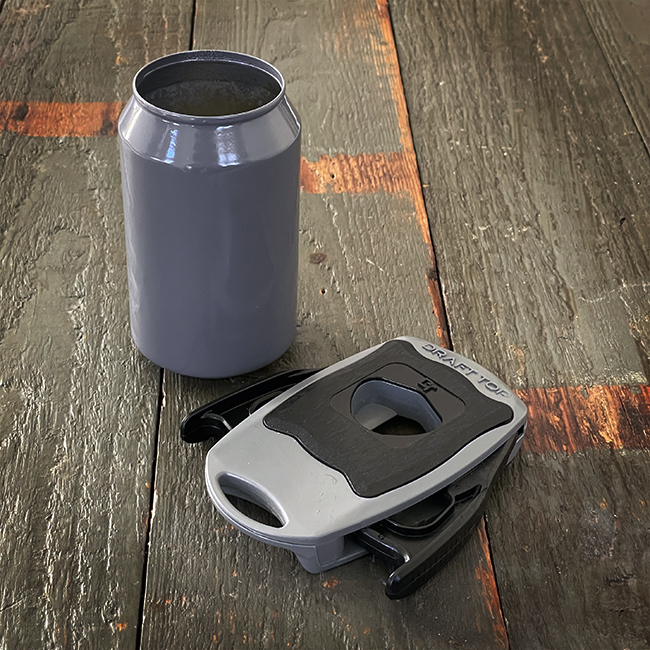 The Draft Top Lift cuts the top out of a can. So, if you are a beer drinker or wide-can user: No need to bring glasses/cups/mugs any longer. Bring one Draft Top Lift instead. All you do is put the device on your can, squeeze and turn: Ready. No sharp edges: safely enjoy your beer!