Ultra-Light (Kayaking / Backpacking / Hiking)

Lunar Solo tent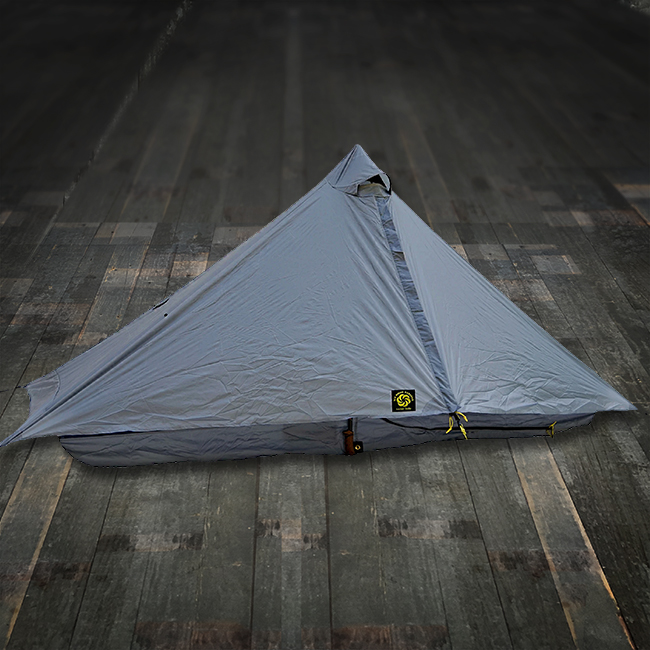 This is my Six Moon Designs Lunar Solo tent. The ultimate single wall solo tent if it comes down to weight, practicality, functionality and comfort. This ultra lightweight (740 grams/26 OZ) tent has plenty of room and all the functional specs you need.
It's low profile handles wind well, whilst being steep enough to not hold snow. This tent is kept upright by a single 124,5 cm (49″) (preferably Carbon fiber pole (I have the aluminium pole) or trekking pole and a 8 Stakes.
The sleeping area is a 6-inch deep bathtub floor, topped by 6 inches of mesh, which ensures excellent ventilation while keeping me separated from low canopy walls. This keeps you dryer on those occasions when condensation forms on the canopy. The vestibule is set on the long side of the tent to maximise views and ventilation when fully open.
The floor space is a generous 2.4 m2 (26.25 ft2) being 122x229cm.
The triangular outside storage space is almost 1 m2 (8.5 ft2).
It all results in a 810 grams weighing 28×11,5cm package, plus the folded 51grams pole at 44 x 2,5cm.
It is constructed with 100% Silicone coated Polyester material reducing fabric stretch and packed volume. The Canopy is constructed from 20D material while the floor utilizes a more durable 40D weave. I got the tent with the DIY Seam Grip + Sil (SilNet) set and a 34grams Polycro footprint.
If you are as lazy and spoiled like me: Order it with the full Seam Sealing Service treatment. It is likely to be done neater and better by experienced hands than by doing it yourself.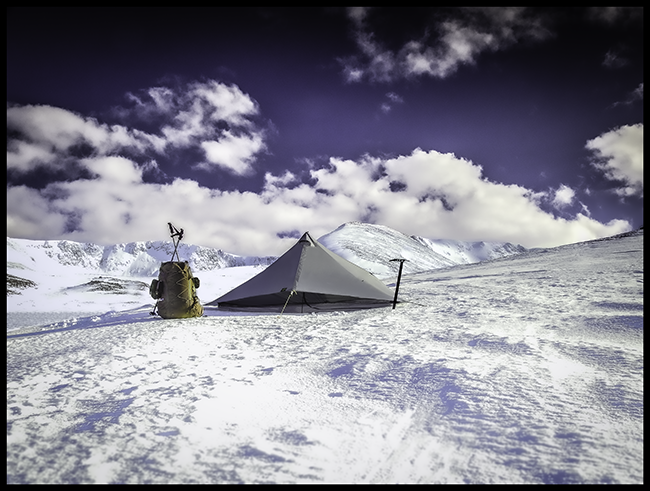 Here are some practical experiences learned by using this tent:
A very light and durable tent. Takes very little time to pitch (an average of 3 minutes).
I had NO condensation issues, even though I sometimes pitched really low (meaning there was no mesh gap left on the wind side of the tent.
Personally, I will probably treat the floor with silicon(spray?) to make it less slippery.
As I sometimes leave my tent pitched while going for little trips using my trekking poles, I use an aluminium pole.
Each half of the vestibule is connected to the front guyline by a webbing loop, they go into a single plastic hook that slides over the guyline by use of a prusikknot. Getting the webbing loops into the hook (and make them stay there) isn't easy.
Easy fix: attach two 2mm chord loops to the webbing.
I used the tent in Scotland with very strong winds, which made the backpanel cave/bend in a lot. The pounding wind loosened the webbing guy-lines during the night and it bent the aluminium pole. (Which I might replace by a carbon pole.)
Mind you, this tent was designed as a 3 season tent, to be used with a walking pole, and I guess, with trail walking in mind. Knowing that, exposure to these extreme winds might have been an unfair tasks for this little tent.

Lowland Serai 600 II (Long)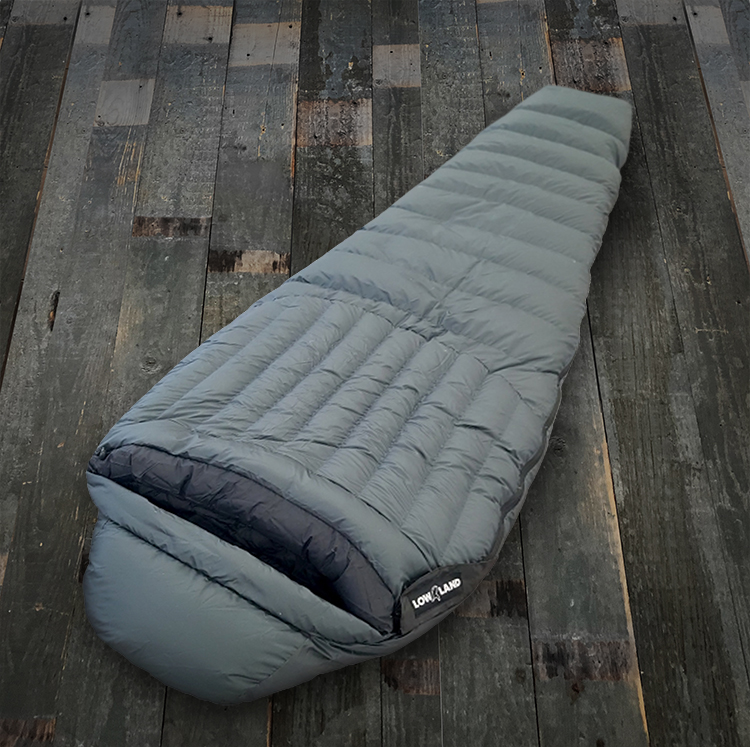 My Lowland Outdoor Serai 600 II, 4-season sleeping bag, is rated as a -10°C comfort temperature, weighing 1335 grams. A basic bag with all the necessary features (except for an internal phone/battery pocket). The shell is made from diamond weave rip stop nylon, the inner bag is a soft touch nylon. It's filled with 700 grams goose down (95%) and has a filling power of 187 mm/30gram (750 CUIN). This higher rating, in layman's terms, means that a fairly low amount of down is needed to achive the rated temperature. Warmth is kept inside by horizontal and vertical channels (5cm loft), side blocking baffles, a draft tube, a draft collar and a hood cinch. The foot box The used two-way YKK zipper has an anti-snag slider. The bag has venting loops and comes with a compression bag. For more extreme temperatures, below -10°C, I use a Sea to Summit Thermolite Reactor Fleece liner, which adds up to 18°C.
Dimensions are 230 x 80 cm, which fits persons upto 198cm tall. (The smaller version fits person upto 185 cm tall). As a side sleeper I like this mid-sized width. Compression bag size: 36 x 20 cm. Compressed size: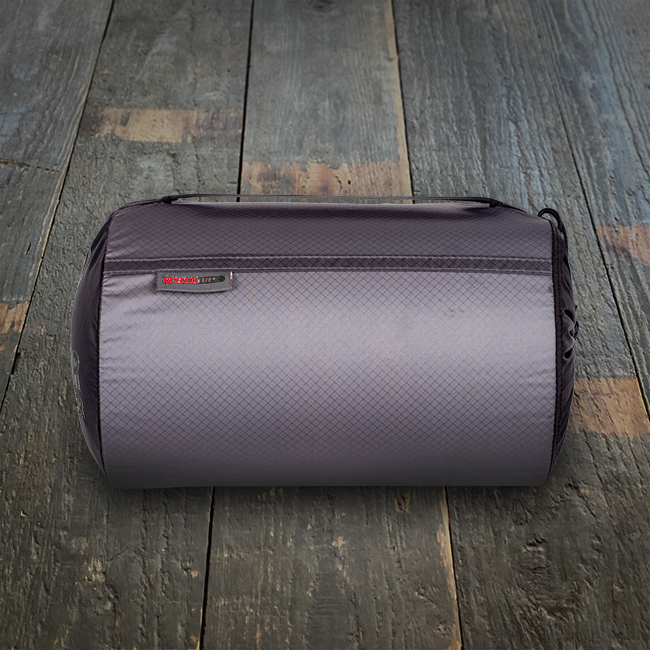 Exped Synmat UltraLight LongWide Sleeping Pad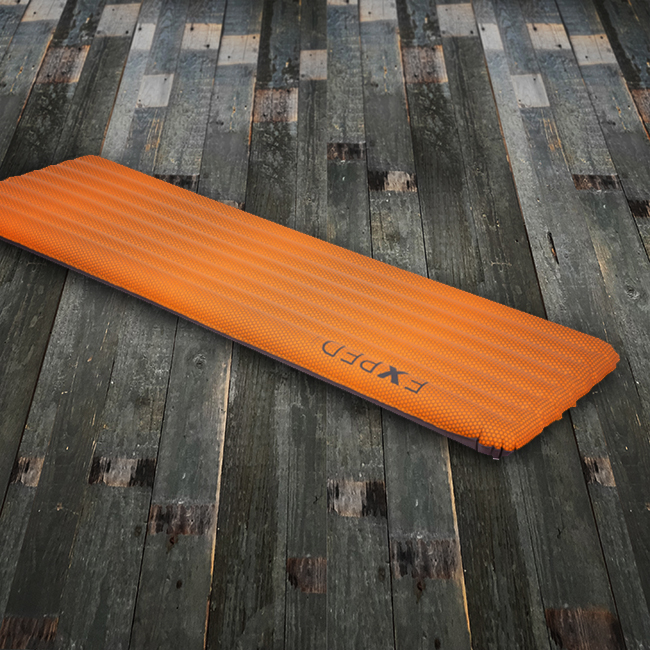 The Exped Synmat UL LW is a ultralight and super compact mat that offers warmth and comfort. Next-to-skin comfort and anti-slip GripSkin honeycomb-pattern coating. Laminate is air tight and impervious to hydrolysis. Clever Pumpsack included: The Schnozzel Pumpbag allows you to inflate the mat instantly while preventing humidity from your breath affecting the insulation. It also doubles as an ultra lightweight compression stuffsack. Proven FlatValve Technology: separate inflation and deflation valves, non protruding and more durable than traditional valves.
Temperature: -3°C (If needed, in harsh conditions, a rescue blanket underneath my mat ups the R-Value at minimal cost.)
R-Value: 2.9
Dimensions: 197 x 65 x 7 cm
Weight: 0,595 kg
Pack size: 27 x Ø 11 cm
Pack volume: 3.1 l
Product contents: Mat, Schnozzel Pumpbag, Packsack and Repair kit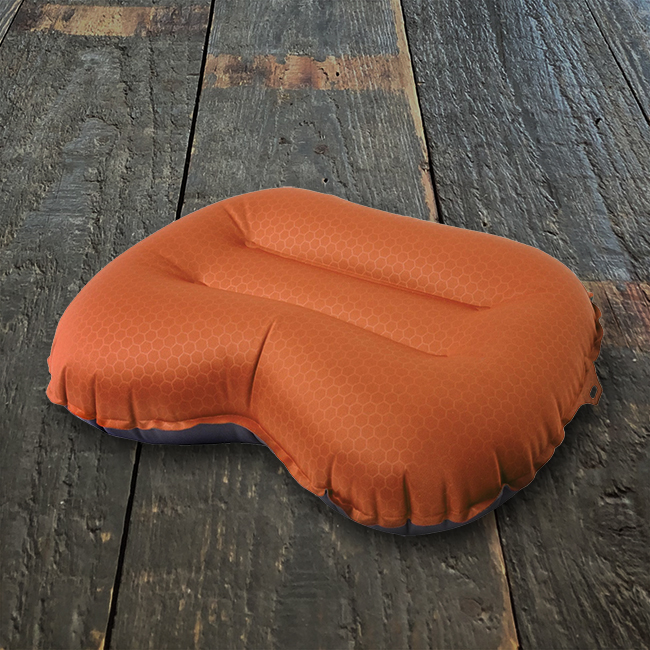 Mosquito Net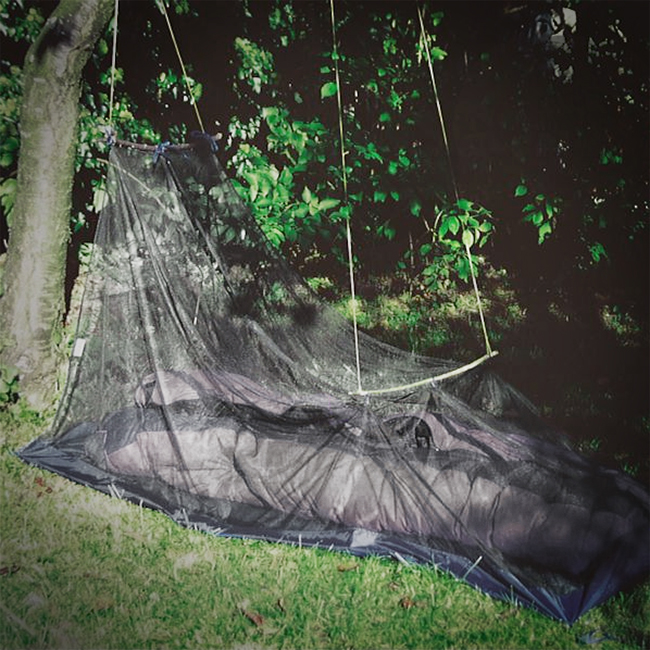 I use the Brettschneider Outdoor nets. A Polyester mosquito net with nylon floor, so it protects me from crawling and flying insects. The wedge shape saves space and weight. The net is attached to branches above the head, for example. The entry has a long zipper. Width 0,9m, length 2,1m and is height 1m, at 400 grams.

Mid-Weight (Basecamp / Car Camping)

Njavve 2 tent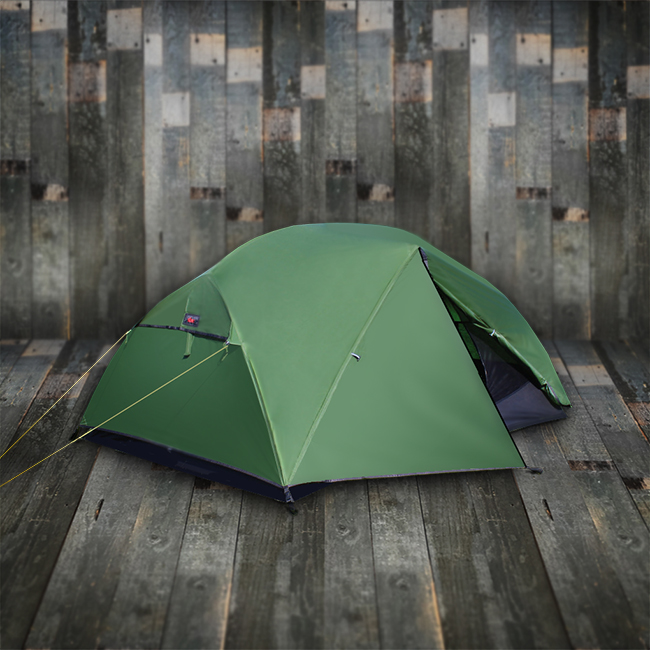 This Njavve 2 tent is a well designed 2-man lightweight double wall dome tent is a welcome alternative to the known brands. As the inner tent is free standing, my first setup took 4 minutes! I use this as a spacious 1-person basecamp tent or as compact 2-person bike-tent, the floor space being 2.9 m2. It is made out of Silicone coated Polyamide. It weighs 2.2 kg. This tent has plenty of practical features like ventilation hatches at the front and back to allow constant airflow, it opens on two sides, it has huge accessories pockets and loads of headroom. The inner tent can be used without the rain fly as summer tent. Though advertised as a 3-season tent, I regard this to be a extended season tent. I haven't had experienced heavy snow yet, but use this tent throughout the winter.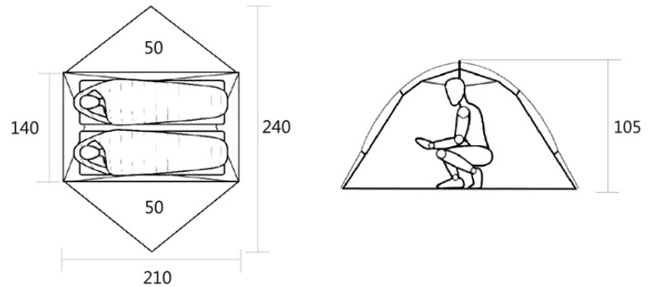 Features:
durable silicone-coated ripstop nylon
ventilation hatches at the front and back
two small vestibules
it comes with repair set, reflective guy lines, lightweight aluminium Y-pegs and a stuff sacks
hydrostatic head floor: 4,000 mm
flysheet: 20D400T Nylon Ripstop, silicone coated on one side
inner tent: 20D400T Nylon Ripstop & B3 Nylon Mesh
floor: 20D400T nylon ripstop; PU coated (4000 mm), silicone coated on one side
pole system: T6, 7075 (aircraft) aluminium, diameter 7.9 mm, PFC free
lamp hook inside
One last remark. Although not advertised, the seams of this tents should be coated with Seam Sealer before the first use. (I recommend using Seam Grip + Sil). Not the nicest job, but well worth doing.

EuroTrail IsoCamp Relax SI mattress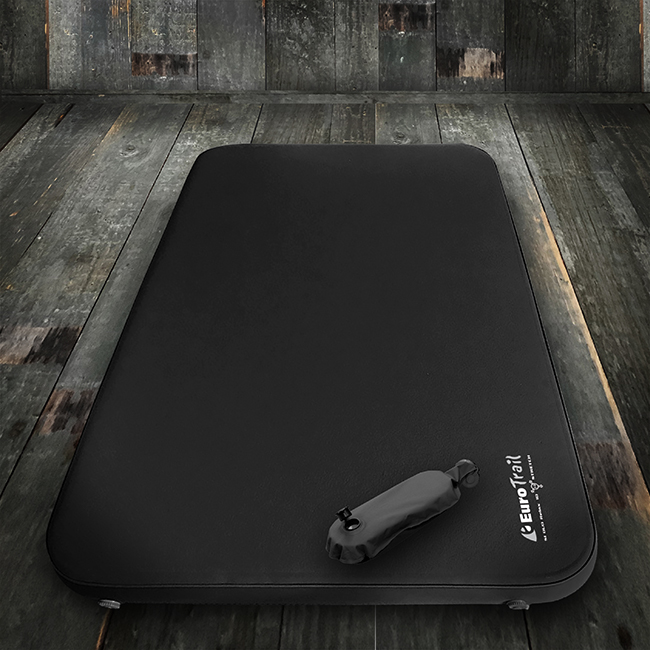 My 2 person IsoCamp Relax SI mattress covers the floor of my Njavve tent as a glove! It's soft stretch material feels extremely comfortable. Being a solid 10cm thick, it provides a excellent protection against poking debris and it sleeps very well.
Due to a well designed system of large rotating valves, this big matt is truly self inflating, but it's is fairly easy to deflate as well.
For additional airsupply, I use a Relax Si Pump, made out of the same material as the matt. With it's 6.5 kg, this is not a 'lightweight' matt, but yet easy to handle.
Sized 201x132x10cm, this is a spacious 2 person matt.

EuroTrail is a Dutch company specializing at providing well made, practical, camping gear at affordable prices.

Red Trek Ultralight Sleeping Pad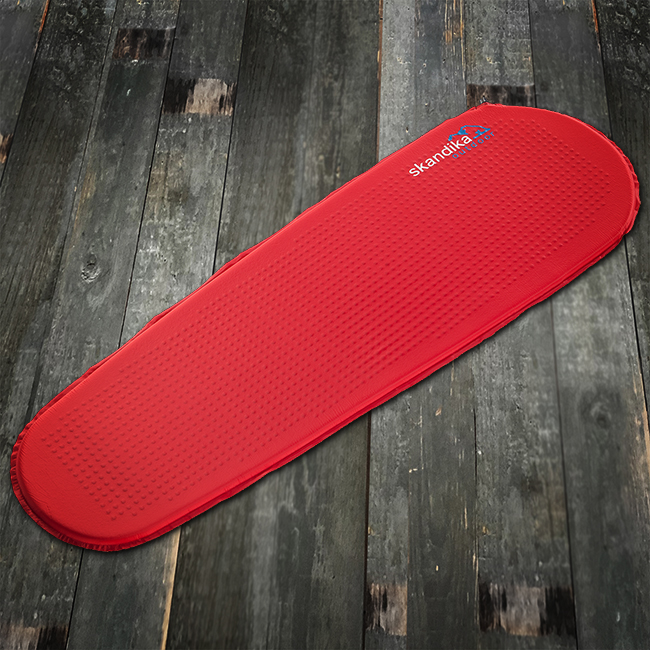 My Skandika Red Trek Ultralight Sleeping Pad, is a lighter weight (790gr) and pretty compact pad packed. It's isolation- and self-inflation capabilities are limited in real cold conditions, but it lays very comfortable. I strongly believe, though, that my sleeping bag (and optional liner) should keep me warm, not my pad.
A sleeping pad should lay comfortable, and this one does! It's that simple.

Highland Sleeping Bag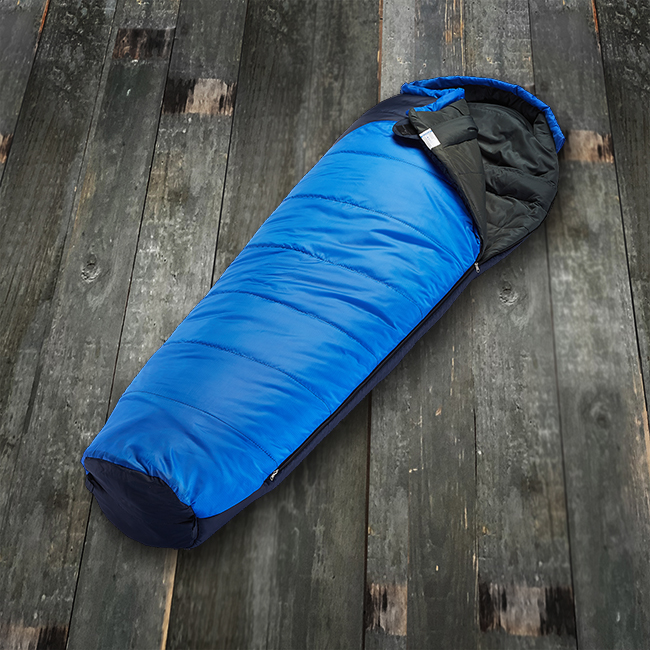 This is my Skandika Highlander sleeping bag.
The temperature ratings are: Comfort -2° C / Limit -9° C / Extreme -27° C
Assuming it's name was chosen carefully, I used this bag during the winter in the most north western part of the Highlands, and it stood it's grounds.
This bag kept me warm at -5° C. In much colder conditions than that, I used a polartec lining. It's hood and collar provide good protection and warmth. I had no condensation, dampness or other moist related issues, this being a polyester filled bag. It comes with a compression bag. At 2.2 kg, this isn't lightest, nor is it smallest packing bag, and the zipper has to be used carefully. But, other than that, this bag is a great choice considering it's outstanding performance in light freezing conditions, and it's very affordable.

EuroTrail Tarp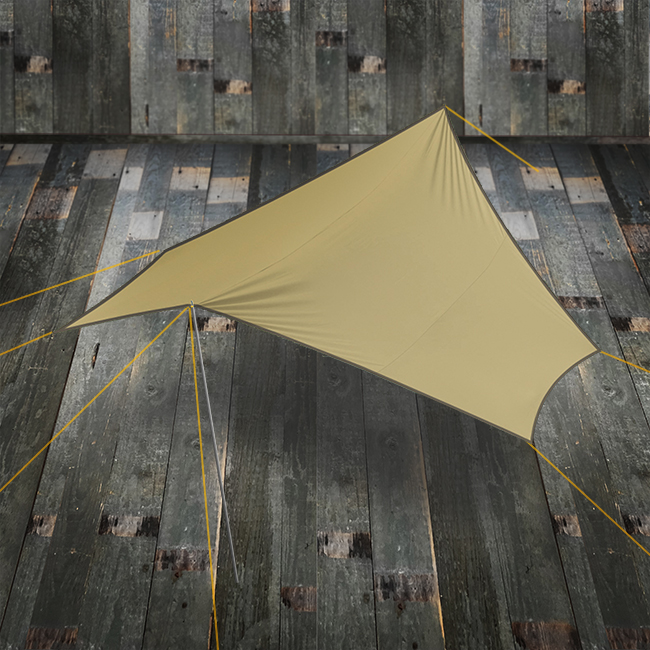 This Tarp 5 Wing BTC (probably named referring to being not-rectengular, 5+ square meter and made out of breathable polyester/cotton) is one of the items I allways pack. At less than 3 kg it is easy to handle. It comes with guy ropes, but doesn't include a pole, nor are (6) pegs.
I use this tarp with one of the long ends on the ground facing into the wind and the other end on a 2 meter pole, or attached to a tree. As shown below. It can be also be pitched in a very shallow position for sleeping out in the open.
My pole is a 11,1 mm DAC Pressfit, in five 45cm segments, weighing 164gr, not linked by an elastic cord (so I can apply different lengths).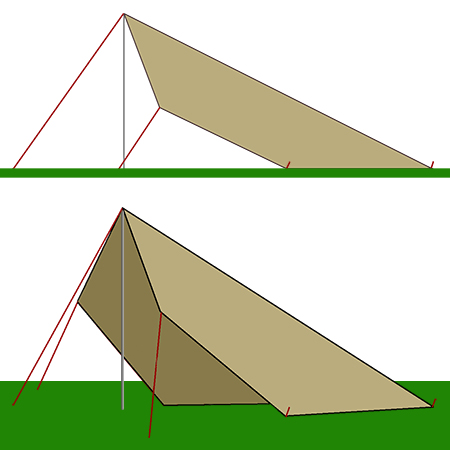 Walkstool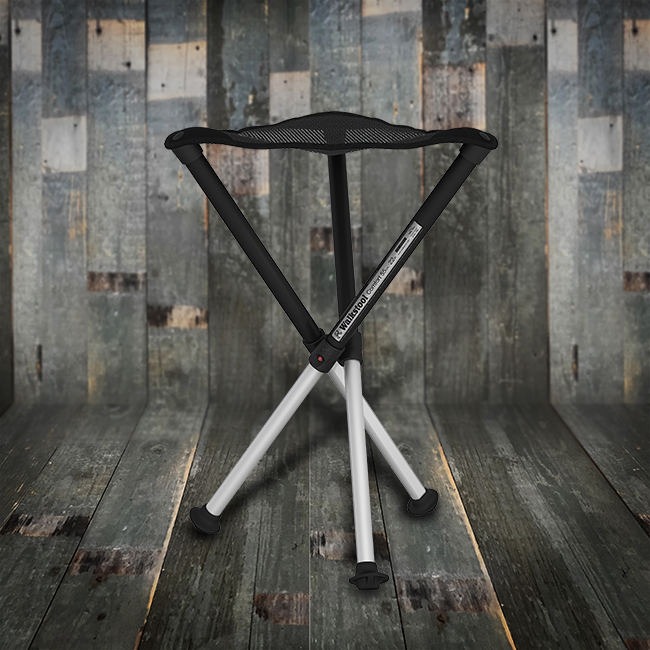 I own two of these awesome stools. The Comfort 55 model. These are the best little stools, weighing a mere 900 grams. Low enough to cook on ground level, high enough for eating in an upright position and really sturdy.
I find the 'Steady' accessory to be of great practical use. It's a three way piece of webbing, keeping the rubber feet from sinking into loose ground.
The stools can even be used without the lower segment of the legs extended. This reduces the height from 55 cm to 33 cm! It also provides a practical solution for sitting on steeper slopes.
The Walkstool is a practical piece of equipment for me on photo assignments on location. The low weight and small packed size allow me to have a stool with me for unknown circumstances. I still have a the smallest (and lightest) model on my wish list for backpacking photography trips. I can't think of a more comfortable way of staking out wildlife than this.

Walkstool is an innovative Swedish company that introduced the only three-legged stool (to date) in the world with telescopic legs in 1997.

Gotland 4 Tent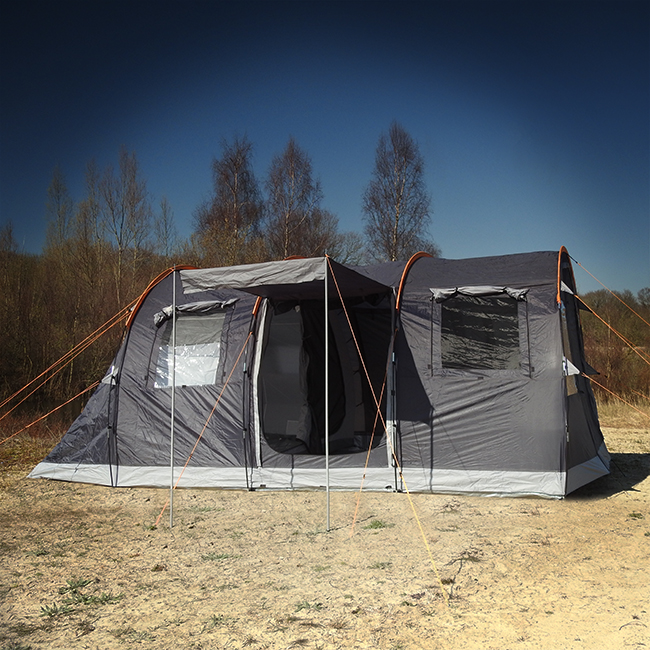 My Skandika Gotland is a 4 person tent that I use for longer stay Kayaking Basecamps. It has loads of room, usable as a well-ventilated drying room, spacious storage room, roomy team hangout, whatever. The many options with regards to configurations are great. Doors at 3 sides, a dividable sleeping compartment, windows with plenty of options, bathtub floor. This tent has all it takes for the targeted use, at a very affordable price.

Mosquito Net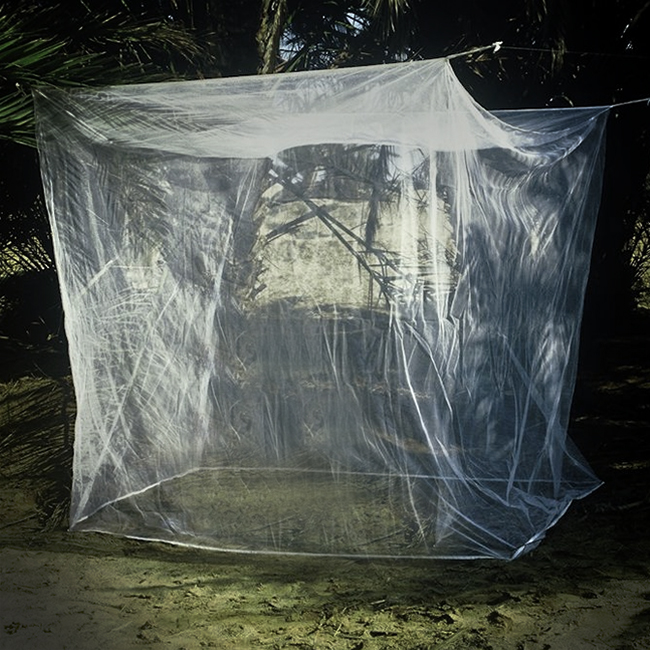 I use the Brettschneider Fine Mesh Big Box. A chemical-free mosquito fine net, keeping the smallest insects out mechanically, mosquitoes, sand flies and midges. Over 1000 mesh per square inch. 100% polyamide, raw white. Closed all around. Width 2m, length 2,2m and is height 2.4m, at 510 grams.

Vegas Flannel Sleeping Bag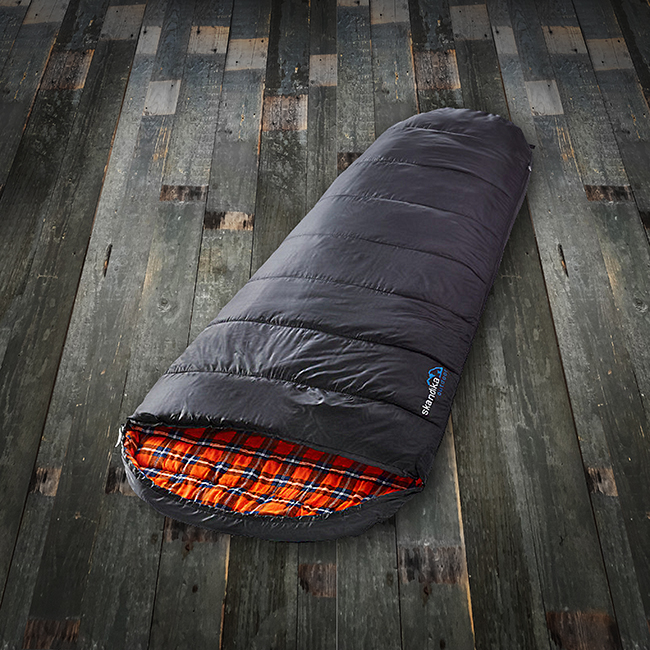 These extra wide Skandika Vegas Flannel sleeping bags, are three season+ capable and pretty luxurious. I see these as bags with a large usage 'window' with regards to temperature. They are, imho, very well suited for mountain use, with chilly evenings (used as a quilt/blanket), cold nights and chilly mornings. During the day, they serve as picknick blanket.
You cant go wrong with these very affordable and comfortable bags.