Nikon Coolpix P950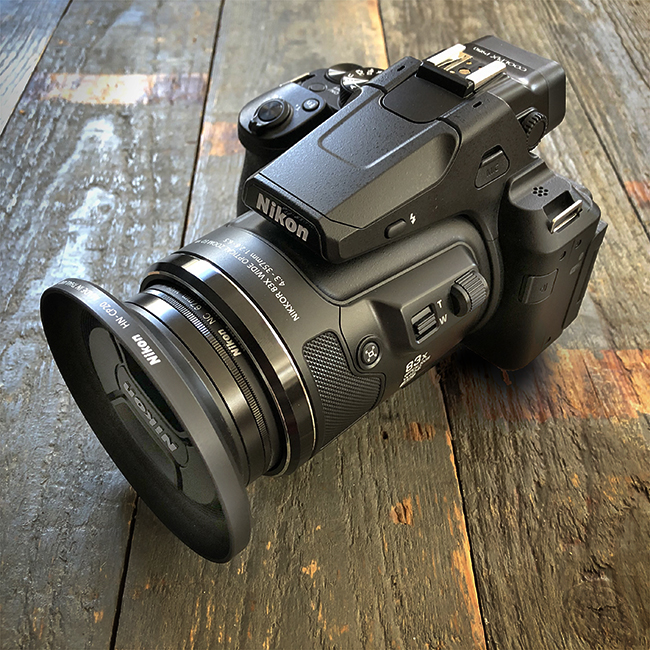 The Nikon Coolpix P950 is a digital compact ('Bridge') camera, especially suited for shooting anything you can't get real close to. It has a 83x optical zoom, ranging from 24 mm wide angle to 2000 mm tele.
Underneath is a sample of what that looks like: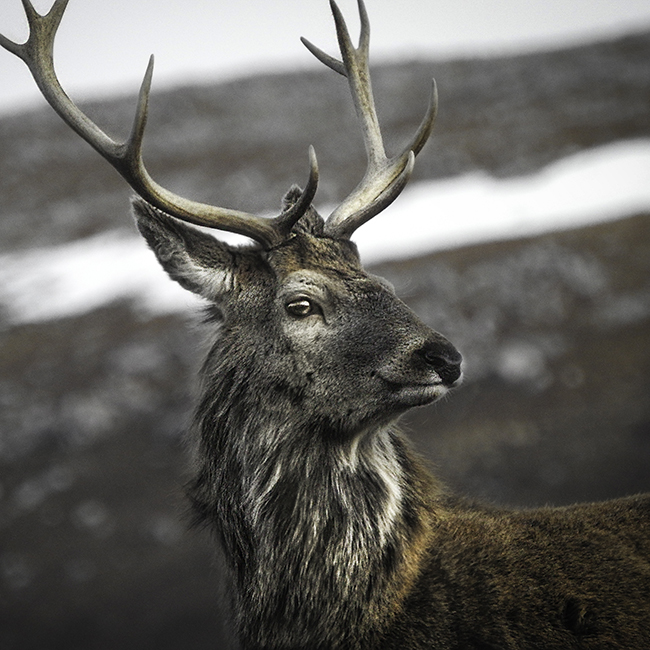 We all know how hard it is to find the right spot to make photographs or movies of paddlers, climbers and other outdoor subjects like wildlife. With this camera you can even go high ground and still get close enough. With it's 16 megapixels and full HD-film capacity, the camera is able to make good pictures and movies.
The 'super zoom' in combination with the macro up to 1cm, equals carrying at least two extra lenses for conventional camera systems.
Now, this kind of zoom could be a handful to control. The camera comes with vibration reduction and has a zoom control on the left side to keep the camera stable. But even with those features, when using extreme zoom and with limited light, the use of a tripod and remote control is recommend.
There are some really good features on this camera:
GPS is a great feature, for tracking your photography locations.
The Wi-fi connection it can make with your IOS or Android device, enabling it to share your images online.
The controls and features are easy to use and understand.
It has a programmable function button, enabling to use your favourite function directly.
The image stabiliser works very well.
Eye detection will switch automatically from display to digital viewfinder.
Brightness adjustment and rotating display guarantees a well readable display under all circumstances.
1600 ISO works good, but gets somewhat soft. 3200 & 6400 I'd use only for crisis situations.
The grip and dials on this camera are ergonomically very well designed.
The mic works pretty good but will pickup autofocus and lens movement sound
It has plenty of preprogrammed settings (bird, moon, landscape, sunset et cetera.)
As a all-round nature and outdoor camera, it offers possibilities that are pretty unique to this camera. Is it all positive? That entirely depends on expectations. An outdoor camera, imho, should be weather-protected. Having all the features means the camera is rather big, but, you needn't carry any extra lenses.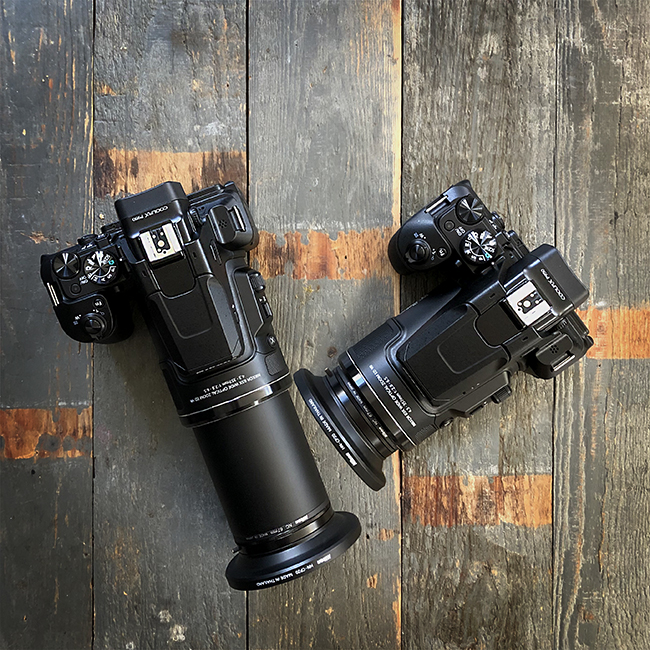 The accessories I use:
An extra battery ánd a battery charger (not included with the camera).
The Nikon ML-L7 remote (bluetooth).
SanDisk Extreme Pro UHS-I 256GB – 170MB/s Cards.
Nikon Neutral Colour 'filter' for protection.
Nikon HN-CP20 hood (comes with the camera).

GoPro Hero 7 Black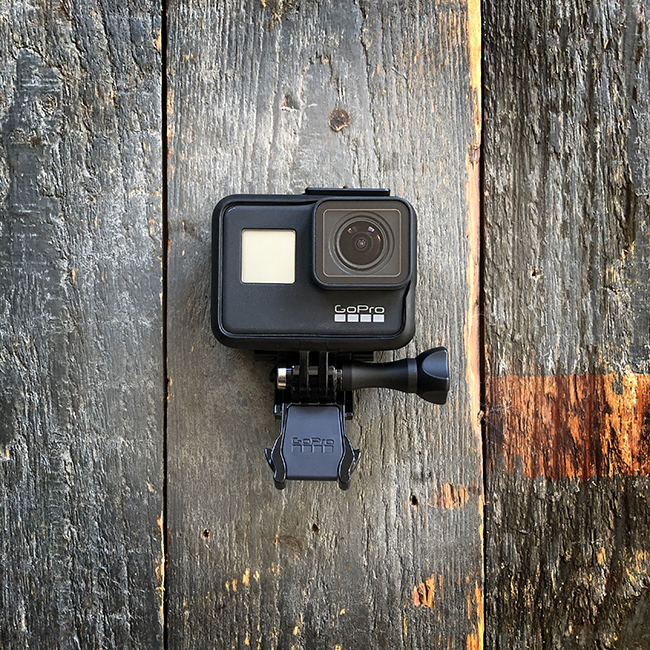 We all know the claims GoPro makes:
Gimbal-like stabilisation–without the gimbal. Tough as nails and waterproof down to 33ft (10m).
Go hands-free with 16 commands, including "GoPro, take a photo" or "GoPro, turn on."
Makes shots look amazing automatically with HDR, local tone mapping and noise reduction—in any light.
I use a limited amount of Accessories, see next chapter:

GoPro Accessories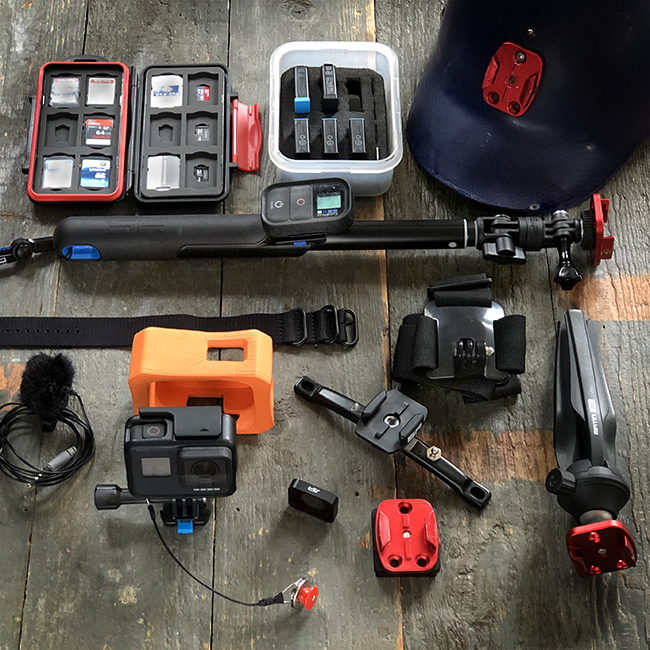 Little by little my ideal set of GoPro accessories is taking shape. This collection should service well in both kayaking, kayaking photography/filming and backpacking situations. I try to use mounting buckles (instead of 'the fingers') for all applications, because they are the easiest and fastest way of mounting. A breakdown:
A. My GoPro 7 Black, in it's GoPro housing, but using a SP Gadgets 'Safety Clip' (which locks the clip in place).
B. A Tripod mount, a SP Gadgets 'Stem Cap Mount', on a Breakthrough Photography Arca Plate.
C. A Helmet mount, SP Gadgets 'Stem Cap Mount', ombined with a Loxx lower part to mount the tether to.
D. A SP Gadgets '40″ Remote Pole'.
E. My front Kayak grip handle, fitted with a SP Gadgets 'Stem Cap Mount and a Loxx M6 Lower part to connect the tether to.
F. A Headmount (meanwhile fitted with a SP Gadgets 'Clip Adapter')
G. A Pro 3.5mm Mic Adapter & Rode smartLav+ Microphone with deadcat.
H. A Floaty for use on and around the water.
I. A GoPro Remote which I use on the Remote Pole (D),and with:
J. A GoPro Remote wrist band.
K. A Loxx coloured big head Upper part, as part of my goto Tethers, based on the Sheaffertec Loxx system.
L. A generic Neutral Density 8 Filter (-3 f-stop reduction), for shooting in really sunny conditions.
M. A waterproof container, containing spare batteries and memory cards, 128GB SanDisk SDXC Ultra Micro SD-cards (100MB/s), carried in the kayak.
N. A Caruba memory card case, with all my memory cards, both SD and MiniSD (12 of each).
O. My SP Gadgets 'Tripod Grip' .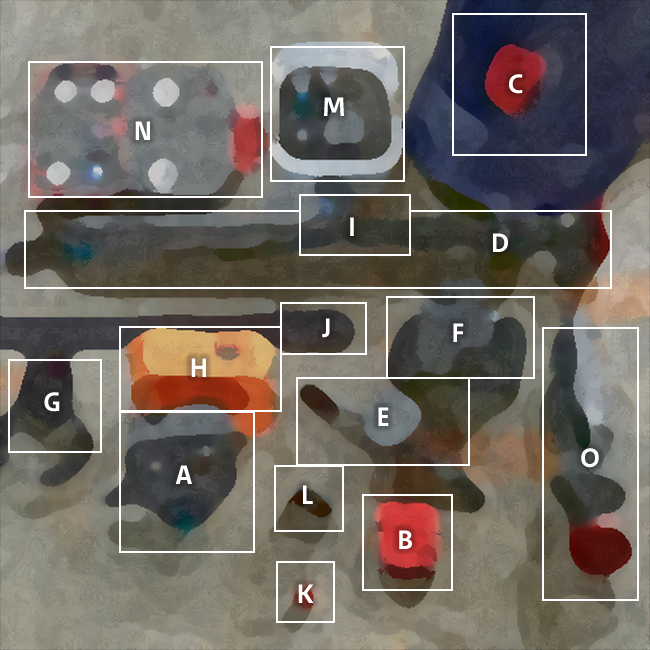 Vanguard VEO 2 GO 204CB Carbon Tripod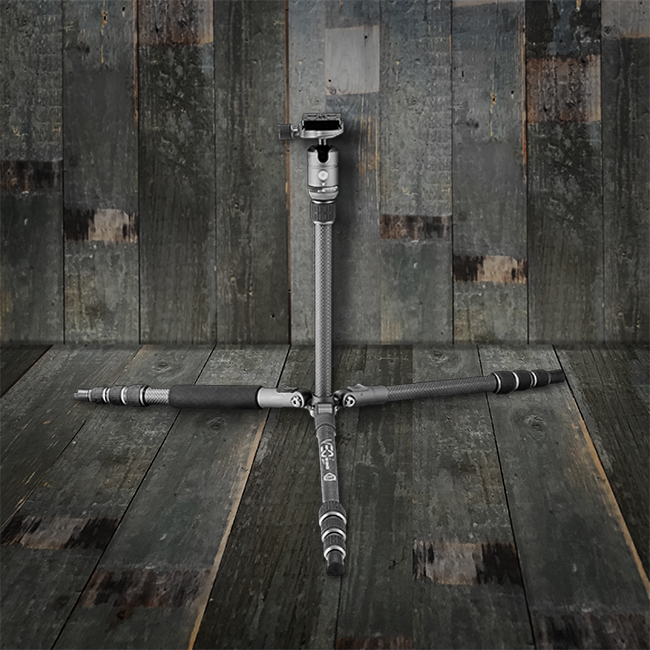 My Vanguard VEO 2 GO 204CB Carbon Tripod, with T-45 Ball Head. This tripod has a good balance between weight and functionality. With it's 38cm (minimum) and 130cm (maximum) height, 720 grams total weight, bearing loads upto 3 kg and the ability to use the legs almost horizontally, many of my main needs are covered. This tripod has a retractable hook to attach weight to in windy conditions. It is only 33cm long when folded.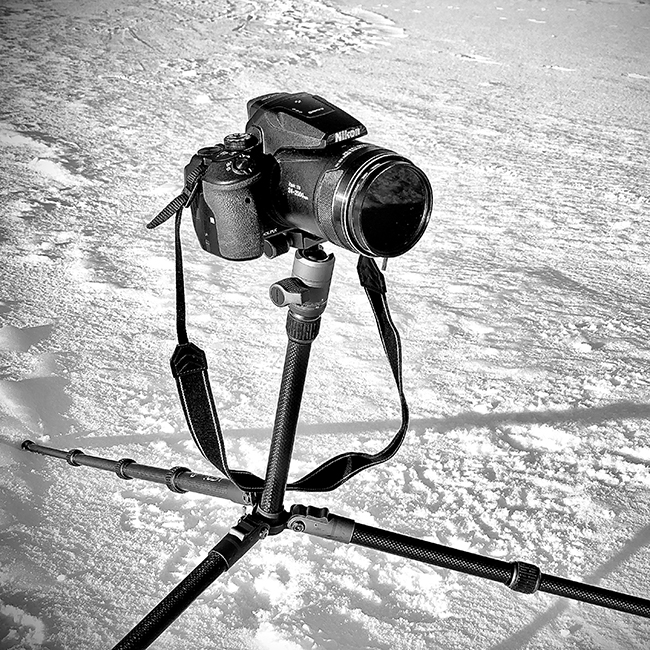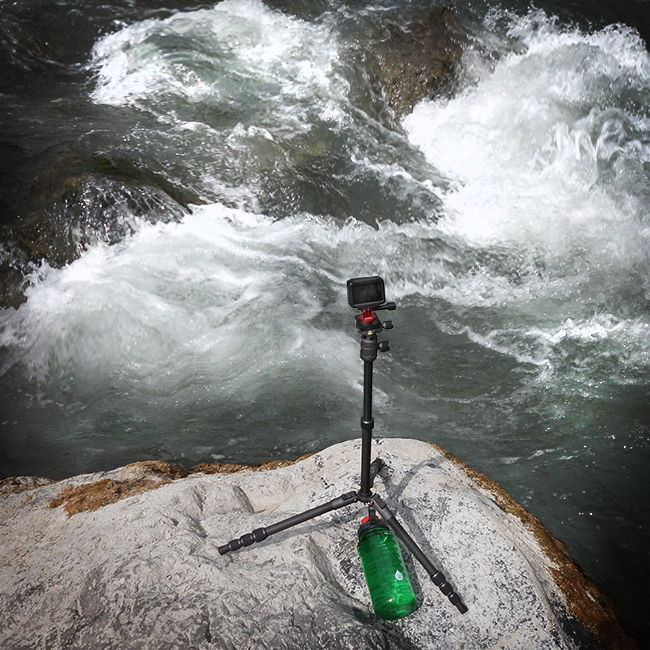 Kase Wolverine K100 Master Kit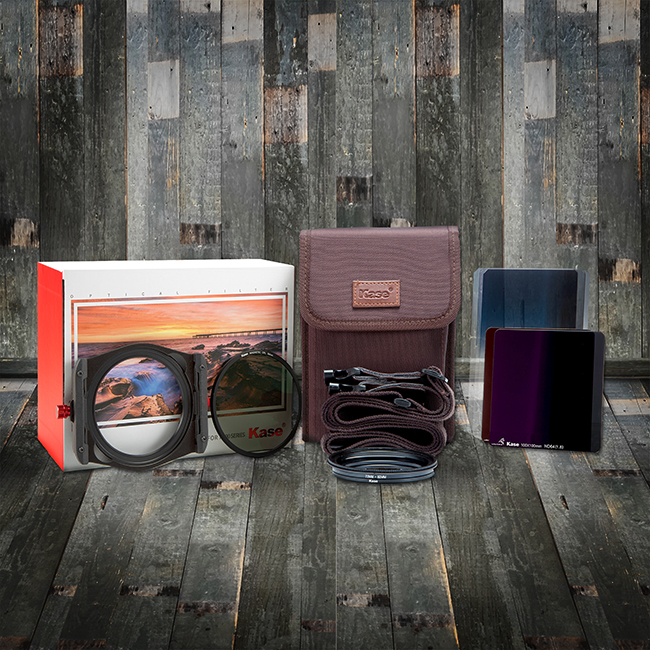 Now here is a vital part of my photography equipment: my Kase Wolverine K100 Master Landscape Filter Kit! Using good quality landscape filters is essential for this type of photography. Many of the filtering that can be done 'in the field' is very hard, if at all possible, in post production. Having filters at hand creates loads of opportunities.
This particular kit consists out of a filter holder that comes with adapter rings, a Deluxe bag, a magnetically mounted Circular Polarizer and several 100x150mm slot-in filters:
Default, de Master 100 kit comes with a ND1000 filter, which I had swaped for the Hard GND.
The GND (Graduated Neutral Density) is used because a camera is not able to see very bright areas (usually the sky) and very dark ones (normally the rest of the scene) at the same time. You can use these filters to cover the bright area of the scene, matching its brightness with the darker area of the scene.
The transition area on the filter, between light (transparent) and dark (ND) determines the type of GND filter you're working with. I use a Hard Edge, Soft Edge and Reverse GND flter.
1. Hard Edge filters are characterised by a clear boundary between the transparent and ND area, used when the separation between the bright and the dark areas of the scene is very defined, such as the horizon at sea.
2. Soft Edge filters are characterised by a soft transition, used where the transition between light and dark areas is not so clear. A classic example is a shot in a mountainous area.
3. Reverse filters are nothing more than Hard Edge filters with the ND effect that fades away upwards, for when the light is more intense on the horizon line.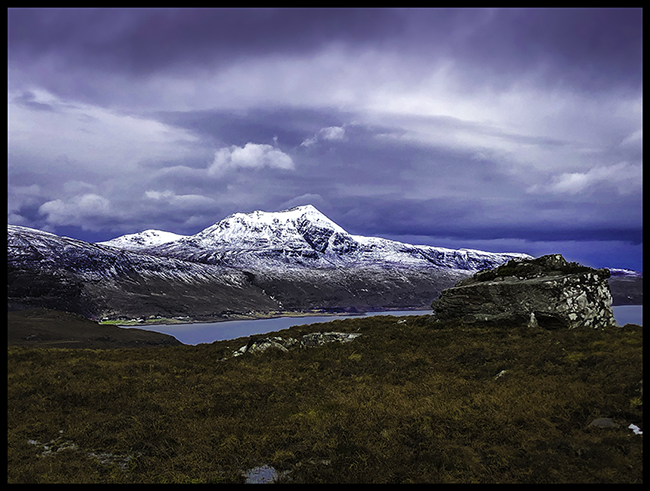 Soft Edge GND (0.9)

ND (Neutral Density) filters cannot be recreated in post-production. In landscape photography their task is to decrease the shutter speed. A well known example is to create a water flow effect (as the shutter stays open longer, to catch enough light, the movement of the water is captured as motion blur: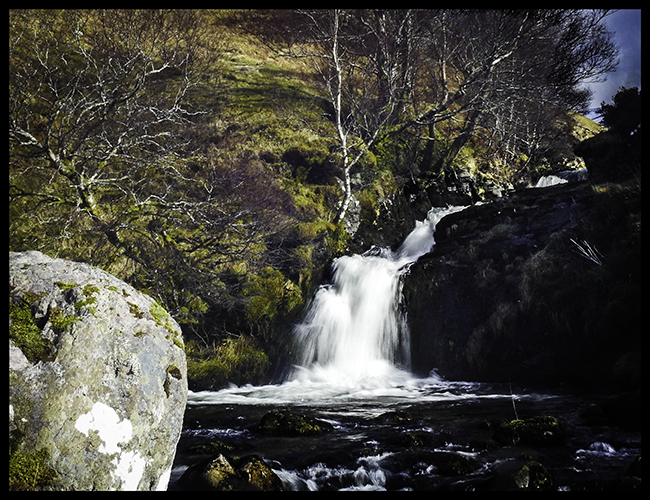 ND 1.8

A CPL (Circular Polarisation) filter is used for eliminating unwanted reflections and reflections on surfaces such as leaves, glass or water. A less obvious example is this self portrait, with beautiful frosted dew (looking 'dry' and not over-exposed):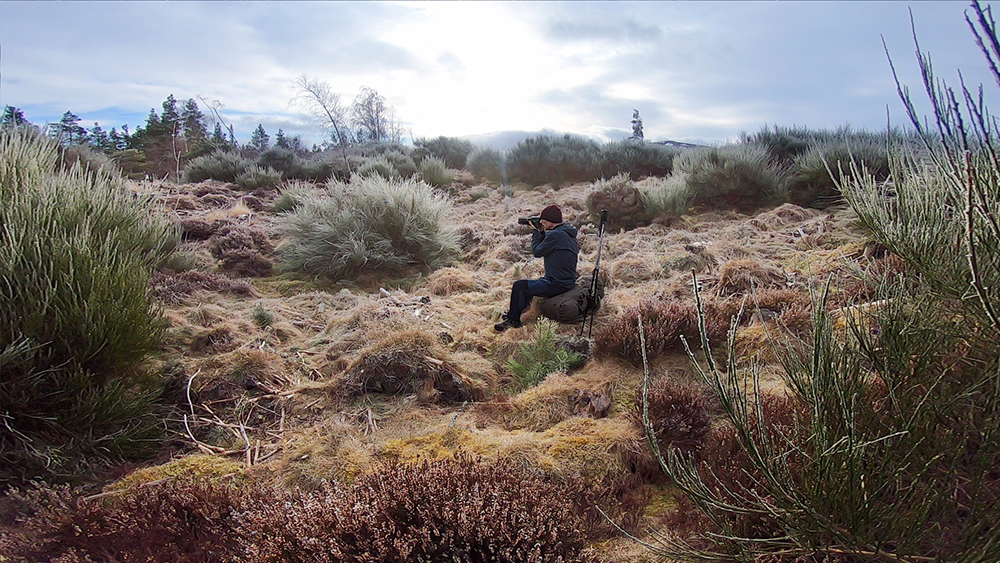 CPL
Soon I will publish a page on how to use these filters in more detail.
Below: some samples of landscape photography, using filters.
More @ https://photosession.nl/landscape

Breakthrough X4 Dark CPL filter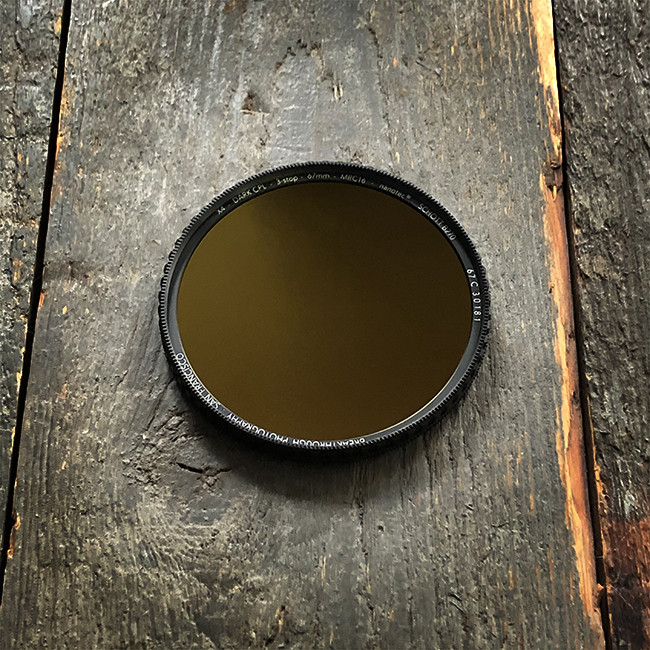 The Dark CPL is an exceptionally well-made multi-purpose filter, combining the Breakthrough X4 ND and the X4 CPL filters. No matter how good your slot-in system is, stacking filters has the potential to increase flare effects, due to the increased number of glass surfaces. Another issue can be mechanical vignetting when using wide angle focal lengths. This Breakthrough Photography X4 Dark Circular Polarizer Filter solves these potential problems by combining the two filters. I have yet to find any flaws with regards to: loss of white levels, color-neutrality or image-sharpness. In fact I see some considerable repair of chromatic aberration. A must have in your case!
Soon I will publish a page on how to use these filters in more detail.

RailBlaza Camera Mounts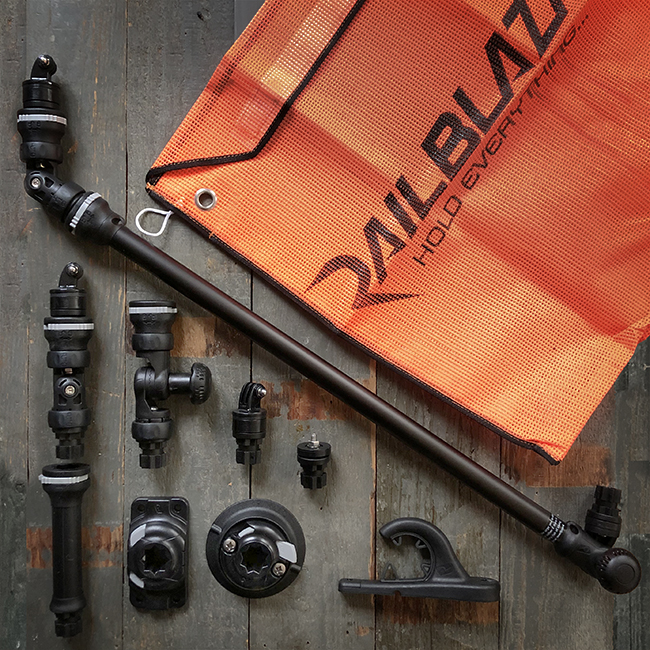 I sincerely think that RailBlaza has the best action camera mounts you could wish. Secure, easy to operate, flexible configuration and loads of possibilities to suit our specific preferences. These connections are really solid, no wobbling/slack/movement. I own a whole range of their gear, which actually is very affordable, and dealers are readably available throughout Europe. Shown in my pictures is the GoPro connector, but this can be unscrewed which reveals a standard 1/4″ bolt.
I'll show you the sets I personally like best, but you may want to configure your own favourite set.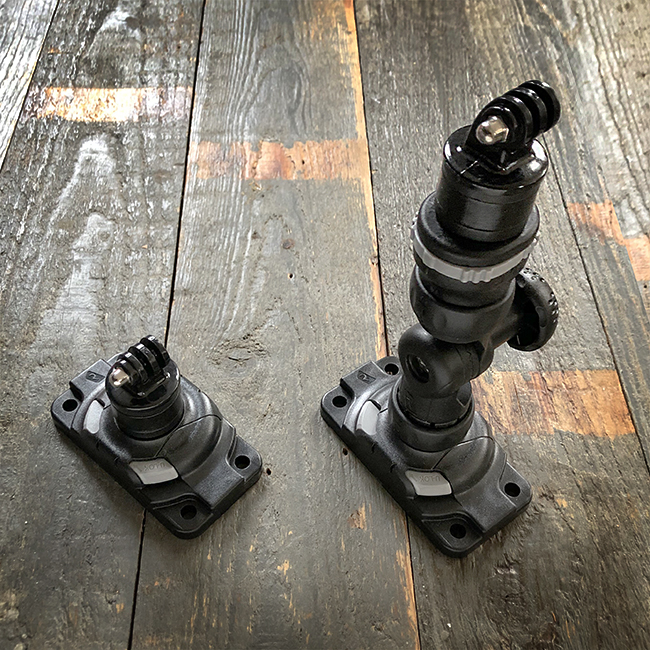 My bow deck set comes in two variations:
The 'shallow water' set, which I use when I don't want the camera to be high above the deck, consisting of the Camera Mount Adaptor mounted on the Starport HD, with a bolt height of 6,5 cm.
The 'Big Water' set, which I use if there is no risk of the camera catching rocks or trees, consisting of the Adjustable Extender R-Lock mounted on the Starport HD, with a bolt height of 19,5 cm.
Depending on your kayak model, the Fixed Extender and Camera Mount R-Lock (rotating), can be great options.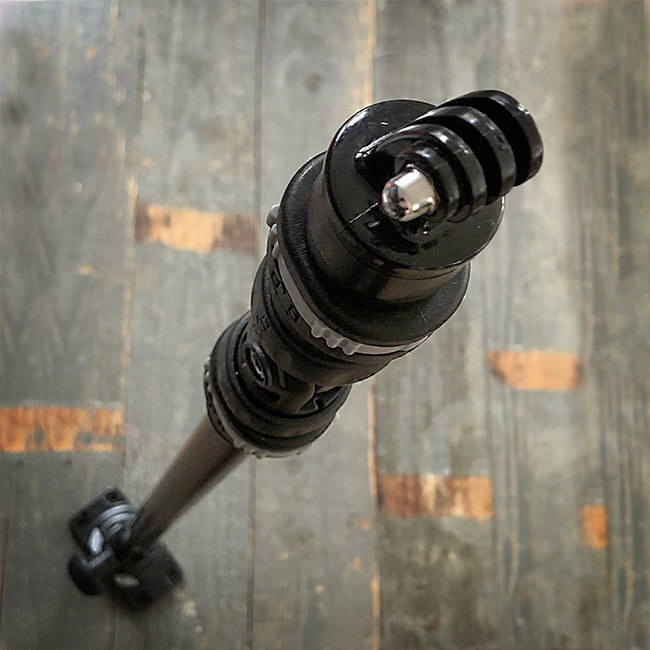 My stern deck set is meant to facilitate 'over shoulder filming', consisting of the Camera Boom 600 R-Lock mounted on the Starport HD, with a bolt height of 67 cm.

Crumpler Creator's Road Mentor Backpack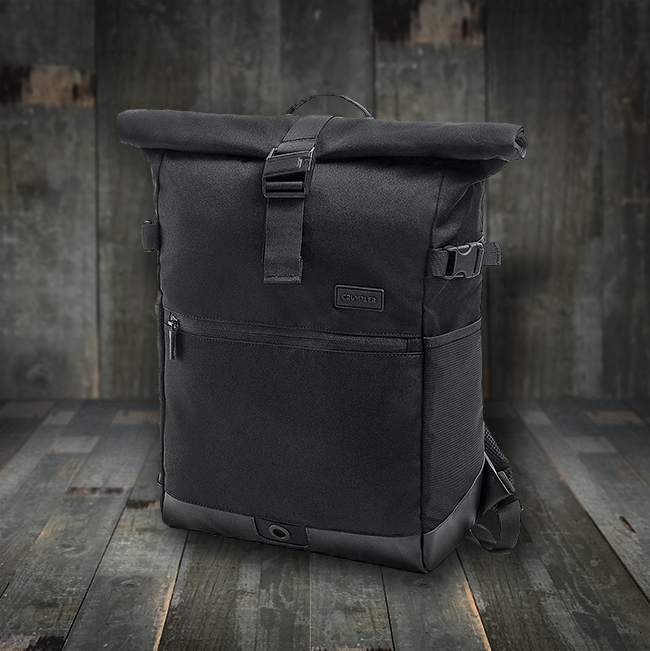 Vanguard Waterproof Camera Bag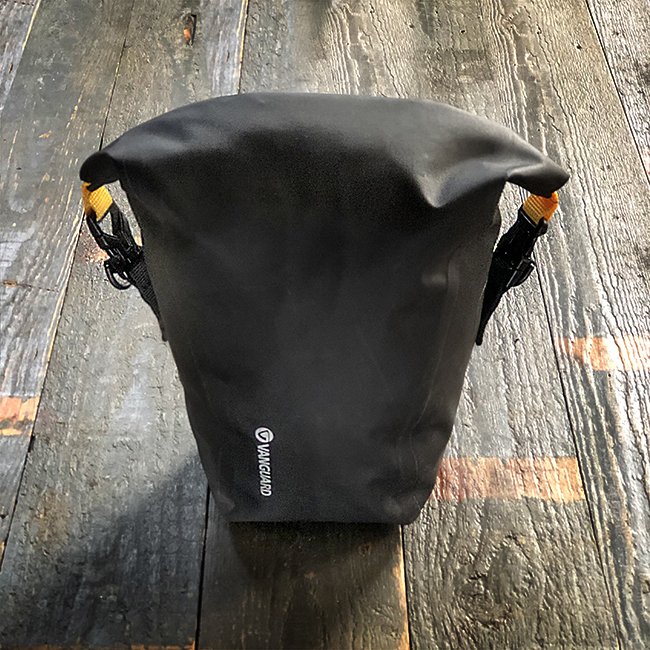 This is my main camera bag. The Vanguard Alta WPL. It's waterproof and padded: the ideal combination, for all outdoor activities. The padded insert has a main compartment for a camera (my huge camera fits easily) and a smaller pocket for accessories. I use this for silica bags and, during the winter, heat pouches. It also holds my memory cards. Weighing just over 100gr, you can't go wrong. I have, unintended, put this bag to some serious durability tests and it held fine. My goto bag!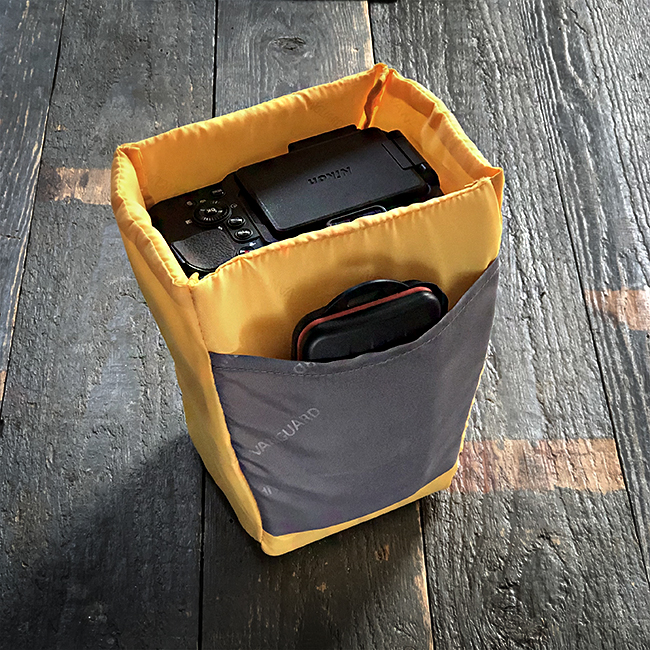 Vanguard Camera Bag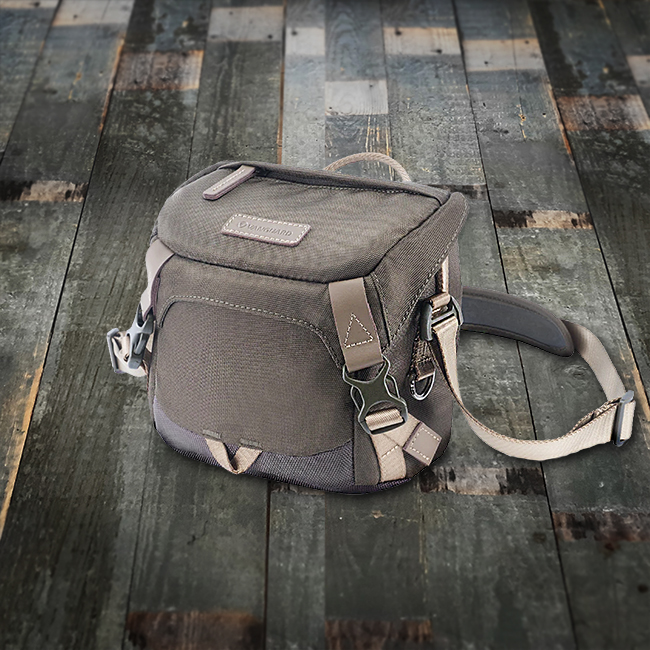 My Vanguard VEO GO15M Shoulder Camera Bag is exactly what I expect from a EDC camera bag. Not a centimetre too much or too little room, well padded, enough storage departments and a well covering lid, keeping the rain out. Besides that, the design of this bag allows me to attach it to the front of my backpack (as a chest pack) in a balanced way and I like the contrasting colour of the interior. I mainly use this for my action camera and all my accessories, such as landscape filters, tripod quick mounts, memory cards, etcetera. It has a rain cover stowed in the bottom. A clever little bag, this is!