'Every Day Carry'
---

Ombraz Armless Sunglasses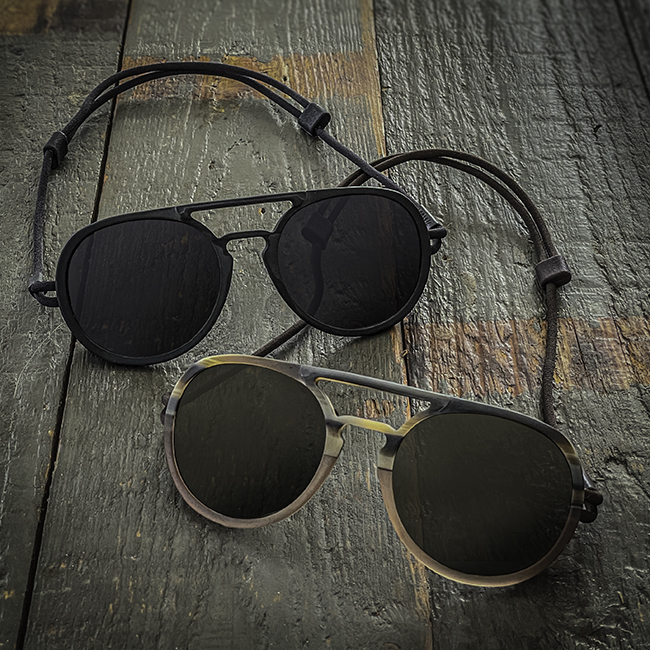 We use Ombraz Armless Sunglasses, the Dolomite, Polarized version specifically. These armless frames are the most practical ever. Well designed as they are, they fit perfectly, they are comfortabel and are very secure on the head. I use them with my helmets as well. Kayaking in a storm on open sea, walking high mountains, skying, kayaking whitewater: these are the glasses to use!
---
Writing Instruments
Fisher Spacepens offers an (unsollicited)
10% discount ánd free shipping throughout Europe,
on all of their products via the European website,
by using the discount code: WWG10
Fisher Space Pens for outdoor use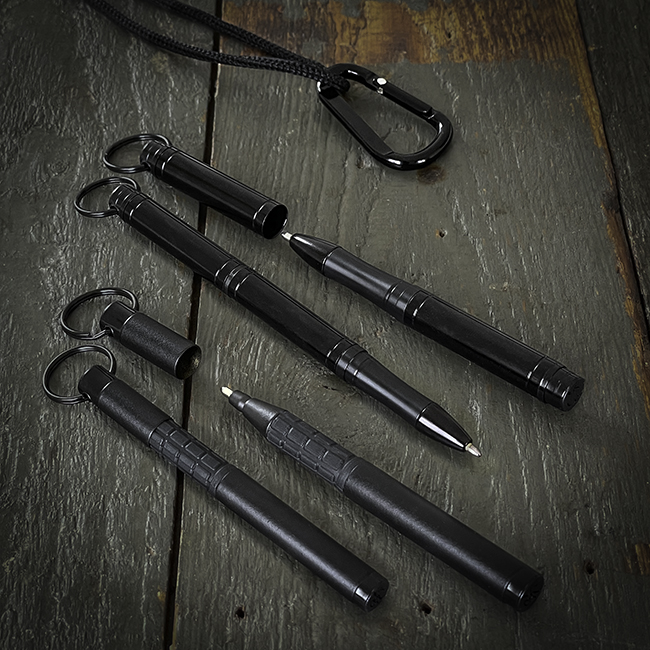 I use the Fisher Trekker Space Pen matte black with Rubber Comfort Grip and the Fisher Backpacker Space Pen in black anodized aluminium.
The Fisher Trekker Space Pen is a compact pen with a rubber grip, ideal for usage in rain and with gloves. Equiped with a ringed cap, it can be hung from a backpack, vest or any other piece of equipment.
The cap of the Fisher Backpacker Space Pen can be used to extend the pen to a full length pen. This means that the cap needs to come lose from whatever it's attached to, so this pen comes with a mini-tool biner.
These pens utilize Fisher Pressurized Cartridges, enabling them to write in rain, upside down and they can hang upside down forever yet function immediately when needed. These cartridges are available worlwide.
The Waterproof Notepads are 100% tree-, chlorine- and acid free and 80% more CO-2 efficient than pulp paper. Being tear resistant and waterproof, they can be used under water, in rain and in the harshest circumstances. 50 grid sheets, 120gsm H2O-paper,14 x 9,5 cm, top spiral. Cradle to Cradle certified (Silver) fully recyclable. ISO 9001 and 14001, non-toxic, FDA, REACH and RoHS certified.
Fisher Spacepens offers an (unsollicited)
10% discount ánd free shipping throughout Europe,
on all of their products via the European website,
by using the discount code: WWG10
---

Ensso Fountain Pen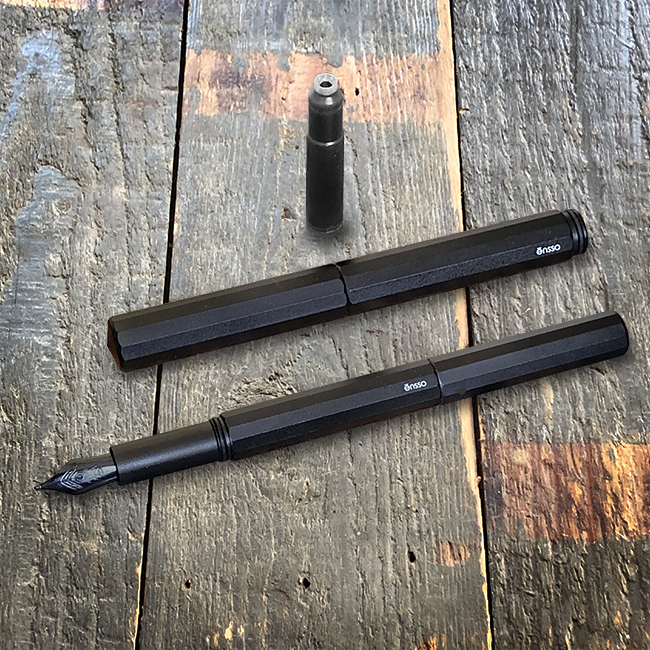 My ēnsso XS Minimalist Pocket Fountain Pen – Black Aluminium. This very compact pen is a full size writing instrument when the cap is placed on its back. It's machined from solid blocks of aluminum and brass and uses standard international ink cartridges that are available everywhere worldwide.
Capped length: 95 mm
Ready to write length: 115 mm
Ready to write length with nib included: 130 mm
Overall diameter: 10.3 mm
Section width (where you hold the pen to write): 8.5 mm
Weight: 9.7 g
Accepts standard international ink cartridges and small aerometric converters (bulb).
---

Kaweco Classic Sport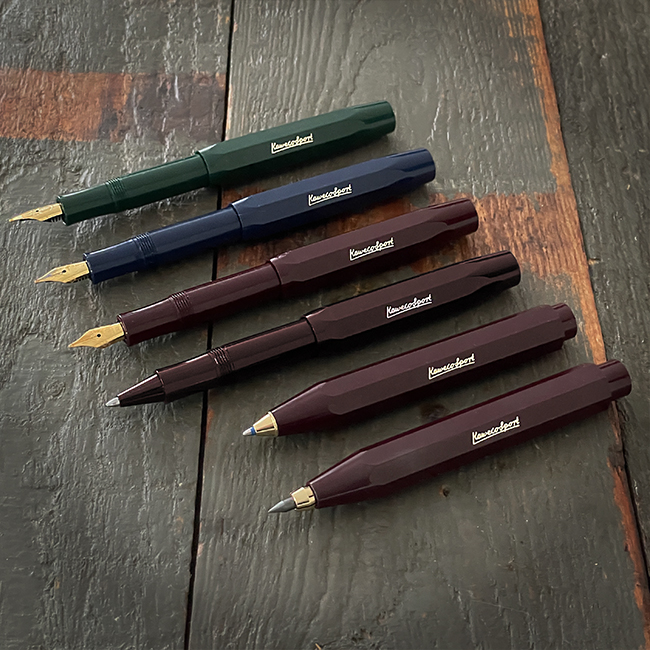 My true EDC pens. The Kaweco Classic Sport series. These are very lightweight, very affordable pens. Closed, the Fountain Pens and Gell Roller measure a mere 10.5 cm when, but when the cap is mounted on the barrel these are full sized pens. An ergonomic standard that hasn't changed since 1911 and still stands strong. I use 3 Fountain Pens, a Gel Roller Ball, a Ball Pen and a Clutch Pencil. All refills are standard formats and readily available.
---

Kaweco Sketch Up Pencil
This is my go to drawing pencil. The Kaweco Sketch Up Pencil 5.6 mm Black. This is not the lightest of pencils, but that might the reason why this is such an awesome sketching tool! The octagonal brass body gives these writing instruments an excellent feel. It uses 5.6 mm very soft hardness grade 5B leads and it has an integrated sharpener, which is located in the pusher.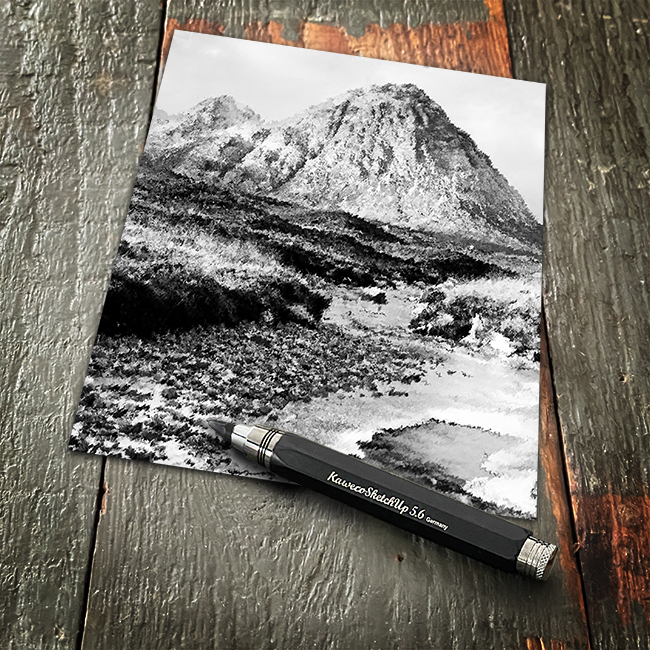 ---

Aviator Wallet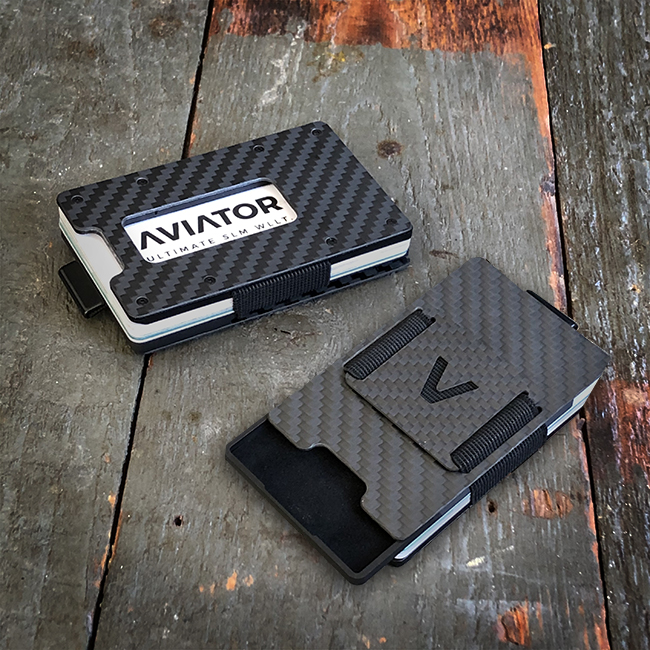 I use this Aviator Wallet Carbon Slide with a Carbon Cash Clip and Aluminium Coin Compartment. An great piece of EDC equipment. It takes upto 9 cards, bills and coins, all packed in this awesome looking carbon wallet.
It includes a highly elastic band with cash clip, for bills. The 1 mm Carbon Fiber cash clip makes the handling of banknotes a lot easier. Another unique feature of this wallet is its inner adjustable elastic band and stainless steel bolt design which is built into the 3mm Aluminum Space Frame, acting as ultra smooth card slide and lets you dictate just how many cards your wallet can fit. The tough, but flexible band keeps everything together and allows you to carry up to 20 cards at it's maximum setting. I opted to include a Slim Aluminum, 3,4 mm, sliding coin holder which makes it a fully-fledged wallet.
The Aviator Carbon Fiber can be made RFID-Safe chosing for the Slim (or Double) Aluminum Coin Holder and Aluminum Inner Space Frame. With this setup, aluminum will be on both sides of your cards and perfectly protected against RFID. Alternatively, you can also put a RFID-Blocking Card into the AVIATOR.
---

Fenix E02R Mini Flashlight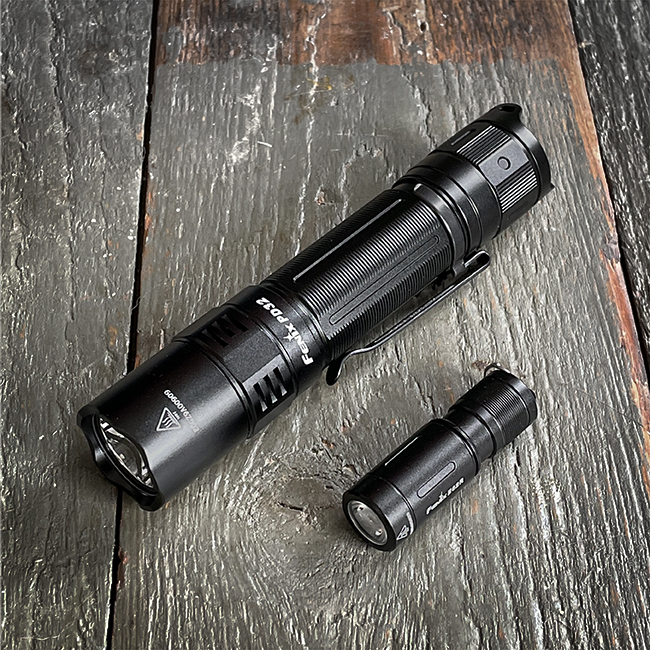 The Fenix E02R Flashlight is a rechargeable flashlight that can emit up to 200 lumens from its built-in 120mAh li-polymer battery. Fully rechargeable via a built in micro-USB charging port, this flashlight has a maximum runtime of 6 hours and 30 minutes. Access two brightness levels with a quick twist of the head. At less than 5cm long and just over 24mm round, this little flashlight is built tough with an IP68 dustproof and waterproof rating. Super small and compact!
---
EDC Knives
SRM 1411-TZ knife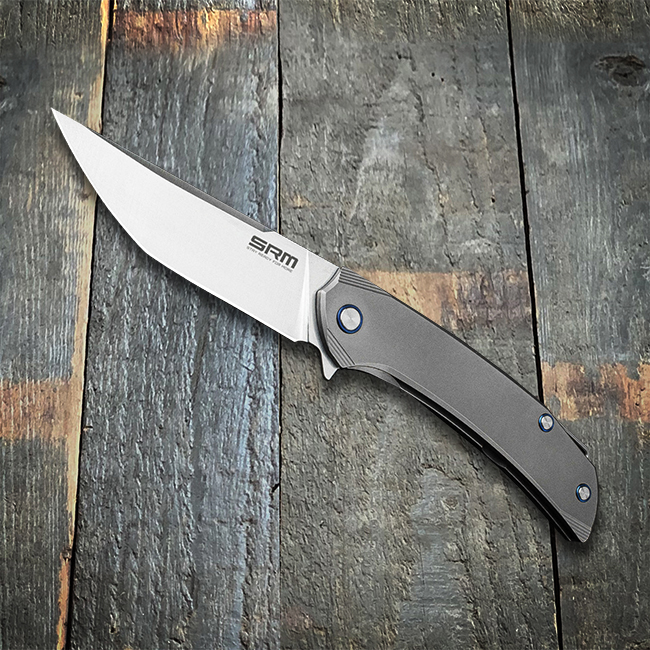 The SRM 1411-TZ Asika is a full-sized pocket knife with all the bells and whistles of a viable EDC cutting tool. It has a lightweight, tough titanium handle and a full-flat ground edge 154CM stainless steel blade; 154CM is a remarkable steel that's easy to maintain and holds up against wear. These are proper EDC knives, very well made and absolutely beautiful!
Specs:
Full Length: 226 mm
Weight: 128.1 g
Blade

Material: 154CM, HRC 59~61
Finish: Bead blast / Satin
Length: 99 mm
Thickness: 3.1 mm

Handle

Material: Titanium, with a gray finish.
Opening: Non-assisted / Flipper opener with a ball-bearing pivot.
Locking: Frame lock, to keep your fingers safe.
Deep-carry titanium pocket clip set for tip-up, right-side carry.

Amare Knives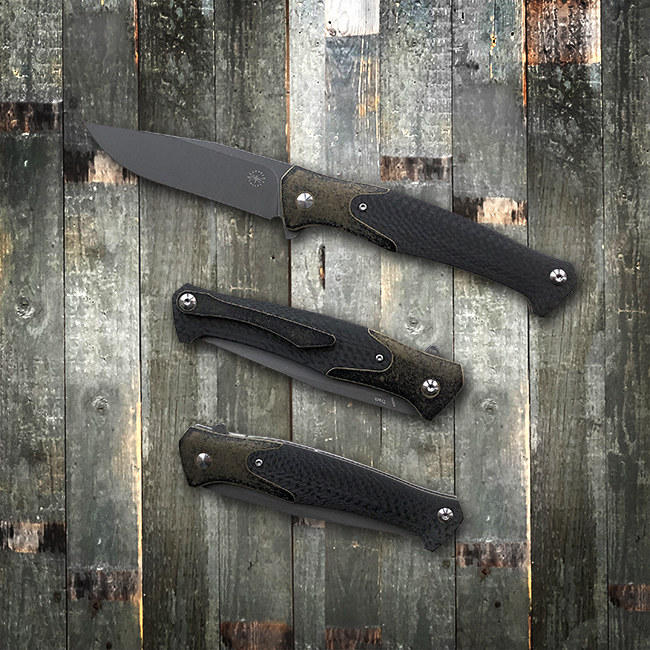 The Amare Track Bronze, imho, must be one of the most beautiful knifes around. It's full size, fitting well in medium to large sized hands, and has a black-grey coated 10 cm blade. The overall size and proportion make this the ideal cross-over knife, for use both as an EDC ánd outdoors. Due to a steel micro ball bearing, it flips open as if it has a spring. The knife feels and operates very solid. Its very hard and sharp blade allows to be sharpened to very fine edge, should it be necessary.
Specs:
Rockwell hardness >=62 HRC
Blade material: CPM S35VN
Blade length: 100 mm
Blade thickness: 3,5 mm
Locking System: Stahl Liner-Lock
Bolsters: Stainless steel anodized bronze
Pivot bearings: Steel micro ball bearings
Back spacer: Stand-Off
Handle width: 14,5 mm
Handle Shell: Carbon fibre
Coloring: Bronze
Clip: 3D milled
Weight: 158 g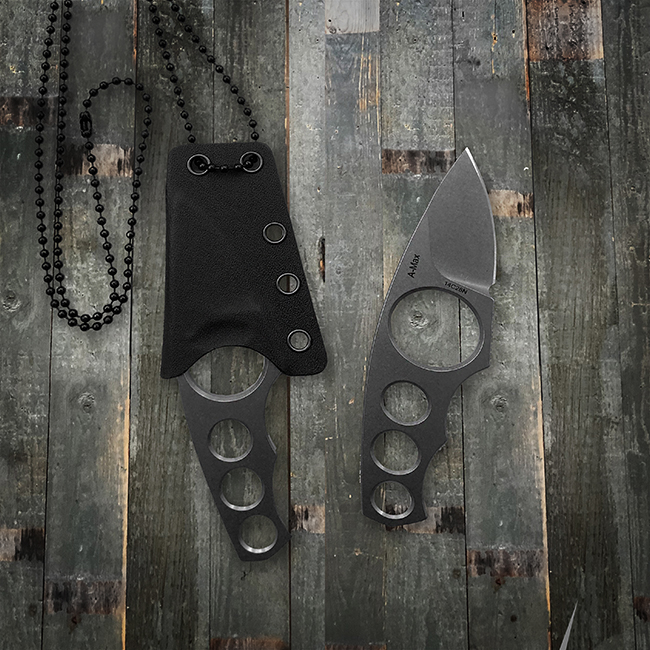 My Amare A-Max Stonewash is a very solid EDC knife. These are well designed! Being compact, but meant to be used and at hand all day, the design challenge is always going to be a balance between weight, practicality and robustness. Amare knives has nailed it on all aspects. In combination with a kydex sheath and sturdy chain, this knife is a must have!
Specs:
Blade material: Sandvik 14C28N
Blade length: 45mm
Blade thickness: 4
Handle width: 4mm
Colouring: stonewashed
Designer: U.Hennicke
Sheath: Kydex
Weight: 61 grams

Amare knives is one of these European companies excelling in the fusion of practical functionality and beautiful design. They even make awesome cases, out of pure carbon, to keep your knives in!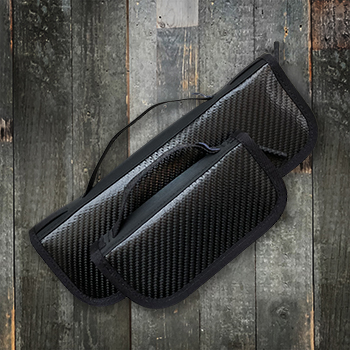 ---

The Protecteur by TB Outdoor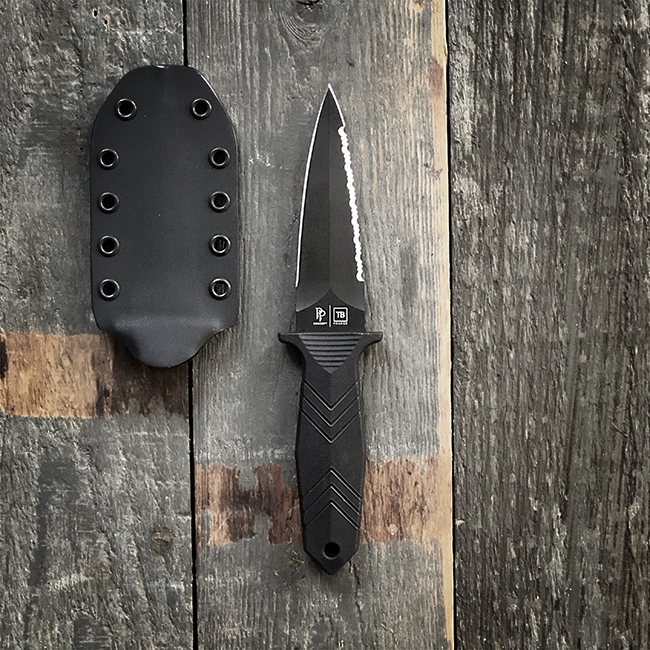 The Protecteur, made by the French TB Outdoor company, is a dagger of the highest quality. It is a very practical knife to have on you whilst in the great big outdoors. Its double-edged blade has a serrated and a straight-edge. The full tang blade, made of black PVD coated MOX (61 HRC) stainless steel, is highly wear and corrosion resistant. The fiberglass-reinforced polyamide handle can stand up to the toughest situations. The French Army's combat helicopter and light aircraft crews use this knife.
The knife handles very well, due to the good proportions. It doesn't twist or slide in your hand. The kydex sheath is ultra-thin and light, with practical eyelets and a (rather small) drain hole/gap.
Knife Specs:
Overall length: 21.5 cm
Blade length: 10.0 cm
Blade thickness: 3.5 mm
Handle thickness: 13.4 mm
Weight: 122 g

The TB Outdoor company has been manufacturing near Thiers (France) for more than 5 generations. They are a supplier of the French Army since the mid-sixties. All processes are done in-house.
---

Watches

Luminox Bear Grylls Survival Watch #TIDE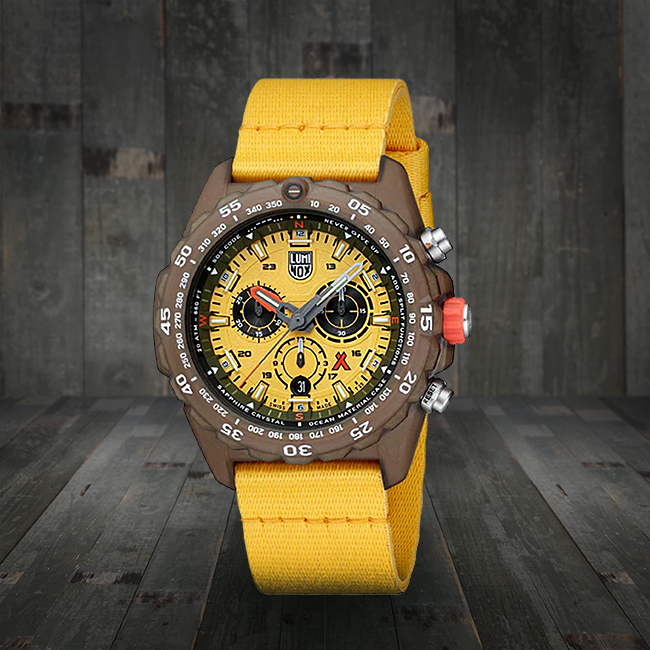 This Luminox Bear Grylls Survival MASTER x #TIDE watch is a cooperation of Luminox, Bear Grylls and #TIDE. It's the Chronograph 3745.ECO Compass Watch.
On five islands off the coast of Thailand, local fishermen are being trained and paid to gather and sort plastic waste. This waste is used for the case and black strap in partnership with #TIDE.
At 45 mm diameter and 14 mm height, this is a larger watch, eventhough it feels and wares as a smaller watch. Prime features, imho, are:
Origin: Swiss Made
Chronograph function
Always Visible: A Tritan-like constant glow for up to 25 years, no sun-charging necessary.
Water resistance 200 meter / 20 ATM
Case material: 100% Recycled ocean-bound plastic material
Crystal glass material: Sapphire crystal, anti-reflective coating
Crown: Screw in, double security gasket, crown protected
Strap / bracelet: 100% Recycled ocean-bound plastic material
This is a very interesting watch to look at in detail, it is a environmentally positive watch and it is an eyecatcher like no other!

Victorinox FieldForce Sport Chrono Watch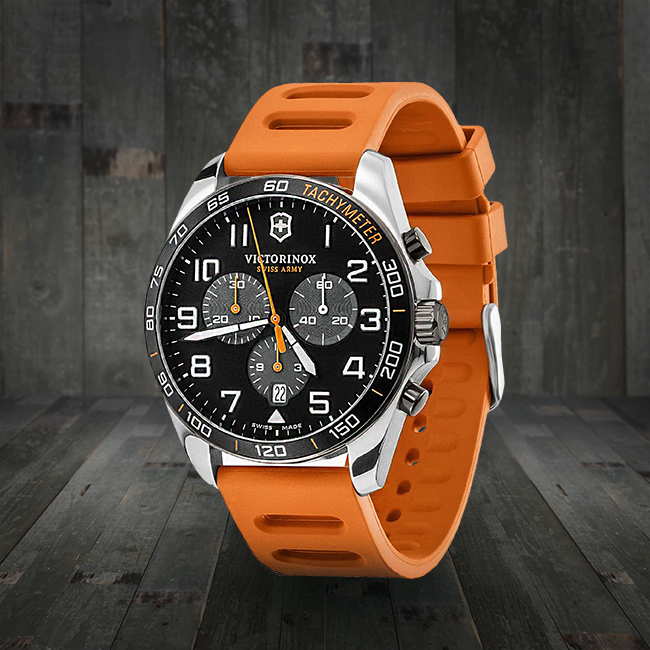 This is a great outdoor watch! The Victorinox FieldForce Sport Chrono Black. It's Swiss made watch with chronograph functions and tachymeter scale. The 42 mm watch, with large luminescent hands and numbers make it easy to read in all conditions. It has a rubber bracelet/band and waterproof to 10 ATM/100 M, making it well prepared for all extreme wet conditions. In fact, the entire (stainless steel) watch is made sturdy and strong, designed for the outdoorsmen. Having said that, I think this watch is an every day stunner (hence EDC).

Techné watches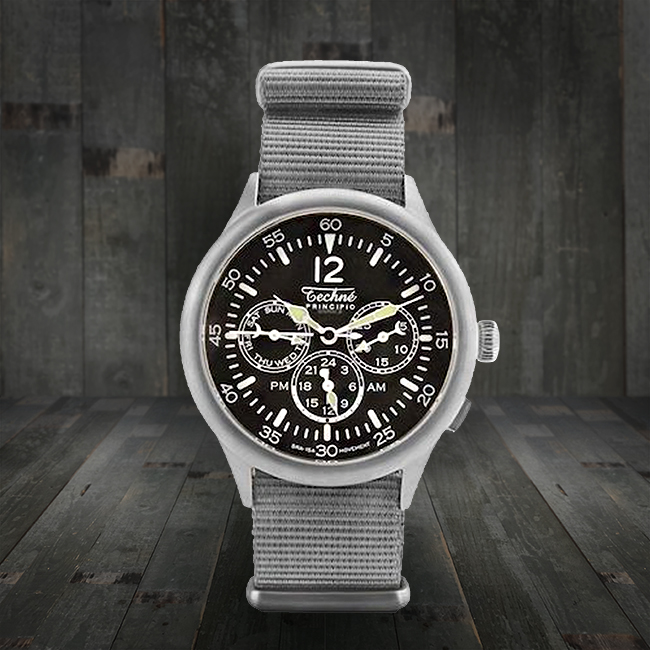 This is my Merlin TwinTime watch. I use 3 different straps with it, an 'edc' Milanese Stainless Steel, a 'vanity' Tuscan Black leather strap and an 'outdoor' Tactical GB Orange strap.
The Tescé Merlin watch has a broad dial, broad luminous indices and hands. ISAswiss quartz movement with twin time, day and date registers. Brushed AISI 316L stainless steel case, double- curved mineral crystal, snap-on case back. Matte navy dial with white printing, white lacquered hands, luminous compound. Waterproofness 5 bar (50m/155ft static).

Bertucci watches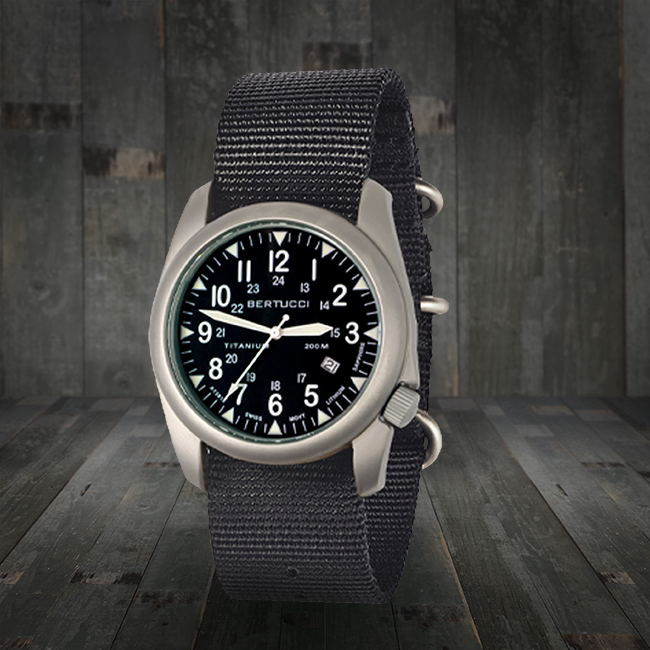 These are my kayaking watches. The (below) 'Bertucci A-4T Aero' is the WhiteWater Watch, taking all the beatings. The (above) 'Bertucci A-4T Super Yankee' is my pride and joy and my Every Day Wear watch. What they have in common is:
44 mm Matt Titanium housing, 10,6 mm high.
Weight 67 grams.
Water resistance up to a depth of 200 meters.
All metal 5 jewels Gold-plated mechanics.
Super Luminous hands and markers.
A low battery indicator.
Heavy Duty Webbing straps.
Design inspired by WWII U.S. Military watches.
The Super Yankee (above), costs a little more, due to having a 10 year Lithium battery (vs a 5 year battery), hardened Sapphire Crystal (vs hardened mineral crystal) and a Date indicator.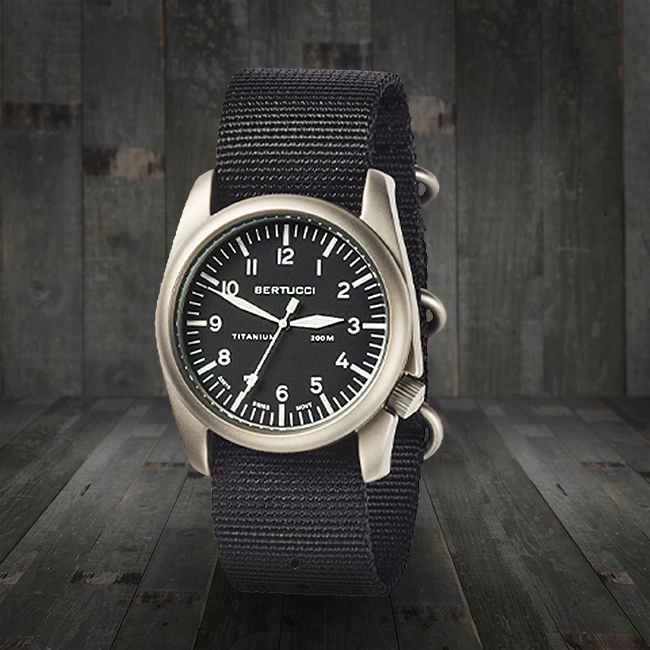 ---

Alpaka Gear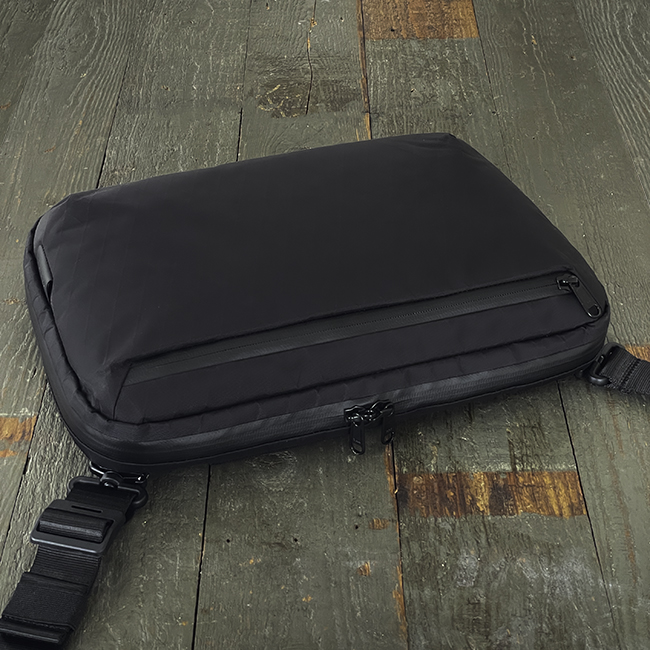 The Alpaka Elements Tech Brief 14″ is made out of a X-Pac VX42 Black & Ballistic Nylon 840D Black exterior and a 200D Blood Orange Honeycomb Ripstop Nylon Lining. This weatherproof 5,5 liter case weighs only 900grams. Considering the soft-touch fleece lined laptop compartment and 17 pockets, it's accordion-style opening and lockable weatherproof zippers, this is a lightweight case. It comes with a removable, adjustable and well padded shoulder strap with molle-style attachment points, that has a secure magnetic buckle for easy removal. It also looks great!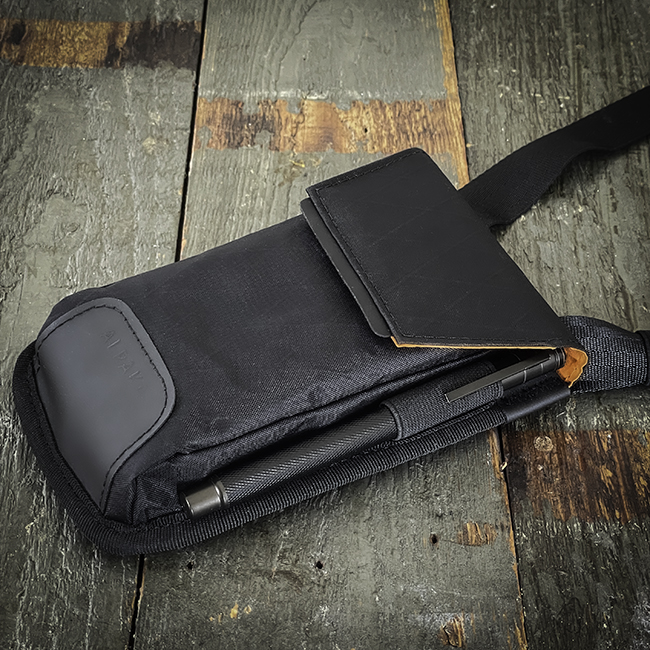 The Alpaka Modular Phone Sling Limited Edition Black is made out of a X-Pac VX21 Black fabric exterior, with an Orange lining (210D Ripstop Nylon) and 1680D Nylon + Hypalon backing. The detachable strap is designed to convert this pouch into a compact crossbody and vice versa, but this pouch can also be worn on a belt. I use this 120 grams weatherproof pouch to carry my two phones, but it can carry keys, cards or what not.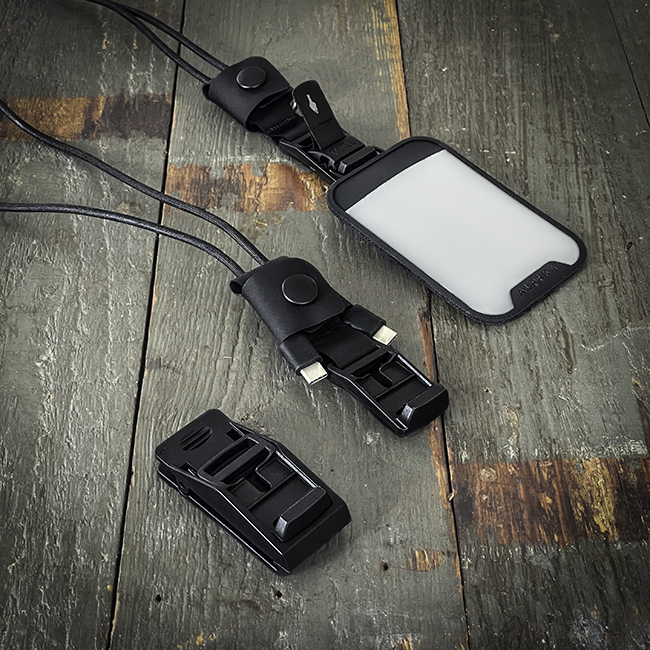 The Alpaka Hub-Ecosystem is a great find! Using interchangeable magnetic elements, this system has clip, but also lanyards that double as USB cables, either USB-C to USB-C, or USB-C to Lightning. It also has a ID-cardholder (and a D-ring Keyholder which I do not have yet).

FlowFold Laptop Sleeve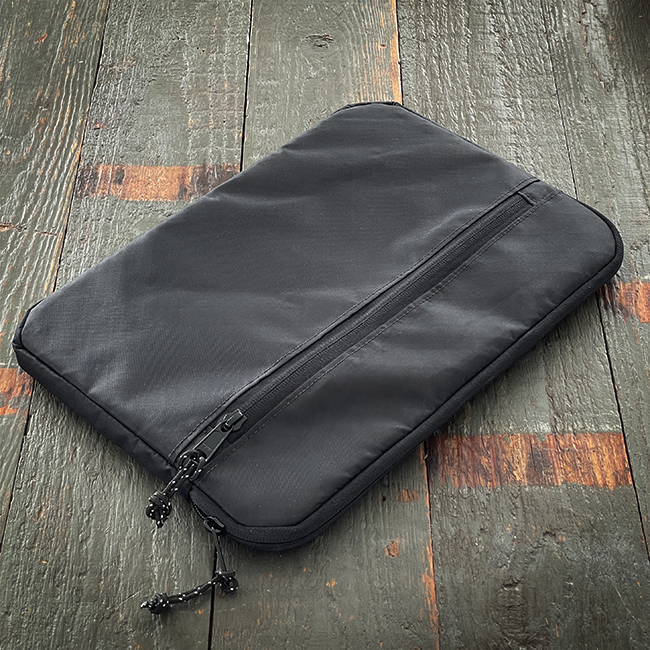 The Ally Laptop Sleeve is a simple, well designed, sturdy built case that provides the protection a laptop or tablet needs outdoors. I use the 13″version which is made out of Lite Skin, a non-woven polyester face fabric designed for improving the abrasion resistance of Carbon Fiber racing sails. It is lightweight, UV resistant, and waterproof. The outer pocket has plenty of room for the much needed accesories.Zippers are YKK. Weight 153 gram. There is a 15″ version available, as well as different materials.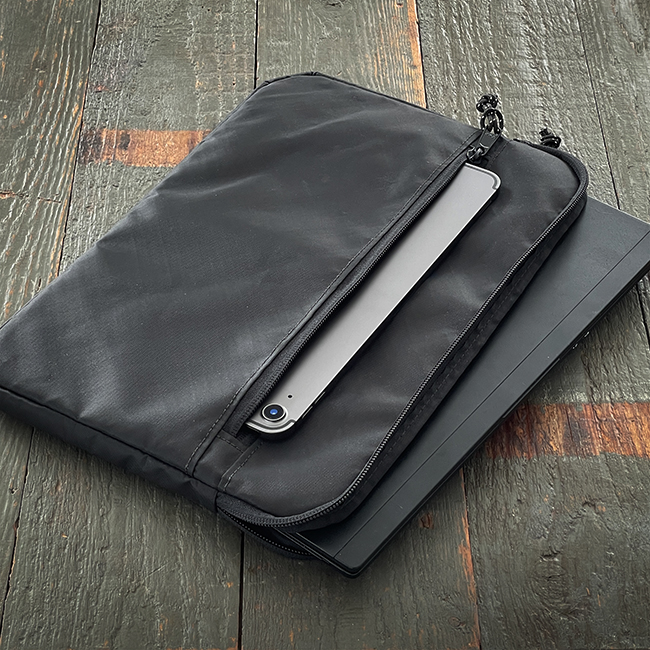 ---

Umbrella's by Euroschirm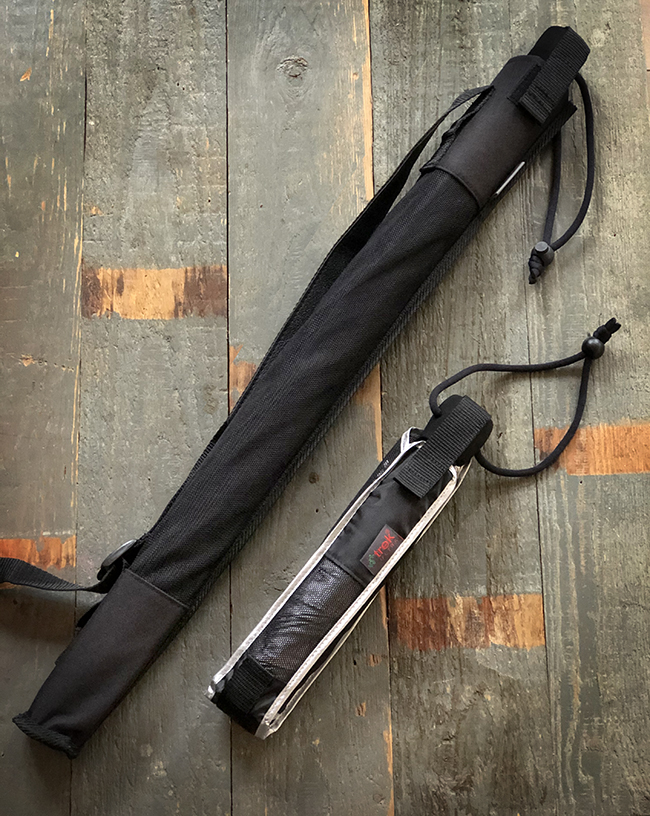 A day out to town? Roasting a chicken in front of the tent? Rushing to the outhouse? Here are the umbrella's I like best.
My Birdiepal Outdoor: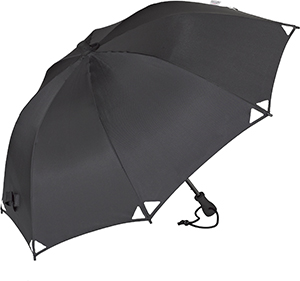 This is a nearly unbreakable umbrella, with some outstanding features, such as: a high-density fibreglass frame, double-stitching, wear-resistant safety tips, a 'thick glove' opening system, webbing loops to attach it to a backpack, an integrated floating compass, a mesh sleeve and it has (optional) reflective element on all tips.
My Light Trek Ultra: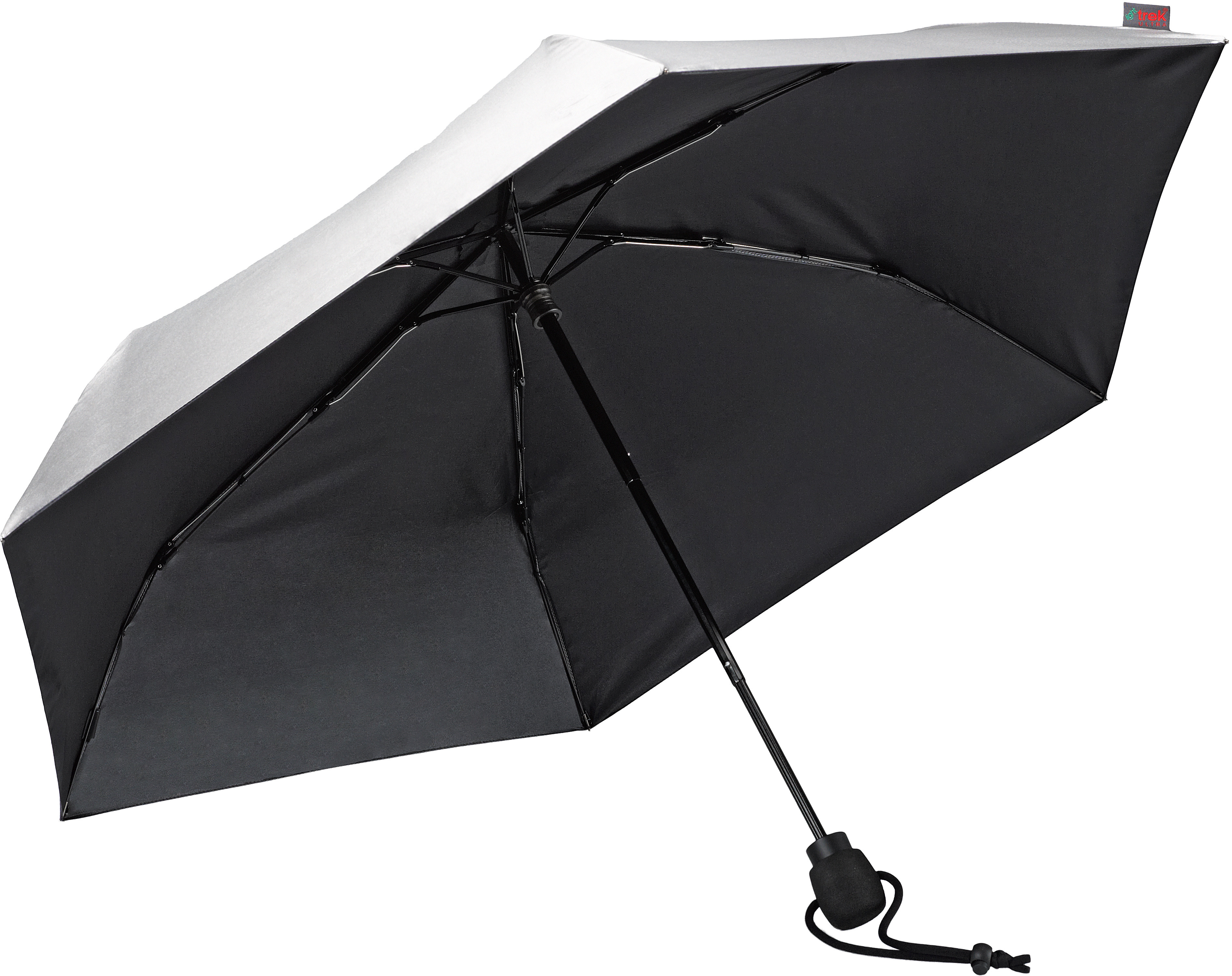 A 175 grams umbrella! Ribs made of aluminium and real carbon. Flexible and corrosion resistant. It has lightweight but sturdy polyester fabric with Teflon-treatment and double stitched seams.
Whilst 27,5 cm small closed, it has a 98 cm diameter when opened.
My version has the silver outside canopy providing UV-protection factor of 50+.

Euroschirm is a family business developing speciality umbrellas. They utilise new techniques and materials for practical reasons. Exactly what we like. Have a look at their website and see how they can help you staying dry.