Pains Wessex Flares and Rockets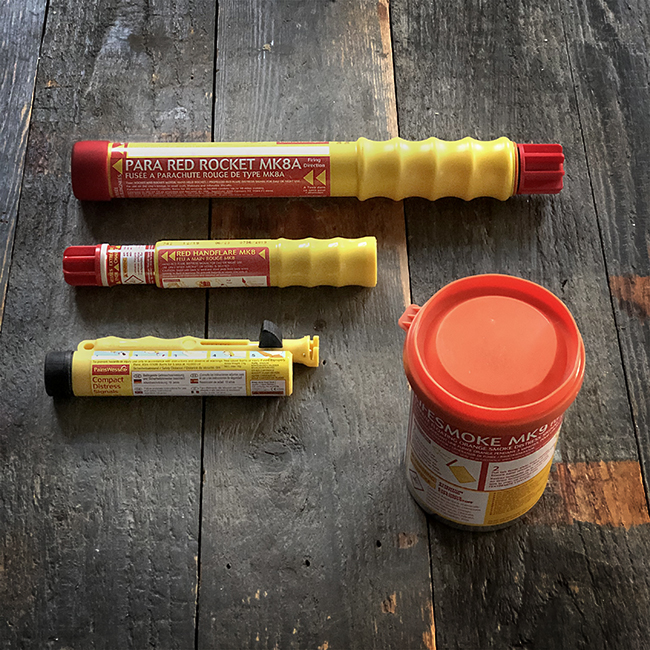 Wether you go kayaking, paragliding, hill-walking, climbing, skiing and or any other outdoor adventure, you'll need to think about safety. I explained more about this on the Outside Help Instruction page. Pyro signals are among the possible aids at your disposal. Here's what I have and use:
Para Red Rocket Mk8A (Instruction video)
Designed to withstand exceptional environmental exposure and to perform reliably even after immersion in water, the pull wire ignitor and improved grip provides easy handling. Ejecting a red flare on a parachute at 300m (1.000ft), burning for 40 seconds at 30.000 candela. 235 g (8.3 oz)
Red Handflare Mk8 (Instruction video)
Flare Minimum Burns for 60 seconds at 15.000 candela., For use day or night the red handflare is a shortrange distress signal used to pinpoint position. 176g (6.2 oz)
Compact Distress Signal (Instruction video)
For day or night-use only when rescue services are sighted. Each cartridge projects its payload to a height of 50 metres, burns for over 5 seconds at a minimum of 10.000 candela and is visible for at least 5 miles in daylight increasing to 10 miles at night, depending on weather conditions. 74 g (2.6 oz)
Lifesmoke Mk9 (Instruction video)
Signal provides effective position marking during rescue operations and can be used to indicate wind direction, producing dense orange smoke for a minimum of 3 minutes. 370g (13.05 oz)
Storage
I have these pyro's stored (at home) in an ammo tin.
Besides that, I have the Large Polybottle (waterproof) of 12 litre (2.64gal) capacity. It is really large. W218xH400xD218mm, weighing 0.6 Kg.
Having said that, none of the two options above are light and small enough to take the selection of appropriate signals on a trip. What you probably need (which I do not have), is the Mini Polybottle Mini Polybottle, with a 3 litre (0.8gal) capacity.

Comet / Pains Wessex / WesCom Signal and Rescue products are manufactured in the original Comet factory in Bremerhaven, Germany, using the most sophisticated manufacturing techniques available.


Available at Kanocentrum Arjan Bloem.