Hiking | Trekking | Backpacking
Whitewater safety is a topic that needs attention. Accidents happen. These accidents often result in two safety related stages of aid.

Gear

Chestpack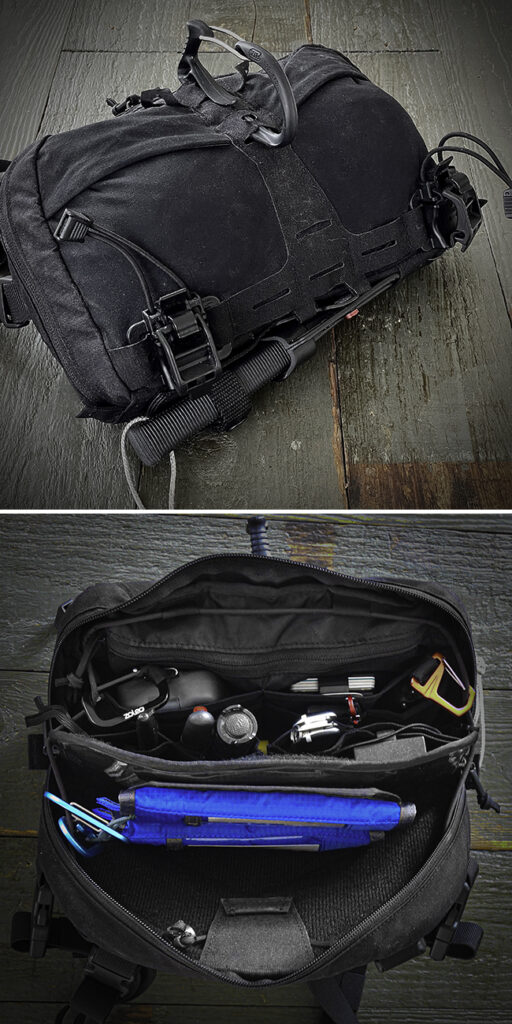 I use a chestpack, al-the-time and everywhere, with all the essentials, should something bad happen.
Default, my chestpack contains the following items:
– Zoleo PLB & Satellite Messenger
– Fenix PD32 Flashlight
– Aviator card wallet
– Kase Wolverine K100 camera filter set
– Victorinox Trailmaster pocket knife (see add-on below)
– Fällkniven A1x knife
– Victorinox knife sharpener
– Suunto Compass
– Camera Batteries & Memory Cards
– Remotes for my cameras
– GoPro wrenches
– Mini Towl / Lens cloth
– Headnet
– Sharpie
– iPhone 12 Pro
Satellite Messenger / Personal Locator Beacon (PLB)
The first item I pack (for personal ánd group safety) on every outdoor activity is my Satellite Messenger / Personal Locator Beacon (PLB). The Zoleo satellite communicator, can send an SOS alert to activate Search & Rescue, with 24/7 emergency monitoring and dispatch included (provided by GEOS). Both the device and the app have a dedicated button for this.
Not to be used lightheartedly as it will result in the activation of a (helicopter) rescue team, guiding them to your location: When GEOS receives your SOS alert, they'll know the GPS coordinates of your ZOLEO communicator. They'll contact the appropriate emergency response authorities for your location, and reach out to the emergency contacts you designated when creating your ZOLEO account.
Using the ZOLEO App, you'll also be able to message back and forth with GEOS to exchange updates, until your emergency situation has been resolved. Two-way SOS simply isn't offered by one-way communicators, PLBs and EPIRBs. Even if you're using the ZOLEO communicator on its own, without the app, you'll get confirmation that your SOS message was received (via the LEDs on the device).
Most relative techspecs: weight: 150g, IP68 water-resistant to 1.5 m for 30 min, battery life: 200+ hours.
Besides that, the Zoleo will:
Send and receive messages anywhere over Wi-Fi, cellular and satellite, trying in the following order: Wi-Fi, cellular data, then over the Iridium satellite network, via the ZOLEO device. (Basically the least cost route for the message.)
Messaging is possible by SMS, email and app-to-app.
Send Check-in messages with one touch, to let others know you're OK. Both the device and the app have a dedicated button for this. Your check-in message will be sent to your check-in contact(s). You can also include your GPS coordinates if desired.
Get DarkSky weather forecasts.
Share your GPS location with others, via messages. (The Zoleo doesn't provide a following/tracking feature.)
Fire Starters
Tortoise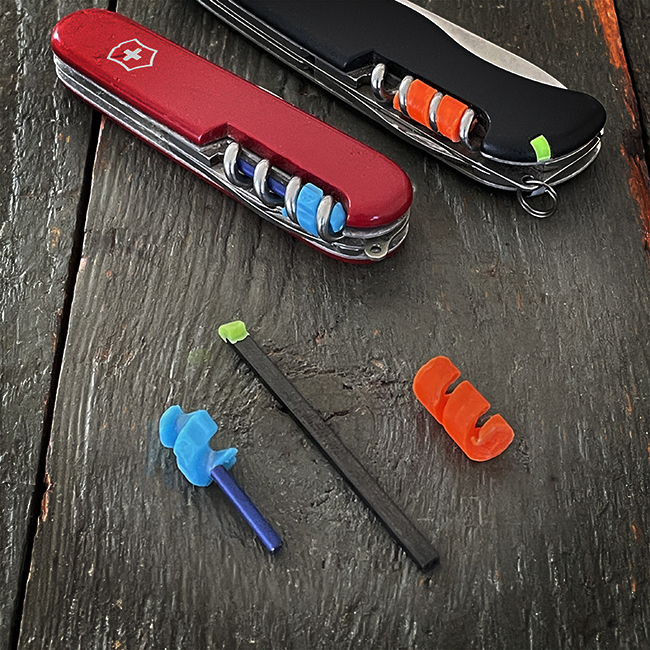 First of all: I'm not a fan of campfires, fouraging and other activities that don't go well with the 'Leave-no-trace' prinsciples. So I categorize these ingenious fire starters as 'safety gear'. Having said that:
These Tortoise Gear Fire Starters are among the most clever and innovative products available!
I use them with my Victorinox Trailmaster.
The FireAnt (blue) is a patented waterproof fire starting tool that fits into the corkscrew of Victorinox Swiss Army knives. It glows in the dark and weighs only 1 gram!
The Firefly fire starter (green) is a firesteel that fits into the toothpick slot in a Victorinox Swiss Army knife or tool. This material sparks way easier than a typical firesteel / ferrocerium and is less brittle. It glows in the dark and weighs …….. nothing? This is typically used with:
Firefly Helix Tinder for use with the Firefly Toothpick fire starter. This waterproof fire lighting tinder fills the entire corkscrew. It has an indefinite shelf life, is non-toxic, and won't melt in your pocket. Waterproof even after being submerged in water for weeks. Thee Helix Tinder can be cut or pulled into pieces and used multiple times.

First Aid Kit
I carry a First Aid kit that fits my knowledge and ability to use.

Outside Help
If the worst comes to the worst, you'll need outside help. But only in circumstances that are serious enough.
I made a dedicated page in this subject.

Abilities and knowledge
All the gear above should be used by trained individuals. Follow an outdoor safety course. Practice regularly and keep refreshing your knowledge!
Know the whitewater class you can handle and be prepared to portage rapids beyond this ability. If you are not sure, buddy up with an experienced group member.

Class I: Beginner
Fast moving water with riffles and small waves.
Class II: Novice
Straightforward rapids with wide, clear channels which are evident without scouting. Occasional manoeuvring may be required.
Class III: Intermediate
Rapids with moderate, irregular waves which may be difficult to avoid. Complex manoeuvres in fast current and good boat control in tight passages or around ledges are often required.
Class IV: Advanced
Intense, powerful but predictable rapids requiring precise boat handling in turbulent water. A strong Eskimo roll is highly recommended.
Class 5: Expert
Extremely long, obstructed, or very violent rapids which expose a paddler to added risk.
Class VI:
Extreme and Exploratory Rapids
These runs have almost never been attempted and often exemplify the extremes of difficulty, unpredictability and danger.

Be prepared to self rescue, including whitewater swimming and a reliable Eskimo roll.
Know Basic Life Support and have a current first aid certificate.