Backpacks
Large backpack capacity explained
Large backpacking/hiking backpacks are designed for those who take on the more demanding trails, taking plenty of gear and spending multiple nights in a tent. These are very big backpacks, with capacities that range from 45-85 liters. These framed packs also tend to be slightly heavier, offering structure, stability and a better fit.
The needed capacity of my backpack is set by the weight that I am able and choose to carry. My Solo trip multi-day weight limit is approximately 25 kg. Generally, the weight at the start of my trip will be a little more. But, because this includes consumables, the weight decreases with circa 1,5 kg/day.
When Solo walking, 70+ liters will allow me to walk two weeks, divided in 50 liter (gear) plus 22 liter (consumables), at a total weight of 25 kg.
(When going solo, I use a chestpack, al-the-time and everywhere, with all the essentials like a torch, pocket knife, comms, PLB, etcetera, should something bad happen.)
Gear: 16-18 kg / using 50+ liter volume
Backpack, Tent System, Sleeping System, Cooking System, Clothing, Personal Hygiene, Safety & First Aid, Photography Gear, Electronics, Fishing Gear

Consumables: 0,5 kg per day / using 1,5 liter of volume per day
Freeze Dried Meals, Energy & Proteine Bars, Coffee, Fresh Food, Fuel, (Water)
When Duo walking (and sharing a tent, cooking system, safety & first aid and electronics) a 50 liter pack, will allow me to take food for a week (10 liter).

my Thule Guidepost Hiking Backpack 75+ liter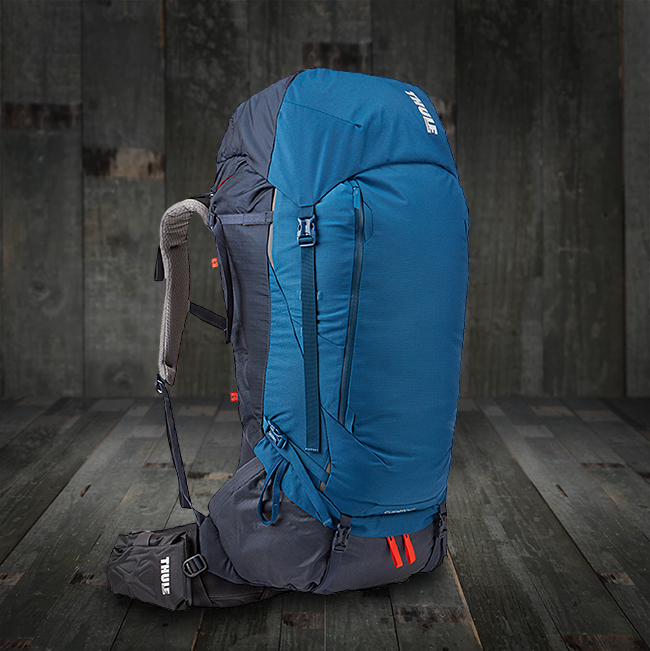 My Thule Guidepost 75 liter is a positive exception to the ergonomic standard of backpacks. If you can not make this bag fit comfortably, than no bag ever will. It is easy to adjust the pack to the length of your back, to the width of your shoulders and to your hips. The slimmer profile adds to the stability of the pack and it keeps the pack from snagging in dense bush. The pivoting waistbelt on the Guidepost is a great feature. The waist belt is mounted on a central rotating point, which keeps the load centered. Another strength of the Guidepost is its durability. The zippers are wide gauge with large pulls. The exterior treatment of the bag adds water resistance and a good defense against abrasions. This is a sturdy, strong and indestructible pack, ready to take a beating, at a moderate weight (2.59 kg). There is a mesh hip pocket on one side of the waistbelt and it has the VersaClick system on the other side, offering modular options such as a waterproof roll-top pouch, a camera pouch, a water bottle sleeve and other pouches. There are also two gear loops on the back, four on the head and two on the bottom. The Guidepost is incredibly stable with heavy loads, with it's unmatched pivot action.
The pack comes with a Rolltop pocket. I use some optional addons, like the camera pouch and bottle pouch, all part of the VersaClick system.

While solo walking/climbing the whole 14 km long Black Cuillin Ridge traverse (Isle of Skye, Scotland), a section of the Collie's Ledge broke away underneath my feet. I was lucky enough to land on a little ridge 7 meter lower, instead of the more likely 25 meters. Although my backpack broke my fall (and saved my back), I tore two ankle ligaments (which I taped) and had an 8 cm deep cut in my knee down to the patella ligament (which I stitched).
But the most amazing thing was that the backpack took the fall like a champ. It didn't have a scratch!

This pack has loads of features:
45° pockets, reachable while walking.
the lid/head/brain can be used as a 28 liter summit pack/day pack
a pivoting hipbelt for better weight distribution
a belt mounted removable weatherproof rolltop pocket (VersaClick system)
wire guides for phones and other electronics
a rainfly (well attachable)
a bottom (sleeping bag) compartment
a large front and side access openings
two large front storage spaces
2 ice axe/walking stick loops

Approximately €300
| | |
| --- | --- |
| | |
| The Thule Guidepost at Inverarnan, the northern Loch Lomond section of the Scottish West Highland Way. | The Thule Guidepost in front of the Buachaille Etive Mòr on the Glencoe section of the West Highland Way. |
| | |
| On my way to the Black Cuillin, Skye, Scotland. | Aqua hitchhiking in the Camas Fhionnairigh (Bay of the White Shieling), Isle of Skye, Scotland. |

Thule is a Swedish company, that's all about passion for an active lifestyle.

Large Hiking Backpack 50 liter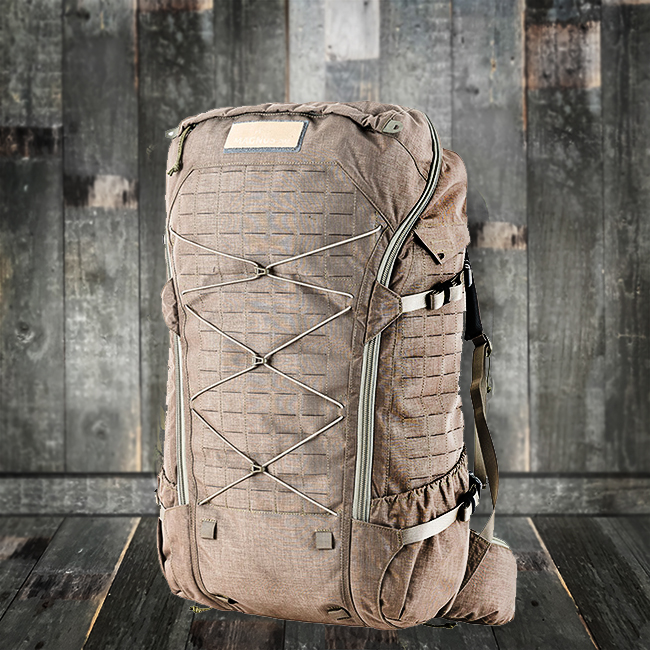 My Fenix Protector 'Magnus 50' backpack is a 50 litre backpack, originally developed for armed forces. An everlasting and reliable pack. Unintended, I did put this pack to some vigorous tests, and it came out as a winner!
At first glance, this seems to be a pretty straight forward and basic backpack. One inner compartment and all the standard features. But, this pack is a modern version of all of those features we have known for years. Yes, it is a top- and front loader, it has a 'brain' compartment, belt pockets and all that. But the real gems are in the designed details. Like the hooks on the shockcord making it far easier to stow jackets and raingear. Like sleeves over the full height of the pack sides, for stowing tripods, tentpoles, fishing rods, walking poles, etcetera.
It also comes with three different types of zipper pulls (for glove wearing situations, bush situations and multi purpose ones) and clever fastners to tie loose ends of webbing.
Approximately €235
These 50 liters, allow me to take all my gear for solo hikes up to a week. In winter the extra needed gear (fuel, clothing, ice axe, crampons, insulated mat, et cetera) will limit the meals I can take with approximately 3 days.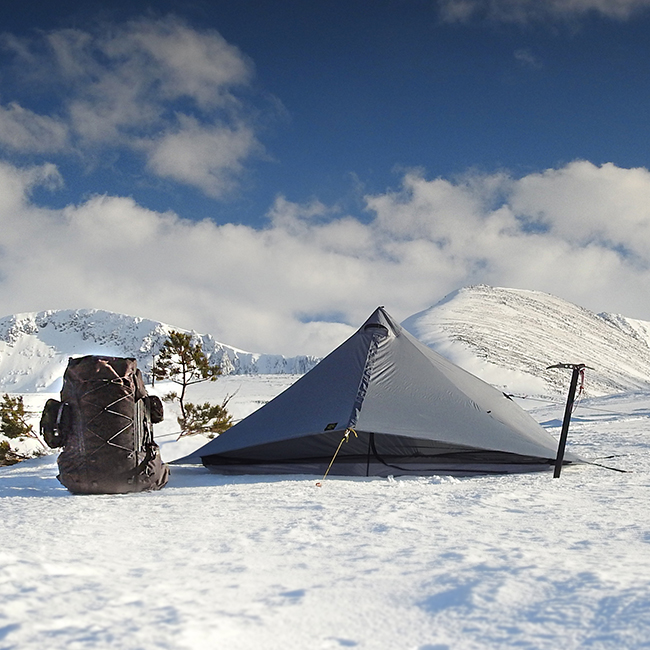 Like most army packs, it is built for personalisation by means of add-ons, using various techniques like Velcro and Molle.
My first add-on is the water bladder pouch, with a 3 liter bladder, which can be hung into the pack with existing attachments and feeding the tube through a dedicated port.
The IFAK (Individual First Aid Kit) is a very practical one. It consists out of two parts: a molle holder attached to the pack, and a detachable snap-buckle pouch.
There are several internal stuff bags as well that velcro onto anyplace inside the pack.
Fenix has hooking straps to mount things like your mat or sleeping bag on the outside of the pack, using special loops.
All in all, this is a pack with hidden modern features providing the extras that can make life easier on the trail.
See how I pack this backpack on my YouTube channel.

Fenix Protector is a European business, developing and manufacturing equipment for extreme conditions for more than 25 years. It's owner Martin Hanuš, has an extensive knowledge and history as it comes to mountaineering and whitewater sports.


Large Hiking Backpack 45+ liter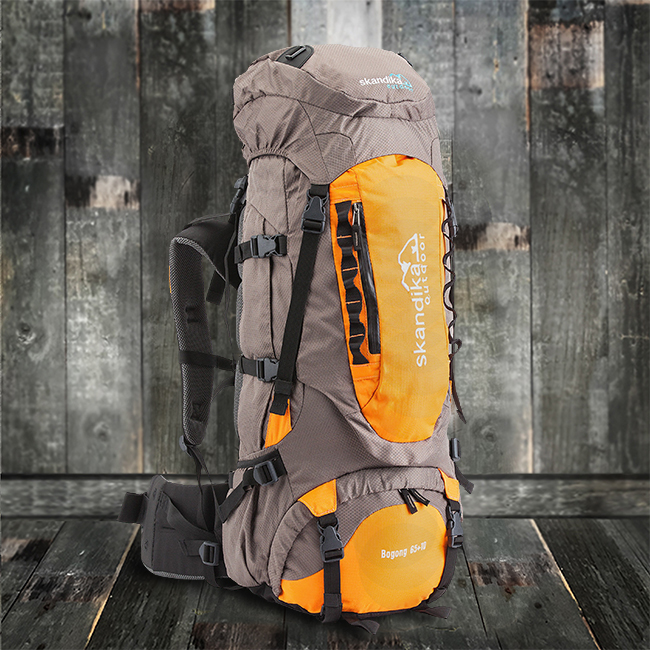 Here's my second pack, a Skandika Bogong 45+10. A straight forward pack with lots of compression straps and seperate compartments, making it versatile. It's easily adjustable to your size. It's a mid-weight pack, at 2kg. Top and front loading, with the option of dividing the maincompartment in two. It has a raincover in a pocket underneath the pack. The option to employ extra space is a plus. It has no belt pockets, but the brains compartment is big! (The amount of zips and straps can be slightly impractical, and some of the zippers don't run as smooth as you'd want.)
It is tailored slim and high, especially with the hood/brains fully packed, making it very usefull for alpine sports.
Overall, this is a decent versatile pack at a very fair price!
Approximately €130
These 50 liters, allow me to take all my gear for solo hikes up to a week. In winter the extra needed gear (fuel, clothing, ice axe, crampons, insulated mat, et cetera) will limit the meals I can take with approximately 3 days.

Vaude Rupal Light Daypacks/Summitpacks 28 & 18 liter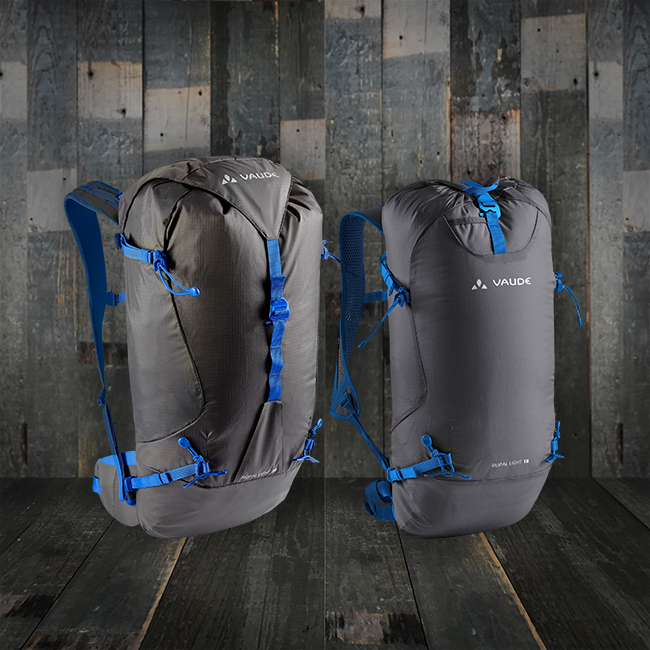 These are my two ultra lightweight Vaude Rupal Light backpacks, for alpine climbing and sporty mountain tours. I use the 18 liter Rupal Light and the 28 liter Rupal Light version. These have all the functionality I need. Made out of strong material, but yet very lightweight.
Looking for a pack to do dashes onto mountain tops, I found these awesome packs. Light enough to carry as extra load in my bigger pack and functional enough to take all the necessary gear on alpine day trips. I typically carry a hydration system, an ice axe, a ice pick, crampons, a helmet, a PLB, clothing layers, cooking gear and food. During the cold season I carry less clothing layers inside the pack, which enables me to use the smaller pack.
These packs offer superior freedom of movement, even when fully packed.
Joint (similar) features
Ultralight backpack designed for Alpine Climbing, Mountaineering and Via Ferrata.
Molded padding stripes at back.
Drawstring flap closes the pack quickly.
Outer zip pocket.
Side compression straps.
Lightweight siliconized fabric.
Reflective elements.
Opening for hydration system.
Back ventilation with large central ventilation channel.
Water repellent finish Eco Finish.
Load range: 3 – 8 kg.
18 LITER PACK features:
Wide,vest-like ErgoShape shoulder harness for a stable fit.
Stowable top compression strap / rope holder.
Stretch mesh pocket on shoulder belt for a phone/personal location beacon, gels, bars etc.
Glove-fixation at shoulder belt.
Attachment point for ice tools.
Removable webbing hip belt.
Weight: 510 g.
Volume: 18 l.
Dimensions: 52 x 24 x 22 cm.

Approximately €105
28 LITER PACK features:
ErgoShape shoulder straps for optimal freedom of movement.
Pack stability and good carrying comfort with two adjustable aluminum bars.
aluminium bars removable to reduce weight.
attachment point for ice tools with picksleeve.
Wider webbing hip belt.
Weight: 610 g.
Volume: 28 l.
Dimensions: 54 x 26 x 22 cm.

Approximately €125
Vaude is a environmentally friendly German company striving for climate-neutrality for all their products.

Chestpack

Hartford Gear Dyneema Packing Pods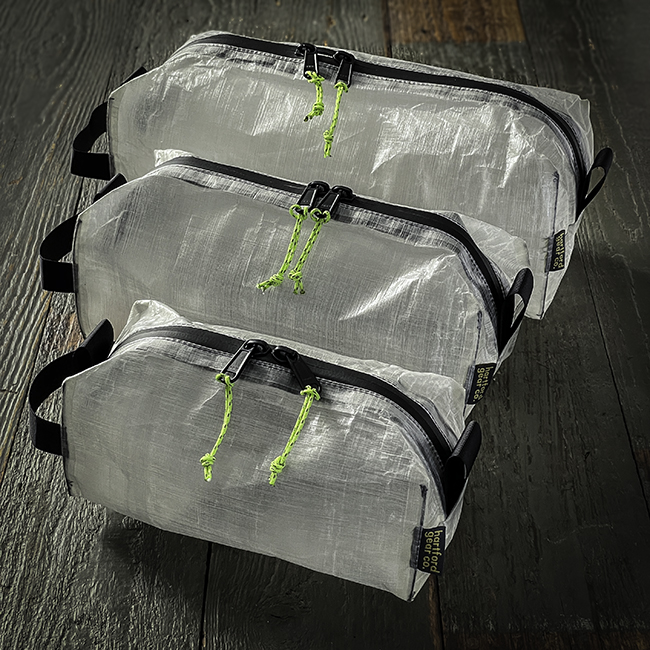 These Hartford Gear Dyneema Packing Pods are the lightest ever. Handmade by Georgia, these packs are well made, high quality products, made to last! They have all the practical details, loops, pulls and waterproof HHH-zippers. I use the range of small, medium and large pods, weighing 24, 28 and 32 grams respectively. She offers 7 colour variations and a X-Pac version as well. Highly recommended!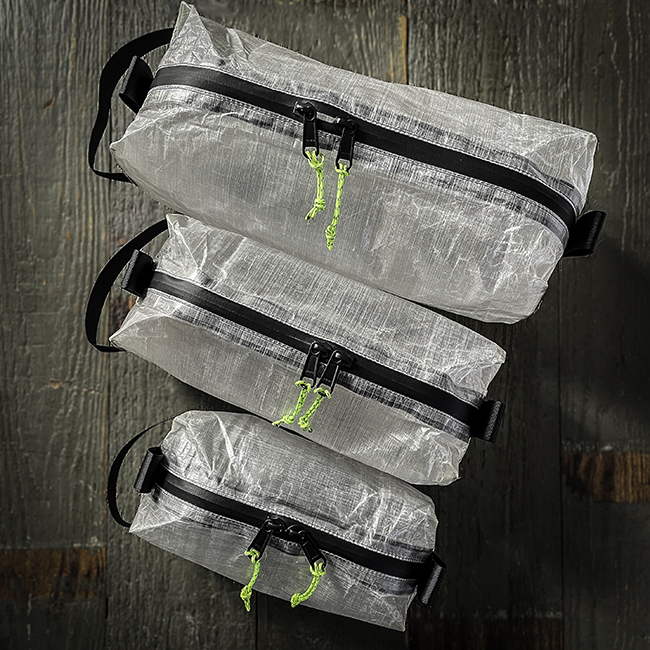 HuckePacks Dyneema BeiPack Lite & Sacocche Lite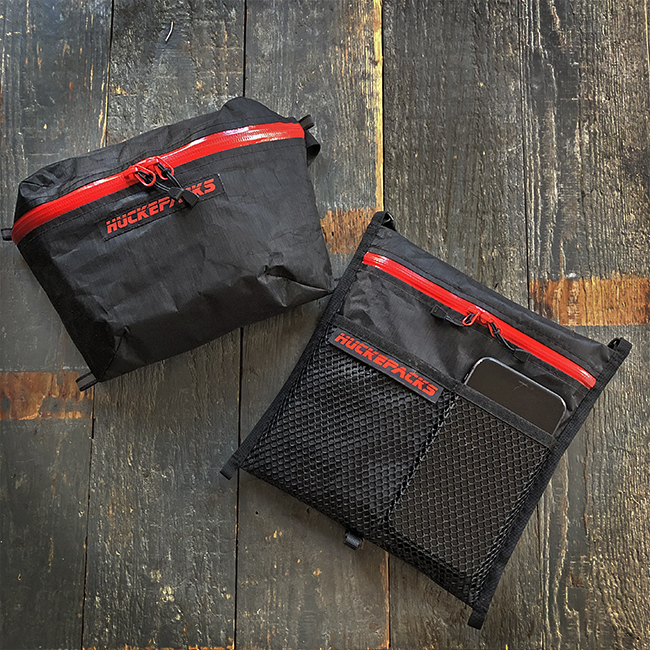 These two versatile packs are part of the HuckePacks Lite line (ofwhich the Phoenix backpack with Hipbelt+ is number one on my wishlist). Made out of wear-resistant and waterproof Dyneema Composite Fabric, they are ultralight and extremely durable. Their minimalistic, but practical design allows them to be an asset as allround add-ons. Both are feature Dyneema Composite Fabric Woven and YKK Aquaguard zippers. For those who you have the need to tweak these packs, HuckePacks has a 'Special' line.
Although not (yet) seam sealed, these packs protect their content well in a medium rain conditions.
The BeiPack Lite is 2 liter sack that can be attached as add-on to all backpacks in an instant, or be worn as fanny pack. I typically use this as a utility pocket carrying a camera, PLB and snacks. It has the absolute ideal practical dimensions for those aiming to go ultralight and only weighs 40 grams. It comes with a 25mm hipbelt that has an strong yet light Aero buckle.
The Sacoche Lite comes with an ultralight shoulder strap and an inner hook for key attachment. It attaches very well both inside as on the outside of backpacks and can even be worn as a utility pocket on it's own. I use this for my phone, passport, travel documents and maps. The two outer pockets are of different sizes. On the photograph it holds my iPhone 11 for reference. The overall design is very flat, well proportioned (20x20cm) and weighs a mere 33 grams, with durable mesh and 10mm webbing with release buttons.

HuckePacks is a small shop in Germany by Mateusz Szultk. His mission is to provide Ultra Light backpacks and equipment. Or as he says:
'A necessity became a hobby, a hobby became a passion and a passion became a calling.'
Combine that with German precision and quality and you can't go wrong!

B&W Outdoor cases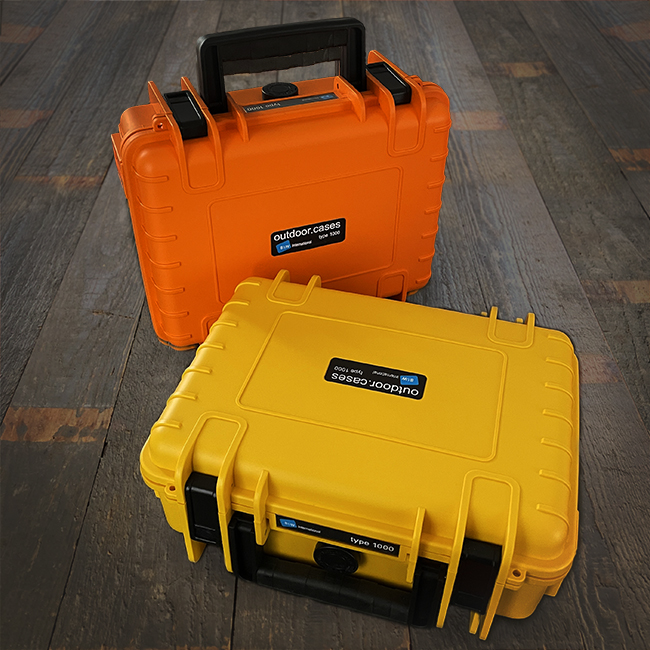 I use these B&W outdoor type 1000 cases for my First Aid Kit and my Action Camera Kit.
I use a B&W outdoor type 2000 case, with padded dividers, for my DLSR Kit.
The exceptionally sturdy polypropylene (PP) that makes up the cases, combined with a dependable rubber seal, provides a IP67 rating waterproofness. It is stackable, dustproof, temperature-stable and airworthy (due to the automatic pressure equalization valve).
Type 1000 specs: Inner dimensions: 250 x 175 x 95 mm, outer dimensions: 270 x 215 x 105 mm, weight: 0.7 Kg, volume: 4.1 L
Type 2000 specs: Inner dimensions: 250 x 175 x 155 mm, outer dimensions: 270 x 215 x 165 mm, weight: 0.9 Kg, volume: 6.6 L.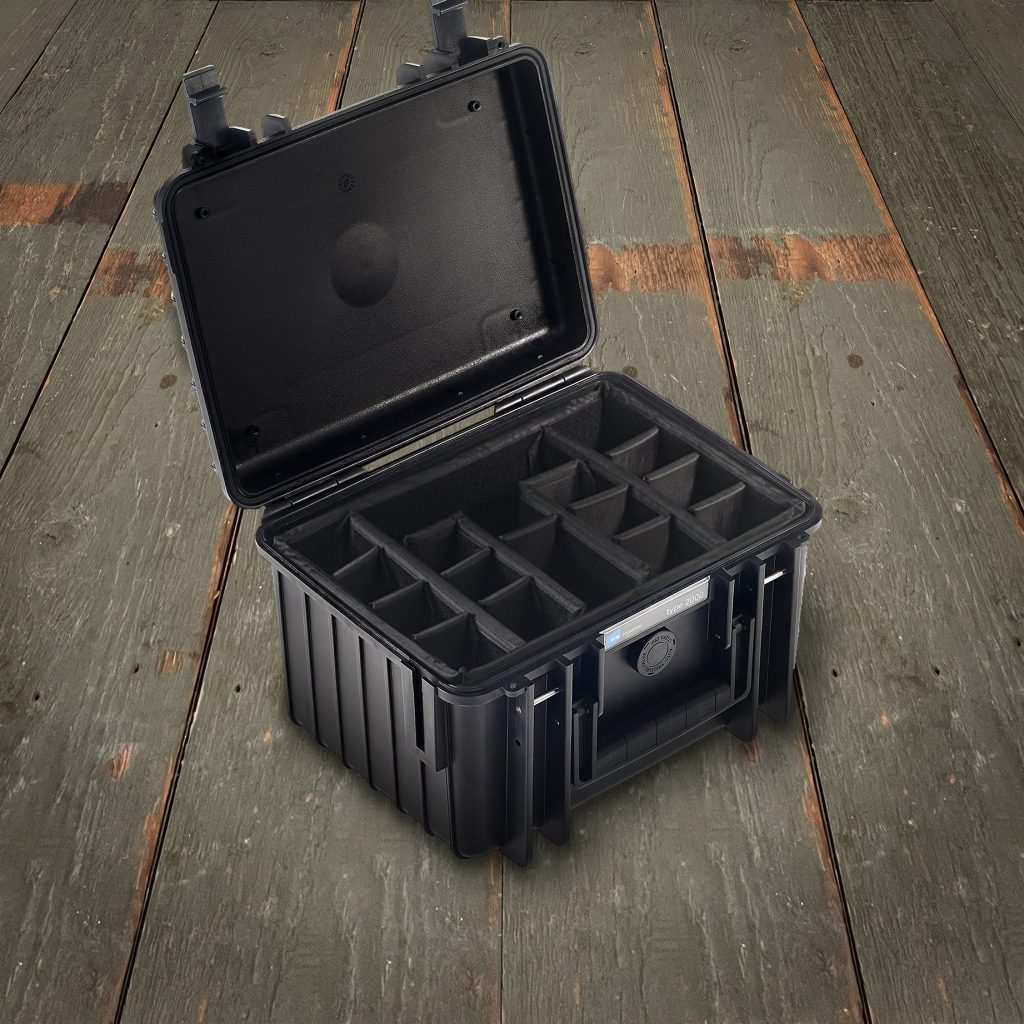 Dry Bags

.HF Dry Bags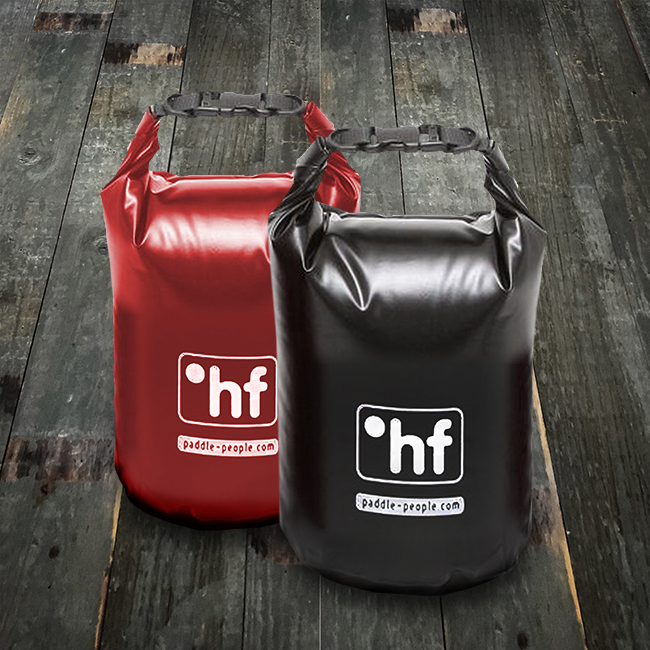 These are the dry bags that I carry behind my kayak seat. Solid, reinforced, dubble sided coating, sonically sealed, heavy duty PVC. These will last and can take the pressure.
I like the loop on the bottom to secure them in the boat, so I can access my stuff without taking the bag out of the boat. Ø 19 cm, H 40 cm.


Supplied by Kanocentrum Arjan Bloem.

Waterproof Waist Pack by Aquapac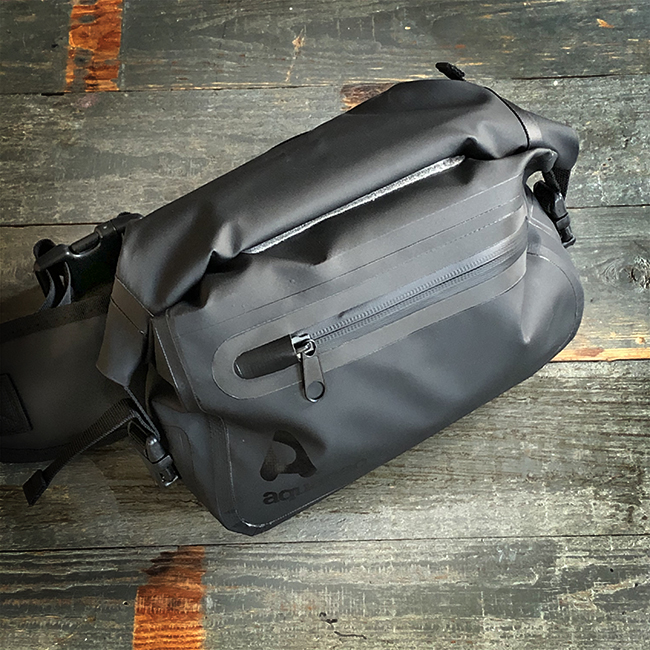 This is my every day carry bum bag
(fanny pack / belt bag / moon bag / belly bag) Whether inside or outside of the boat, this is where my personal essentials are. Rugged, dry and secure, easy to carry, easy to attach in the kayak and worth seeing. It has a IPx6 internal volume of 3 liters, including the easy access IPx3 frontpocket. There is a small zippered mash pocket and carabiner inside of the main compartment. The features:
Tough 500D polyester-reinforced PVC tarpaulin
Velcro strip roll closure
Splashproof quick-access pocket
Internal zippered pocket
The comfortable, breathable mesh padding
Matt black, with reflective strip
Weight: 370g
Drybags by Aquapac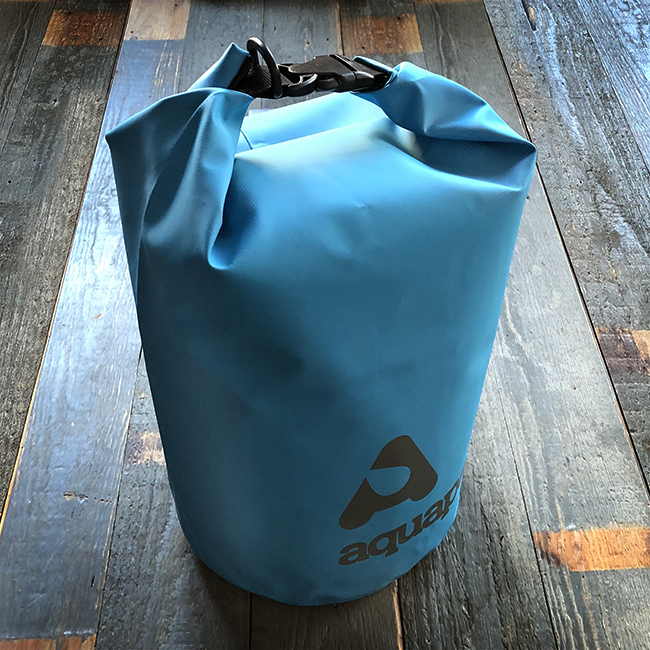 Simple, heavyweight drybags with shoulder strap
. These bags are of a super-rugged construction. Made out of 500D polyester-reinforced PVC tarpaulin, they can take a beating and will not easily damage.
To secure your stuff, roll the top down 3 times and lock the closure.
In the event this IPx6 dry bag gets punctured are otherwise damaged, they are easy to patch (PVC). These bags come in 4 sizes and 2 colours.
Waterproof Duffle Bag by Aquapac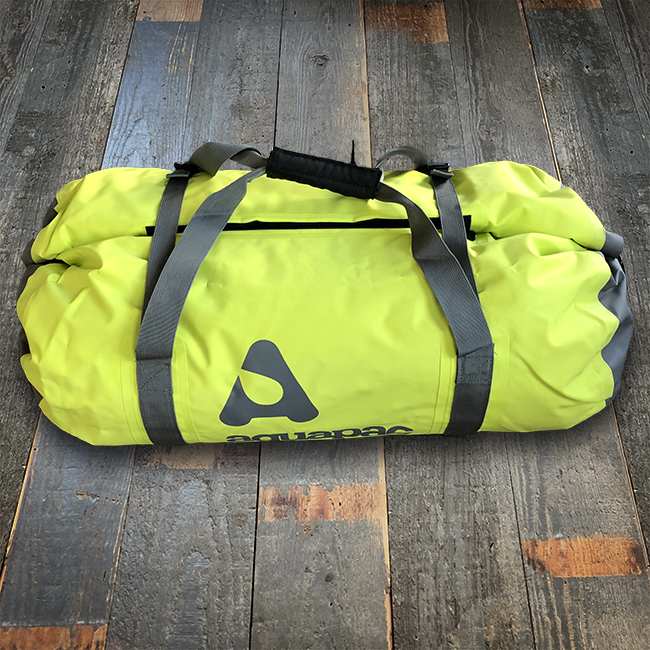 My 70 liter heavyweight IPx6 waterproof duffle bag
. Either to keep water out and protect my dry gear in wet conditions, or to keep water in under dry conditions (to protect the car interior, f.i.). With their Velcro and double strap/buckle closure these duffle bags will do their job. I throw these around whilst loaded to the brim. Being made out of the same 500D polyester-reinforced PVC tarpaulin as my dry bags, the are equally strong and durable. These too are easy to patch (PVC) if needed. The neon colour limits the amount of sun-heat they catch.

Aquapac is a European business specialising in innovative waterproof cases, bags and packs.




Bikepacking

Geosmina Bags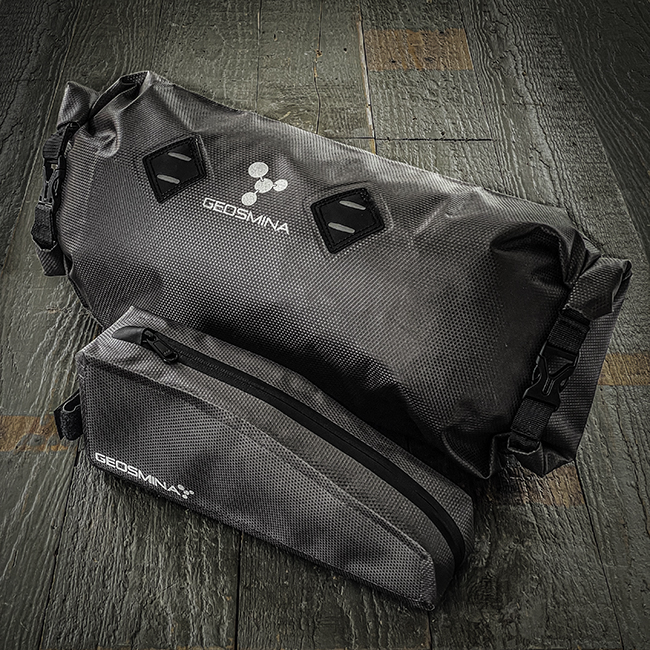 Geosmina produces hardcore ultralight bikepacking components to be used in tough conditions, in any weather and will fit almost any bike.
Allow me to rave:
Now, these aren't the usual 'fancy, colourful, trendy, fashionable, showy' bikepacks. These are the packs that you'll get to do the tough stuff. They'll take a punch. They will add practical functionality to a bike. They will not interfere with the bike's mechanical parts. They fit well and they are easy to adjust and use. These packs are for serious bikers, doing serious bikepacking (and, imho, very reasonably priced).
The materials used are PVC-free and recyclable. These ultralight materials are highly resistant to abrasion, water and ultraviolet rays. Serious attention and know-how is put into the details like the waterproof zippers, Y-shaped seals, hypalon inserts, heat-sealed seams, et cetera. Most of their products are 100% waterproof, two of them are waterresistant. (no IP-ratings are given.)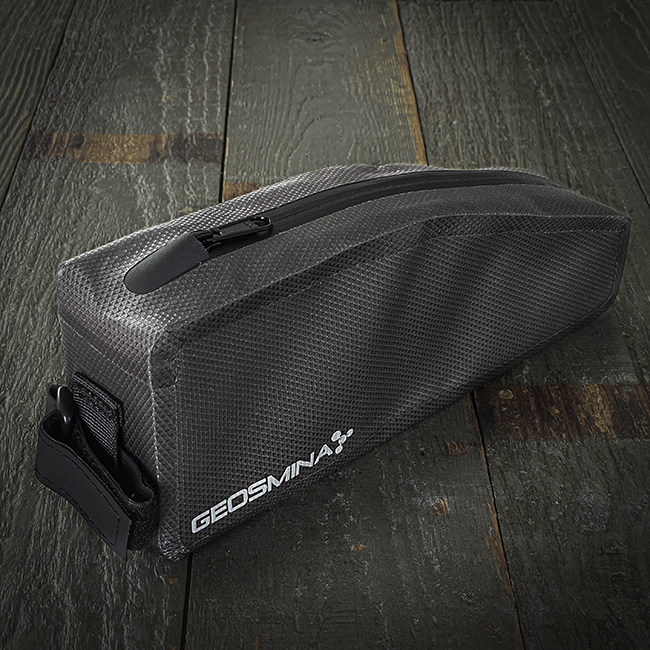 Large top tube bag. Offering plenty of packing space, this bag will carry my mobile, camera, tools and/or snacks. It is waterproof (probably IP55/IP56) and fitted with an easy to operate zipper. It mounts effortless onto almost any bike and any tube size. It has a removable inner pouch in a yellow contrasting colour (so it's easier to find stuff in dimmed light). This little pack is an eye-catcher!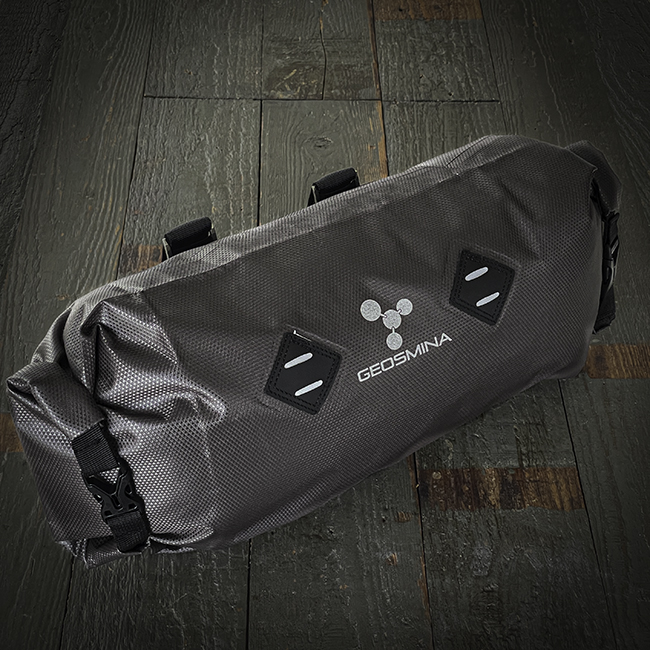 The Handlebar bag has 10 liters of waterproof (probably IP68 submersible) capacity to keep dry clothes, valuables like car'keys' and other watersensitive items. It's a very strong bag, that will fit any bike. It's reinforced in strategic places and all components are durable and tough. It looks great as well!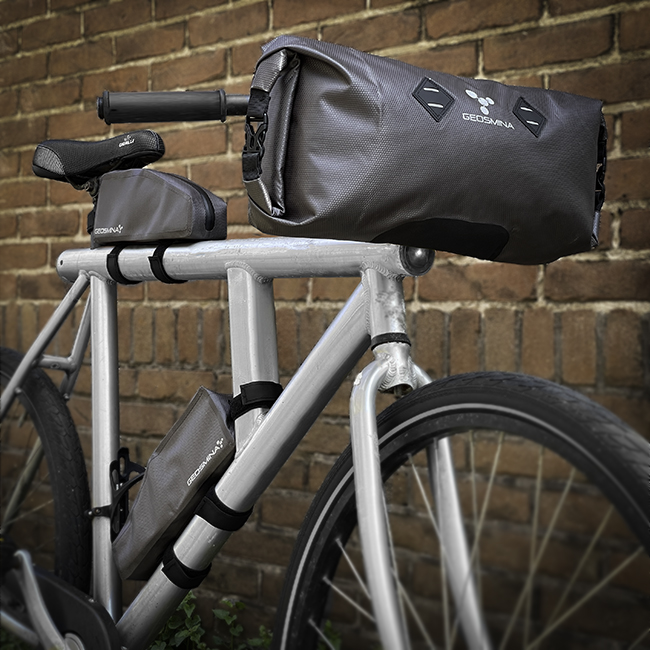 Geosmina is a European company specialising in durable and rugged bikepacks.

Travel Bags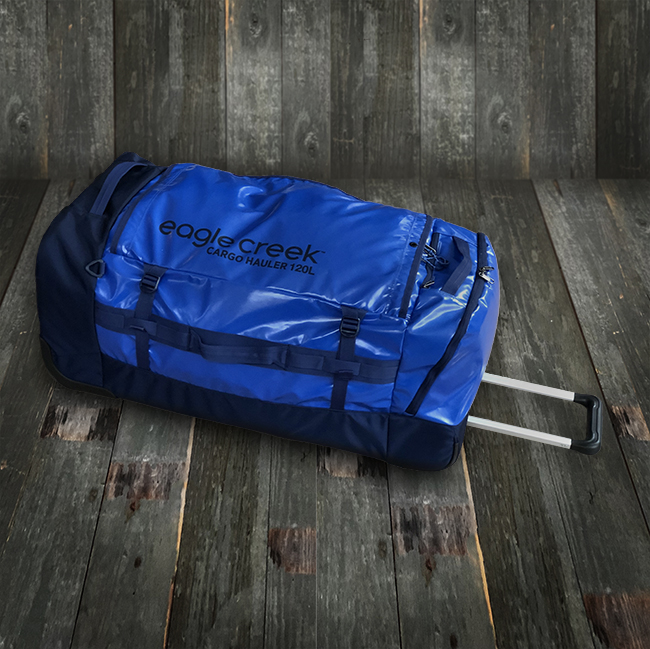 The Eagle Creek Cargo Hauler 120 liter, now has a telescoping trolley handle! The Cargo Hauler allready was one of my favourites, but now the bag benefits from the handle construction adding bottom stiffness. It provides a rigid protected place between the rails to pack longer items. I use it for my fishing rods, bow, arrows and tracking poles.
The bag has all the grab- and haul handles you'd need, plus lashpoints to secure it. The water repellent fabric is reinforced in all the nessecary places, making it a reliable and durable bag, that handles the rigors of outdoor usage very well. My 'Pack-It Gear Protect-It Cube', loaded with my camera gear fits neatly in the top compartment of the Cargo Hauler.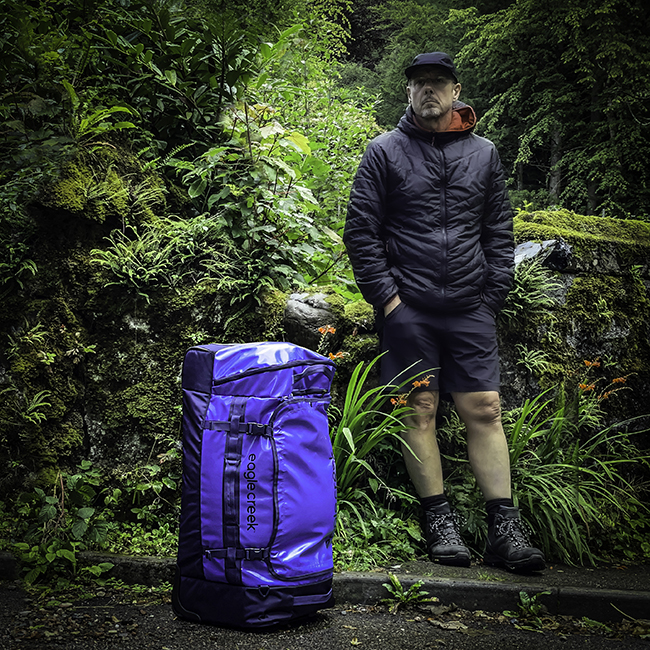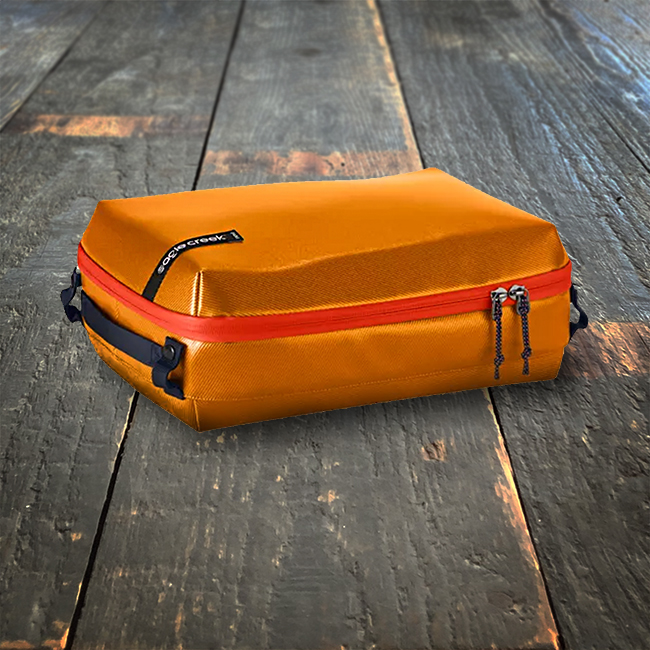 This water repellent Protect-It Gear Cube, with it's padded interior and removable internal dividers is great for storing my camera, filters and other equipment. It's durable and has proper handles. This is no fiddly stuff, but a serious protective bag. Specs: 36 x 26 x 13 cm, 12 liter and 460 grams.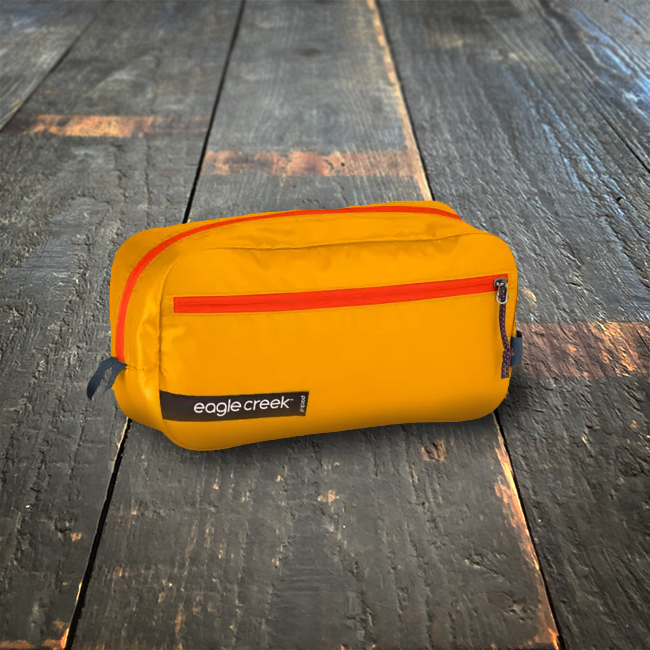 A neat little toiletry bag is the perfect minimalist size. It has an exterior zippered pocket, in addition to two main compartments. I use it to pack away toiletries and my travel pharmacy. Specs: 20 x 10 x 6 cm, 1,8 liter and 41 grams.
Storage

Aykasa Crate system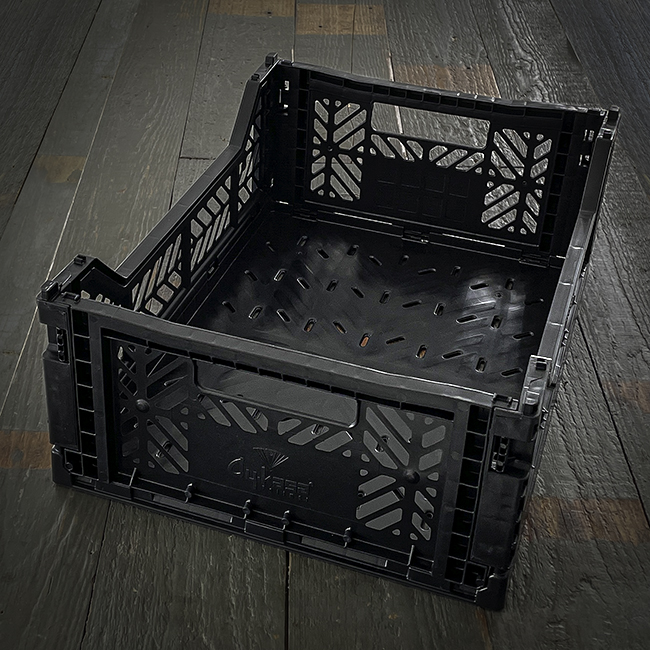 We outdoor people gather loads of gearfor different activities (hillwalking, mountaineering, biking, kayaking, et cetera), different seasons, different versions of each item ánd we store all the stuff that might come out handy, someday. I use an Aykasa crate system to store my gear, made of polypropylene plastic which is foodsafe (bacterias cannot live on the surface), very easy to recycle and therefore has a fine environmental footprint, maintenance-free and highly durable.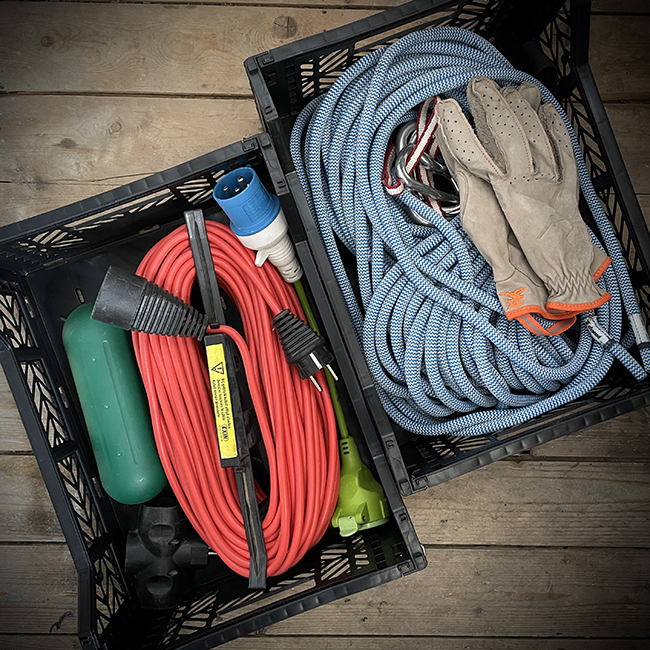 My Aykasa Midi stack, contains mid-sized gear like, first aid/gopro/stoves/comms/etcetera.
These are very sturdy crates, easily bearing 8 kg of gear. They interlock very well, allowing me to stack them very high. The 14.5 liters volume (40x30x17cm) is well dimensioned, so it's easy to fit most gear.
They weigh 450 g and are dishwasher safe.